BTC and ETH Trade with a 200% Premium on This Exchange
Disclosure: Crypto is a high-risk asset class. This article is provided for informational purposes and does not constitute investment advice. By using this website, you agree to our terms and conditions. We may utilise affiliate links within our content, and receive commission.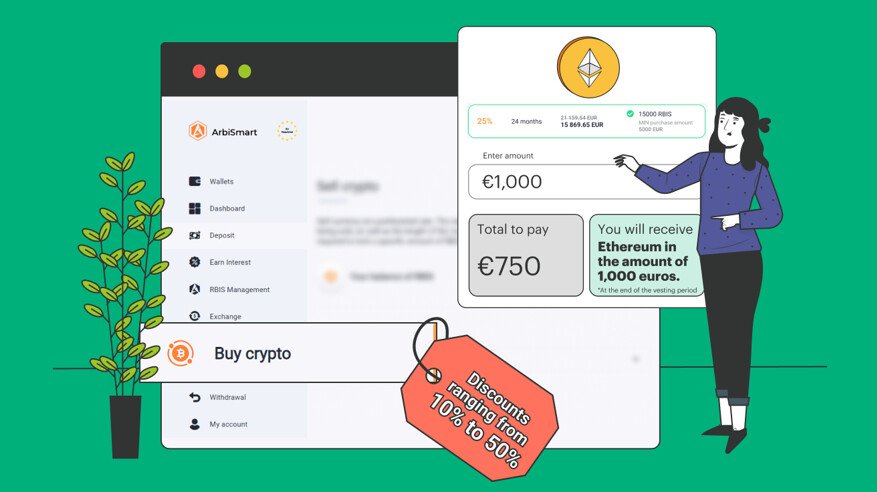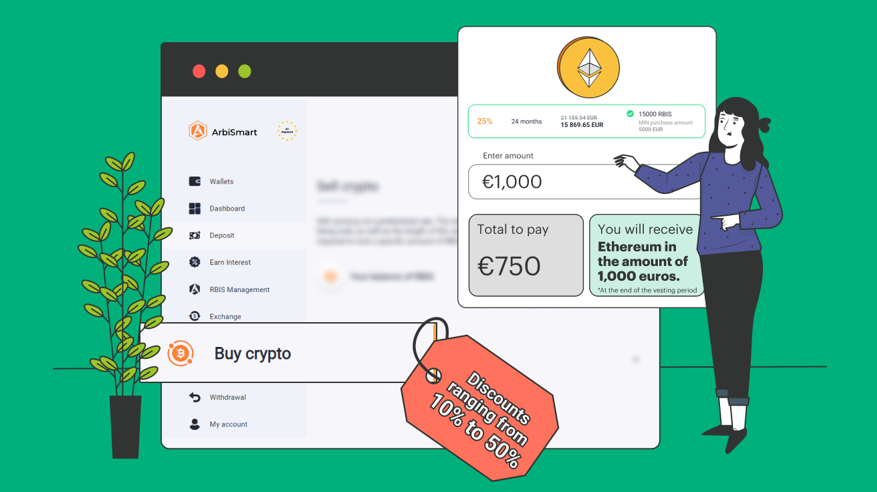 Disclaimer: The text below is an advertorial article that is not part of Cryptonews.com editorial content.
At what is hopefully the tail end of the bear market, with Bitcoin hovering around the $23,000 mark, crypto owners are finally ready to make some serious profits.
The most low-risk way to guarantee you pocket triple the profits, every single time you sell crypto, is with an incredibly innovative new exchange reward program launched by the ArbiSmart project.
ArbiSmart is an industry-leading EU-authorized interest-generating wallet and financial services hub, that pays huge rewards to anyone either buying or selling cryptocurrencies through the platform.
Buy Currency and Pay Up to 50% Less
ArbiSmart gives discounts ranging from 10% to 50% for anyone buying either FIAT or digital currencies via the platform.
Specific conditions need to be met to receive each of the different discount percentages, all of which are laid out clearly in advance of making a purchase.
Each discount percentage option will be based on the currency being bought, the length of the vesting period, the amount being purchased, and whether a sum of RBIS is locked, for the duration of the vesting period.
For example, if you decide to benefit from a 25% discount on an Ethereum purchase equivalent to €1,000, you will only be paying €750 for your ETH. Then once the vesting period ends you will have be able to withdraw €1K worth of Ethereum.
Sell Your Crypto for Triple the Market Price
While you can be rewarded for buying both FIAT and crypto through the platform, currently ArbiSmart only offers a reward or sales of digital assets.
Pick from 25 of the world's most popular cryptocurrencies and earn 200% above the market price, (in other words, triple the current value), every time you make a sale.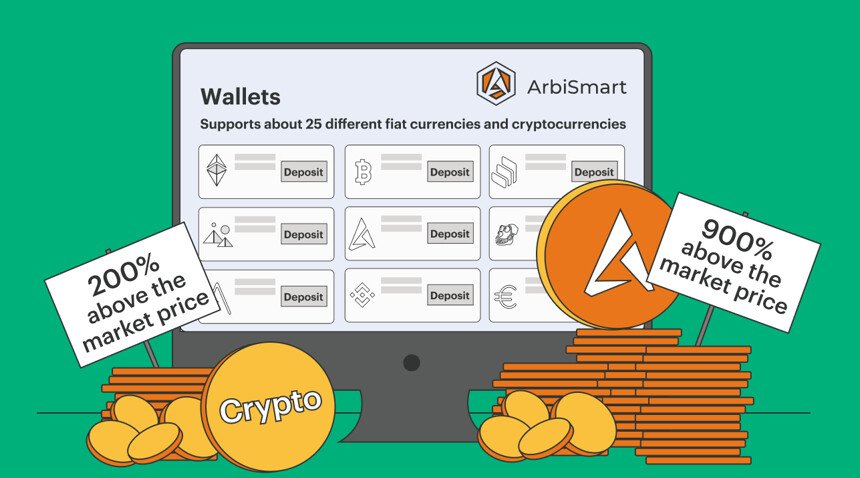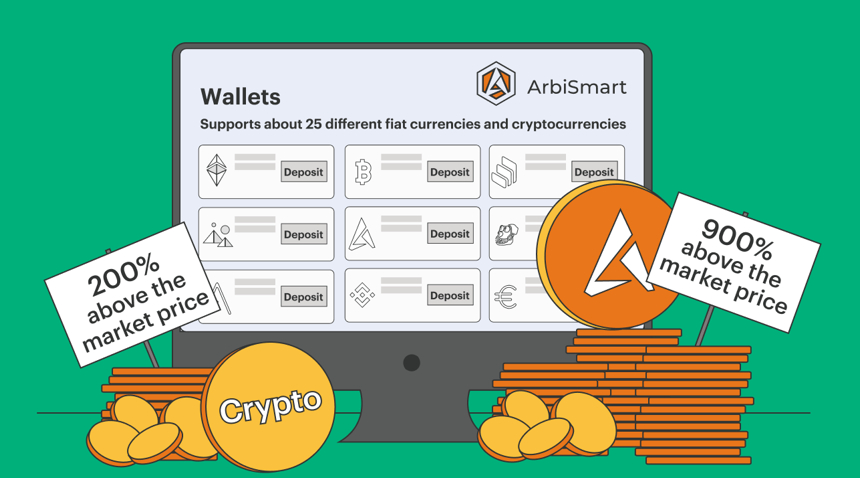 There is one exception, however. If you sell the native token, RBIS, you will receive 900% above the market price (10 times the current value).
All cryptocurrencies will be sold into Euro, aside from RBIS, which can be sold into Euro or USDT. The terms for receiving the higher rate are presented in advance of making the sale, which include a minimum sale amount, as well as a 24-month vesting period on all cryptocurrencies.
For example, if you decide to sell €1,500 worth of Bitcoin you will immediately be credited with €4,500, which will become accessible as soon as the vesting period ends.
The ArbiSmart exchange rewards program not only offers up to 900% on each transaction, totally free, but it also has another advantage.
If the value of the currency you choose to exchange experiences a sudden fall in value, by selling you can stop the price from dropping further. Also you will be making money on a sale that would otherwise have resulted in a loss.
Benefit from RBIS Incentives
The revenue from buying or selling currency via the platform can be withdrawn as soon as the vesting period ends, or placed in an ArbiSmart interest-generating wallet, where the funds will earn up to 147% a year in passive profits.
The exact amount that you earn on FIAT and crypto wallet savings plans is determined by your account level. Your account status is based on based on how much RBIS you own.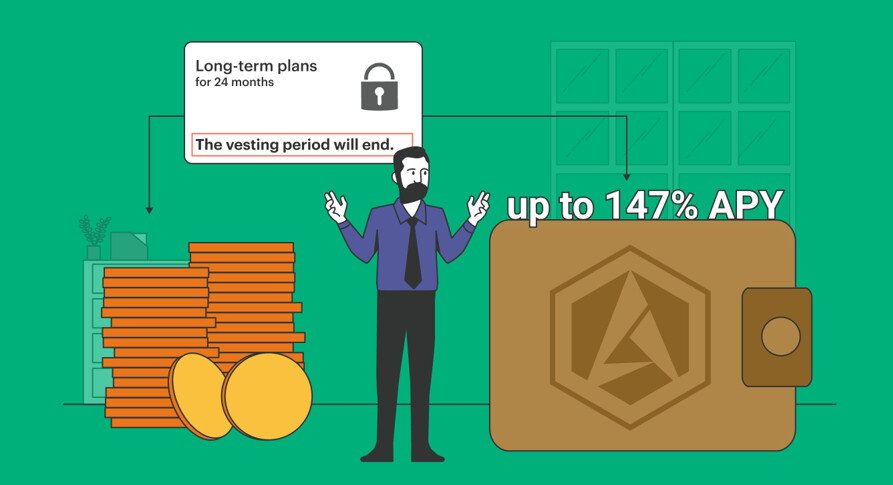 So holding more RBIS means better interest rates on balances in Bitcoin, Dogecoin, Euro, GBP or any other supported currency. In addition, if the balance is held in RBIS, the rates will be even higher.
Each new utility increases RBIS demand while eating into the token supply, which is forever capped at 450M RBIS. As demand outpaces supply, the token price will go up, generating rising capital gains.
So, in a case where one of the conditions for buying crypto was to lock a certain amount of RBIS for the duration of the vesting period, this provides another RBIS utility driving up the token value.
ArbiSmart keeps innovating with game-changing RBIS utilities that are changing the crypto space.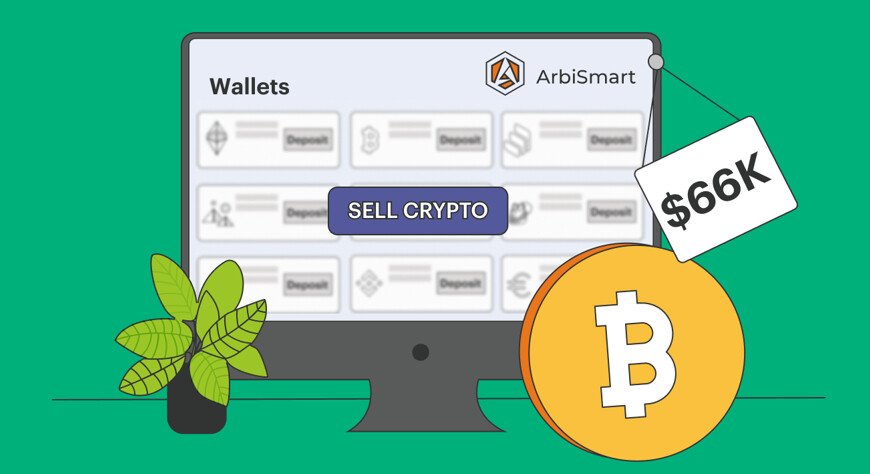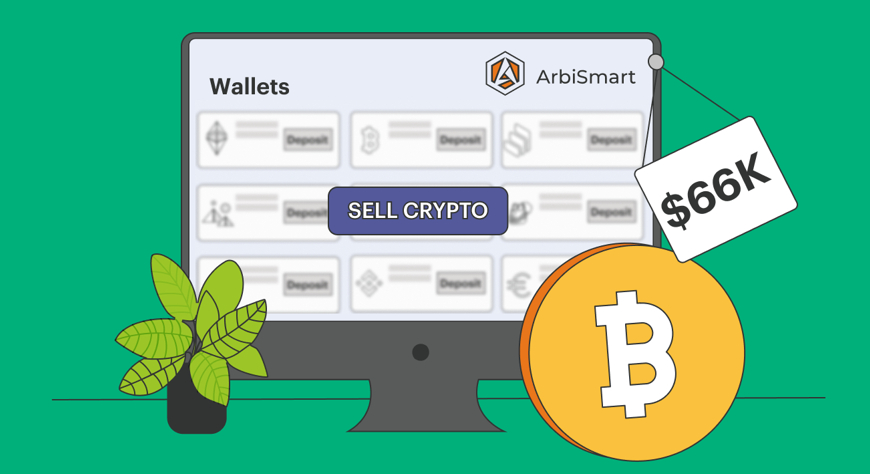 Next quarter, in addition to launching an NFT marketplace, ArbiSmart will be introducing a DeFi protocol that will offer a yield farming program that has first-of-its-kind gamification features, enabling users to boost their APY, with unique ArbiSmart NFTs.
The ArbiSmart fi ancial services ecosystem is enabling you to multiply your crypto at close to zero risk.Want to get $66K for your Bitcoin? Sell crypto via the ArbiSmart platform today!

---