Brian Kelly Promotes Bitcoin Cash, But He Never Used It as Currency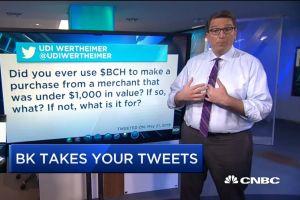 Brian Kelly, founder and CEO of BKCM LLC, an investment firm focused on digital currencies, spoke about bitcoin cash and its upwards rally for CNBC's Fast Money, saying that it is "the must-own digital currency of the moment". However, he admitted he did not use bitcoin cash to ever really buy anything.
According to Kelly, the news that bitcoin cash miners met to discuss funding for a bitcoin cash development fund could be a positive sign for this cryptocurrency. In the fund, miners are going to take some of the rewards they get from mining and put it in a fund to build stuff on top of bitcoin cash, Kelly explained.
Before his admission, he was asked whether this was "a long-term play" for him. He replied that the end-game is for "any of these cryptocurrencies" to be adopted as a global currency, although in his opinion, bitcoin cash is the leader among them.
This is followed by the question whether he has ever bought anything from a merchant using BCH for a value under USD 1,000. He replies that no, he personally did not use bitcoin cash as a currency because to him, "these are investments."
He does, however, say, "I have used bitcoin before to buy things, I have used bitcoin to move money overseas."
A joking question also asks whether he is Roger Ver, presumably due to his bullishness on Bitcoin Cash, to which he replies that there is no connection between the two.
How cryptocurrencies can make the vital step from investment (and, increasingly often, speculative asset) to viable currency remains to be seen, but using crypto to buy goods and services with it may be a good first step. However, notable names in the industry such as Brian Kelly would be expected to lead by example, not just words.