Brand New Meme Coin $COPIUM Explodes 1,000% At DEX Launch – The Next Pepe?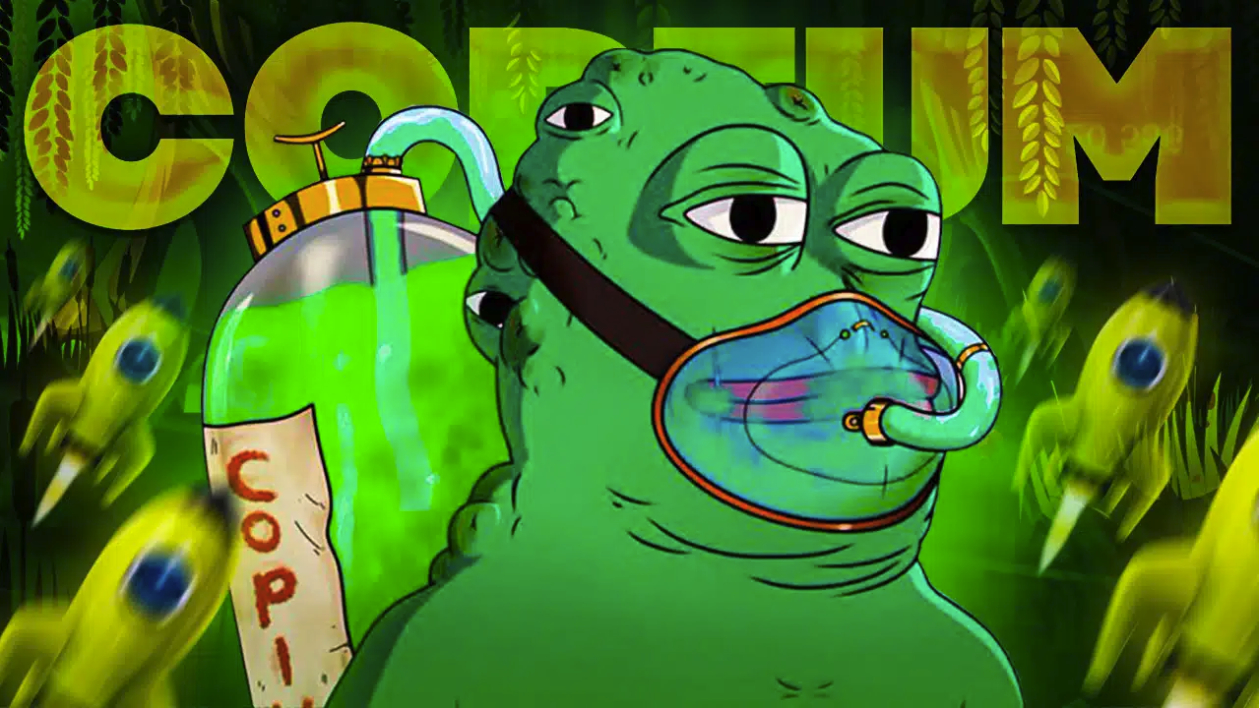 A new meme coin just burst onto the scene and is already making waves within the Web3 circles thanks to an exciting NFT and token airdrop campaign.
$COPIUM pumped 1,000% within minutes of its launch on decentralized exchange Uniswap at 4pm UTC, with early buyers eager to dive in given the token's following by some of the crypto industry's biggest names with thousands of followers.
The coin has taken off in a hurry as it stakes its claim to be the meme coin to watch – Pepe coin may have met its match.
If you missed Pepe, Wojak or Milady, then $COPIUM could be the best chance this year of securing huge gains.
Crypto analysts are already predicting a 1,000% return for $COPIUM.
10x Pump Within 30 Minutes of Launch
Launched at 4pm UTC today, $COPIUM has immediately surged 9x within just 30 minutes of trading, racking up a huge $17.6 million in volume.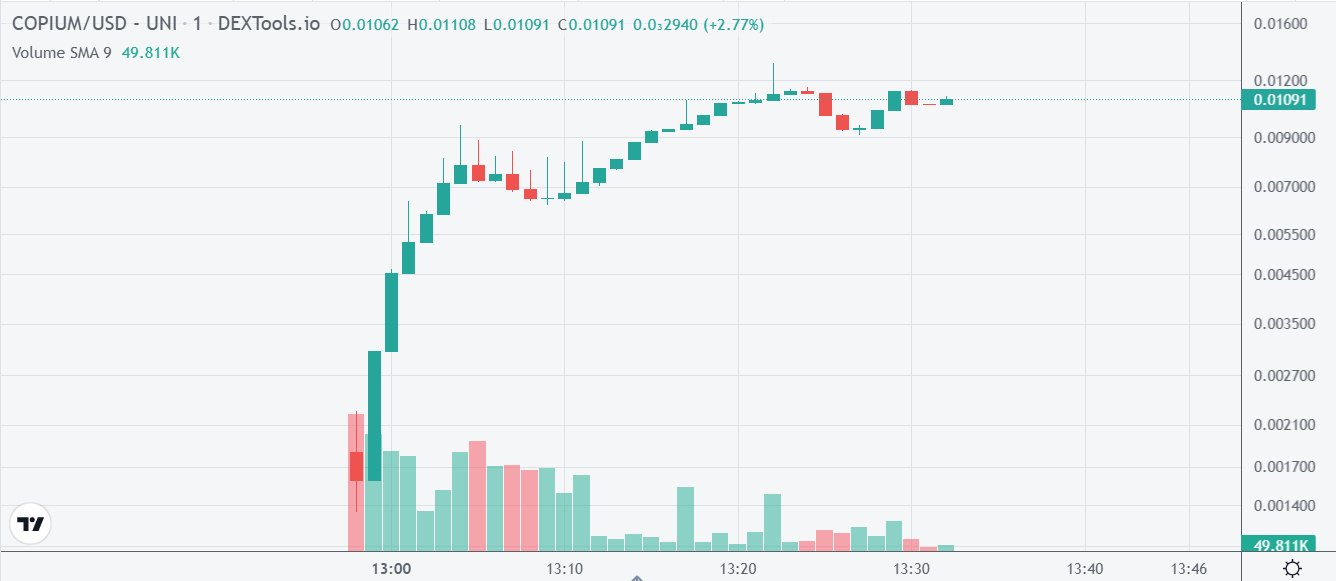 That means early open market buyers are already sitting on gains of around 1000%.
Other metrics show strong liquidity of already around $4 million.
The coin currently has a market capitalization of $11.31 million, way ahead of the fully diluted market cap it commanded at the launch of $1,213,333.
$COPIUM's Well-Connected Supporters Can Make it Next Pepe
Thanks to its exciting NFT and token airdrop competition, well-designed incentives and the help of a passionate, well-connected community of backers, $COPIUM aims to establish itself as a leading meme token in the crypto space.
And observers think its chances of being the next Pepe coin are high.
The project's backers have adopted the savvy strategy of bringing into the ring a star line-up of legacy blue tick supporters from among the crypto glitterati, who together have millions of followers on Twitter.
Thanks to its unique NFT drops and other exclusive services underpinning its utility, plus its anti-dumping design, $COPIUM has attracted holders who, even before its straight-to-DEX launch, were acting as enthusiastic ambassadors for the project.
Only 200 were involved in the presale, each with a maximum holding of 1 ETH worth of $COPIUM.
As for the name $COPIUM, that appears to be a portmanteau of the words "cope" and "opium" and, in the context of the $COPIUM meme coin project, is a reference to a fictional, inhaled gaseous drug used by crypto degenerates to cope with their losses.
Obviously, it is also a play on the 'hopium' that is the hallmark of coin projects that have run out of steam, but in which invested bagholders still have hope-ium.
No Need to Worry About Presale Dumping Thanks to Smart Vesting
Three hundred million $COPIUM tokens, 30% of the one billion total supply (1,000,000,000), were made available on an invite-only basis for the presale.
But $COPIUM is protected against dumping because only 10% of presale buyers' tokens will be unlocked right off of the bat, with the rest unlocked linearly over a three-week period.
"This unlocking structure prevents pre-sale buyers from immediately selling off their tokens, protecting those who buy in the market from a potential price drop," $COPIUM's website explains.
"It's a key part of our commitment to ensuring a fair launch and prioritizing the safety of our investors".
And, of course, the airdrop of NFTs and exclusive incentives will make holders even more sticky.
$COPIUM Buyers Rush in to Benefit From Airdrop Competition
Two hours after $COPIUM's launch, the team will take a screenshot of the market and the top 200 token holders will be eligible for $COPIUM's NFT and $COPIUM token airdrop.
The top 200 $COPIUM holders will then be airdropped NFTs that feature a Copium tank.
The more $COPIUM a holder owns and buys, the more their NFT tank will fill up.
Copium tank NFT holders will have two weeks to fill up their tank as much as possible.
After that two-week period is over, Copium tank NFT owners can use their tank to claim their $COPIUM airdrop tokens.
The number of tokens an owner will receive will be directly correlated to the fullness of their Copium tank NFT.
The NFT will remain theirs to keep.
There will be 10 million $COPIUM tokens made available to the top 200 $COPIUM token holders during the airdrop, which amounts to 1% of the token's total 1 billion supply.
If it is assumed that $COPIUM becomes a $50 million market cap token – a very strong possibility given the project's early traction on social media, the giveaway will be worth a colossal $500,000.
The above incentive to accumulate $COPIUM tokens ahead of the 2-hour screenshot and then hold onto them over the subsequent three weeks to benefit from the massive airdrop mean that sell pressure in the $COPIUM market is likely to remain limited in the near future.
Disclaimer: Cryptocurrency projects endorsed in this article are not the financial advice of the publishing author or publication - cryptocurrencies are highly volatile investments with considerable risk, always do your own research.
---