Brace Yourself for the Next Meme Coin Pump: DigiToads (TOADS) Joins Dogecoin (DOGE) and Shiba Inu (SHIB) in the memecoin supremacy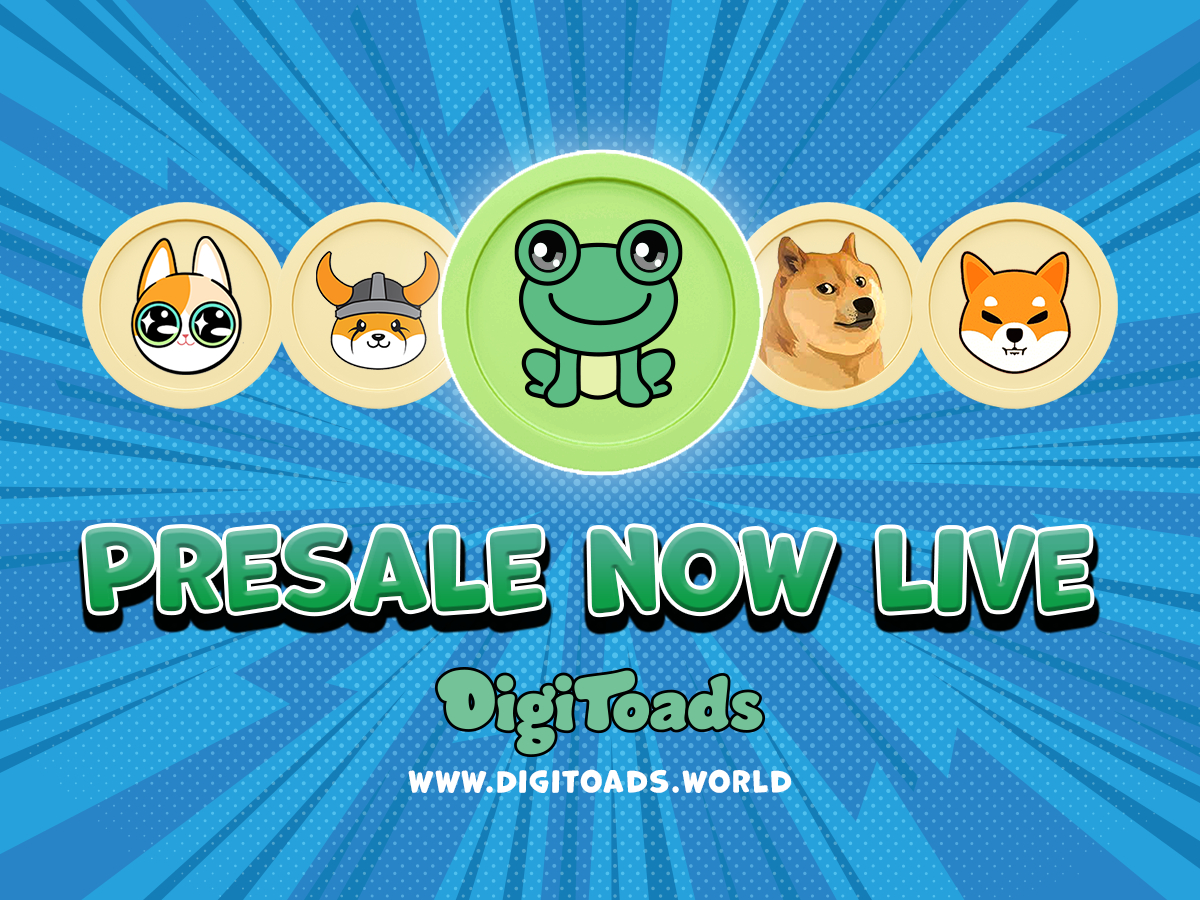 The meme coin frenzy has taken the world of cryptocurrency by storm. Altcoins like Dogecoin (DOGE) and Shiba Inu (SHIB) have dominated headlines and garnered significant attention from investors.
The latest addition to this burgeoning market is DigiToads (TOADS), an Ethereum-based ERC-20 token with an impressive array of features that set it apart from its rivals.
With its pre-sale raising over $2.45 million, DigiToads is poised to make waves in the crypto space, and those looking for the top altcoins to invest in should keep a close eye on this rising memecoin star.
DigiToads (TOADS)
DigiToads (TOADS) is joining the ranks of these meme coin giants. DigiToads is a meme coin with a difference; DigiToads aims to positively impact our lives by offering utility and growth opportunities.
Its goal is to become one of the biggest meme tokens alongside Dogecoin, Shiba Inu, and Dogelon Mars while also emerging as a leading player-to-earn (P2E) token like The Sandbox, Axie Infinity, Decentraland, and GALA.
At the heart of the DigiToads project is an engaging web3 game where players can collect, nurture, and battle unique digital toads.
Using the native TOADS token, players can acquire items to improve their toads' abilities and compete against others.
The top 25% of players on the leaderboard each season will receive TOADS tokens as rewards, allowing gamers to earn real money while enjoying the game.
DigiToads also demonstrates a commitment to environmental responsibility, pledging 2.5% of its profits to charities focused on tree planting and rainforest preservation.
Moreover, the project emphasizes community, with TOADS holders receiving monthly rewards from the game prize pool.
DigiToads NFT Collection
In addition to its gaming features, DigiToads boasts a collection of 3,500 unique NFTs, which will be launched during the pre-sale. These NFTs can be staked for rewards, adding another utility layer to the project.
Furthermore, DigiToads plans to host monthly on-chain trading competitions, offering Platinum Toads as prizes.
Owners of these rare toads will have the chance to trade a portion of the TOADS treasury and receive a cut of the profits.
Given the impressive pre-sale performance and the array of features offered by DigiToads, it's no surprise that it's quickly becoming a popular NFT and altcoin investment.
As it stands, the project has already raised over $2.2 million in its pre-sale, indicating strong investor interest and confidence in its potential.
Why DigiToads Will Pump
DigiToads brings a whole suite of features never seen in the memecoin market, and analysts expect the result to be an enormous surge in price.
They continued to point out DigiToads' NFT staking mechanism, a first of its kind, and pair this with the incoming rush to own part of the NFT collection to enable a simple source of passive income in perpetuity.
DigiToad's price action could get intense very fast.
Dogecoin (DOGE) & Shiba Inu (SHIB) Become Yesterday's News
Dogecoin (DOGE) started as a joke based on a popular internet meme, but it quickly gained traction and became one of the top altcoins in the market.
It's known for its vibrant and supportive community, which has helped propel it to impressive heights.
Dogecoin's success opened the door for other meme coins to enter the market, and among them is Shiba Inu (SHIB), a decentralized cryptocurrency also inspired by a viral internet meme.
SHIB has seen its own share of success, with numerous investors flocking to it as an alternative to DOGE.
However, these coins have been on the market too long, and the investor base has become saturated. Memecoins are supposed to offer explosive returns.
DOGE and SHIB have somewhat become victims of their prior success, meaning crypto traders are rotating away from these projects into newer, more promising, and more exciting ventures like DigiToads.
Join the DigiToads Community Today
The rise of DigiToads (TOADS) as a powerful contender in the meme coin market is an exciting development for investors seeking the next explosive altcoin to add to their portfolios.
With its unique blend of gaming, NFT, and staking features, DigiToads will likely become one of the top altcoins driven by its heavy community focus and innovative NFT staking mechanism.
For more information on DigiToads visit the website, join the presale or join the community for regular updates.
---