Borroe ($ROE) Outshines Cosmos ($ATOM) in Popularity with its Revolutionary AI-Powered NFT Marketplace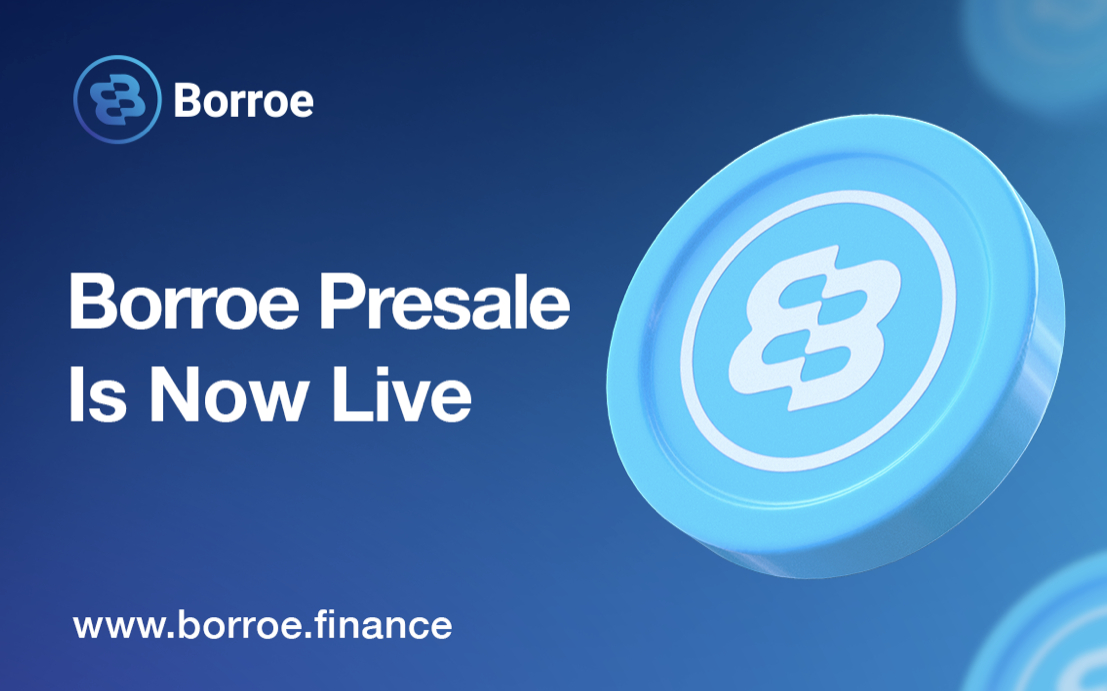 Disclaimer: The text below is a press release that is not part of Cryptonews.com editorial content.
Borroe's ($ROE) rise to prominence has brought a fresh wave of excitement into the crypto space. $ROE has surpassed even the well-established Cosmos ($ATOM) in popularity. What sets Borroe apart is its groundbreaking AI and NFT-powered fundraising platform. Borroe offers a unique opportunity for businesses to raise capital. With a 100x growth potential, $ROE has emerged as one of the most promising assets in the Web3 space.
Borroe ($ROE): Creating Opportunities for Web3 Businesses
Thanks to its first-of-its-kind fundraising platform, Borroe ($ROE) stands at the forefront of Web3 financing.
AI, blockchain, and non-fungible tokens (NFTs) have been gaining traction across various industries, and Borroe ingeniously harnesses their power to birth an innovative fundraising solution for businesses and creators.
By representing receivables with NFTs, Borroe opens doors to a broader pool of market participants, providing unmatched accessibility and liquidity.
Cosmos ($ATOM) and the Quest for Interoperability
Cosmos ($ATOM) has carved a niche for itself as an ecosystem of interoperable distributed ledgers, envisioning an Internet of Blockchains. Its quest for decentralized communication between sovereign blockchains has garnered significant attention and admiration in the past.
However, as the industry evolves, the tides are turning as Borroe Finance is now capturing the imagination of investors with its disruptive approach to finance and capital raising.
Web3 Businesses Embrace Borroe ($ROE)
Web3 businesses, from decentralized finance platforms to NFT marketplaces and more, have found a perfect ally in Borroe Finance. As creators and musicians explore blockchain-based royalty distribution platforms and decentralized storage networks become increasingly popular, Borroe's revolutionary marketplace addresses their unique challenges, all while maintaining ownership and control.
The journey to a Web3-powered future is underway, and Borroe Finance is leading the charge with its AI-powered NFT marketplace. As the community grows stronger, backed by the $ROE token, there's excitement and anticipation for what lies ahead.
The allure of the Borroe platform lies not only in its revolutionary NFT marketplace but also in its potential to transform traditional finance by integrating AI, blockchain, and smart contracts seamlessly.
Borroe Finance has emerged as a shining star in the crypto galaxy, outshining established players like Cosmos. Its revolutionary AI-powered NFT marketplace is disrupting the world of finance, opening doors to faster and more efficient capital raising for Web3 businesses.
With Filecoin's price performance at a crossroads, investors are turning their attention to Borroe Finance, recognizing the potential for exponential growth.
Getting Started With Borroe
As the sun rises on Borroe Finance, investors are given a golden opportunity to participate in the $ROE presale.
The $ROE token, functioning as the governance token of the Borroe Finance ecosystem, unlocks a plethora of benefits for holders. From priority notifications and discounted fees to access to premium features and rewards, being a part of the Borroe community offers unique advantages.
Borroe's AI-powered vetting process entirely differs from traditional financial institutions because it enables businesses to access funding quickly and efficiently. Privacy and anonymity features, high security, and fraud prevention tools ensure that Borroe Finance is a haven for businesses seeking financial support.
The $ROE presale presents a golden opportunity to be part of a groundbreaking project that will reshape finance as we know it. The Borroe community is not just a platform for financial transactions; it's a journey toward a more inclusive and decentralized future.
The allure of Borroe lies in its long-term sustainability and growth-oriented design, strategically built on the Ethereum sidechain Polygon. Investors are increasingly loading up on $ROE tokens due to the platform's flexibility, low transaction fees, quick transfer times, and excellent scaling capabilities.
The inherent security, interoperability, and structural benefits of the Ethereum Mainnet complement these features.
Explore the Borroe ($ROE) Presale:
Buy Presale: https://borroe.finance/
Website: https://borroe.finance/
Telegram: https://t.me/borroe_finance
Twitter: https://twitter.com/Borroe_Finance
---