Borroe Finance ($ROE), set to Outdo Chainlink (LINK) and Monero (XMR) in 2023
Disclaimer: The text below is a press release that is not part of Cryptonews.com editorial content.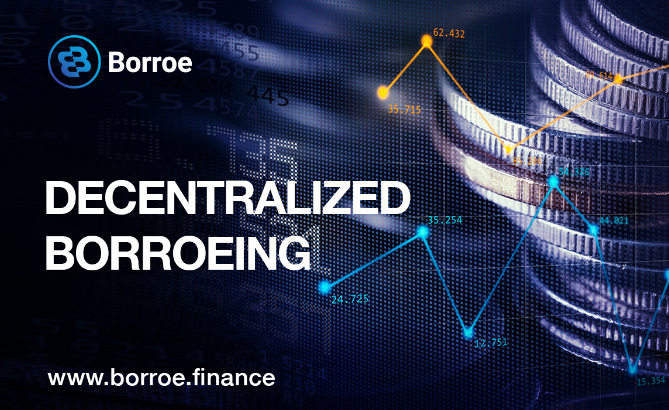 Over recent months, the cryptoverse has garnered attention from notable crypto influencers and tech enthusiasts, all due to the intersection of cryptocurrency and artificial intelligence (AI).
This is a fascinating topic, and new DeFi projects, top altcoins, and new ICOs are striving to make their mark.
A new blockchain ICO that has been generating quite a buzz in the crypto community is Borroe Finance's $ROE presale, which experts expect to outperform established assets like Chainlink (LINK) and Monero (XMR).
Borroe Finance's ($ROE) Unique Proposition
Borroe ($ROE) is a decentralized platform committed to aiding Web3 startups and creators secure funds for their daily business operations.
This unique platform facilitates the acquisition of these essential funds by harnessing users' future recurring income.
The DeFi company enables users to obtain funding by utilizing their forthcoming revenue as collateral. This innovative approach positions Borroe as a cost-effective, swift, and streamlined solution for businesses seeking financing.
Users can readily invest in low-risk Web3 startups that offer reliable returns within this ecosystem.
Participants also benefit from exclusive advantages, such as discounts, rewards within the marketplace, and enhanced platform visibility.
Among DeFi projects, $ROE has become a standout cryptocurrency ICO. This reputation is substantiated by its recent 25% surge from $0.010 during its beta presale to $0.0125 during the Stage 1 presale.
The ongoing Borroe ($ROE) presale is witnessing a surge in demand, driven by the platform's innovative blend of artificial intelligence (AI) and decentralized finance (DeFi), with more than 64.8% $ROE tokens already sold.
BlockAudit has also audited Borroe's ($ROE) smart contracts, and the smart contract is visible to the general public.
Borroe's unique offerings have made it a top DeFi project, with its native crypto now among the best cryptocurrencies to buy. Borroe ($ROE) shines bright as a cryptocurrency for beginners and experts alike.
Chainlink (LINK) An Oracle Network
Chainlink is a decentralized oracle network that aims to connect smart contracts with real-world data, enabling them to function in a more dynamic and versatile manner.
It operates by linking blockchain-based contracts to off-chain data sources, APIs, and other resources.
Despite the recent launch of its Automation service on Optimism, the price of LINK has shown little movement and has remained in a consolidated state at the time of writing.
Chainlink (LINK) has long been regarded as a leader in the oracle space, providing critical data feeds to smart contracts, but Borroe's ($ROE) unique features outshines it.
With an emphasis on AI-driven risk assessment and secured fundraising processes, Borroe Finance aims to enhance the reliability and accuracy of data integration in the DeFi ecosystem.
This move could potentially disrupt the decentralized oracle space and introduce a new level of efficiency and security.
Monero (XMR) Faces Regulatory Concerns
Monero (XMR) is a privacy-focused cryptocurrency that prioritizes anonymity and security. It was launched in 2014 and is built on a decentralized, open-source blockchain technology.
Monero (XMR) has established itself as a popular privacy-focused cryptocurrency, allowing users to transact without leaving a trace.
However, it's important to note that while Monero offers unparalleled privacy features, its adoption has also raised concerns about its potential misuse in illegal activities.
This has led to discussions within the cryptocurrency industry about balancing privacy and regulatory compliance.
Borroe Finance $ROE stands out as a contender due to its integration of privacy features within its platform while also striving for total regulatory compliance.
At press time, XMR is already down 73% from its all-time high, as per data acquired from CoinGecko.
Summary
While Chainlink and Monero have established communities, Borroe Finance is making strides to engage and grow its user base.
he project's strategic partnerships, user-friendly interface, and transparency commitment have resonated positively within the crypto community.
As the project gains traction, it's poised to become a compelling option for investors, with a massive 100x growth forecasted by analysts.
Learn more about Borroe ($ROE) here:
Visit Borroe Presale | Join The Telegram Group | Follow Borroe on Twitter
---