Boatsters Connects Cryptoworld to Yachting Industry
Disclaimer: The text below is a press release that was not written by Cryptonews.com.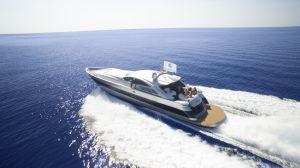 Boatsters, a global yacht charter company, has seen their revenues grown exponentially after developing a safe and secure cryptocurrency-payment solution for the yachting industry. The yacht charter company accepts the top 55 cryptocurrencies like Bitcoin, Ethereum and even NEO. After the integration the company noticed a major increase in charter requests, because finally there is a proper and luxury purpose for cryptocurrencies, which creates a great opportunity for crypto-millionaires in the world.
The crypto-market
In the past year, many Initial Coin Offerings (ICO) have taken place. Due to the large amounts that have being raised through these ICO's, a lot of investors ended up with large amount of cryptocurrencies. For example, DogeCoin, a coin with a dog as avatar, went so viral that it has now more than 1000 millionaires owning the coin. But there's no purpose of the coin, nothing you can do with it but sending it from one person to the other. Therefore the solution of Boatsters, to start using DogeCoin and 54 other coins to rent a yacht, is the ideal solution for the crypto-market.
Current market solutions
Payment service providers such as Bitpay, Mollie and Coinbase are easy to use and quickly to implement for businesses in order to accept cryptocurrencies. However they still have their flaws. The security of the transaction can't be guaranteed because the payment service provider can block the transaction for any imperial reason. They also have their own exchange rate in which you will receive your payment, which is also a reason for a seller to become wary, because you don't know if you'll receive the amount you wished for.
Boatsters wallet to wallet solution
To make sure Boatsters won't be facing issues of high abandonment rates and trust issues other parties have, they came up with their own wallet to wallet solution. This is how crypto-payments were originally set up, before exchanges and payment companies were coming in between to make it their core business model.
The Boatsters solution avoids extra transaction costs and gives the opportunity to convert the assets on an appropriate moment of time, so the yacht owners will always receive the amount they expect to get, in fiat money. Boatsters accepts the top 55 cryptocurrencies, which is unique because current crypto-acceptors are only accepting the minority and famous coins. Boatsters also expanded their team with crypto-professionals to educate supply partners how to successfully implement blockchain and crypto-technologies into the yachting world, resulting in a smooth and hassle-free payment process.
Proof of market
Yacht owner Christopher from Germany recently started working with Boatsters Black: "My train of thought was, if I can get more charters out of a group of crypto-millionaires, let's do it! Boatsters has created a solution in which I don't even notice if the transaction is being done in cryptocurrencies or in Dollars for instance. I wasn't very familiar with crypto's yet, but if this is a way to grow together, I'm happy".
Lamborghini
Previously Lamborghini also started accepting cryptocurrency from their clients and saw record sales because of this in 2017. This indicates a huge amount of people are willing to spend their cryptocurrency like Bitcoin instead of just trading or holds it. It's still unclear how many Bitcoin-millionaires there are, mainly because of the anonymous environment the system operates in. Boatsters has noticed crypto millionaires want to enjoy a luxury lifestyle and purchase luxury goods & services with their 'new money'. Now that the company is accepting cryptocurrencies, they have seen an explosive rise in charters, which in turn adds a new problem to the equation. There aren't enough yachts for charter to cope with the demand, but we can call that a luxury problem!
About Boatsters
Boatsters is a full service charter company for yachts and boats, with a portfolio of over 12,000 rental boats spread across 63 countries. By developing an innovative solution for the maritime industry, they made it possible to rent a boat as simple as booking a hotel room. The yachting industry has mainly always focused on innovating the vessels, but not on its services. With a VR app and an office on a yacht, Boatsters tries to find new ways to be more efficient and transparent to their clients through technology and innovative concepts.
---