BNB (BNB) and KuCoin (KCS) on an Upswing, but for How Long? Buyers Gravitate Towards the Pomerdoge (POMD) Presale
Disclaimer: The text below is an advertorial article that is not part of Cryptonews.com editorial content.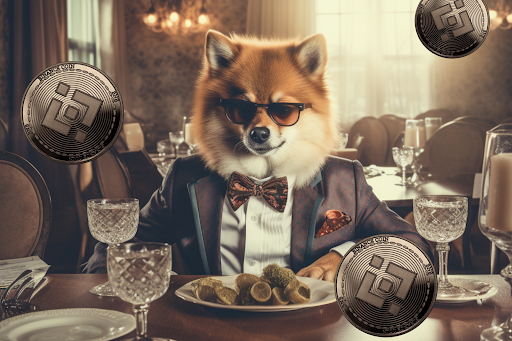 Cryptocurrency markets are known for their rapid fluctuations, and in recent times, two tokens, Binance Coin (BNB) and KuCoin Token (KCS), have been showing signs of an upswing. However, investors are always cautious about sustainability in this volatile landscape. While BNB and KCS are gaining momentum, another token, Pomerdoge (POMD), is drawing attention for its stellar presale performance.
Click Here To Find Out More About The Pomerdoge (POMD) Presale
BNB (BNB): Good Resilience
BNB (BNB), the native token of the Binance exchange, has long been considered a top-tier digital asset. It's not only the fuel for transactions on the Binance platform, but BNB also has various use cases across the broader crypto ecosystem.
Recent price fluctuation in BNB has been marked by protracted sideways movement. The resistance level's tenacious bears have kept prices from breaking through the $225 level. However, experts remain bullish for the BNB coin as the crypto market continues growing and demand for it rises.
Due to all these reasons, many experts in the field predict that the BNB price will sit between $266.93 and $307.41 within Q4 of 2023.
KuCoin (KCS): Slowly Climbing
KuCoin Token (KCS), the native token of the KuCoin exchange, is another cryptocurrency gaining value. Its popularity has grown steadily due to its user-friendly interface and various trading features. KuCoin token holders also benefit from revenue-sharing opportunities on the KuCoin platform.
In recent KuCoin news, the platform announced its crucial role as the Title Sponsor of TOKEN2049 Singapore, a prestigious event for the worldwide cryptocurrency community. Over 10,000 people are expected to attend, making this year's event the biggest.
As the interest in the KuCoin token rises, so will its price. As a matter of fact, market analysts predict that the KuCoin price will reach $7.26 by December 2023.
Pomerdoge (POMD): Emerging Presence
Amid the ups and downs of well-established tokens like BNB and KCS, Pomerdoge (POMD) has entered the scene with a stellar presale. Pomerdoge aims to connect players worldwide through an interactive and competitive game, offering rewards for playing and building up characters.
In the Pomerdoge game, players can build up their characters, known as Pomers, to elite levels, enhancing their in-game abilities and attributes. This adds depth and strategy to the gaming experience. Additionally, Pomerdoge allows players to create custom items for their avatars, giving them a unique and personalized appearance within the game.
Once players achieve gold status with their Pomer character, they can start selling skins, items, and other valuables in the Pomerplace. This marketplace consists of a trading platform and an arena for battles, where players can test their skills against others.
At the moment, Pomerdoge offers an exclusive collection of 7,777 NFTs. To acquire these NFTs, users will need POMD tokens. One POMD token costs only $0.014 as it is in Phase One of its presale, but unlike BNB and KuCoin, it has a low market cap. To clarify, it will surge faster. Therefore, analysts predict a 30x hike for it before the presale ends.
Find out more about the Pomerdoge (POMD) Presale Today
Website: https://pomerdoge.com/
Telegram Community: https://t.me/pomerdoge
---