Blockchain Will Be as Broadly Adopted as The Internet: Circle CEO
Blockchain-based platforms eventually will become "as widely adopted as the Internet is today," Jeremy Allaire, CEO of fin-tech company Circle, said, speaking on CNBC's Fast Money show from the Delivering Alpha 2018 investment conference in New York.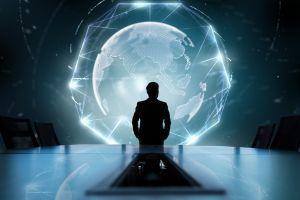 When asked by the show host which of the Blockchain-based platforms will be in the lead in terms of being used to build innovative and trustless applications on top of, Allaire said that "Ethereum right now has an enormous amount of developer activity, but a lot of new platforms are coming out – EOS, NEO, Cardano, and other next generation projects," adding that "it's really like a new infrastructure layer of the Internet that we can all build on top of."
In a separate segment of the same show on Wednesday, Barry Silbert, CEO of Digital Currency Group, a venture capital company focusing on the digital currency market, told viewers that he believes we have already seen the bottom in Bitcoin prices.
When asked what caused the bottom to come in now, Silbert replied by saying "I think the bears just kind of ran out of energy, ran out of Bitcoin to sell, and I think that from a technical perspective it's starting to look pretty good," adding that "when the Chair of the Fed [The Federal Reserve System, the central banking system of the USA] says negative things about Bitcoin […] and Bitcoin doesn't move, I think that's a really bullish sign."
Federal Reserve Chairman Jerome Powell said Wednesday that digital currencies, like bitcoin, have "no intrinsic value" and are only good if you are trying to hide or launder money, Marketwach reported. Speaking in front of the House Financial Services Committee, Powell said that oversight of the digital currency market was not the role of the Fed but more a "consumer protection issue," it added.
_____
Watch the entire segment with Jeremy Allaire below:
---