Blockchain Agents review: Blockchain Expo Europe 2019
Disclaimer: The text below is a sponsored article that was not written by Cryptonews.com.
_________
In June blockchain and cryptocurrency enthusiasts from around the world met in the capital of Netherlands, Amsterdam for Blockchain Expo Europe conference on various subjects related to decentralised start-ups, innovative blockchain solutions and investments. Europe's largest Blockchain Conference and Exhibition focused on the future of enterprise technology, with two days of top-level content from leading brands, embracing and developing cutting edge blockchain technologies. The event was organised by Encore Media group based in UK. Blockchain Expo Europe was a part of a series of international conferences devoted to innovations implementation in the modern world.
The conference gathered the brightest experts of the blockchain industry, well-known specialists, and gurus of the crypto market, developers, entrepreneurs, representatives of payment systems, and fintech thought leaders who shared their way of thinking concerning blockchain technology development across the globe. Participants of the event had the pleasure to listen to 20 speeches and look at 10 presentations in the exhibition area.
The atmosphere was very friendly and predisposing for networking and sharing ideas with other blockchain enthusiasts. Live contact with the people behind the projects is always way more interesting, because they really get the opportunity to explain their projects in details.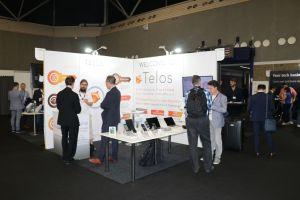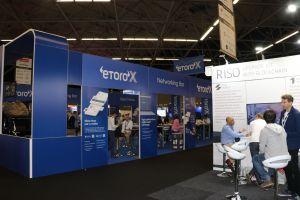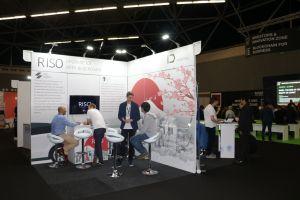 Super active and fast Blockchain agents reporting group joined the conference to garner the thoughts and ideas from across the industry. BA reporting group is a team of independent journalists working together on creating useful and fascinating video content on blockchain technology for digital platforms and media. At the conference Blockchain agents managed to hold 10 video interviews with key speakers and fintech thought leaders and make some amazing videos about participants of the event. The interviews were held with the award-winning publisher, adviser of blockchain startups and fintech influencer Richard Kastelein, Computational Scientist of Bayer LG and keynote speaker of many fintech conferences Karl Brand, Founding partner and CEO of Eterna Capital Andrea Bonaceto, CEO of Exscudo Andrew Zimine, Chief Communication Officer of ChangeNOW.io Pauline Shangett and other amazing experts.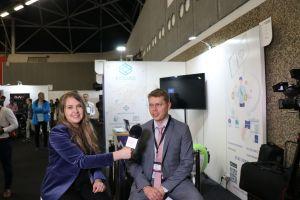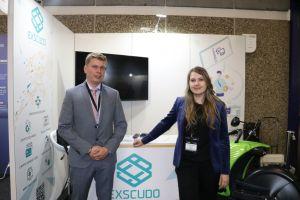 We definitely think that it was a well organized conference and the panel discussions were great, in particular we liked a lot the panel about Industry-wide transformation and collaboration held in the section Blockchain solutions for Enterprise. During the discussion well-known and recognized blockchain experts were talking about opportunities & challenges that blockchain technology presents for legislators & governments. The experts also let the audience know about pros & cons of collaboration between fintech companies and governmental structures. The moderator of the panel discussion was Rudolf van Ee, Co-founder of Blockchain Talent Lab, one of the most progressive fintech thought leaders. Other experts Karl Brand, Computational Scientist at Bayer AG and Bas van Dijk, Strategic Finance at Port of Rotterdam & Blocklab demonstrated high expertise in the fintech field and their points of view caused a lot of interest and questions.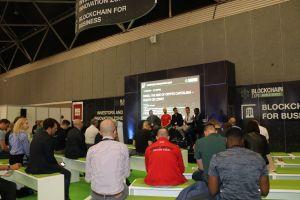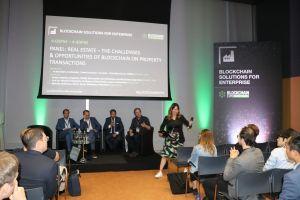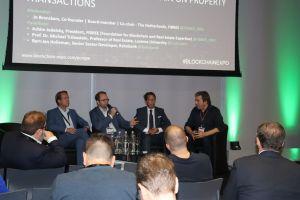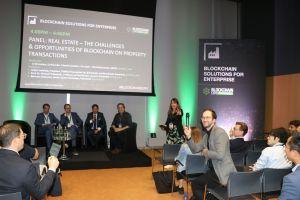 Miquel Estape's speech "Blockchain for governments: ideas to move from hype to reality" was also well worth listening to. Some of the other speeches we liked were on topics like: business solutions within FinTech achievements, blockchain prospects, cutting-edge technologies and technical aspects of working with the smart technology.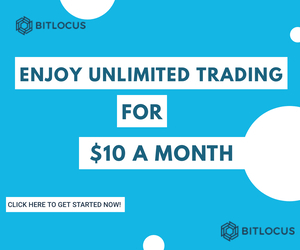 Exscudo CEO Andrew Zimine was invited by organizers as a key speaker of the section Blockchain for Enterprises. Andrew Zimine is a blockchain visioner, fintech thought leader and an author of many articles in leading financial and business media. He has been a speaker in multiple major blockchain conferences on topics of next-gen economy and integration of blockchain into the real world applications. The organizers of the conference asked Andrew to share his thoughts about blockchain future with the audience and express his opinion about challenges which are most likely to happen.
At Blockchain Expo Europe Andrew made speech on the topic "The Bank is dead! Long live the Bank! How can banks survive the changing financial landscape?" Andrew marked the problem that today traditional banks are too slow to implement modern technological solutions and people prefer using innovative and sometimes superior products created by emerging fintech companies. Andrew underlined that to stay afloat amidst the rapidly changing sea of modern finance, traditional banks had to change and learn to work in a beneficial partnership with rising fintech startups.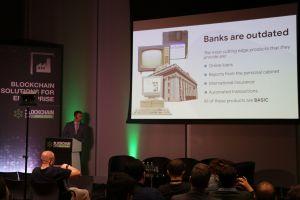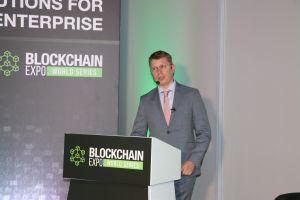 Blockchain agents reporting group was really impressed by a big number of great knowledgeable speakers at the event: Emmanuel Delerm, Director of Blockchain projects at Carrefour, Julian Grey, Technology Director at BP, Herve Francois, Blockchain Initiative lead at Ing, Bart-Jan Holleman, Senior Sector developer at Rabobank. The speakers shared their experience of blockchain adoption for handling problems and business process improvement.
There were many modern and unusual booths on the exhibition floor however Exscudo's booth was just sensational. Exscudo took part in the event as a bronze sponsor and this high status allowed company's team to be more creative and inventive at preparation for the event. As a result visitors of company's booth were impressed by the opportunity to see there the real futuristic Johammer motorcycle, the 8th world wonder, symbolizing the great future built on innovations. Booth guests could get technical and commercial information about latest company's developments, discuss prospects for cooperation, watch videos about advantages of Exscudo ecosystem and ask questions. Obviously the company's participation at the Blockchain Expo Europe was a big success.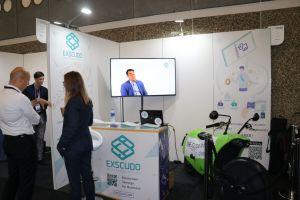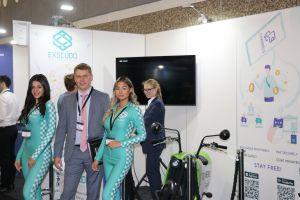 After the conference was over there was an after-party for the biggest enthusiasts. The event took place at a nice bar at RAI's exhibition center. Overall the participants were happy with the event. We went back home having learned quite a lot and we also made some new friendships.
It was a big pleasure for Blockchain Agents to work at the conference as the participants and speakers were open and friendly with us and we did not have any difficulties in communicating with them. We can underline that all experts of the event were happy to share with us their thoughts and general observations regarding blockchain technology and its implementation in different fields. We are sure it was a great start of the project and we will definitely continue making interesting videos about fintech industry and holding interviews with fintech thought leaders, influencers and experts.