Black Wednesday Follow-Up: We Have Survivors!
A week ago, Black Wednesday came, brought a huge dip, and a week later most coins are still struggling to keep their heads above the water.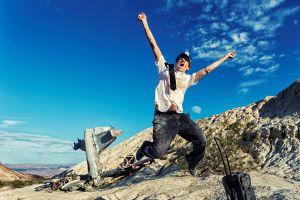 We checked to see how the top 100 coins by market cap are holding up.
There are almost no winners: the only coins in green are Dogecoin (DOGE) and Compcoin (CMP). Tether is also "green", although as a stablecoin, it sailed through this bear run unscathed as always. In the losing group, even the least of the top 10 losers - Cardano (ADA) - lost more than 40%. RChain (RHOC) is the biggest loser of the bunch, with almost half its price shaven off.
Best performers in the last seven days: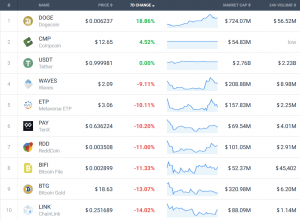 ______
Worst performers: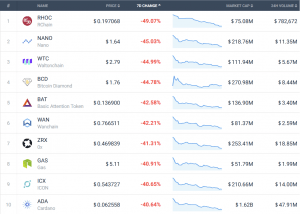 ______
Why Dogecoin, with a relatively big net gain at 18.86%, sailed upwards while others plummeted is anyone's guess, but one popular theory floated on social media is that its gain has is a result of it having been added to the popular Robinhood app as a currency available for trading in mid-July. The previous surge of Dogecoin on first days of September was attributed to the release of the Dogethereum alpha version.
The top 10 coins by market capitalization have also experienced varying degrees of loss: if the top 50 by amount lost are the losers, then Ethereum, Bitcoin Cash and Cardano are the only ones below that line. The others are relative winners - but only compared to what happened to other coins that lost upwards of some 30%.
Ethereum has been on a downward spiral for some time now, as sentiment worsens, and hit new yearly low today. Vitalik Buterin, co-founder of Ethereum, has not been helping either: from agreeing with the opinion that ETH will be worthless if its protocol doesn't change, to saying that, "There isn't an opportunity for yet another 1,000-times growth in anything in the space anymore," he does not sound exactly optimistic.
As of the time of writing, the market stays distinctly red.
---