BitTorrent Coin News Kept Tron in Green Despite Divided Reactions
BitTorrent, a communication protocol for peer-to-peer technology sharing of files on the internet, is creating its own cryptocurrency called the BTT on the blockchain of its owner company Tron. These news have helped Tron's own TRX coin stay in the green while the most of the market is in the red, in spite of the community's divided reaction to the news.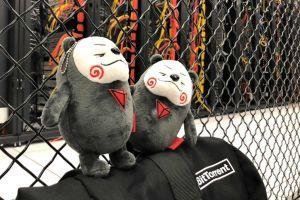 "BitTorrent token is the first in a series of steps to support a decentralized internet," Justin Sun, founder of Tron and CEO of BitTorrent, said in a press release. "In one giant leap, we can introduce blockchain to hundreds of millions of users around the world and empower a new generation of content creators with the tools to distribute their content directly to others on the web." Both companies plan to provide more details about the BitTorrent token at niTROn Summit on January 17–18 in San Francisco.
According to the whitepaper of BTT, BitTorrent has "more than 100 million monthly active user and millions of additional new installs every week."
TRX itself is up by almost 3% in the past 24 hours as of the time of writing (UTC 11:55 AM), but seeing an increase where the rest of the market is slightly in the red. However, the coin is up by more than 10% in the past week.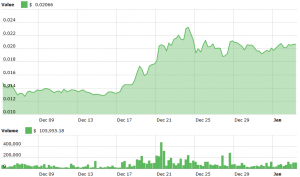 The community is unsure what to think: while some see the merit of BTT, others remain skeptical. One big issue is the fact that BitTorrent is often used to illegally download content, so the question of legality surfaces. However, Reddit user u/DmG90_ explains, "Many fail to see that the Bittorrent protocol is already used to distribute legal content, the problem is that most won't share their bandwidth for free thus such system mostly fails. Now combine it together with blockchain and you got yourself a whole decentralized way of doing business, distributing content while incentivizing people to share their bandwidth."
On the other hand, u/Phiz0r wonders if this will make it easier to catch pirates, writing, "I wonder if rights holders will be more inclined to go after those who transfer pirate files through the paid system. I also wonder if blockchain forensics could be used to tie the sent/received funds received address to a person's downloading/seeding along with an IP address, solidifying the identity of the infringing parties."
In either case, BitTorrent stressed that "there should be nothing mandatory about this ecosystem and users will retain the right to opt out for any reason."
The main selling point of the coin seems to be a quote by the creator of Bitcoin, Satoshi Nakamoto: "For transferable proof of work tokens to have value, they must have monetary value. To have monetary value, they must be transferred within a very large network – for example a file trading network akin to BitTorrent." Many consider this outright endorsement of the new coin - if the creator himself thinks it's a good idea, who doesn't?
The BTT will be available exclusively to non-US accounts on Binance Launchpad, the token sale platform by cryptocurrency exchange Binance. Since US regulators have increased the scrutiny over initial coin offerings (ICOs), a new BitTorrent Foundation in Singapore will govern management of the cryptocurrency.
Tron acquired BitTorent for reportedly USD 140 million in 2018.
Meanwhile, famous crypto pioneer and co-founder of both Stellar and Ripple, Jed McCaleb, made headlines on New Year's Eve when he trash-talked Tron calling it "garbage."
---