BitForex, Empower The Industry With Innovations
Disclosure: Crypto is a high-risk asset class. This article is provided for informational purposes and does not constitute investment advice. By using this website, you agree to our terms and conditions. We may utilise affiliate links within our content, and receive commission.
Disclaimer: The text below is a press release that was not written by Cryptonews.com.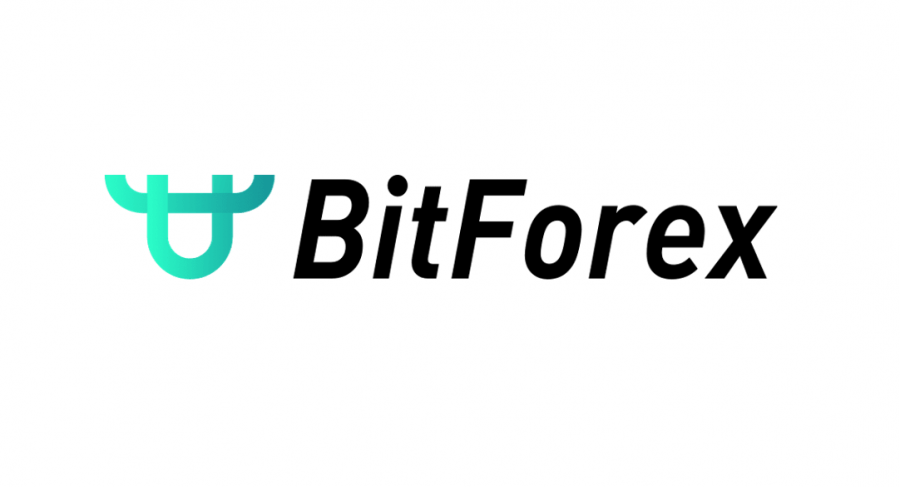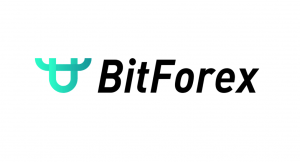 Whether you are a newbie or an experienced investor, you must always be particular about the safety and security of your investment. That said, the platforms you trade would play a key role in how well your investment performs. During this piece, we will be looking at BitForex, and find out how does the platform is changing the world with crypto trading.
BitForex is a popular and reliable cryptocurrency exchange platform which provides financial services to over 4 million users via a highly secured and safe network. Their services are laced with professionalism, efficiency, and convenience. The platform provides several top digital currencies like BTC, ETH, LTC and etc. BitForex is based in Hong Kong and incorporated in Seychelles. BitForex has users over 180 countries.
Since its inception, BitForex has contributed significantly to the growth and development of the cryptocurrency industry with lots of innovative solutions and services such as EazySwap.
Trading on BitForex
There has never been a better time to start trading cryptocurrencies on BitForex. The platform has made provisions for all kinds of traders. It is one of the best crypto exchange platform for perpetual trading. If you are also interested in spot trading of BTC and other coins, you can buy Bitcoin or altcoins on BitForex.
Spot Trading on BitForex
In the world of money trading, spot trading is the standard form of investment you can undertake. It is one of the simplest ways of buying cryptocurrency such as Bitcoin. Keeping it with the hopes that the price value appreciates in the future so you can sell off your coin and make a profit. BitForex provides a perfect platform to carry out Spot Trading.
The trader is at liberty to sell or purchase any coin against USDT or any other tokens available based on market speculations and trends.
Perpetual Trading on BitForex
Perpetual Trading accounts over 70% of the total volume of cryptocurrency exchange/trading in the world. Perpetual futures contracts are unique financial derivatives that allow an investor to speculate and place a bet on the price fluctuations of crypto assets. On BitForex, we provides stable, secure and fast trading system for users to trade on perpetual platform.
Whereas, a futures contract is a binding agreement between two digital coin traders to exchange a digital asset at an agreed price and date. It is similar to the Perpetual Futures contract, the only difference is that it has an expiry date, unlike the perpetual futures contract.
Features and Benefits of Perpetual Trading
1. Perpetual contract trading is a strategy that enables investors to carry out a flexible and open digital financial exchange, unlike spot trading.
2. Perpetual contracts are not limited by time. It is the edge it has over the Futures contract that has an expiry date. It gives investors the leeway to speculate in a hassle-free market. That way, the trading can go on as long as investors are willing to trade.
3. Perpetual contracts have no extra hidden costs aside from the funding costs that are paid each eight hours.
4. Also, the perpetual trading makes it possible for traders to leverage up to 100x of a transaction (trading). This enables investors to initiate and close a trade with a fraction of their assets. This feature also opens up the prospect of earning high returns from a small investment.
5. Perpetual trading is available at all times. The only time transactions are not permitted is when the platform is undergoing maintenance. This doesn't happen all the time. When it happens, investors or traders are giving prior notice.
Understanding DeFi(Decentralized Finance)
Before we talk about EazySwap, There are some basic concepts we need to understand about DeFi, an abridged version of "Decentralized Finance".
Everything about Bitcoin or any other cryptocurrency is decentralized finance. DeFi is an improvement and the introduction of traditional finance principles to blockchain technology. DeFi enables the tokenization of any assets which to promote its free and open trading in the market globally. Like every other blockchain-powered system, DeFi is transparent, open-source, and immutable and exhibits the concept of automatic execution of contracts.
DeFi is an improvement on top of traditional finance. This is obvious when you compare both principles against user experience, ease of access to financial services, cost of the transaction, security, and general efficiency. User requirements and access to financial services with DeFi are simply promoting financial inclusion. The transaction process with DeFi is transparent, cheap, and secured without any middleman.
Today, there are many DeFi projects in the global market, such as payments, gaming, wallets, decentralized exchanges, market speculation, lending, insurance, and stable coin. BitForex is at the forefront of promoting DeFi with EazySwap platform.
EazySwap on BitForex
In a bid to keep delivering the best trading platform for the growing number of traders globally, EazySwap will be launch soon. EazySwap is a highly secured and user-friendly token-swap platform. You can get a real-time update on Bitcoin price and the price of other altcoins.
The platform is set to be launched on September 2020, and it will offer traders a wide range of crypto trading pairs for users to trade.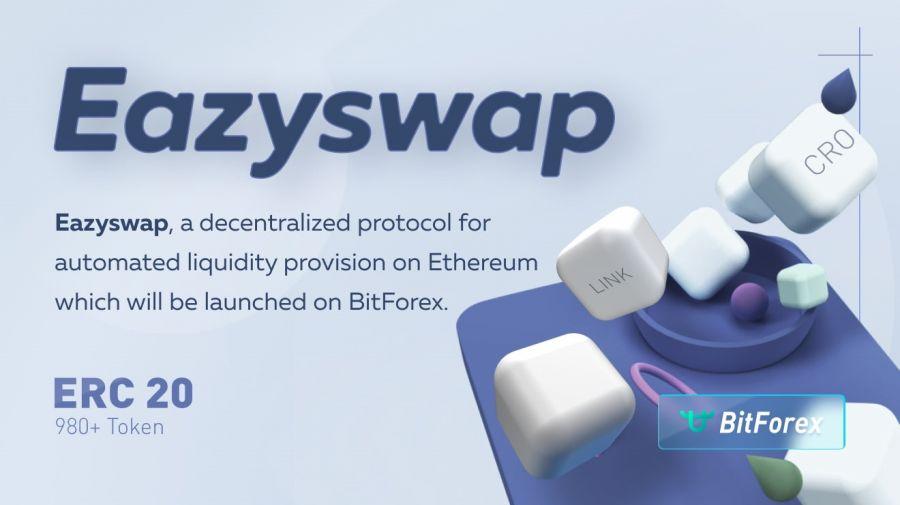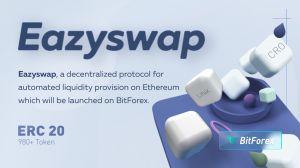 Earning Free Bitcoin with Uulotto
In a bid to encourage more persons to embrace crypto, BitForex works with a platform that rewards people with free Bitcoin without spending a dime. The platform Uulotto is a BitForex confirmed project that provides a gaming experience for crypto enthusiasts. According to the users' feedback, Uulotto is the best platform for anybody to jumpstart their Bitcoin journey because they provide their users with up to $200 worth of free Bitcoins to play and trade with.
All you need to do is to sign up, participate in a game at little to no cost. You might find yourself walking away with $200 worth of BTC within an hour.
Conclusion
BitForex has done significantly well in changing the narratives of the cryptocurrency industry by ensuring that investors develop more confidence in the authenticity and viability of BitForex.
{no_ads}
---