Bitfinex, Tether Hit with 'USD 851 million Cover-up' Wrap (UPDATED 2)
New York's Attorney General (AG) Letitia James has filed an order to the state Supreme Court, saying that major cryptocurrency exchange Bitfinex and stablecoin Tether engaged in a cover-up after losing about USD 851 million of client and corporate funds.
(Updated on 03:46 UTC: a new section (Bitfinex claims it will fight back) has been added, a new paragraph at the end of the first section has been added, first paragraph changed.
Updated on 11:30 UTC: updates (in bold) throughout the entire text.))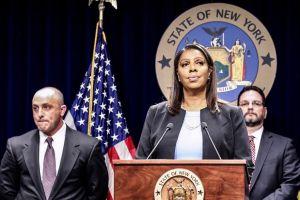 The ongoing investigation seeks to determine, among other things, the extent to which New York investors are exposed to "ongoing fraud being carried out by Bitfinex and Tether," according to the AG. Both companies are not licensed to engage in virtual currency business in New York.
James' court order specifically names both Bitfinex and Tether, as well as the exchange's operator, the Hong Kong-based iFinex. Also, Tether is owned and operated by the same small group of executives and employes who operate Bitfinex.
The AG's office claims that Bitfinex "gave itself access to up to USD 900 million of Tether's cash reserves," and "no longer has access to over USD 851 million dollars of co-mingled client and corporate funds that it handed over, without any written contract or assurance" to Crypto Capital, a company based in Panama.
Per an official AG release, James stated, "Our investigation has determined that [Bitfinex has] engaged in a cover-up to hide the apparent loss of USD 851 million dollars of co-mingled client and corporate funds." According to James, at least USD 23 million of those funds appear to be from just one New York-based Bitfinex client.
Tether's operators have claimed the token is backed by cash reserves, and originally pegged it 1:1 with the USD. Until recently, Tether operators stated that each token was backed by USD 1, but earlier this year changed this to include loans made to affiliated companies.
The AG has been looking into a number of leading exchanges with offices in New York since April last year – examining issues as diverse as trading volume figures, security protocols and insider trading.
James and her team have alleged the operator has "treated Tether's cash reserves as Bitfinex's corporate slush fund," and is "hiding" Bitfinex's "massive, undisclosed losses and inability to handle customer withdrawals."
According to the AG, Bitfinex lied to its customers.
"On October 15, 2018, Bitfinex published a notice to the market stating that "it is important for us to clarify that: All cryptocurrency and fiat withdrawals are and have been processing as usual without the slightest interference," the AG said, stressing that documents provided by the company show that during this time, Bitfinex was having severe problems processing client withdrawals.
However, James stressed that now Bitfinex has sufficient U.S. dollar deposits on hand to fill withdrawal orders submitted by traders.
According to the AG, in order to makeup for the apparent loss of USD 851 million to Crypto Capital, Bitfinex and Tether were in the process of contemplating a transaction that would permit Bitfinex to draw upon Tether's cash reserves on an as-needed basis. Bitfinex would take a "line of credit" of USD 600 to USD 700 million on the reserve funds backing tethers.
Under the transaction, that was closed in the end of March, the line of credit is secured by a share charge over 60.000,000 iFinex Inc. shares owned by DigFinex, which DigFinex agreed not to otherwise encumber, a counsel of Bitfinex and Tether informed the AG. Both companies were represented by the law firms Morgan, Lewis & Bockius LLP, located in New York, and Steptoe & Johnson LLP, located in Washington. Tether is majority-owned by DigFinex, which is also the majority owner of iFinex.
However, the AG's office does not want to prevent legitimate trading on Bitfinex and asks the court to grant a preliminary injunction to "preserve the status quo" pending completion of the investigation, and "avoid continuing and future harm to New York investors."
On April 24, the Supreme Court of the State of New York, ordered Bitfinex and Tether to produce documents, records and information which are material and necessary to the AG's ongoing investigation on the 3rd of May.
Bitfinex claims it will fight back
Meanwhile, Bitfinex and Tether responded by saying that the New York Attorney General's court filings were written in "bad faith and are riddled with false assertions, including as to a purported USD 850 million "loss" at Crypto Capital."
"On the contrary, we have been informed that these Crypto Capital amounts are not lost but have been, in fact, seized and safeguarded. We are and have been actively working to exercise our rights and remedies and get those funds released," the exchange said, adding that "both Bitfinex and Tether are financially strong – full stop."
However, according to the AG, previous statements by Bitfinex and Tether showed that they do not believe Crypto Capital's representations that the funds have been seized.
"While Crypto Capital's principals have represented that the unavailable funds have been seized or otherwise restrained by governmental authorities in Poland, Portugal, and the United States, the Companies grew concerned that Crypto Capital's principals may be engaged in a fraud..." the counsel told the AG in a letter on March 29.
Read more: How Bitfinex was trying to get at least a part of its USD 851 million.
Now, both companies claim that they "are committed to fighting this gross overreach by the New York Attorney General's office against companies that are good corporate citizens and strong supporters of law enforcement."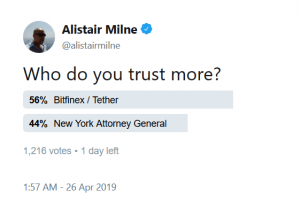 As reported in September 2018, then-New York's attorney general Barbara D. Underwood blasted cryptocurrency exchanges, such as Binance, Kraken and Gate.io, saying that exchanges lack procedures to ensure "the fairness, integrity, and security" of the platforms.
___
Antoni Trenchev, Nexo co-founder and managing partner, on Tether and Crypto Market Landscape:
Meanwhile, Cryptocurrency prices have also been falling rapidly on many exchanges, leading some Twitter users to speculate that some traders may have become aware of the news hours before it broke.
Bitcoin price chart: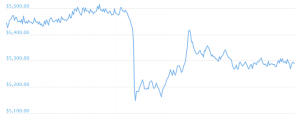 ____
Others claimed that the price "dip" may well prove to be a blessing in disguise.
_____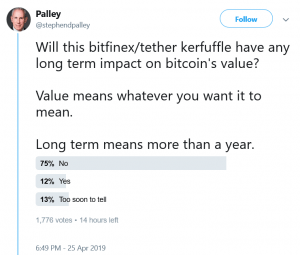 Last year, Cryptonews.com reported that customers encountered issues withdrawing fiat from Bitfinex, during which time Reddit users claimed that the exchange was using Crypto Capital to conduct its fiat withdrawal operations.
---