Bitcoin Soft Despite Fed Plan to Keep Rates at Zero For 3 More Years
Despite the US Federal Reserve (Fed) is planning to keep interest rates at or near 0% for at least another three years, while also keeping the door open for inflation above its stated 2% target, bitcoin (BTC) traders did not seem moved by the somewhat expected announcement.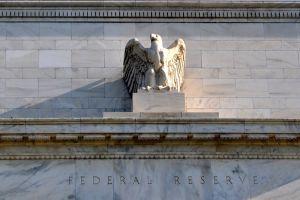 BTC touched a high of just over USD 11,000 before it again retraced lower in the hours following the Fed announcement at 6 PM UTC time on Wednesday. Between the release and the time of writing, bitcoin is down by 2.09%, to a price of USD 10,807 (as of 10:31 UTC).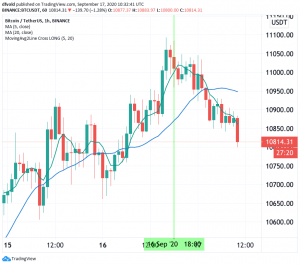 A similar pattern was also seen in the gold market, which saw highly volatile trading immediately after the release, followed by a slight sell-off after traders had digested the news. Over the same time period, gold traded down by around 1% to a price of USD 1,941.
Meanwhile, according to the Fed statement, the central bank will keep the rate in the range of 0% to 0.25% until the labor market has reached the Fed's definition of "maximum employment," and the inflation rate has risen to, and remained above, 2% "for some time."
The central bank justified its plan of allowing inflation to move above 2% by saying that inflation has been "running persistently below" the previously stated long-term goal of 2%. As a result, a temporary jump in inflation is, in the Fed's view, needed to get back to this long-term goal.
And based on the Fed's projections, officials on average expect rates to remain at the current level through the year 2023 – another three years from now.
As conventional wisdom dictates, however, low interest rates and higher inflation may cause the dollar's value to fall in relation to a range of alternative assets, including BTC and gold.
The latest statement from the Fed did not contain any major surprises for market participants, with Fed Chair Jerome Powell having already revealed in a speech in August that the central bank plans to target an inflation rate of more than 2% in the short-term.
Meanwhile, according to Steve Ehrlich, CEO and Co-founder of Voyager Digital, the price of BTC is reflective of the belief that it is a hedge against the overall global economy.
"Bitcoin is extremely resilient and as it gains more and more adoption, in conjunction with better regulations suited to support bitcoin, it continues to demonstrate its position as a reliable store of value," he told Bloomberg.
Nigel Green, CEO and Founder of deVere Group, told the same news agency that bitcoin's key characteristics, such as its fixed supply and how transactions are immutable, distributed, non-sovereign and decentralized are highly attractive for investors in an uncertain but increasingly digitalized, tech-driven world.
"It has already earned it the label 'digital gold' and I believe its status in this regard will grow exponentially over the next year or two," he said.
___
Learn more: MicroStrategy CEO On Buying Bitcoin While Trillions 'Melting' In Treasuries
---