Bitcoin Remains Best Cryptocurrency: Wall Street's "Crypto King"
Bitcoin remains the best bet among cryptocurrencies because people are "functionally using it," Bart Smith, head of digital assets at Susquehanna International Group, a global trading firm that are active in a wide range of markets, told CNBC.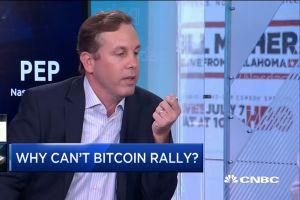 He compared bitcoin to ethereum and smaller tokens built on the Ethereum platform by explaining that technologies such as smart contracts and decentralized apps "are very difficult [to use] and aren't coming any time soon."
"The use case for bitcoin is valid today, which is the currency of the Internet," he said, adding that "it's digital gold and it's a cross-border money transfer which people use."
While discussing bitcoin's relative resilience as other tokens have sold off heavily, Smith, dubbed "Wall Street's crypto king" by the show host, also mentioned two important price levels to keep an eye on in the bitcoin market; USD 5,800 and USD 6,800. (USD 6.362 at press time, according to coinmarketcap.com.)
Bitcoin price chart: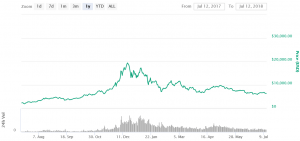 Smith explained that we are now back at the same price level as "before bitcoin became a financial instrument," referring to the time before the futures market for bitcoin was launched late last year.
"The price seems to be bouncing around [the two price levels], it kind of gets to USD 6,800 and then runs out of steam, and eventually it's going to break out of that range," adding that "I think that will be the indicator of new money coming in."
However, China's Center for Information Industry Development, an organization affiliated with the Chinese central government, wouldn't agree with Smith. In its recent ranking of 30 cryptocurrencies bitcoin now is only 17th.
______
Watch the entire episode:
---