Bitcoin Reaches Record-Low Volatility
It's an open secret that trading in bitcoin has become more difficult in recent months than it once was. Traders rely on volatility to make their money, and with less volatility, there are fewer opportunities to trade. For long-term holders and users of bitcoin, however, it's a very different story, and low volatility is generally seen as a sign the bitcoin market is maturing.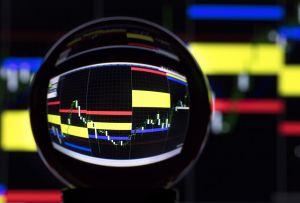 According to Gil Luria, research director at wealth management firm D.A. Davidson & Co., the recently stable bitcoin prices means that there is less speculation in the bitcoin economy.
"When speculators are involved, they drive unusually high volumes as well as volatility by trading the asset with high frequency. As speculator involvement is diminished, volumes go down and volatility goes down as well," Luria told Bloomberg.
The same sentiment was also echoed by Mike McGlone, commodity strategist at Bloomberg Intelligence, explaining that bitcoin is now exhibiting signs of a "maturing market, so volatility should continue to decline."
"When you have a new market, it will be highly volatile until it establishes itself. There are more participants, more derivatives, more ways of trading, hedging and arbitraging," McGlone said.
Judging from the data, it appears the experts are right that both trading volume and volatility is down. Although most notably for bitcoin, the data confirms that the same is also true for many other cryptocurrencies.
The unusually low volatility in bitcoin is confirmed by a technical indicator known as the Average True Range (ATR) indicator, as seen in the bottom of the chart below. Looking on a day-by-day basis, volatility in the bitcoin market is now down to levels not seen since July 2017, before the huge run-up in prices seen later that year.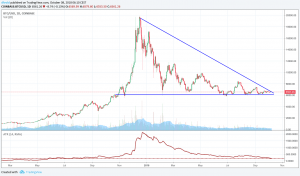 Bitcoin's Next Move
Although volatility may be low at the moment, bitcoin's price chart looks like it is about to break-out from a massive chart pattern that has been forming since the beginning of this year.
Judging from the pattern seen above, with lower highs but a floor around the USD 6,000 mark, it appears that bitcoin is about to face another battle between bulls and bears that will determine its next move.
As we have seen throughout 2018, the selling pressure has been heavy on bitcoin, but buyers have consistently shown up at USD 6,000 to support the market. Over time, sellers have become exhausted as they have not been able to drive the price further down, and we have seen lower volatility as a result. The next few weeks may give us an indication of which side is stronger in the fourth quarter of 2018.
Meanwhile, a new informal poll indicated that the usually very cautious Wall Street investors are now overwhelmingly calling a bottom in the bitcoin market. Twitter users, however, are still skeptical, with a majority saying bitcoin still has room to fall.
In either case, the next time you read a price prediction from an expert trader, you should probably take it with a large grain of salt.
---