Bitcoin Rallies Above USD 19K Again, XRP Dumps
It took less than a week for the most popular cryptocurrency, bitcoin (BTC), to return above the USD 19,000 level after it was trading close to USD 17,600 this past Friday. Meanwhile, one of the recent best performing major coins, XRP, is the only top 10 token in red today.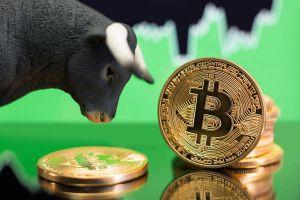 At the time of writing, BTC trades at USD 19,278 and is up by 4.5% in a day, erasing all its weekly losses. The price is now up by 17% in a month and 162% in a year.
BTC price chart: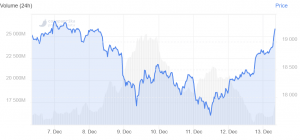 Other coins from the top 10 club are up by 2%-4% in a day, except XRP that dropped by 4%, to USD 0.51 and is now the worst-performing coin in the past 7 days (-16%). Other major cryptoassets, except BTC, are still down in a week by 2%-6%.
As reported, it appears that large traders, whales, and institutions that accumulated BTC around USD 10,000 levels decided to take profits during this rally, while retail traders mostly kept adding to their positions during the price surge, major crypto exchange OKEx said in their latest report. The result of this was that retail traders were trapped below USD 19,000, but given how overall market sentiment remains bullish, their losses were expected to be short-lived.
Also, compared to the previous cycle, the world's largest crypto asset appears to be "right on track" and "the similarities between cycles are striking," according to US-based crypto research firm Delphi Digital.
Meanwhile, on Friday, US-based business intelligence company MicroStrategy confirmed it raised USD 650m by selling convertible senior notes due 2025 in order to buy more BTC. Also this week, the news broke that America's Massachusetts Mutual Life Insurance (also known as MassMutual) has purchased USD 100m worth of bitcoin to add to its general investment fund.
____
Learn more:
Bitcoin, Ethereum, XRP, Bitcoin Cash, Litecoin, Chainlink Price Predictions for 2021
Bitcoin May See 'Uneventful Price Action' in December - Kraken Intelligence
Morgan Stanley Exec Says Bitcoin is Coming for the US Dollar
Crypto in 2021: Bitcoin To Ride The Same Wave Of Macroeconomic Problems
---