Bitcoin Prices and Ethereum Prediction: BTC Bulls Aim Another Rally As BTC Consolidates Near $22,750
Disclosure: Crypto is a high-risk asset class. This article is provided for informational purposes and does not constitute investment advice. By using this website, you agree to our terms and conditions. We may utilise affiliate links within our content, and receive commission.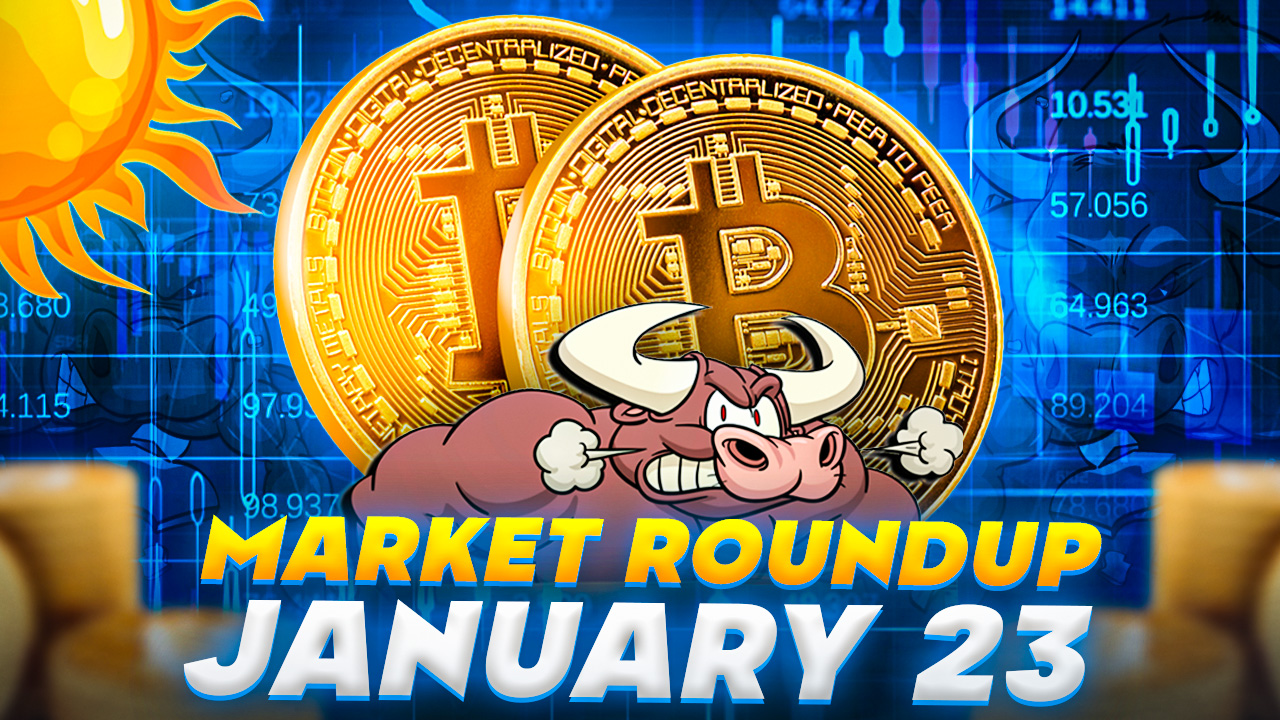 On January 23, the leading cryptocurrencies such as Bitcoin and Ethereum were consolidating in narrow ranges as investors seemed to wait for a solid fundamental reason to trigger a breakout.
Recently, both of the leading cryptocurrencies have extended their long winning streaks and have remained well bid around their best levels since mid-September, approximately $22,689 and $1,634 respectively.
Bitcoin has risen roughly 37% so far this year as investors ignore several crypto sector challenges, the most recent of which was Genesis Global Holdco LLC filing for Chapter 11 bankruptcy protection.
GM everyone!!! Crypto Market Update Btc Above 23k #btc pic.twitter.com/Xc0ZMvz7LR

— Andres Castillo (@ANDR3S_CASTILL0) January 21, 2023
However, the current rise could be attributed to a weaker US dollar and positive Federal Reserve statements, as well as positive CPI statistics, which could keep Bitcoin above $22,000 if equity markets continue their recent rise.
Top Altcoin Gainers and Losers
Axie Infinity (AXS), Osmosis (OSMO), and Filecoin (FIL) were the top performers in the last 24 hours. OSMO's price increased by nearly 14% to $0.9835, while AXS's price increased by more than 23% to $11.40. At the same time, FIL has gained just under 13% to trade at $5.60.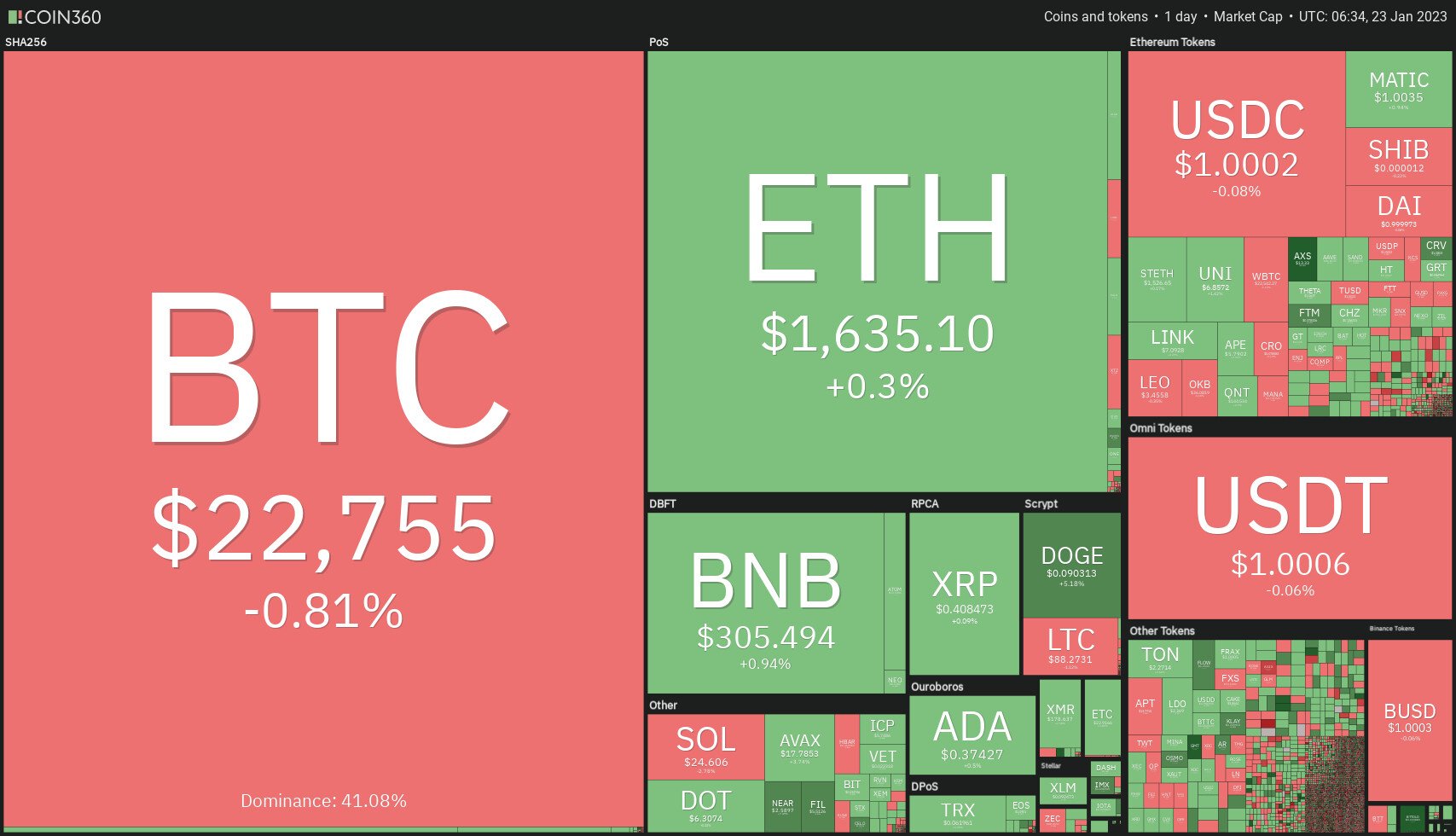 Kava (KAVA) has dropped around 4.45% to $1.03 in the last 24 hours. Casper (CSPR) is down over 3.35% to around $0.036, and ApeCoin (APE) is down about 10.25% to $5.50.
Bitcoin Reaches Fresh Annual Highs After Positive CPI Data
The Bureau of Labor Statistics (BLS) CPI data released on January 12 showed total inflation for all urban consumers dropping by 0.1%, which appears to have been a major driver of the BTC and ETH rally.
Inflation has been declining for six months in a row, according to CPI statistics. However, the sharp drop in gasoline prices was one of the most significant drops in the analysis. In fact, both new and used car prices have dropped.
As a result, the CPI data comes with a warning that the cost of services and food remains quite high.
This week we finally had some good news about inflation as the number cooled more than expected. GDP data also moved higher, after 2 quarters of decline, Meta fired 11,000 staff, FTX exchange had a crisis pushing BTC to fall under $16K before bouncing back on positive CPI data pic.twitter.com/BhLPzi4BgL

— Argotrade (@Argotrade1) November 11, 2022
If inflation has peaked, the Federal Reserve may reconsider its aggressive interest rate hike strategy.
Many traders agree that Bitcoin prices could rise if the Federal Reserve reversed its current policy of quantitative tightening and interest rate hikes. However, the interest rate decision is expected the day after the FOMC meetings begin on January 31.
The FOMC decision could be influenced by positive inflation figures, which would increase the value of BTC and stocks. Investors' confidence in the cryptocurrency market may be growing as a result of CPI data indicating that the US Federal Reserve will gradually raise interest rates beginning in 2023.
Bitcoin Booms As The US Dollar Plunges: What You Need To Know
On the other hand, a weaker US dollar is a positive factor for bitcoin's price. As we all know, as the US dollar falls, sentiment toward risky assets such as Bitcoin rises.
Such movements are happening all over the world.
A decline in the US dollar's share of international currency this year is certain, but it could be quite a drastic one.

— a priori (@hisashi47687124) January 22, 2023
As a result, if interest rates begin to fall and the economy expands, Bitcoin may continue to rise alongside positive equity markets. The macroeconomic environment influences the price of bitcoin.
What Is Driving The Recent Global Crypto Market Mood?
The global cryptocurrency market was able to maintain its upward trend and remain well-bid above the $1 Trillion mark. However, the reason for its current upswing could be linked to institutional investors who have been long-term holders of the largest digital asset, eventually increasing demand for BTC.
#cryptocurrency Keeps Going, And Going, And Going@Cryptoworldhelp pic.twitter.com/k8dm203KnR

— Crypto World (@Cryptoworldhelp) January 20, 2023
Another factor supporting the cryptocurrency market is the growing likelihood that the Federal Open Market Committee (FOMC) will only raise interest rates by 25 basis points (0.25 percentage points) at its February meeting, a reduction from the 50 basis point increases seen in December.
China's COVID-19 Crisis
On the other hand, the rising number of COVID-19 cases in China, which has raised concerns about the country's short-term economic prospects, was expected to have an impact on the cryptocurrency market.
As a result, this was viewed as a significant factor that could halt future gains in the price of bitcoin.
Bitcoin Price
Bitcoin is currently worth $22,740, with a daily trading volume of $23 billion. On a daily timeframe, Bitcoin is encountering heavy resistance at a double-top pattern at $22,830. If the candles fall below this level, a bearish correction is anticipated to begin and continue until the $21,500 mark is reached.
The RSI and MACD indicators are overbought, indicating the possibility of a bearish correction in BTC. If the price of Bitcoin falls below $21,500, it may fall as low as $20,450.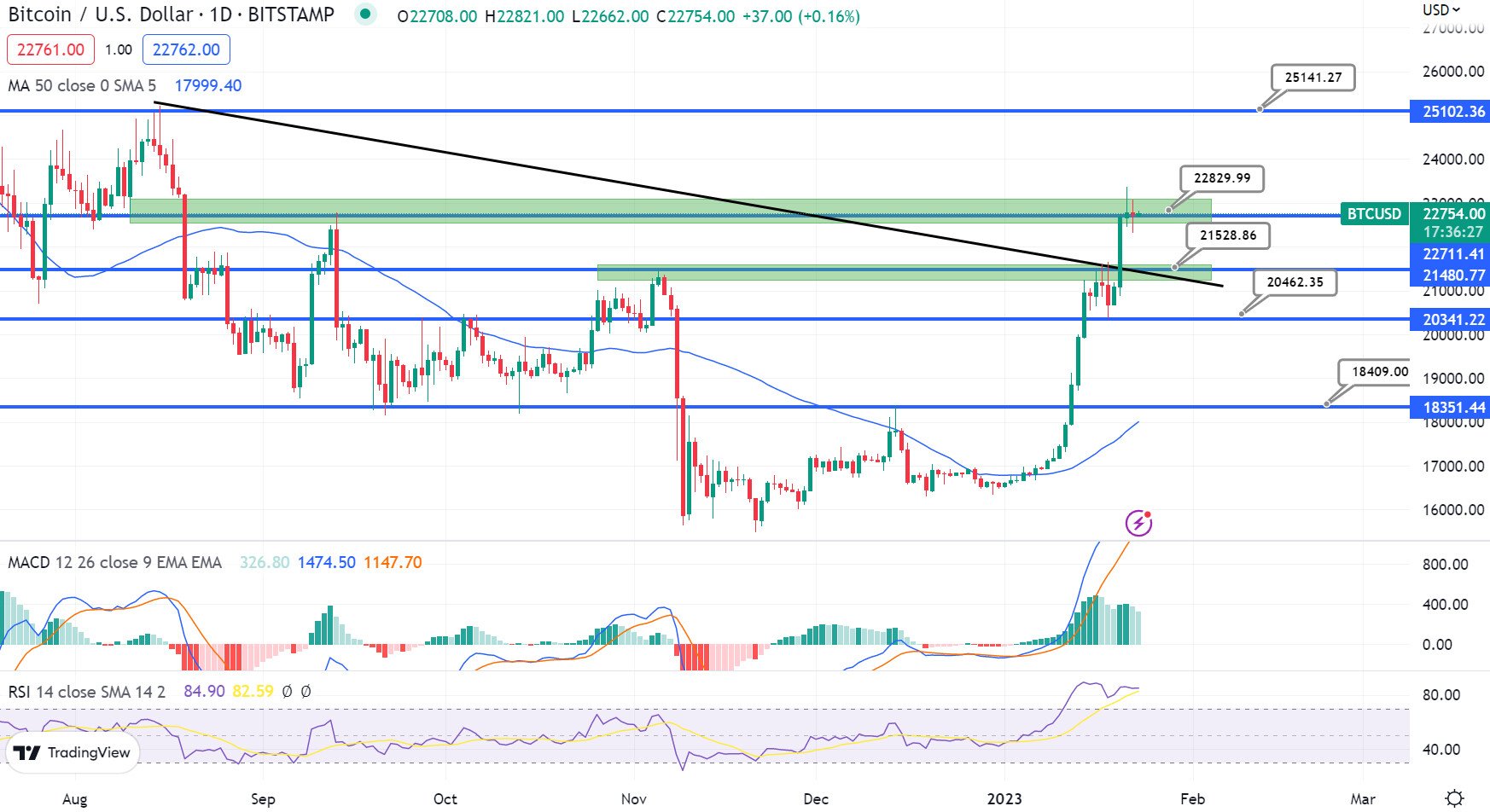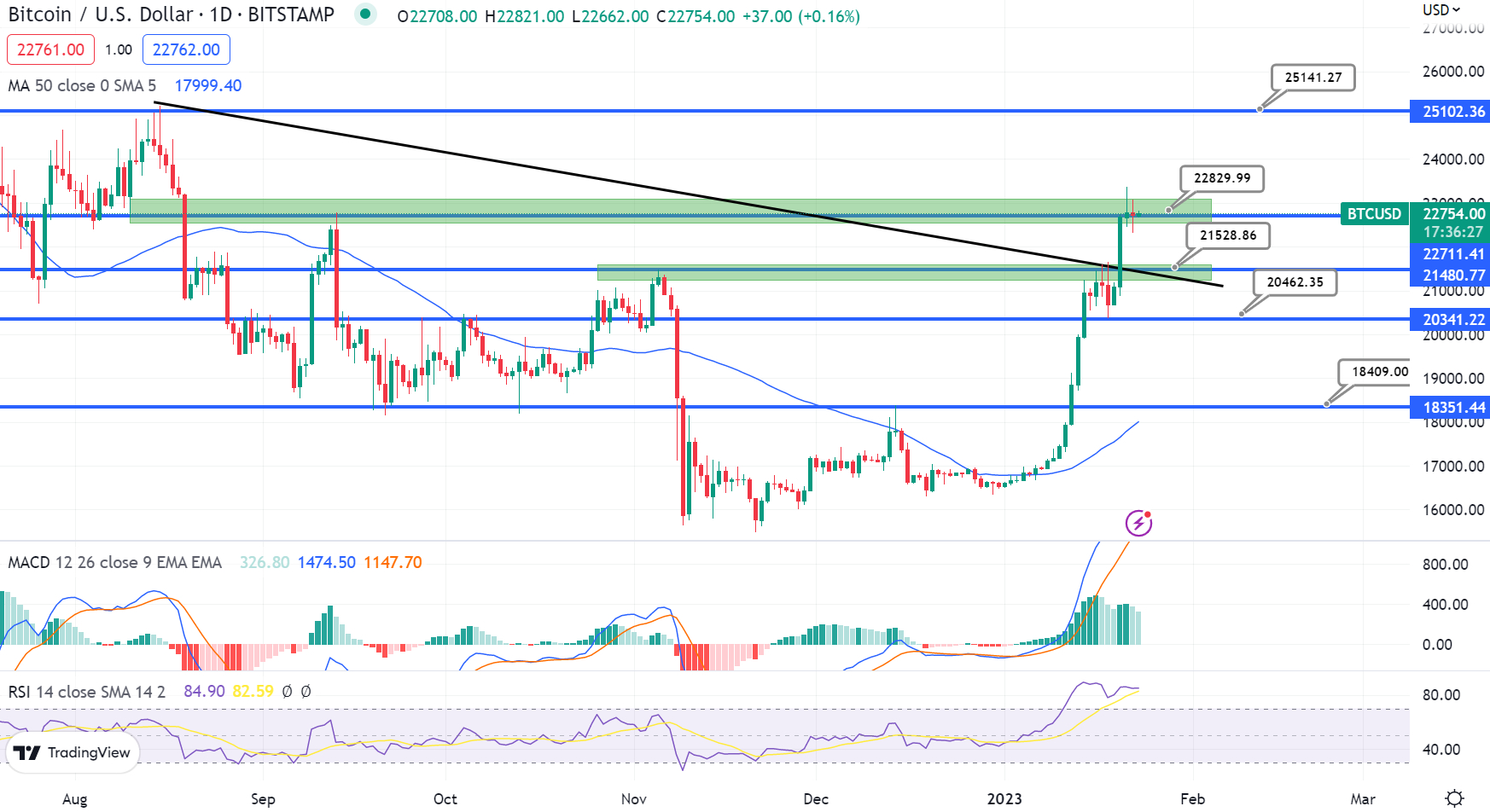 On the upside, Bitcoin's immediate resistance is at $22,800, and a break above this level could see BTC test $23,900 and $25,150.
Ethereum Price
In the last 24 hours, the price of Ethereum was $1,635, with a trading volume of $7 billion. The ETH/USD pair has gained an immediate support at the $1,610 level, and the closing of candles above this level is likely to drive an uptrend in BTC.
On the upside, ETH is likely to find an immediate resistance at the $1,675 level, and a bullish crossover above this level can expose ETH toward the $1,750 level.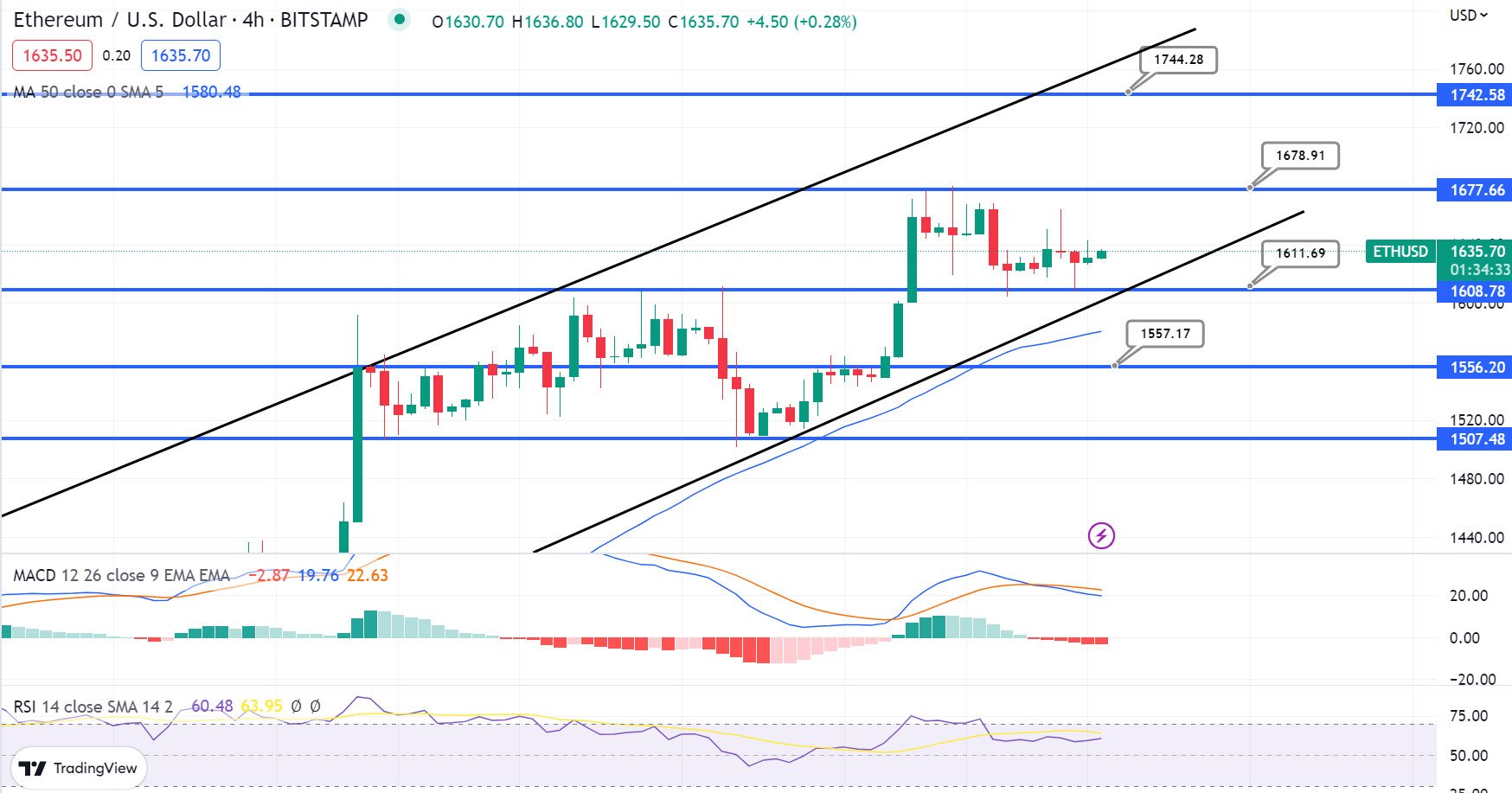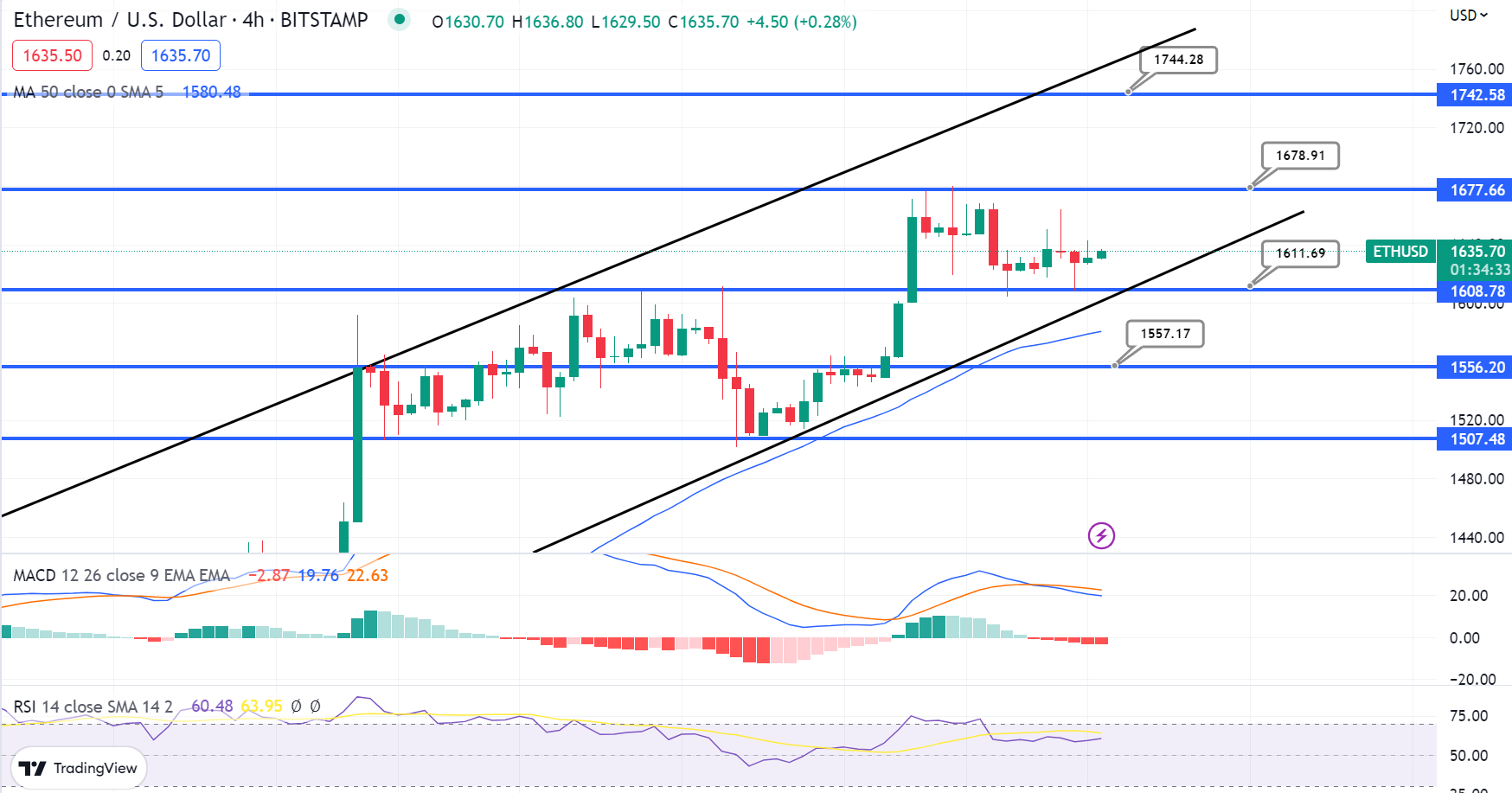 On the lower side, a bearish breakout of $1,610 could open up further room for selling until $1,550.
3 Coins To Watch Out For During Presale
With each passing day, the bitcoin market expands. Presale coins frequently provide investors with the option to get in on the ground floor of a new project and reap the advantages of that project's success while also exposing themselves to potential hazards.
With that in mind, here are three coins to look out for during the presale.
Fight Out (FGHT)
Fight Out is a simple and inexpensive method to remain active. By acquiring FightOut tokens, you can access experienced personal training services at a moderate cost. This means that even individuals on a tight budget can benefit from physical activity.
Despite Move2Earn's comprehensive feature set, its ability to analyze physical and mental fitness, as well as its NFT Avatar and social competitive component, distinguishes them from other M2E apps.
Users can test and track their development in strength, cardiovascular endurance, and other areas using Fight Out's real-time performance tracking.
Investors appreciate Fight Out's $FGHT cryptocurrency because it has a solid concept and high presale rewards ranging from 50% to 100%, depending on the amount invested. Already, more than $3.2 million has been raised.

Visit FightOut Now
C+Charge (CCHG)
C+Charge is creating a revolutionary online payment solution for electric vehicle (EV) owners. Users will be able to trade in their initial charge for credits that may be used to buy carbon credits. The ultimate goal is to significantly reduce greenhouse gas emissions caused by automobile driving.
Given its genuinely game-changing potential, this technology has the potential to completely disrupt the carbon credit market. This allows a wider spectrum of businesses to join while also adding value to them.
VCMs are expected to be worth $100 billion by 2030, making them an intriguing investment possibility for corporations. C+Charge's presale raised about $361,925, demonstrating the tremendous demand for VCMs.
Meta Masters Guild (MEMAG)
In just a few days, the Meta Masters Guild has gone from $200,000 to a whopping $550,000. This significant growth implies that the public has a high level of trust in the company's potential to prosper and produce profits in the future. Meta Masters Guild will release its first mobile game in the third quarter of 2023.
The MEMAG network has been operational for some time and allows users to produce and manage their own coins as well as trade on the open market. They are also working on games in which participants can earn rewards, as well as games powered by Web3, an Ethereum-compatible technology.
Investing in MEMAG currently begins with the purchase of $10 in MEMAG tokens. You will receive one token for one cent if you engage in the presale; early investors will have a limited window of chance to participate.
MEMAG's presale raised about $1 million, demonstrating the tremendous demand.
Find The Best Price to Buy/Sell Cryptocurrency


---