Bitcoin Price Retargets $30,000, But This Ethereum-Based Alternative Could See More Explosive Upside – Staking Starts Today, Lists on DEXs Thursday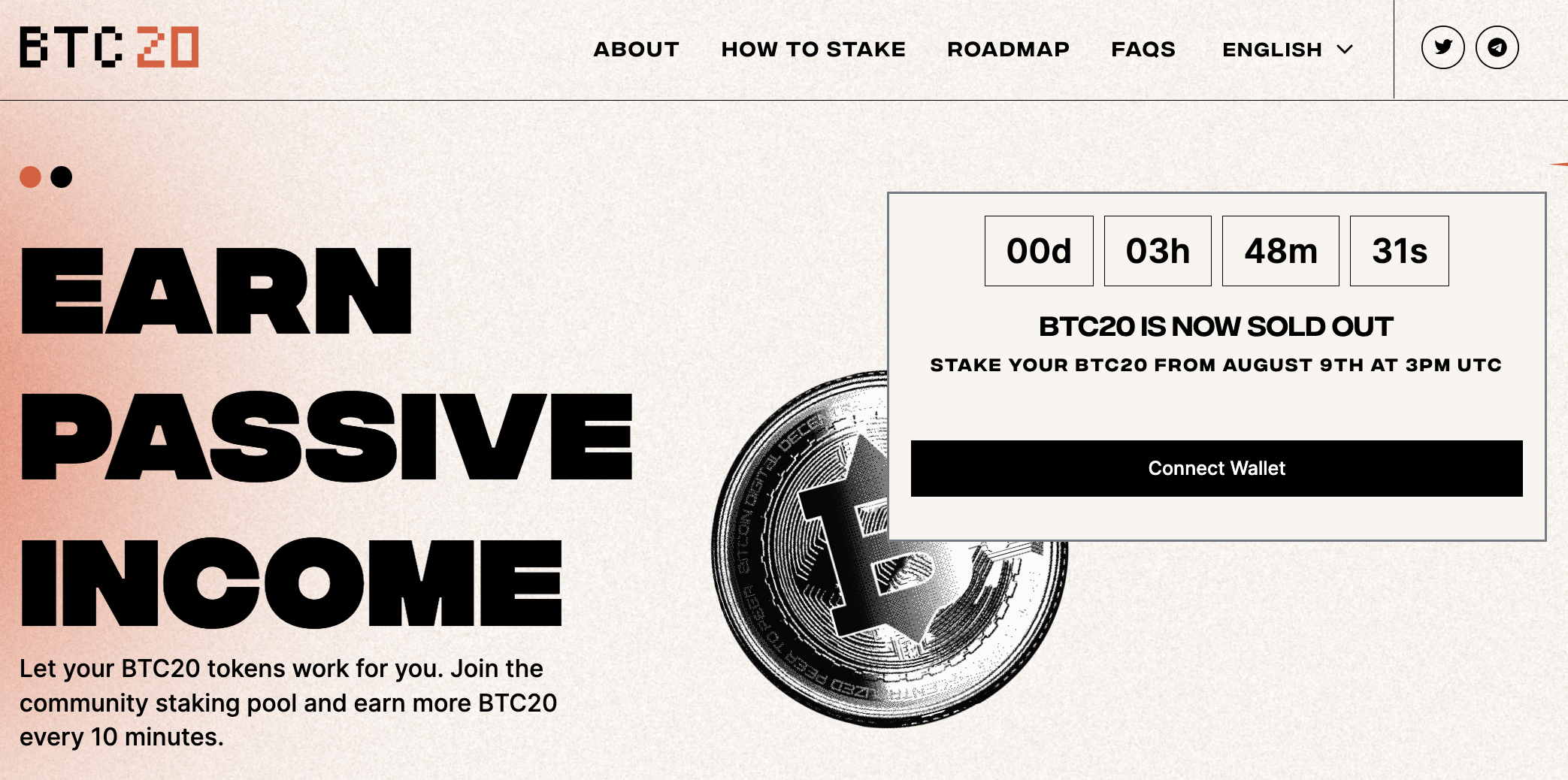 The Bitcoin price (BTC) is rallying to retarget $30,000, but analysts are tipping exciting new Ethereum-based Bitcoin alternative BTC20 for explosive upside when it lists on Thursday 10th.
Staking of the BTC20 token starts later today at 3 pm UTC.
Bitcoin got a boost on Tuesday from optimism around the possibility that spot bitcoin ETFs will be approved by early 2024 following bullish commentary from Galaxy Digital CEO Mike Novogratz, and after PayPal's announcement on Monday that it will issue its own stablecoin.
Other Bitcoin alternatives such as Bitcoin Cash, Bitcoin SV, and Litecoin have also risen since Tuesday, setting the stage for a strong performance for the BTC20 coin when it launches across Ethereum-based decentralized exchanges (DEXs) on Thursday.
BTC20, which pitches itself as a second chance to get in on bitcoin back when it cost $1 back in 2011 and as a better version of the original bitcoin, sold out a blockbuster $6.05 million presale in under two weeks last week.
BTC20 Price Could Pump 10x in DEX Listing on Thursday 10th
BTC20 token lists on the Uniswap decentralized exchange tomorrow, on Thursday 10th of August at 3 pm UTC.
An explosive start to trading is expected, given the pent-up demand and FOMO that has been building since the token's presale ended last week.
At a current market cap of only around $6 million, there is plenty of room for the BTC20 price to explode to the upside – Connor Kenny, a YouTube crypto analyst with 164k subscribers, certainly thinks so.
10x gains or more could be the tip of the iceberg regarding return on investment for BTC20 holders.
If you are not already a BTC20 owner, you can buy the token when it lists on Uniswap on Thursday at 3 pm UTC on August 10. There is no tax to pay on transactions.
Presale buyers will be able to claim their tokens from the BTC20 website at the same time as the listing.
Staking on BTC20 starts at 3pm UTC today – APY returns of up to 520%
Excitement is also building for the launch of BTC20 staking on the 9th of August, also at 1500 UTC.
BTC20 staking could well be one of 2023's best passive income opportunities. The coin mimics the Bitcoin block schedule by going back in time to 2011 when Bitcoin was valued at $1, and the block reward was 50 BTC per block produced.
According to details shared on the BTC20 website,14,950,000 BTC20 tokens are locked in the staking contract to reward staking pool participants. Tokens must be sent to the staking pool to earn more BTC20 over time.
The accrued BTC20 tokens are distributed dynamically depending on the proportion of the staking pool held by each BTC20 address. Rewards are distributed dynamically in real-time every 10 minutes.
As with Bitcoin, the maximum supply of BTC20 is 21,000,000 tokens. In the presale, 6,050,000 tokens were sold to the BTC20 community. This total supply target will be reached in approximately 120 years.
Here's How BTC20 Staking Works
Those token holders who wish to can send their BTC20 direct to the staking pool smart contract from 3 pm today.
Block rewards will start accruing from 3 pm UTC today, but the BTC20 cannot be claimed until claiming starts at 3 pm UTC tomorrow (Thursday).
Those staking today will see their entire balance of BTC20 staked and locked for seven days.
For those who decide not to stake today, when claiming opens tomorrow, a dashboard will be available to allow BTC20 holders to set the exact amount they wish to stake – the minimum seven-day lock applies to all stakes.
Staking can be for an indefinite period.
The staking simulation below illustrates how BTC20 holders can earn sizeable passive income from their stash:
Rewards Per Block (BTC20): 50
Approximate Blocks Per Year: 52,000
Total Annual Rewards (BTC20): 2,600,000
Total Staking Pool (BTC20): 500,000.
Individual Amount Staked (BTC20): 5,000.
Percentage of Pool: 1%

Bitcoin CashIndividual Rewards (BTC20): 26,000.
Annual Percentage Yield (APY): 520%
To be clear, the above simulation is based on a number of forecast assumptions.
Nevertheless, whatever the exact numbers are by the time of the first block distribution, the APY effect means those who stake for extended periods will earn substantial returns.
Here's Why BTC20 Could Be August's Best-Performing Crypto
Beyond its strong presale performance, and the rally in Bitcoin and Bitcoin-alternative crypto markets, BTC20 has much going for it.
Firstly, the token is issued the Ethereum blockchain, which is arguably superior to the Bitcoin blockchain thanks to the fact that it has faster transaction times, significantly lower energy consumption, and is the home of the fast-growing world of Decentralized Finance (DeFi).
Unlike Bitcoin, BTC20 thus faces no concerns about energy consumption and can be seamlessly integrated into Ethereum's highly liquid DeFi landscape.
Moreover, unlike Bitcoin, BTC20 offers an easy and potentially tremendously lucrative passive income opportunity to investors who stake their coins.
As previously mentioned, yields for BTC20 stakers could hypothetically reach into the 100s of percent per annum, depending on the size of the BTC20 staking pool.
BTC20 is modeled on the tokenomics of Bitcoin, with the same issuance schedule. However, BTC20 turns the clock back to 2011, when the Bitcoin issuance rate was significantly higher, and the supply was just 6.05 million.
Those who want to profit from Bitcoin's now much slower issuance schedule must invest in mining equipment and incur set-up costs.
But with BTC20, to benefit from its token emission schedule, you just need to deposit your tokens in the staking contract.
2nd Earning Option – Send Liquidity to Uniswap
And staking isn't the only way to generate yield on BTC20. Investors can also provide their BTC20 tokens as liquidity on Uniswap after the token's DEX launch.
Given the impressive yields on offer, many BTC20 presale investors can be expected to commit their tokens to staking or liquidity.
Both act as a solid incentive to HODL and should reduce the BTC20 supply on offer when the token launches on DEXs the following day.
Buying BTC20 is probably the best way to gain exposure to the bitcoin investment story, but at 2011 prices and with the added utility of being a yield-bearing asset.
After doing your own research, don't miss this ride to riches.
---