Bitcoin Price Predictions - Where Are They Now?
Everyone has their own guess as to what Bitcoin will be worth in any amount of time. However, some predictions garner special attention: for example, software tycoon John McAfee first said Bitcoin would reach USD 500,000 by the end of 2020 and promised he'd eat his external genitalia on national television if that doesn't happen, later amending his prediction to say it'd go up to USD 1 million while the previous promise still stands. Because this is the internet, there is a website that follows McAfee's prediction and measures how much Bitcoin would have to rise for McAfee's nethers to stay intact.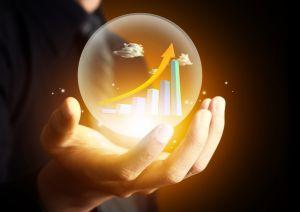 Also, the website, called bircoin.top, lets you add your own parameters to see how your own prediction would pan out, or even check other famous predictions.

__
McAfee announced his prediction on July 17th, 2017, and according to mathematics, the price would need to grow at a rate of around 0.5% per day from that day on to reach the predicted million. Although half a percent may not sound like much, it is still an exponential growth curve that gets steeper the further it goes. With this steady growth rate, Bitcoin would have to be worth USD 26,400 today for it to be on track for the end of 2020 - but it is scarcely above USD 3,500, around 86% less than what the prediction needs, or around 416 days behind.
And there are many predictions: from Tom Lee, of Fundstrat Advisors, expecting USD 15,000 per bitcoin by the end of 2018, to Tim Draper betting on USD 250,000 per bitcoin by 2022. Meanwhile, data analyst Nick Maggiulli says that their mistake was making a prediction in the first place. "You CANNOT predict chaotic systems," he adds in a tweet.
Co-founder of first Chinese cryptocurrency exchange BTCC, Bobby Lee, took to Twitter to share his own opinion and ask the community to do the same.
Later, Lee asked his followers whether this will happen - 59% of respondents believe in this, by the way, and over half believe that the peak of USD 333,000 is the least likely to happen out of all four predictions.
However, all this proves is that anyone can make predictions. The community has always been skeptical, however, and many predictions (and the people making them) are notoriously wrong. Still, if you're craving some fun, make your own prediction - there are no prerequisites to it - and if you get something right, maybe you'll get famous.
---