Bitcoin Price Prediction: Surge to $36,000 Driven by MicroStrategy, FOMC & Advocates
Disclosure: Crypto is a high-risk asset class. This article is provided for informational purposes and does not constitute investment advice. By using this website, you agree to our terms and conditions. We may utilise affiliate links within our content, and receive commission.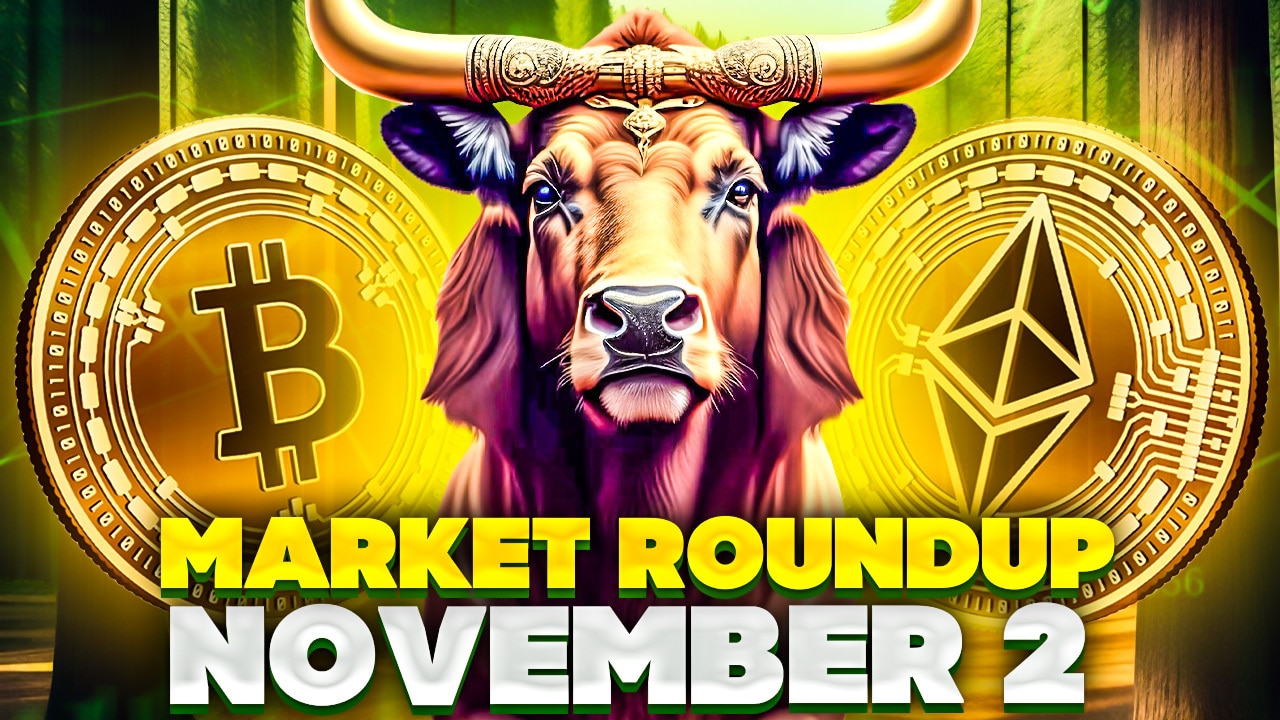 Bitcoin, the preeminent cryptocurrency, is witnessing a significant surge, with its price ascending to an impressive $36,000, marking over 4% increase on Thursday. This bullish momentum is being fueled by a confluence of factors including major corporate investments, optimistic regulatory dialogues, and broader financial market dynamics.
MicroStrategy's continued acquisition spree and the Federal Open Market Committee's (FOMC) monetary policies are playing pivotal roles in bolstering investor confidence. Adding to the fervor, prominent figures such as Canadian MP are encouraging the public to delve deeper into Bitcoin, echoing the sentiments of Gary Gensler's pre-SEC tenure.
Furthermore, legendary investor Stan Druckenmiller's endorsement of Bitcoin as a desirable asset further solidifies its standing in the financial landscape. These developments collectively underscore Bitcoin's growing influence and its potential trajectory towards an even more robust valuation.
Canadian MP Cites Gensler's Bitcoin Views to Promote Public Research

During a parliamentary session, Canadian Member of Parliament (MP) Joël Lightbound expressed his appreciation for the anonymous creator of Bitcoin, Satoshi Nakamoto, on the 15th anniversary of the white paper's release.
Lightbound acknowledged that he personally owned Bitcoin, but he did not encourage others to purchase the virtual currency. Instead, he urged them to learn about it and understand its significance.
He highlighted how Bitcoin was born amid a financial crisis and how it went on to empower those living under repressive regimes and the underbanked.
[COINTELEGRAPH] Canadian MP urges community to study Bitcoin, cites Gensler's pre-SEC stance

— BecauseBitcoin.com (@BecauseBitcoin) November 2, 2023
The MP cited statements from well-known figures who recognized Bitcoin's potential to drive change and promote economic inclusivity, including Jack Dorsey and Gary Gensler, the chair of the US Securities and Exchange Commission (SEC).
The news has positively impacted the price of Bitcoin, fostering a bullish outlook for the cryptocurrency today.
Federal Reserve's Impact: A Rundown on Stocks, Crypto, and More

Rising interest rates have been a looming threat for financial markets in recent years. However, a shift appears to be on the horizon as the Federal Reserve opted to maintain rates at three of its last four sessions instead of raising them.
Many analysts believe that the era of increasing rates might be nearing its end, as inflation showed signs of stabilization in September at 3.7 percent.
Higher interest rates have significantly influenced commodities, equities, and cryptocurrencies, leading to increased market volatility.
Encouraged by better-than-expected inflation data, investors today seem less apprehensive about rate hikes despite their initial concerns. They are anticipating a leveling off in the future rate trajectory.
⚠️BREAKING:

*FEDERAL RESERVE SKIPS RATE HIKE, KEEPS FED FUNDS RATE AT 5.50%

🇺🇸 🇺🇸 pic.twitter.com/d3Z4bTwYEE

— Investing.com (@Investingcom) November 1, 2023
Although 2022 posed challenges for the markets, 2023 has seen relative growth, particularly among tech companies. However, the possibility of a recession remains high, and its potential impact on the markets is uncertain.
Investors are advised to adhere to long-term investment strategies and view market volatility as an opportunity to accumulate a portfolio of high-quality assets.
This news has a predominantly positive effect on the price of Bitcoin today, as it enhances market confidence in the cryptocurrency amidst a backdrop of more stable interest rates.
Bitcoin Breaks $35K: MicroStrategy and FOMC Fuel the Fire

MicroStrategy, under the leadership of Michael Saylor, acquired an additional 155 Bitcoins in October for a sum of $5.3 million. At the current market value, their total holdings are worth nearly $5.54 billion.
The Federal Open Market Committee's (FOMC) decision to maintain interest rates between 5.25% and 5.50%, coupled with this acquisition, has propelled Bitcoin's price beyond $35,000—a peak not witnessed since May 2022.
JUST IN: #Bitcoin hits $35,000 as MicroStrategy buys 155 more #BTC pic.twitter.com/Ftq7LfSY4K

— Bitcoin Magazine (@BitcoinMagazine) November 1, 2023
Apart from Bitcoin and Ethereum, the market capitalization of cryptocurrencies has been declining over the past 18 months. However, with the news of MicroStrategy bolstering its Bitcoin reserves, the overall market sentiment is receiving a boost, thereby elevating BTC's value.
Stan Druckenmiller Thinks Bitcoin Should Be His Property

In a discussion at the JPMorgan/Robin Hood Investors Conference, prominent billionaire hedge fund manager Stanley Druckenmiller, with a net worth of $6.4 billion, shared his insights on Bitcoin.
Known for his previous engagement with Bitcoin, Druckenmiller mentioned that although he owns gold, he currently does not possess any Bitcoin, despite feeling that he should. He emphasized that due to Bitcoin's user-friendliness, younger generations perceive it as a reliable store of value.
Previously, Druckenmiller had been more receptive to Bitcoin as an asset class, especially when he saw it outperforming gold in an inflationary environment.
Billionaire investor Stan Druckenmiller says he should probably own Bitcoin, even though he doesn't currently hold any. He compared Bitcoin to gold, calling it a "brand" that is popular with the younger generation. Druckenmiller said he likes gold because it has a 5,000-year… pic.twitter.com/k0x1lxSUC5

— CRUX | Crypto News (@Coin_Crux) October 31, 2023
However, he withdrew from cryptocurrencies due to the stringent policies of central banks. Nonetheless, he underscored the potential role of cryptocurrency in a future renaissance driven by the growing distrust of central banks.
As for the impact on Bitcoin's price, Druckenmiller's positive remarks on the cryptocurrency, particularly its appeal to younger investors, may increase interest and demand for it. This could positively influence Bitcoin's price, potentially leading to an uptick.
Bitcoin Price Prediction

Bitcoin's price shows resilience, hovering around the crucial $35,222 mark, with key resistance levels at $36,040 and $36,980. Support is found at $33,850, with further levels at $33,000 and $32,400. The Relative Strength Index (RSI) at 69 indicates a strong bullish trend but warns of a possible pullback.
Additionally, Bitcoin's price surpasses the 50-Day Exponential Moving Average (50 EMA), supporting a short-term bullish outlook. The 4-hour chart shows a breakout above $35,222, suggesting continued upward momentum.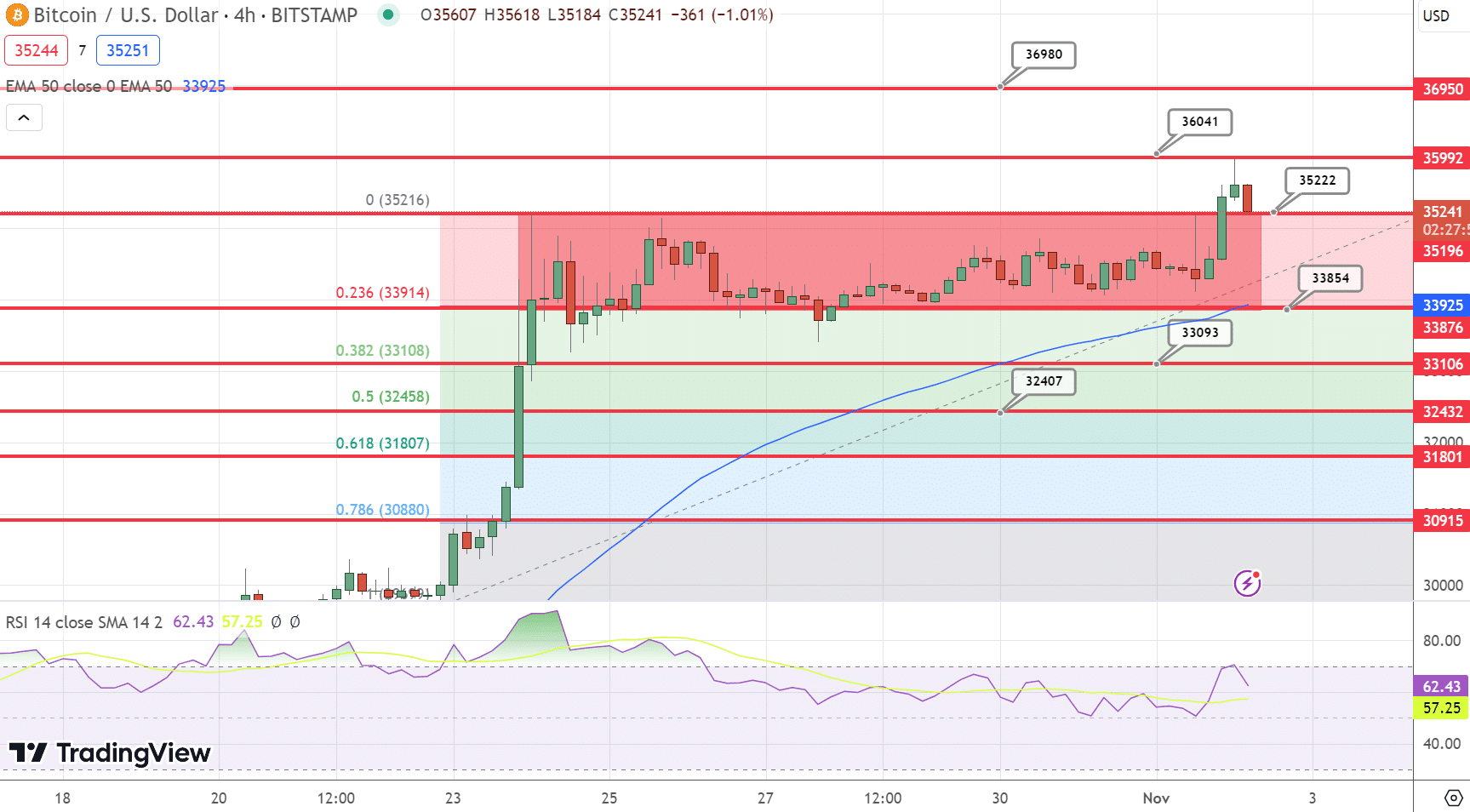 Overall, Bitcoin appears bullish, especially above $35,220, with an immediate resistance target at $36,040. However, falling below $35,220 could turn the trend bearish. Investors should watch these levels for potential trend reversals.
Top 15 Cryptocurrencies to Watch in 2023

Stay up-to-date with the world of digital assets by exploring our handpicked collection of the best 15 alternative cryptocurrencies and ICO projects to keep an eye on in 2023. Our list has been curated by professionals from Industry Talk and Cryptonews, ensuring expert advice and critical insights for your cryptocurrency investments.
Take advantage of this opportunity to discover the potential of these digital assets and keep yourself informed.
Disclaimer: Cryptocurrency projects endorsed in this article are not the financial advice of the publishing author or publication – cryptocurrencies are highly volatile investments with considerable risk, always do your own research.
---