Bitcoin Price Prediction: Nearing $35K, Whales Sustain Momentum
Disclosure: Crypto is a high-risk asset class. This article is provided for informational purposes and does not constitute investment advice. By using this website, you agree to our terms and conditions. We may utilise affiliate links within our content, and receive commission.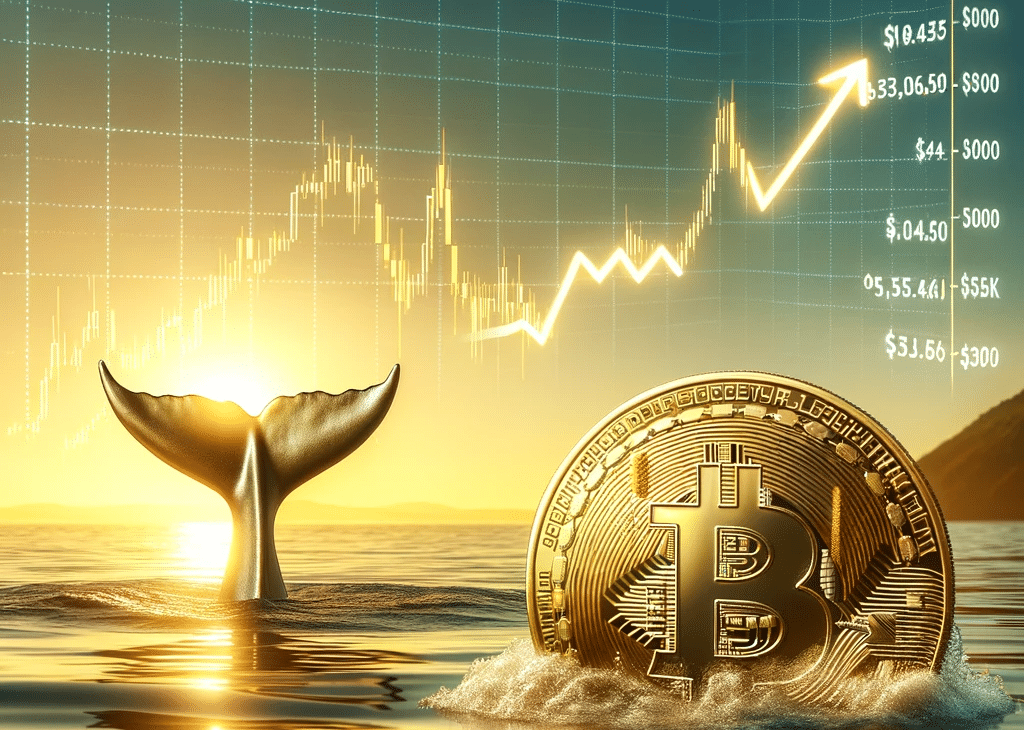 Bitcoin price prediction remains bullish as BTC is trading at $34,432 with a 0.64 percent increase on Wednesday, the push towards this crucial threshold is buoyed by the substantial influence of crypto whales.
As the world celebrates 15 years of Bitcoin, reflecting on Satoshi Nakamoto's groundbreaking white paper, the cryptoverse anticipates the potential impact of spot bitcoin ETFs in the US, aiming to amplify demand.
In this decisive moment, Bitcoin's ability to sustain its momentum above $35,000 remains the focal point for investors and enthusiasts alike.
Whale Movements: Bitcoin Nears $35K Threshold

The outlook for the Bitcoin market is improving, and investor optimism is being fueled by several factors. Although the price of Bitcoin recently approached nearly $34,500, raising hopes for a bull market to soon materialize, various reasons are anticipated to support the long-term upward trend of the cryptocurrency.
Notably, market sentiment has been bolstered by expectations that the Securities & Exchange Commission (SEC) may approve spot Bitcoin exchange-traded funds (ETFs). Furthermore, an additional increase is anticipated due to the possibility of Quantitative Easing and the upcoming Bitcoin halving event.
Bitcoin Halving is in April 2024

Next Bull Market peak could occur 518-546 days after the Halving

Bitcoin could peak in mid-September 2025 or mid-October 2025$BTC #Crypto #Bitcoin pic.twitter.com/4Y1F94rsAh

— Rekt Capital (@rektcapital) October 29, 2023
It's important to understand, though, that while there are often brief spikes in Bitcoin's value before or after halving events, meaningful gains may not materialize for up to a year afterward. Historical data have shown that previous Bitcoin halving occurrences have resulted in significant price gains in the months following the halves.
Cryptoverse Spotlight: Can Spot Bitcoin ETFs Rival Gold?

The impending introduction of a spot Bitcoin exchange-traded fund (ETF) marks a significant stride toward the mainstream acceptance of Bitcoin, the premier cryptocurrency. October witnessed a 28% surge in Bitcoin's value, driven by the anticipation of regulatory approval for a spot Bitcoin ETF in the US. Estimates on the potential capital influx from a spot Bitcoin ETF vary widely among analysts, ranging from $3 billion on the first day to $55 billion over five years.
Cryptoverse: As good as gold? Spot bitcoin ETFs aim to whip up US demand https://t.co/lpgmAg6pNa pic.twitter.com/itHeXcwjRU

— Reuters (@Reuters) October 31, 2023
Notably, this development has caught the attention of crypto-centric entities like Grayscale as well as financial heavyweights like BlackRock and Fidelity. However, some traditional investors remain skeptical about cryptocurrencies, citing their lack of inherent value.
The prospect of a spot ETF has propelled Bitcoin's price to $34,432, its highest level since May 2022. Analysts acknowledge the novelty of a new asset class in the ETF market, making precise demand predictions challenging despite divergent views on anticipated demand.
A Decade and a Half Later: Unpacking Satoshi's Vision

On the fifteenth anniversary of Satoshi Nakamoto's debut of Bitcoin, its revolutionary influence on money and financial systems is commemorated. In "Bitcoin: A Peer-to-Peer Electronic Cash System," Nakamoto's white paper, a decentralized electronic cash system was suggested, doing away with the need for middlemen like banks. Since then, bitcoin has spawned a $1.2 trillion cryptocurrency industry, with a worth of over $670 billion as of October 31, 2023.
Through decentralized verification using mining and a proof-of-work method, it has resolved the double-spending issue. Additionally, it has introduced triple-entry accounting and fostered community trust.
The #Bitcoin Whitepaper was published on this day 15 years ago – October 31, 2008.

Thank you Satoshi! 🙏 pic.twitter.com/VSpNjCeKDk

— Bitcoin Archive (@BTC_Archive) October 31, 2023
Bitcoin continues to be a representation of the inventiveness and durability of decentralized systems despite obstacles like energy usage and governmental scrutiny. Its prospects for the future are still bright, as it maintains the principles of security, transparency, and decentralization in a changing financial environment. Bitcoin represents the potential that may be attained by working together to achieve economic freedom.
Bitcoin Price Prediction

Focusing on the 4-hour chart, key price levels have been identified. The pivot point stands at $32,203, with Bitcoin facing immediate resistance near $37,738. Should the bullish momentum persist, subsequent resistance levels at $40,954 and $46,488 might be tested. On the downside, immediate support lies at $29,062, with further cushions at $23,453 and $20,386.
Technical indicators provide a deeper insight into the market's sentiments. The Relative Strength Index (RSI) reads at 78, signaling overbought conditions and hinting at potential pullbacks.
The Moving Average Convergence Divergence (MACD) displays a bullish trend without divulging specific values. Moreover, the price stands above the 50-Day Exponential Moving Average (EMA) at $29,842, reinforcing a short-term bullish outlook.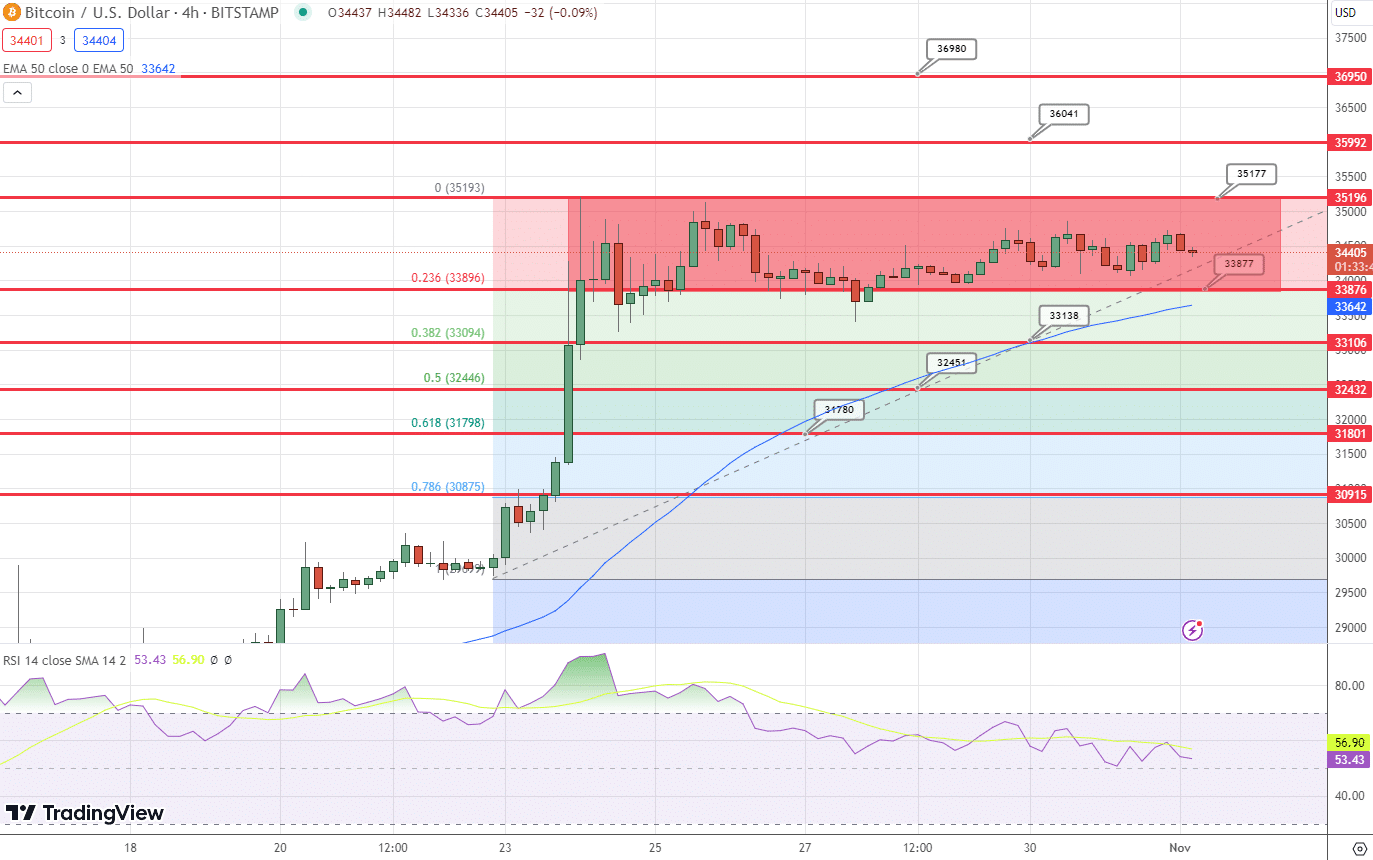 The current chart pattern exhibits a choppy trend with a sideways channel in play. This pattern typically suggests indecision among traders, waiting for a definitive move to establish a clearer trend.
In conclusion, the overall trend for BTC/USD is bullish, contingent on the price maintaining above the $32,200 threshold. Should this level hold, we anticipate the asset to challenge the immediate resistance levels in the short term.
However, traders should remain cautious, as the overbought RSI could signal a temporary retracement. Vigilance is advised, with a keen eye on the identified support and resistance levels, as they will play a pivotal role in the asset's short-term trajectory.
Top 15 Cryptocurrencies to Watch in 2023

Stay up-to-date with the world of digital assets by exploring our handpicked collection of the best 15 alternative cryptocurrencies and ICO projects to keep an eye on in 2023. Our list has been curated by professionals from Industry Talk and Cryptonews, ensuring expert advice and critical insights for your cryptocurrency investments.
Take advantage of this opportunity to discover the potential of these digital assets and keep yourself informed.
Disclaimer: Cryptocurrency projects endorsed in this article are not the financial advice of the publishing author or publication – cryptocurrencies are highly volatile investments with considerable risk, always do your own research.
---