Bitcoin Price Prediction: BTC Holds Steady Below $31,000 Amidst Binance.US Trading Discount and USD Withdrawal Concerns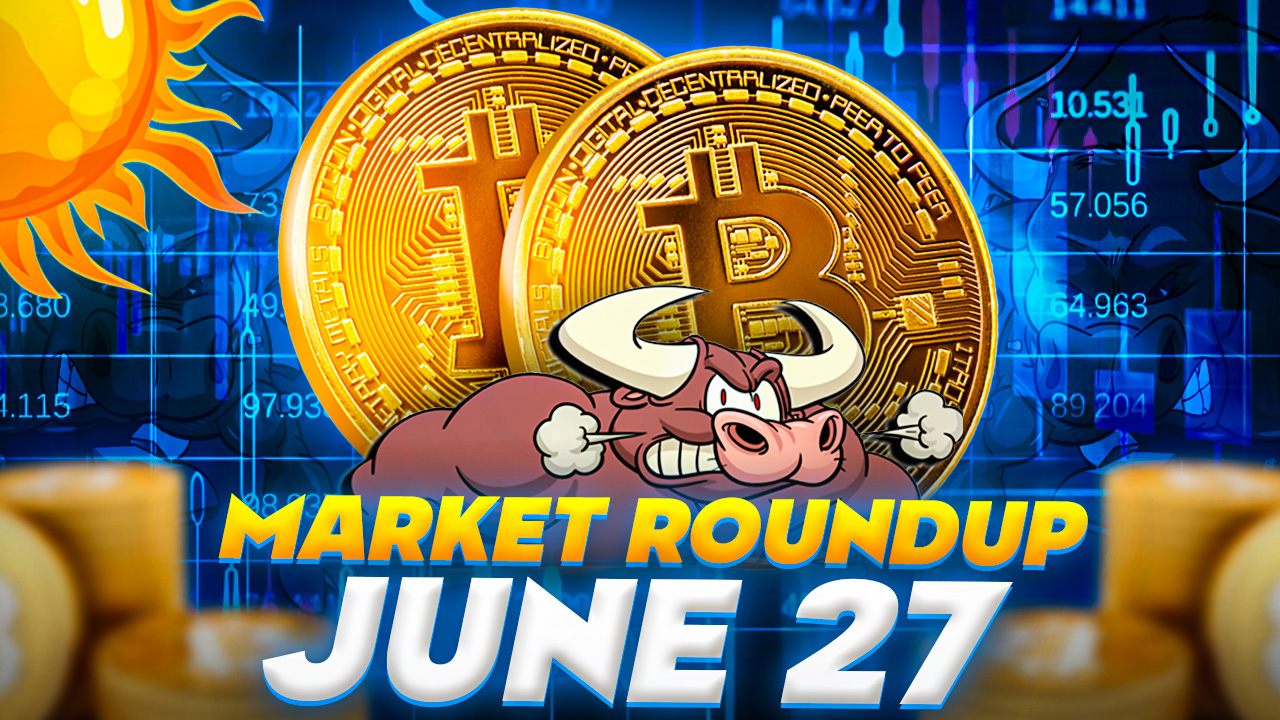 Bitcoin, the leading cryptocurrency, is currently experiencing a trading discount of approximately $1,000 on the Binance.US exchange, as reported by research firm Kaiko.
This price discrepancy has persisted since June 22, as evidenced by a chart shared by Kaiko.
Interestingly, this discount aligns with an announcement made by Binance US on the same day, raising concerns about the potential suspension of USD withdrawals in the coming days.
As a result, Bitcoin's price remains stable below the $31,000 mark, prompting speculation and predictions about its future trajectory.
Bitcoin Trades $1,000 Discount on Binance.US Amid USD Withdrawal Concerns
Bitcoin is currently experiencing a trading discount of nearly $1,000 on the Binance.US crypto exchange, according to a tweet from research firm Kaiko.
This price discrepancy has been observed since June 22, as depicted in a chart shared by Kaiko.
The discount coincides with Binance US's announcement on the same day, hinting at a potential discontinuation of USD withdrawals in the near future.
The discount on Binance.US impacts the price of Bitcoin as users facing concerns over USD withdrawals opt to sell their Bitcoin at a discounted price to access their funds.
This has resulted in the BTC/USD pair on Binance.US trading at approximately a $1,000 discount compared to other cryptocurrency exchanges.
While Binance US currently offers USD withdrawal services, the exchange has advised users to consider stablecoins or convert their USD to continue trading cryptocurrencies.
Binance US anticipates that its banking partners may soon halt USD withdrawals, which has created a sense of urgency among some users to sell their Bitcoin at a lower price.
It's worth noting that Binance is currently involved in a legal dispute with the SEC, which has prompted the exchange to suspend USD deposits and inform users about the potential suspension of fiat withdrawal channels.
However, the expected cessation of fiat withdrawal routes by Binance's banking partners has not yet occurred.
Overall, the trading discount on Binance.US and concerns over USD withdrawals have had a tangible impact on the price of Bitcoin, as users navigate alternative options to access their funds.
Bitcoin Price
The current price of Bitcoin stands at $30,384, accompanied by a trading volume of $14.5 billion within the last 24 hours.
Over this period, Bitcoin has experienced a minor increase of less than 0.50%.
According to CoinMarketCap, Bitcoin holds the top ranking, boasting a live market capitalization of $589 billion.
The circulating supply consists of 19,413,237 BTC coins, while the maximum supply is capped at 21,000,000 BTC coins.
Bitcoin Price Prediction
On the daily chart, BTC/USD faces significant resistance around the $31,000 level, which is reinforced by the formation of a double-top pattern.
The closing of neutral candles, such as a doji and spinning top, combined with this resistance level, indicate a waning bullish sentiment and exhaustion among buyers. Consequently, a minor correction in Bitcoin's price is expected.
It's worth noting that immediate support can be identified near the $29,600 level.
If this support level is breached, it could lead to further downward movement, with the next key support located at $28,250, which coincides with the 50-day exponential moving average.
If the price falls below $28,200, the subsequent support is likely to be found around $26,750.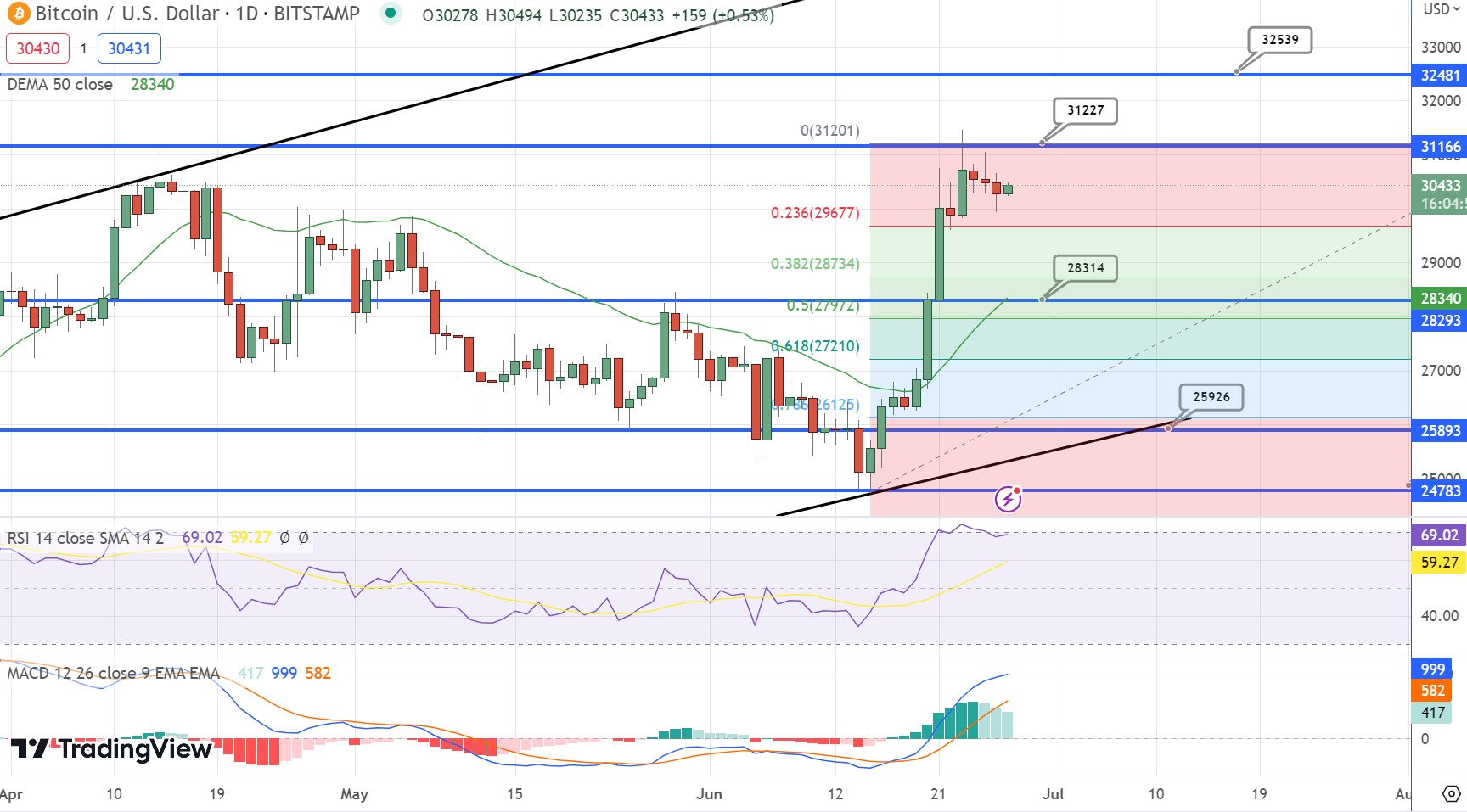 Looking at the relative strength index (RSI) and moving average convergence divergence (MACD), both indicators are presently holding in the overbought, suggesting chances of a bearish correction.
On the flip side, if Bitcoin surpasses the $31,000 level, the subsequent target to monitor is approximately $32,500.
If the momentum persists, the subsequent target could potentially be around $34,000.
Top 15 Cryptocurrencies to Watch in 2023
Stay informed about the latest initial coin offering (ICO) projects and alternative cryptocurrencies by regularly exploring our carefully selected collection of the top 15 digital assets to watch in 2023.
This thoughtfully curated list has been compiled by industry experts from Industry Talk and Cryptonews, ensuring that you receive professional recommendations and valuable insights.
Stay ahead of the game and discover the potential of these cryptocurrencies as you navigate the ever-changing world of digital assets.
Find The Best Price to Buy/Sell Cryptocurrency

Disclaimer: Cryptocurrency projects endorsed in this article are not the financial advice of the publishing author or publication - cryptocurrencies are highly volatile investments with considerable risk, always do your own research.
---