Bitcoin Price Prediction – BTC Crashes Below $16,500, Can US Inflation Data Push it to $10,000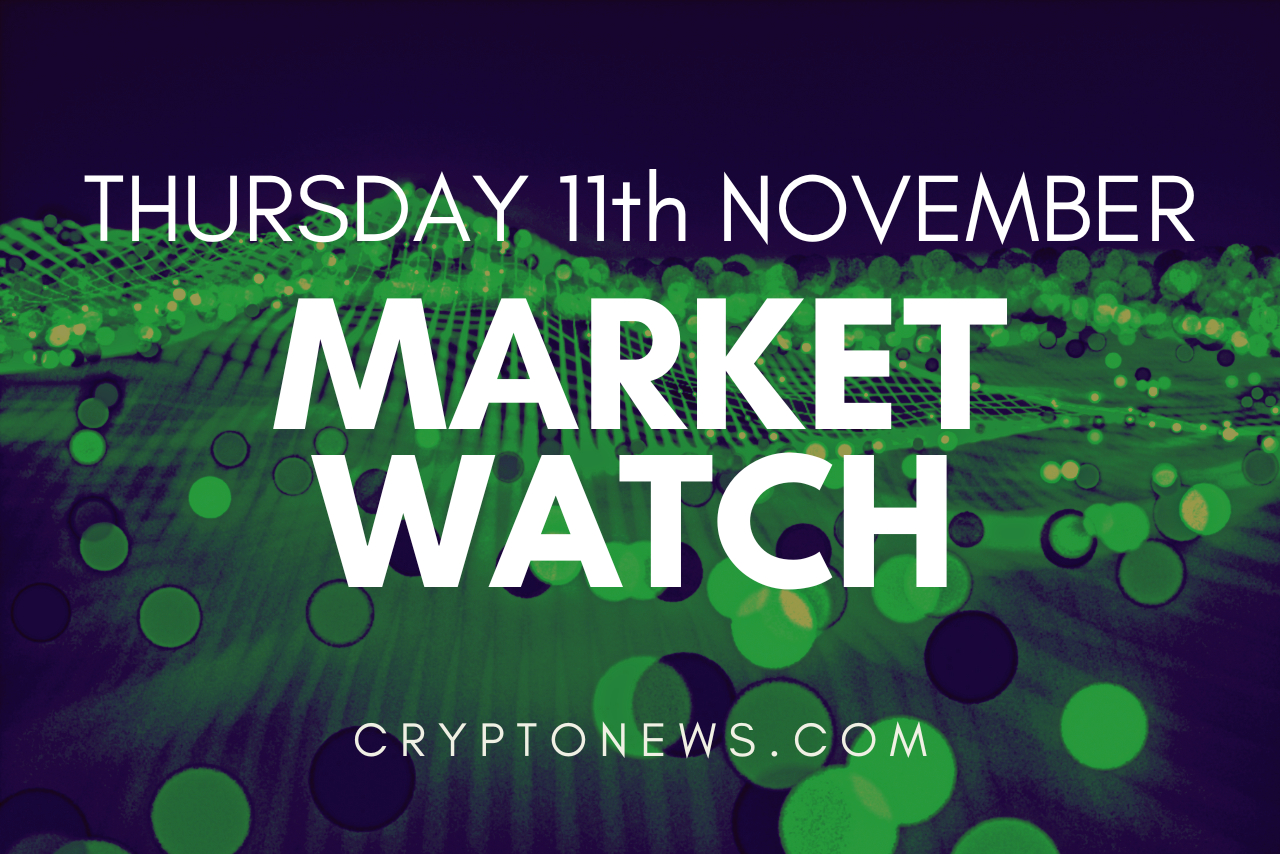 Under the $19,350 resistance level, Bitcoin price prediction remains bearish; however, $15,850 is acting as a major support and may underpin BTC. After the release of October's CPI figures, Bitcoin experienced a sudden 10% jump. The unexpectedly low CPI reading sent the price of risky assets like cryptocurrency soaring.
Weaker US Inflation Figures Underpin Bitcoin
A gauge of core consumer price pressures fell from record highs in October, easing inflationary pressures in the United States and boosting hopes that the Federal Reserve may slow the pace of its rate hikes in November.
While the "headline" consumer price index saw its annual pace decrease to its lowest since January, traders focused on the "core" reading and its potential implications for monetary policy due to signals of reducing inflationary pressures.
Core CPI rose by 0.3% in October, which is 0.2 points below expectations, and down from 0.6% last month. It's now running at 6.3% over the year down from 6.6%.

This is a very encouraging inflation report. There's a good chance that inflation has peaked, and is now turning down.

— Justin Wolfers (@JustinWolfers) November 10, 2022
The numbers for core CPI, which excludes food and energy, were announced on Thursday, and they showed a 0.3% increase over the previous month. That was significantly slower than the 0.6% rate seen in September and the 0.5% growth predicted by experts.
Core inflation is at 6.3% from this time last year, slowing from the four-decade high of 6.6% in the preceding month. Both the Federal Reserve and economists agree that core inflation measurements provide the most insight into price trends in the future.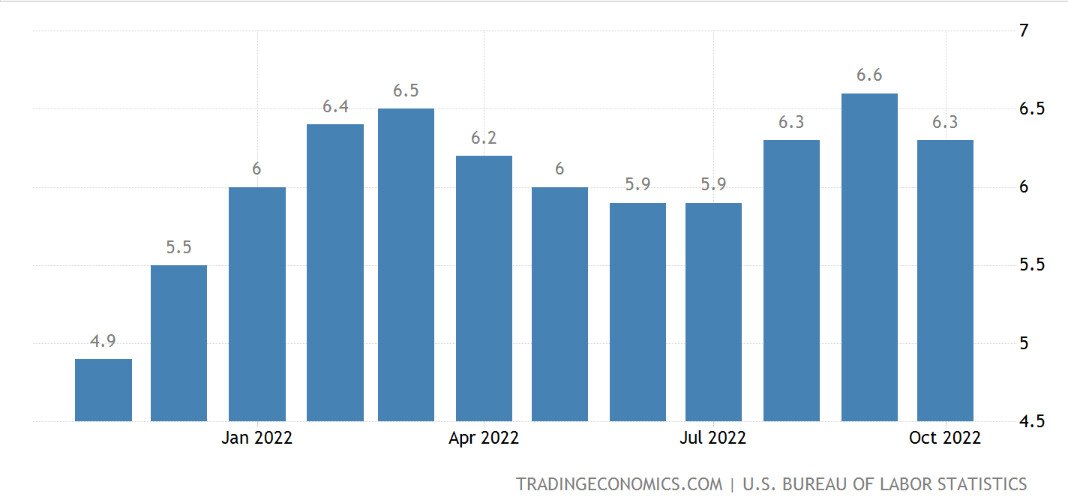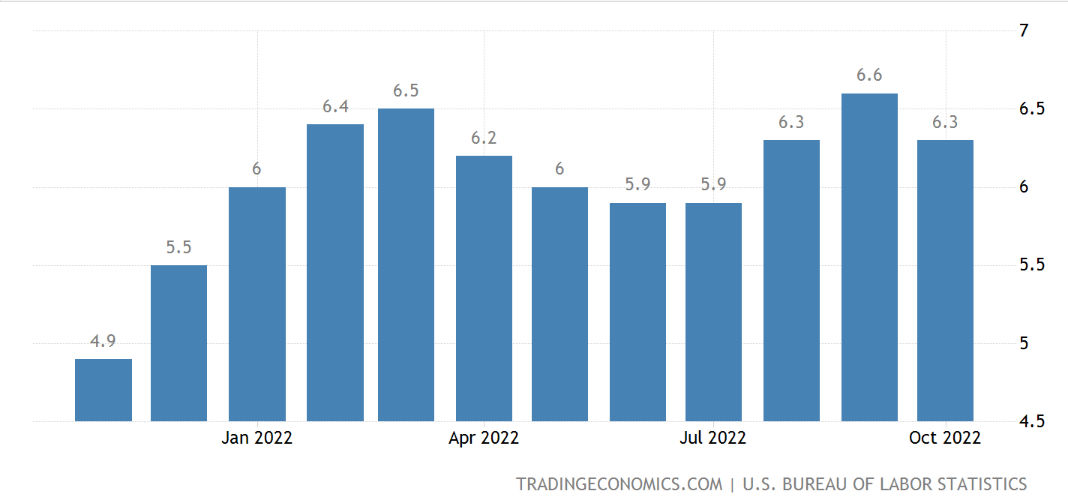 The headline CPI, which includes food and energy prices, fell to 7.7% year over year in October from 8.2% in September. Lower than the 8 percent increase forecast by economists, that was the lowest level since January.
The index rose 0.4% from the previous month, which was lower than the 0.6% increase that was expected. Weaker-than-expected US inflation figures have driven a sell-off in the US dollar, driving an uptrend in the BTC/USD pair.
Bitcoin Price Prediction
The current Bitcoin price is $17,443, with a 24-hour trading volume of $92 billion. On November 10, BTC/USD experienced a rollercoaster ride, beginning the day at $15,900 and fluctuating between a high of $17,964 and a low of $15,748.
In response to weaker-than-expected US CPI figures, Bitcoin has gained more than 3%. Bitcoin is ranked first on CoinMarketCap, with a $363 billion live market cap.


Bitcoin has risen above the $15,965 support level, and the closing of candles above this level indicates a bullish trend in Bitcoin. Bitcoin had previously broken through a triple bottom support level of $18,244; closing candles below this level resulted in a drop to $16,000.
For the time being, the same $18,240 level is likely to act as a resistance, and BTC may face immediate resistance at $18,000.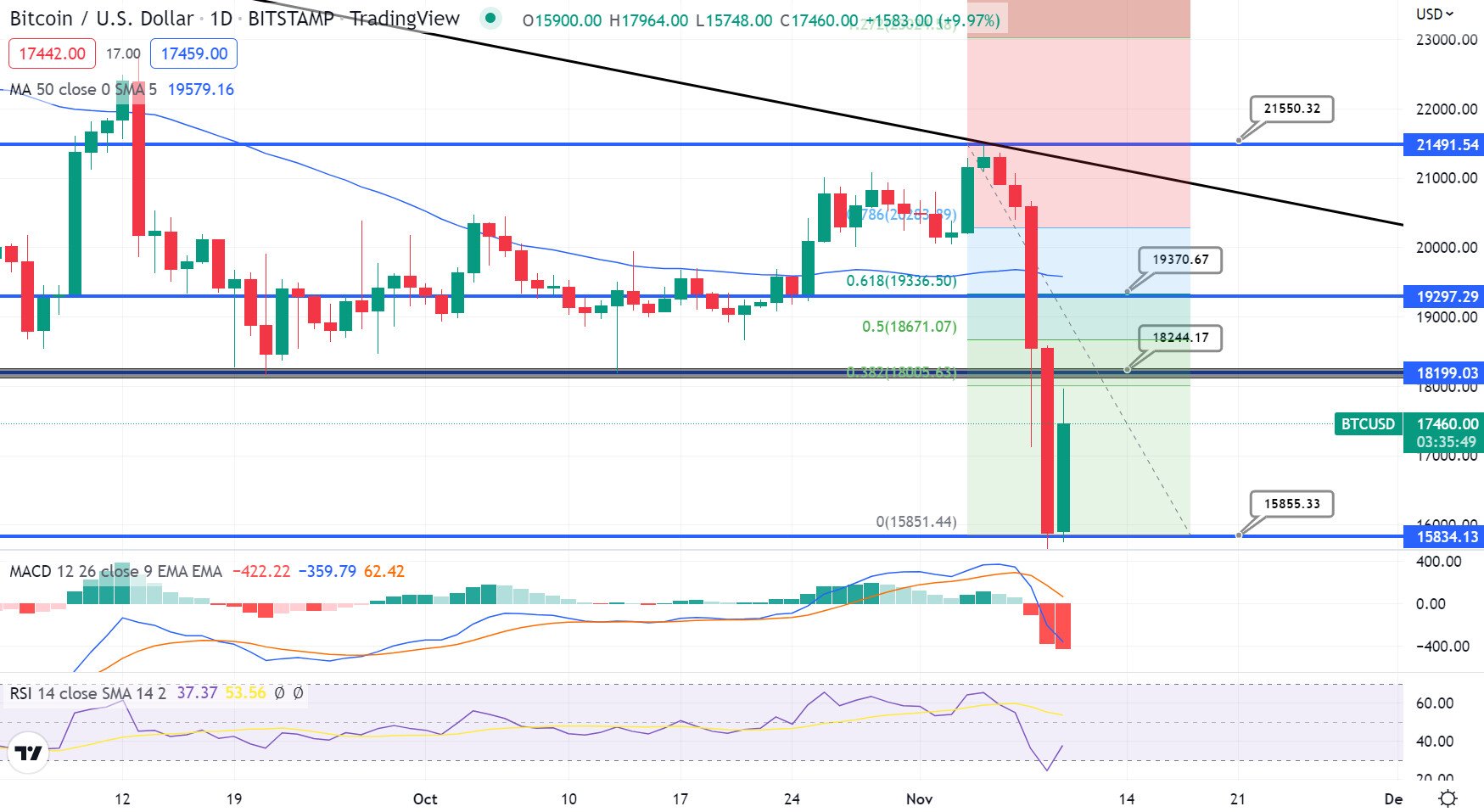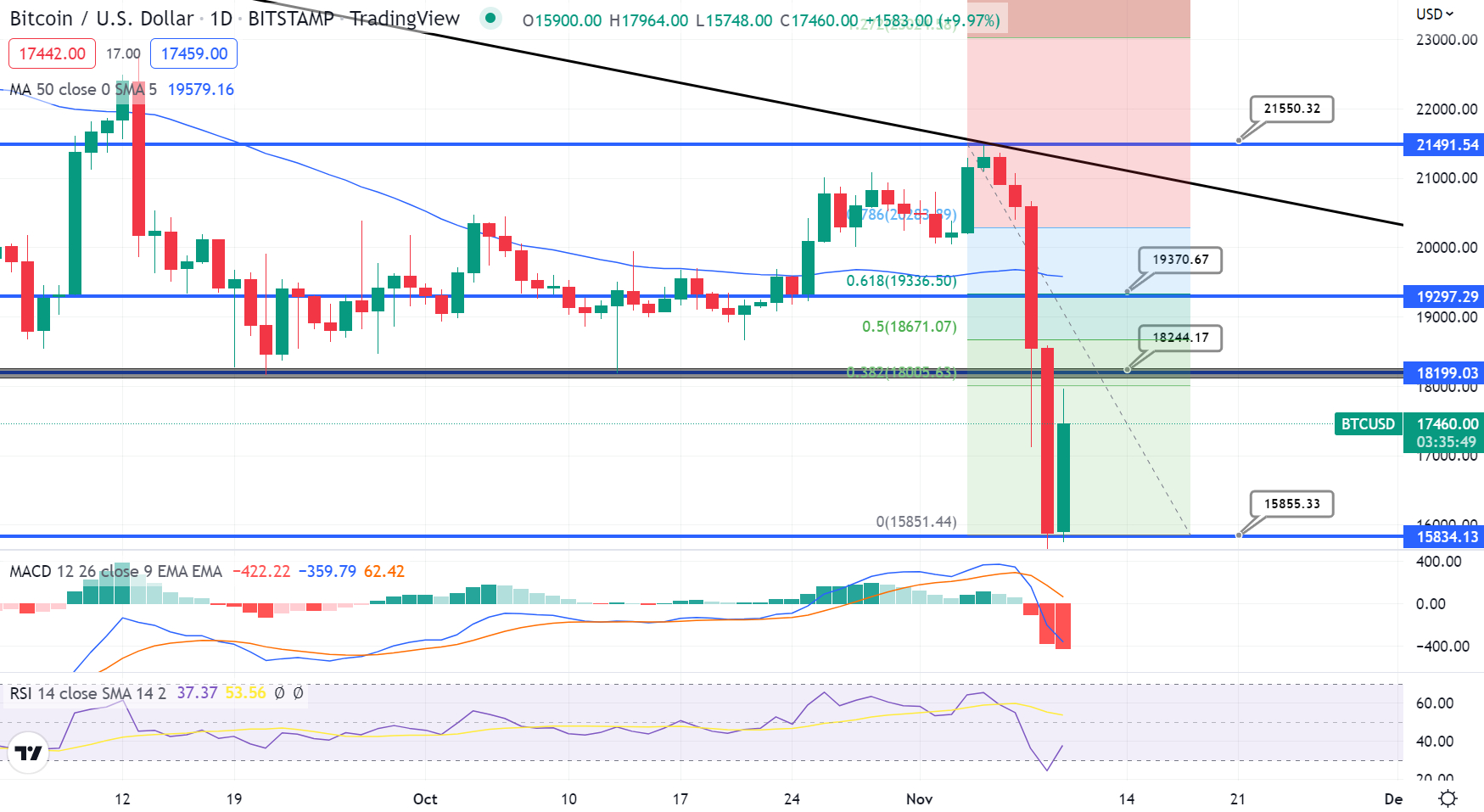 On the daily timeframe, Bitcoin has also formed a bullish engulfing candlestick pattern, indicating the possibility of a bullish correction.
If Bitcoin fails to break above the 38.2% Fibonacci retracement level of $18.250, it could fall back to $15,965. Bitcoin's immediate resistance can be found above $18,250 at $19,370.
A Crypto Pre-Sale With Massive Potential
Dash 2 Trade (D2T)
Dash 2 Trade is an Ethereum-based trading intelligence platform that provides real-time analytics and social data to traders of all skill levels, allowing them to make more informed decisions.
It started its token sale two weeks ago and has now raised over $5.8 million, while also confirming its first CEX listing on LBank exchange.
1 D2T is currently worth 0.0513 USDT, but this will soon rise to $0.0533 in the next stage of sales and $0.0662 in the final stage.
Find The Best Price to Buy/Sell Cryptocurrency


---