Bitcoin Price Prediction: BTC Bounces Back After Hitting 38.2% Fibonacci Retracement
Disclosure: Crypto is a high-risk asset class. This article is provided for informational purposes and does not constitute investment advice. By using this website, you agree to our terms and conditions. We may utilise affiliate links within our content, and receive commission.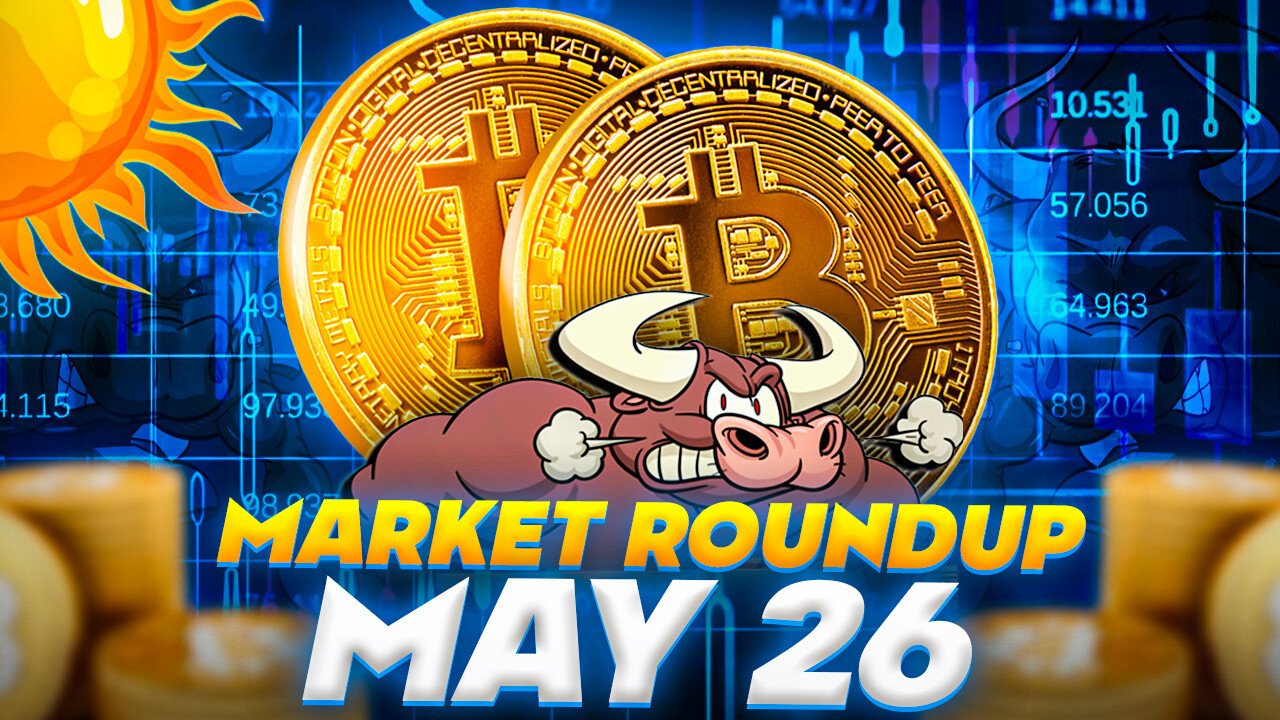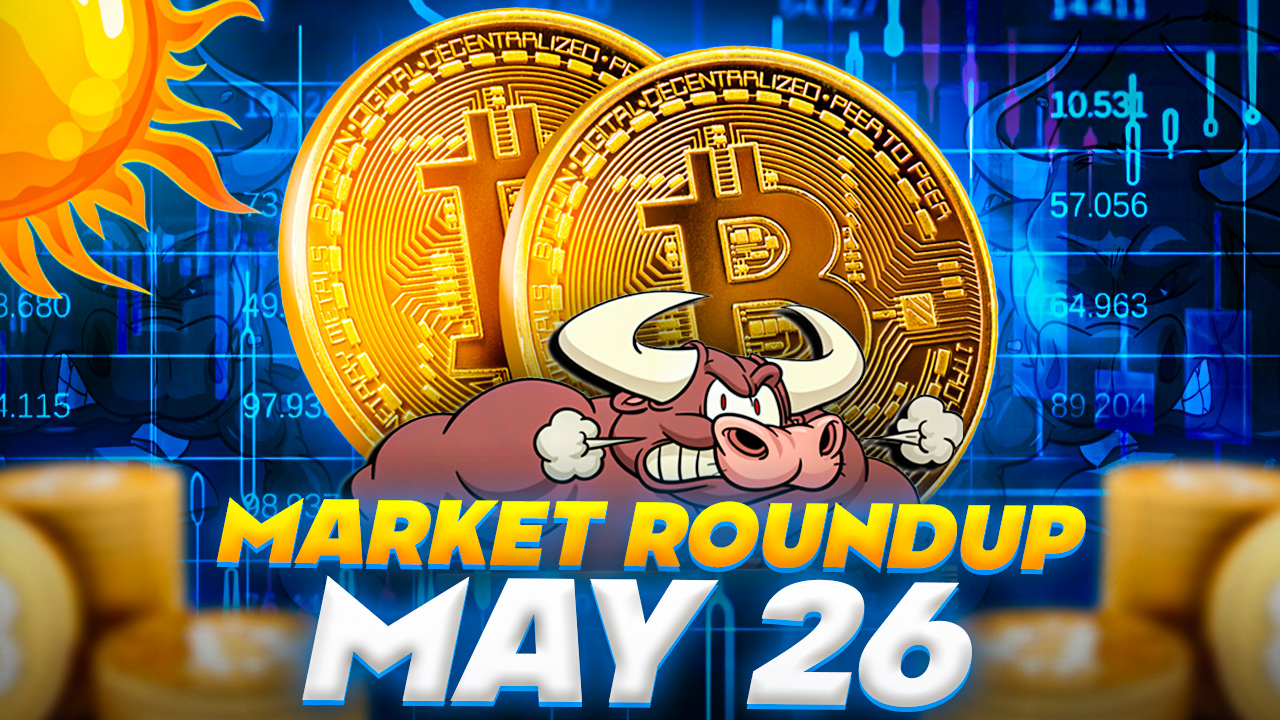 The price of Bitcoin (BTC) has experienced a significant rebound after reaching the key 38.2% Fibonacci retracement level.
This technical level acted as a strong support, triggering a bullish momentum in the market. Bitcoin has shown resilience and recovered from the recent pullback, indicating a potential upward trend continuation.
In this Bitcoin price prediction, we will analyze the current price action and explore the potential scenarios for Bitcoin's price in the near term.
Debt Ceiling Talks Influence Cryptocurrency Market as Investors Monitor Progress
Unexpectedly positive GDP and unemployment numbers were released by the United States, but cryptocurrency investors focused more on the debt ceiling talks.
Debt limit worries are undoubtedly impacting Bitcoin and cryptocurrencies in general. The stalemate of the US government's debt ceiling talks will pave the way to whether it can pay its debts in June.
Bitcoin Remains Below $26.5 Amid Concerns Over the Debt Ceiling – https://t.co/S7oDqwIMGK #CryptoPurity pic.twitter.com/ZvtXrk7ZQf

— CRYPTOPURITY.COM (@TheCryptopurity) May 25, 2023
On Thursday, White House and Republican lawmakers reported some progress being made in the talks; however, an agreement to avert the government default is still not taken. Market participants are eagerly awaiting any hint to take decision accordingly.
Bottlepay Announces Closure, Urges Users to Withdraw Bitcoin and Fiat Funds
Popular consumer Bitcoin service, Bottlepay, has announced its closure on Monday, July 24, 2023, prompting customers to withdraw their bitcoins.
Users are requested to withdraw funds from the Bottlepay app in either Bitcoin or fiat currency (GBP/EUR) before the specified closure date, as the company will terminate all accounts.
If funds are not withdrawn by the closure date, Bitcoin will be converted to fiat currency and returned to the designated bank account. Any remaining fiat in the account will also be sent back to the respective bank account.
🚨IMPORTANT NEWS🚨 Popular consumer #Bitcoin app, Bottlepay, is shutting down on July 24, 2023. Accounts will be closed and funds must be withdrawn by this date. Don't forget to download transaction history for tax purposes! More info here: https://t.co/IgyRzSlO3A

— Héctor Russo (@GeeksRoom) May 25, 2023
Users were advised to exercise caution when selecting alternative custodial wallets or converting Bitcoin to fiat currency. The act of withdrawing digital assets from the app and the market is also exerting downward pressure on the BTC/USD value.
DeSantis Promises to Guard Bitcoin
Ron DeSantis, the governor of Florida, has announced his candidacy for the 2024 presidential election and has pledged to "protect" Bitcoin if elected.
DeSantis has been critical of the federal government's lack of regulation and transparency regarding cryptocurrencies, and he is a vocal supporter of Bitcoin.
In addition, he has signed legislation prohibiting the use of central bank digital currencies (CBDCs) by Florida residents.
NEWS: Ron DeSantis, the current governor of Florida in the U.S., vows to 'protect' $BTC if he becomes president in 2024. pic.twitter.com/Gm9p5bXBjQ

— Mask Crypto signal🎖️🏆 (@IlhanAk123) May 25, 2023
The use of Bitcoin and CBDCs has become a prominent topic among several potential candidates for the 2024 US presidential election.
Robert F. Kennedy, a recent contender for the Democratic presidential nomination, expressed his support for Bitcoin in a speech at the Bitcoin 2023 conference.
Meanwhile, the Biden administration has proposed a new tax on Bitcoin miners in the interim.
DeSantis' Support Boosts BTC/USD Prices on Friday
Norway's central bank, Norges Bank, has indicated that it may adopt a different approach to regulating cryptocurrencies.
In its annual "Financial Infrastructure Report," Norges Bank dedicated a significant portion of the study to cryptocurrency assets and the ongoing discussion about whether Norway should base its market regulations on foreign regulatory models.
"The [Norwegian] authorities should consider a national strategy for regulating crypto-asset markets."
— Norges Bank, Financial Infrastructure Report 2023, May 25, 2023 https://t.co/b0Z56WdupD pic.twitter.com/DRGHZCX306

— Joshua Rosenberg (@_jrosenberg) May 25, 2023
Due to the relative novelty of crypto assets, effective regulation may face challenges. The bank highlights an unresolved issue concerning the adequacy of existing laws in regulating cryptocurrencies.
Additionally, the bank has announced its intention to release its findings from an ongoing study on central bank digital currencies later this year.
The increasing global trend of cryptocurrency regulations, including those in Norway, Japan, and South Korea, is impacting the value of BTC/USD.
Bitcoin Price Prediction
Bitcoin is currently trading at 26,456, experiencing a nearly 1% increase on Friday. The recent surge in Bitcoin's value follows the expression of support by DeSantis, a prominent figure, for the leading cryptocurrency in terms of market capitalization.
On Friday, Bitcoin, the dominant cryptocurrency, exhibited a downward trajectory based on data from British trading. It failed to surpass the resistance level of 26,600, as observed on the two-hour timeframe.
The presence of doji and spinning top candles below the 26,600 mark suggests a weakening bullish momentum and the potential for sellers to take control.
As a result, Bitcoin is expected to find immediate support around the 26,000 level, and a break below this threshold could lead to a further decline toward the next support level at 25,800.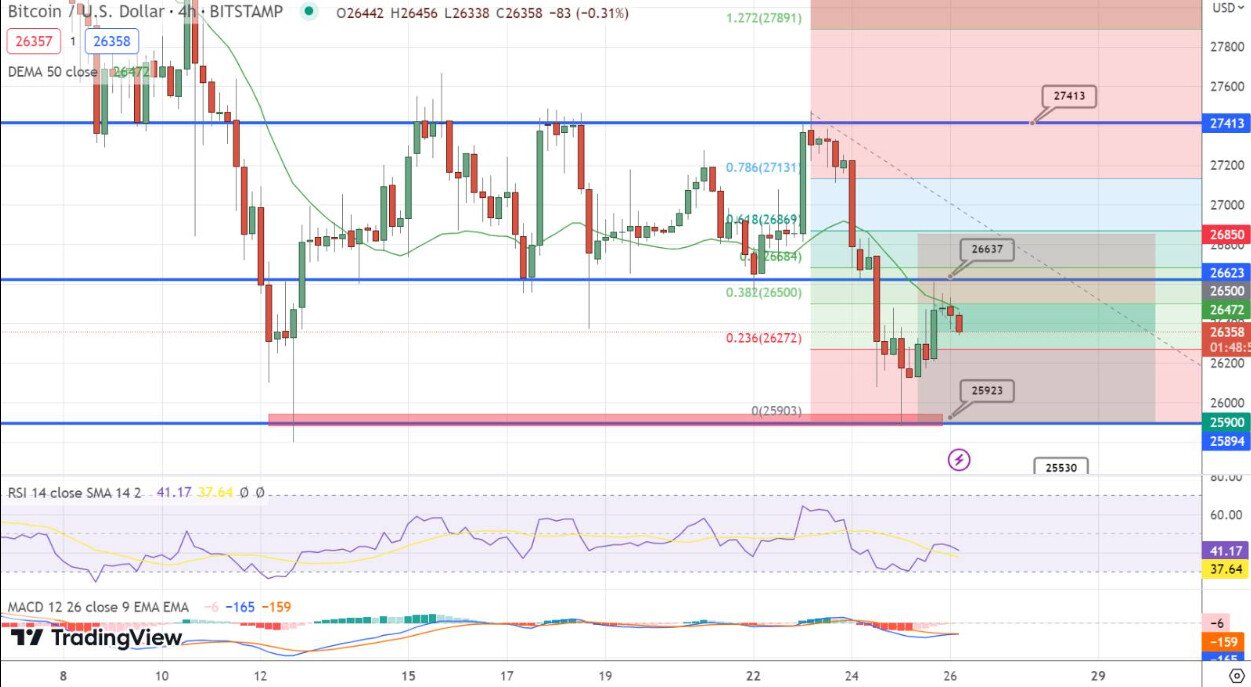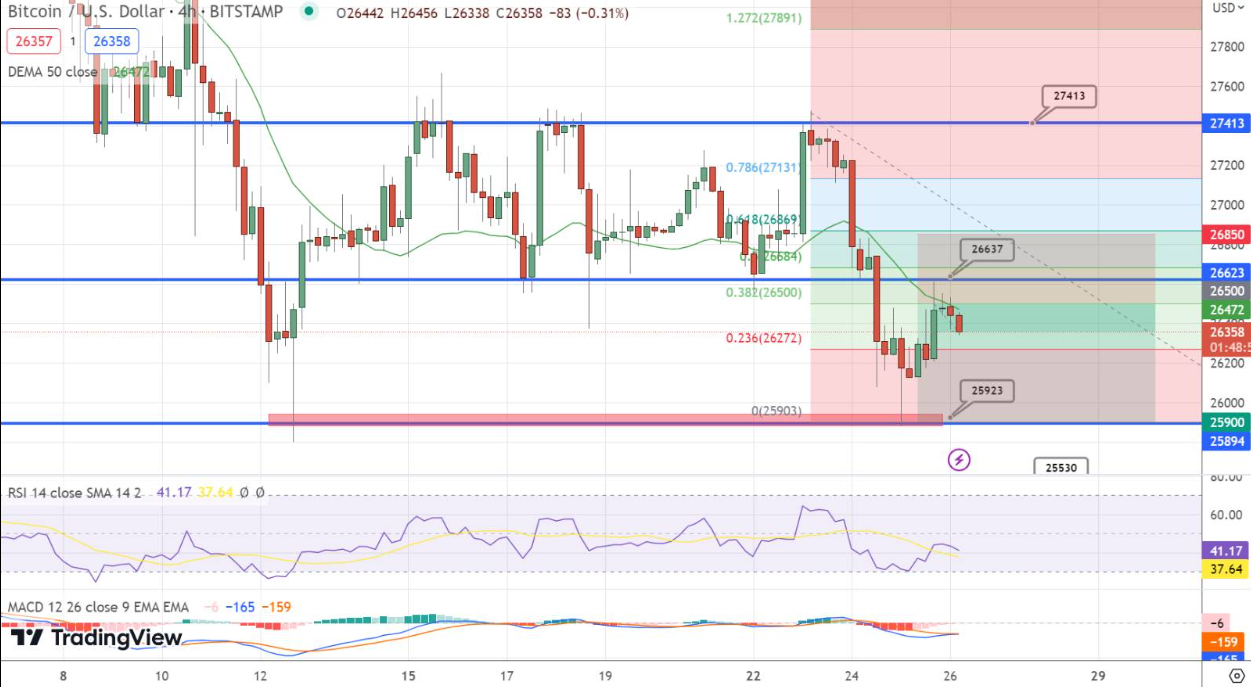 Examining the key technical indicators, such as the Relative Strength Index (RSI) and the Moving Average Convergence Divergence (MACD), we observe mixed signals. The RSI indicates a selling zone, while the MACD is in a buying zone, indicating a divergence.
Therefore, a cautious approach may be prudent, requiring confirmation through additional Bitcoin candle closings below the 26,600 level before considering a selling position.
Conversely, if Bitcoin successfully breaks through the 26,600 level, it can potentially target the next resistance level at 27,000 or even higher, possibly up to 27,400.
Given these factors, the suggested strategy for today is to consider a selling position below 26,600, with a take-profit level of around 26,000.
Top 15 Cryptocurrencies to Watch in 2023
Cryptonews Industry Talk presents an exciting lineup of cryptocurrencies that are poised for a bright future in 2023.
These digital assets have been carefully selected for their promising outlooks, indicating substantial potential for growth both in the short and long term.
With their unique features and innovative technologies, these cryptocurrencies are positioned to thrive and make significant advancements in the years to come.
Get ready to explore the exciting possibilities that lie ahead for these digital currencies.
Disclaimer: The Industry Talk section features insights by crypto industry players and is not a part of the editorial content of Cryptonews.com.
Find The Best Price to Buy/Sell Cryptocurrency

---