Bitcoin Price Prediction as US Core Inflation Data is Released – Bear Market Over?
Disclosure: Crypto is a high-risk asset class. This article is provided for informational purposes and does not constitute investment advice. By using this website, you agree to our terms and conditions. We may utilise affiliate links within our content, and receive commission.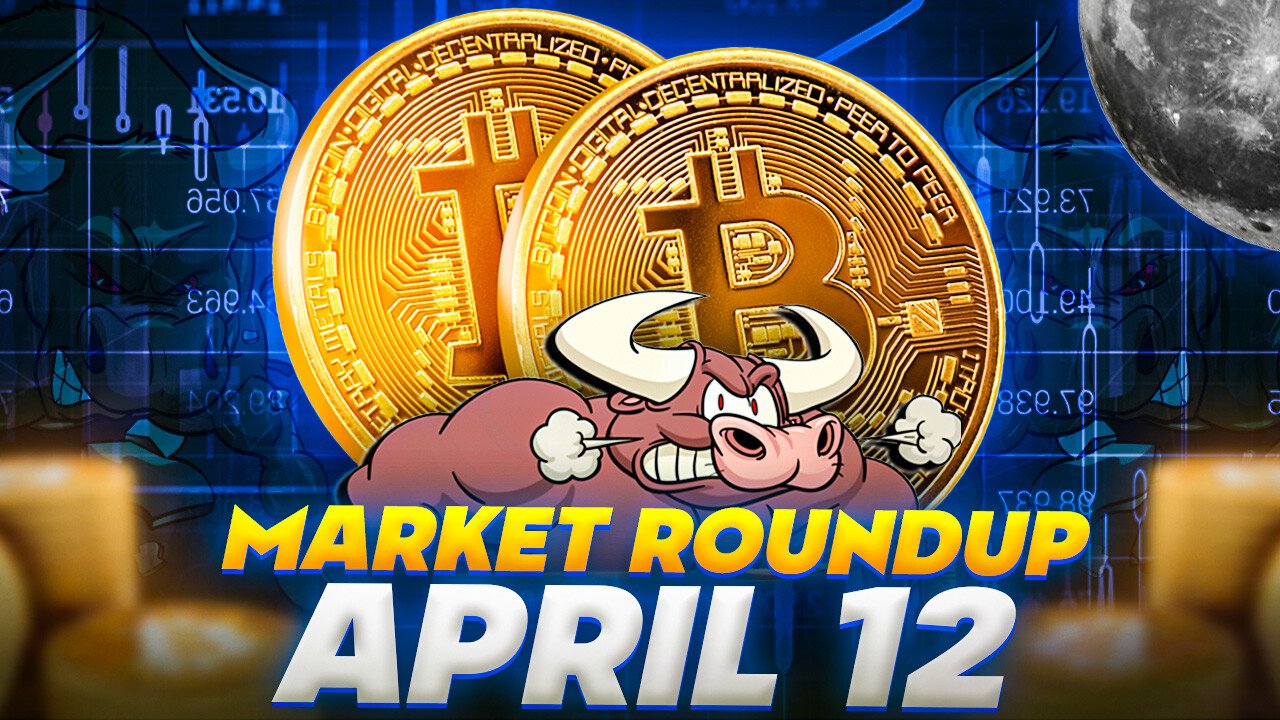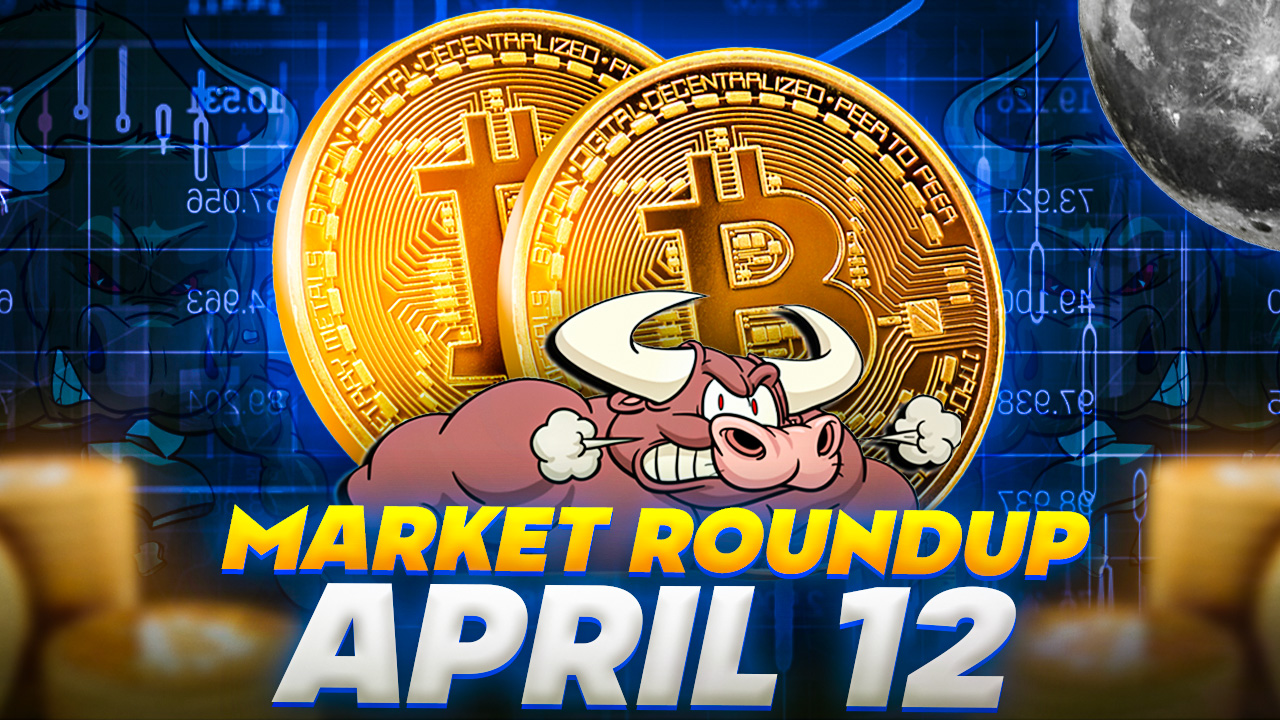 The cryptocurrency market has been factoring in the recently released US CPI figures, which have underperformed expectations. Many speculate on how this crucial economic indicator will impact Bitcoin's price trajectory.
In this article, we will delve into the potential implications of the inflation report on Bitcoin's price, evaluating various factors that may contribute to an upswing or a continued downturn in the digital currency's value.
Slowing Inflation: US Consumer Price Increases Ease in March
US consumer price increases slowed down in March compared to the high levels seen last summer. According to the Bureau of Labor Statistics, annual inflation measured by the Consumer Price Index fell for the ninth consecutive month.
📉🎉 Inflation takes a chill pill! ❄️😎 🔥 5% YoY increase in March, down from 6% in Feb! 📆🎯 Smallest 12-month gain since May 2021! 🥳🔙

CPI m/m: 0.1% uptick 🆙🤏 compared to previous 0.4% 📈 #Inflation #CPI #economy 🌐🧮🥳

— Arslan B. (@forex_arslan) April 12, 2023
For the 12 months ending in March, prices rose by 5%, a decrease from the 6% recorded in February, marking the smallest year-over-year increase since May 2021.
On a monthly basis, the CPI, which tracks price changes for a basket of goods over time, experienced a modest 0.1% uptick from February, compared to the previous increase of 0.4%.
Yields drop, Nasdaq futures rise in response to a basically in-line inflation report. So clearly the market was worried about an upside surprise and is cheering that it's pretty much as expected. pic.twitter.com/uAdw9nVIFs

— Lisa Abramowicz (@lisaabramowicz1) April 12, 2023
Following the release of a virtually in-line inflation report, yields have dropped while Nasdaq futures have experienced an uptick.
This market response indicates that investors were concerned about a potential upside surprise, and are relieved that the results are largely in accordance with expectations.
Crypto Market Fundamentals
Bitcoin (BTC), the world's most valuable cryptocurrency, has performed exceptionally well and gained tremendous traction, reaching the $30,000 mark On Tuesday. Although, the upticks in Bitcoin appear to be fading slightly, as it fell below the $30,000 barrier early Wednesday morning.
JUST IN: MicroStrategy now profitable on its 140,000 #Bitcoin investment as price hits $30,000.#BTC pic.twitter.com/hQOhZbpTSL

— Bitboy Bitcoins (@bitboybitcoins) April 12, 2023
Meanwhile, Ethereum, the second most valuable cryptocurrency, declined more than 2 percent to $1,885, with a market value of $228.3 billion.
However, the cryptocurrency community is anticipating the release of the Ethereum Shanghai Upgrade today, which will enable gradual staking withdrawals.
The @ethereum Shanghai / Capella Upgrade is in 15 hours legends 💯

I imagine price action to remain volatile today. If you cannot find a safe entry in the markets then just sit out 💯 pic.twitter.com/tiaR0RzNiI

— Crypto Tony (@CryptoTony__) April 12, 2023
Bitcoin's value has risen dramatically recently, and there are several reasons for this.
The possible reason is that the United States released some dismal economic statistics, which frightened investors and increased people's interest in Bitcoin, which they perceive as a solution to secure their money from inflation and other economic concerns.
UPCOMING U.S. ECONOMIC DATA:

*CPI INFLATION (WED.)
*FED FOMC MINUTES (WED.)
*PPI INFLATION (THURS.)
*JOBLESS CLAIMS (THURS.)
*RETAIL SALES (FRI.)
*CONSUMER SENTIMENT (FRI.) pic.twitter.com/4Q3D6208B3

— Aurel Beckett (@AurelBeckett) April 9, 2023
Investors are anticipating upcoming statistics on inflation. Investors believe that if inflation remains high, the US government will be forced to stop its aggressive monetary tightening policies. This might favor Bitcoin since it could make it a more appealing investment option.
Bitcoin Price Soars as Investors Turn to Cryptocurrencies as Inflation Hedge
The global cryptocurrency market has been performing well lately, with a value of $1.22 trillion and a 24-hour gain of more than 3.00%. One reason for this is rising inflation, which makes investors worried about their investments losing value.
Bitcoin is a popular alternative because it's not controlled by any government or central bank, making it less likely to be affected by inflation. As a result, Bitcoin's price has increased and recently passed $30,000.
Crypto Observation-12 Apr. 2023.

◆ Fear & Greed Index – 65 (Greed)
◆ Crypto market cap – $1.23 Trillion
◆ BTC Market Dominance – 47.43%#crypto #Cryptocurrency pic.twitter.com/uea3D1UmxS

— Coinstore (@CoinstoreExc) April 12, 2023
Another reason for the increase in BTC price is the growing adoption of cryptocurrencies by big companies like PayPal, which allows millions of merchants to accept Bitcoin.
Microstrategy's Bitcoin Investment Turns Profitable as BTC Hits 10-Month High.
Microstrategy, a Fortune 500 company, invested in Bitcoin in 2020 when its price was around $10,000. Since then, the firm has accumulated 140,000 BTC, worth $4.17 billion, at an average price of $29,803 per BTC.
Microstrategy's Bitcoin Investment Turns Green Again April 12, 2023 at 11:20AM

Microstrategy's Bitcoin investment has turned profitable again as BTC surpassed the critical resistance of $29,000 and hit a new 10-month high of $30,163. The company had accumulated 140,000 BTC…

— MIZO CRYPTO MOON (@MIZOMOONSHIBA) April 11, 2023
Despite facing criticism for incurring losses through the bearish market in the year 2022, Microstrategy's Bitcoin investment has turned profitable as the BTC price hits a new 10-month high of $30,163.
This news is significant because it shows the growing importance of cryptocurrencies in the global financial ecosystem. Bitcoin has outperformed most traditional stocks and bonds this year and continues to gain adoption by public companies like Microstrategy and Tesla.
Bitcoin Price
From the standpoint of technical analysis, the BTC/USD pair exhibits a clear upward trend as it approaches above the $30,250 mark. If this milestone is surpassed, the Bitcoin price might face resistance at $30,600 before progressing toward $31,000 or potentially even $32,250.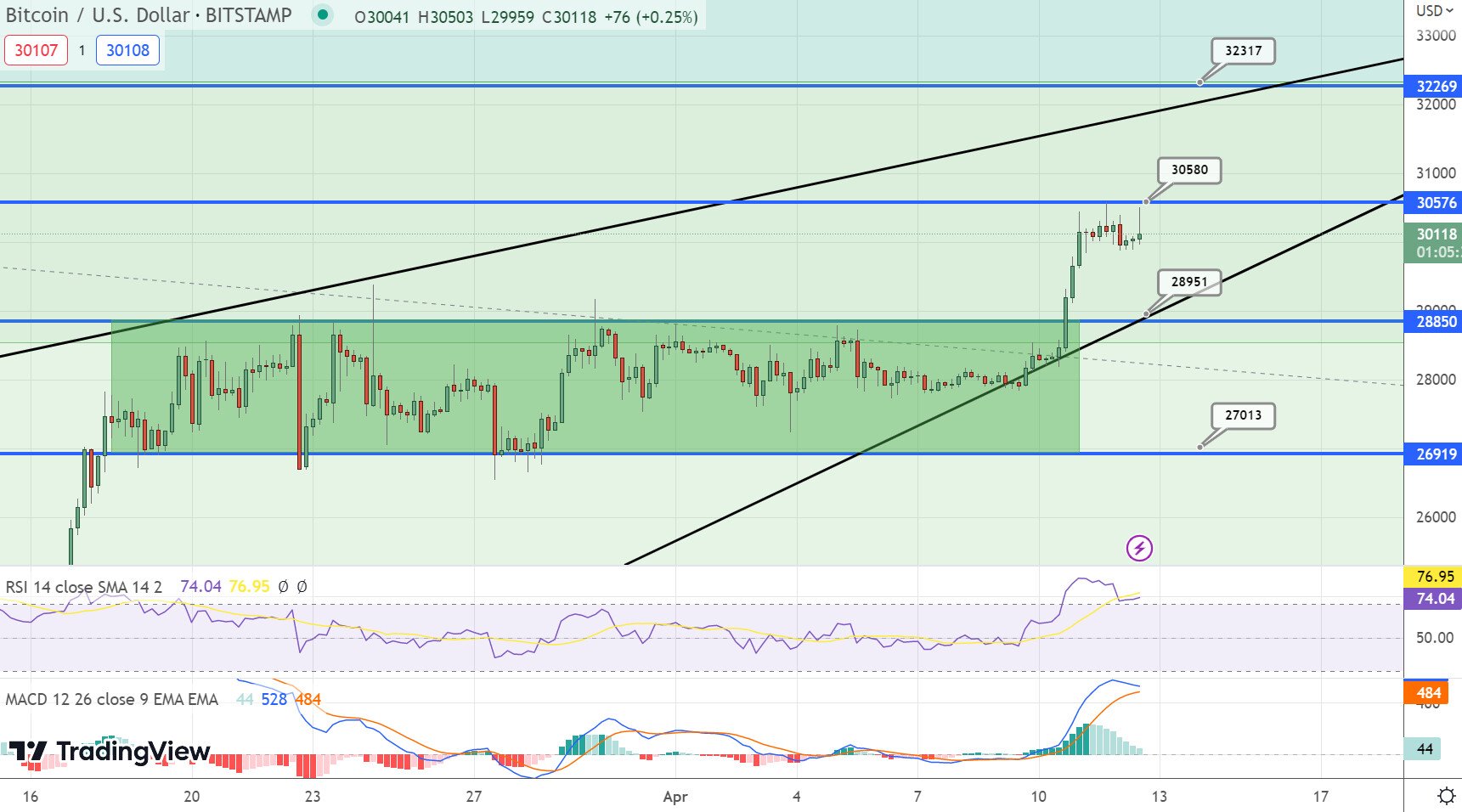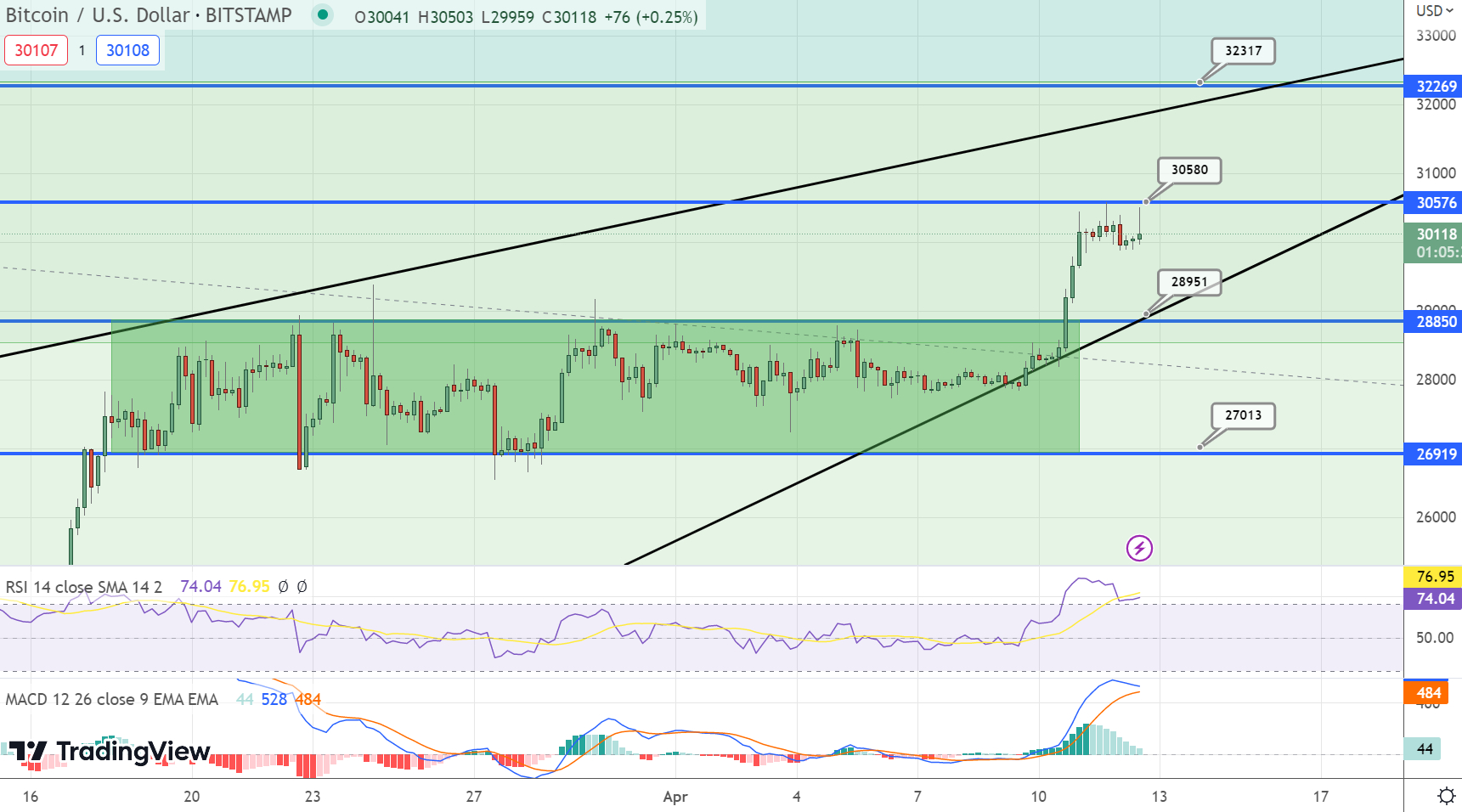 On the other hand, Bitcoin's support remains consistently strong near the $28,900 level.
Check the latest Bitcoin price on CoinCodex.
Top 15 Cryptocurrencies to Watch in 2023
To stay current with the latest ICO projects and altcoins, it is recommended to frequently consult the expert-curated list of the top 15 cryptocurrencies to watch in 2023.
By doing so, you will be better informed about emerging trends and opportunities within the crypto market.

Disclaimer: The Industry Talk section features insights by crypto industry players and is not a part of the editorial content of Cryptonews.com.
Find The Best Price to Buy/Sell Cryptocurrency


---