Bitcoin Price Prediction as Traders Get Spooked After Binance Halts Withdrawals – Where is BTC Heading Now?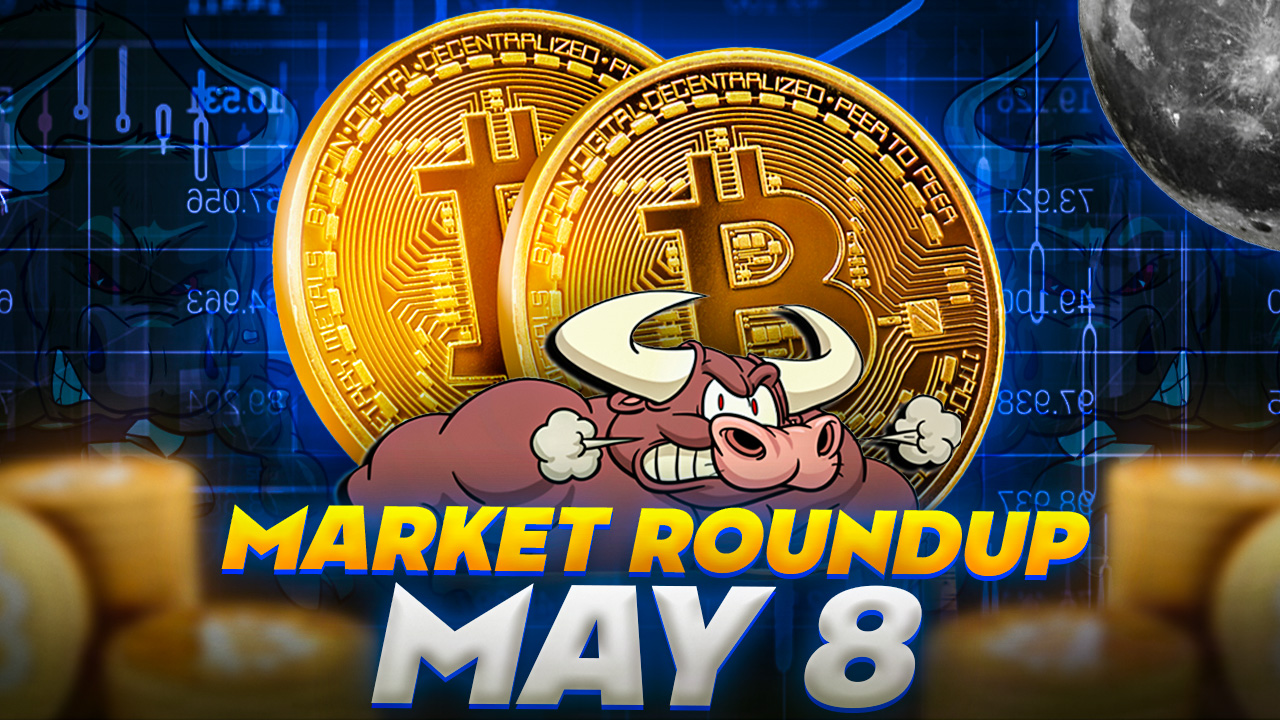 The recent announcement by Binance, the world's biggest cryptocurrency exchange, of temporarily halting bitcoin withdrawals, citing high volumes and a surge in processing fees, has spooked traders and raised questions about Bitcoin's future price direction.
While the halt caused a temporary dip in Bitcoin's value, its losses were marginal, with the cryptocurrency last down about 1% to $28,162, its lowest in nearly a week.
In this update, we'll take a closer look at the recent dip in Bitcoin prices and provide insights into what it could mean for the cryptocurrency market as a whole.
Binance Halts Bitcoin Withdrawals Twice in 12 Hours Due to Heavy Volumes and High Fees
Binance has halted Bitcoin withdrawals again, explaining that they have a backlog of requests that needs to be processed.
The exchange had previously suspended BTC withdrawals on May 7 due to a supposed overflow of transactions on the blockchain.
Withdrawals were reinstated half an hour later. However, on May 8, Binance stated that it has suspended BTC withdrawals again due to a high number of pending transactions.
According to reports, there are currently about 400,000 Bitcoin transactions awaiting processing in the mempool.
At the time when Binance halted Bitcoin withdrawals for the second time, the number of pending transactions in the mempool had increased to around 485,000.
The mempool is a space where transactions are temporarily held until they are verified by each node on the blockchain.
Currently, there are reports of approximately 400,000 transactions waiting in the Bitcoin mempool for processing, with the number increasing to around 485,000 at the time of the second Binance withdrawal halt.
These transactions are collectively valued at over $5 billion, and the high volume of unprocessed transactions prompted Binance to temporarily halt BTC withdrawals for the second time within 12 hours.
While Binance temporarily halted Bitcoin withdrawals for the second time due to a significant backlog of outstanding withdrawal requests, OKX reported that its Bitcoin deposit and withdrawal services were still operational despite high transaction fees.
However, the high volume of Bitcoin withdrawals added pressure on BTC/USD prices, causing them to fall below the $29,000 mark.
Bitcoin Withdrawals Unblocked by Binance Following Temporary Halt
Binance, the world's largest cryptocurrency exchange, suspended Bitcoin withdrawals on Sunday and Monday due to a high volume of transactions and a surge in processing fees.
The exchange cited a backlog of pending transactions, as it had not offered miners a sufficient reward to process trades on the blockchain.
Binance resumed the service at a higher cost, replacing pending Bitcoin withdrawal transactions with a higher fee to ensure they are picked up by mining pools.
Bitcoin's value dropped slightly to $28,162, its lowest point in almost a week due to the halt.
Bitcoin Price
During the US trading session, Bitcoin's value fell below the $28,000 support level, signaling a persistent bearish trend, according to technical indicators such as RSI and MACD.
BTC is currently heading towards the $28,000 support level after failing to cross the 50-day exponential moving average.
If it falls below this level, it could potentially target $27,700. While the RSI is oversold, the breached trend line at $28,350 indicates that bearish momentum is likely to persist.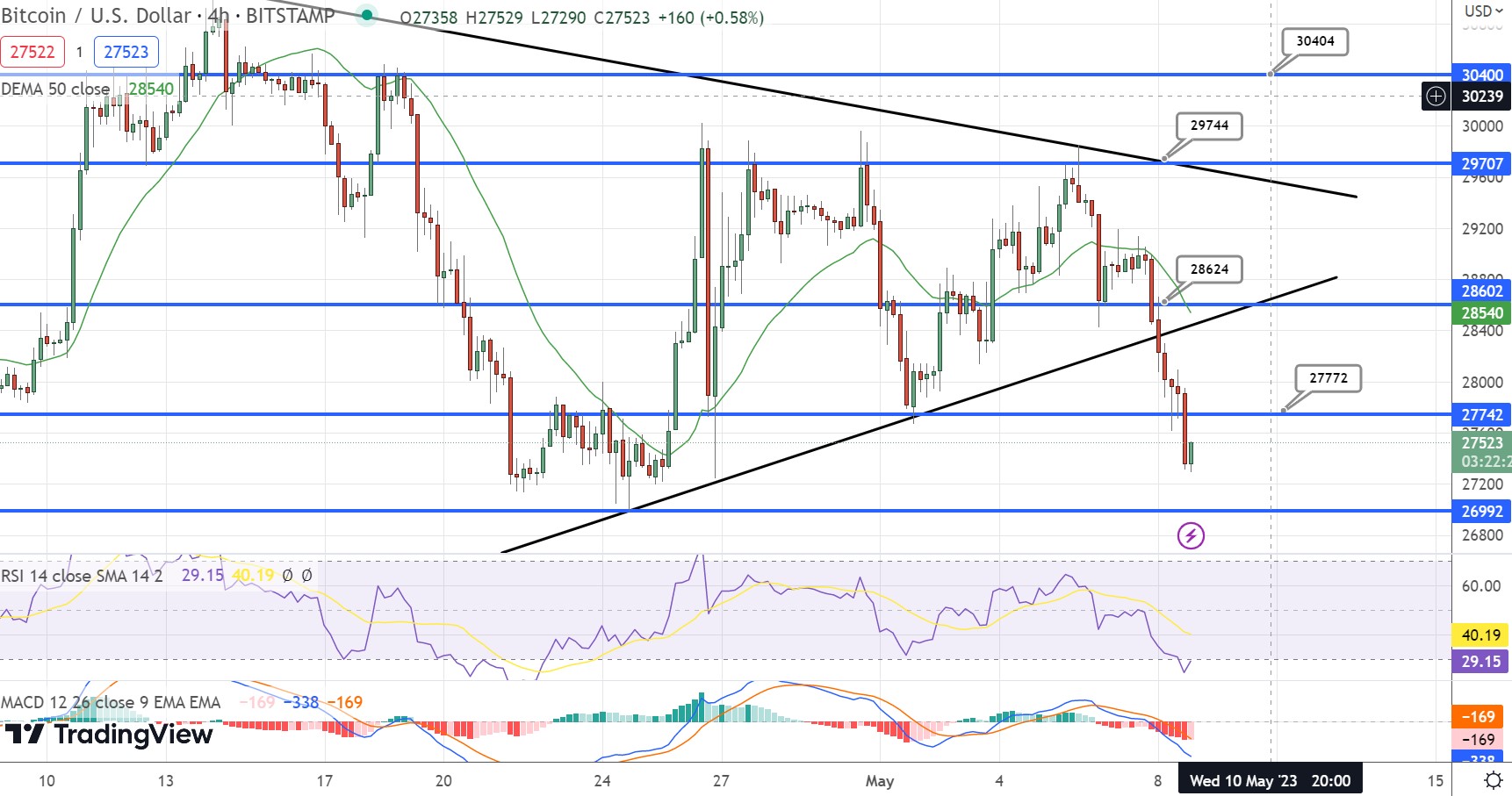 Traders may want to consider selling below $28,500 with a target of $27,750. However, if BTC manages to cross above $28,500, it may reach $29,000 or even $29,750.
Top 15 Cryptocurrencies to Watch in 2023
The Cryptonews Industry Talk team has put together a list of the top 15 cryptocurrencies for 2023, each showcasing considerable growth potential in both the short and long term.
Disclaimer: The Industry Talk section features insights by crypto industry players and is not a part of the editorial content of Cryptonews.com.
Find The Best Price to Buy/Sell Cryptocurrency

---