Bitcoin Price Prediction as Huge $75 Billion Trading Volume Floods In – Are Whales Buying?
Disclosure: Crypto is a high-risk asset class. This article is provided for informational purposes and does not constitute investment advice. By using this website, you agree to our terms and conditions. We may utilise affiliate links within our content, and receive commission.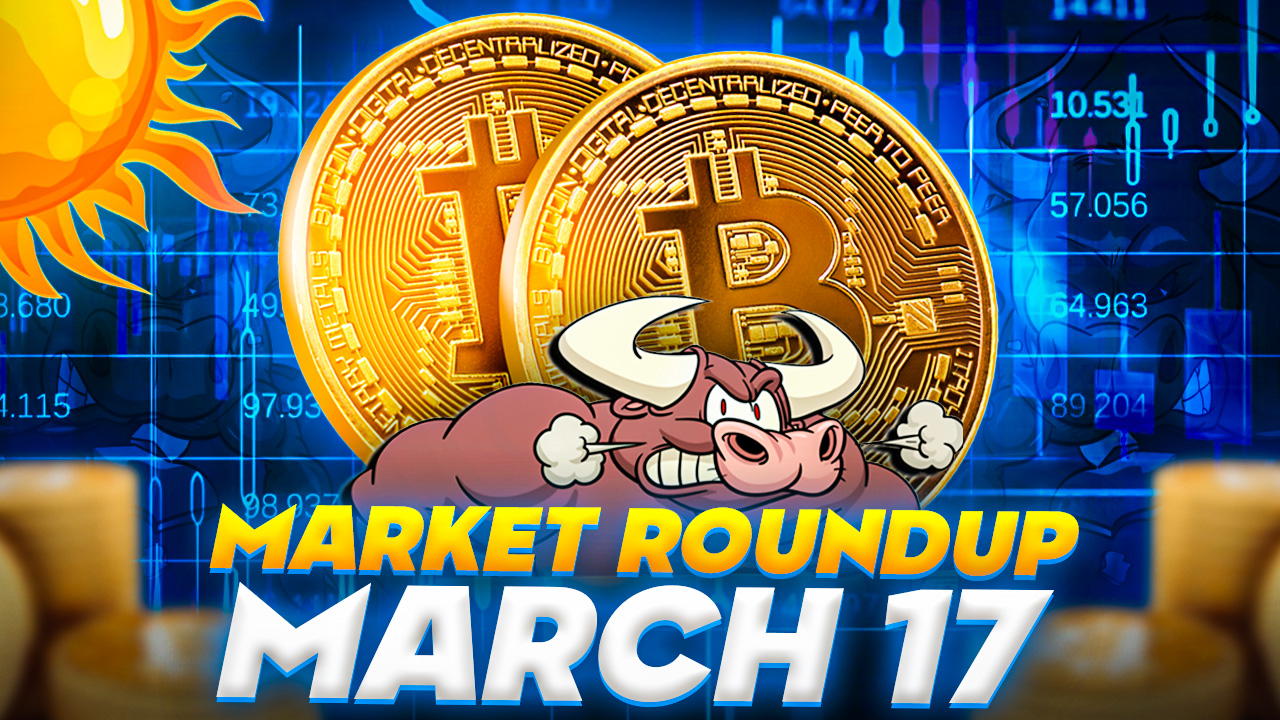 The global cryptocurrency market has managed to stop its previous losing streak and gained some ground, with Bitcoin and Ethereum leading the charge. Bitcoin, the world's oldest and most valued crypto, climbed above the $25,000 mark early Friday morning, while Ethereum drew bids around above the $1,700 level.
Other popular altcoins, including Dogecoin, Ripple, Litecoin, and Solana, also landed in the greens.
$BTC Price: $25,737 #Bitcoin #BTC #BitcoinPrice #Crypto pic.twitter.com/NBFMnpXaBH

— Bitcoin Price Tracker (@BTCPriceUpdate) March 17, 2023
Bitcoin's price has increased by more than 5% in the last 24 hours and is currently trading above $25,600. This surge, along with other cryptocurrencies, has pushed the total crypto market cap above the $1 trillion mark, which is making investors more confident.
Despite this, some analysts are skeptical and believe that this could be a bull trap fueled by positive sentiment, especially as trading volumes remain low.
The recent collapse of SVB and Silvergate banks has raised liquidity concerns in the market, prompting customers to shift their focus to digital assets. According to Apptopia, cryptocurrency app downloads have increased by 15% following the collapse of big bank stocks.
Investors are seeking to diversify their portfolios and reduce risks, which has brought attention to the goal of introducing a cryptocurrency to address the faults of the old financial system.
GM Lads!

The recent collapse of SVB and Signature Bank, along with Credit Suisse's 25% stock drop, highlights the vulnerabilities of traditional financial institutions.

It's clear that the future belongs to decentralized currencies like #Bitcoin

— Elite Crypto (@TheEliteCrypto) March 16, 2023
Regarding Ethereum, which is currently the second-largest cryptocurrency by market capitalization, there are expectations that it will reach its all-time high of $2,000. The current rise in the ETH price has been mainly driven by the utilization of Ethereum's blockchain technology in decentralized finance (DeFi) and non-fungible tokens (NFTs).
In addition, the upcoming Ethereum Improvement Proposal (EIP) 1559 upgrade, scheduled for July 2021, is anticipated to limit Ethereum supply and could cause a supply crisis, potentially driving its price even higher.
Swiss National Bank Rescues Credit Suisse, but Uncertainty Remains
The Swiss National Bank lends $50 billion to insolvent investment bank Credit Suisse. For the time being, the measure appears to have spared the terrible situation of a European banking crisis. Yet, uncertainty persists as the COVID-19 epidemic and geopolitical tensions continue to influence the global economy.
⚠️BREAKING:

*CREDIT SUISSE TO BORROW ABOUT $54 BILLION FROM SWISS NATIONAL BANK TO SHORE UP LIQUIDITY$CS 🇨🇭🇨🇭 pic.twitter.com/pMuX1fdaow

— Investing.com (@Investingcom) March 16, 2023
Thus, this news of the Swiss National Bank's $50 billion loan to Credit Suisse did not have a significant impact on Bitcoin (BTC) prices.
Cryptocurrency Market Sees Bullish Run as Bitcoin Dominance Continues
The cryptocurrency market is currently experiencing a surge in value, with Bitcoin and Ethereum leading the way. Investors remain optimistic about the potential of cryptocurrencies to disrupt traditional banking institutions.
As the total market cap of cryptocurrencies surpasses the $1 trillion mark, it is evident that investors are increasingly interested in cryptocurrencies and their potential.
#CMC Daily Chronicles ✨

It's finally Friday!
Let's see if we can maintain Total Market Cap above 1T over the weekend! #CoinMarketCap #CMC #crypto #cryptocurrency pic.twitter.com/JNF7dazSft

— CoinMarketCap (@CoinMarketCap) March 17, 2023
It will be interesting to see how the cryptocurrency market performs in the coming months, considering the market's concerns about liquidity and potential interest rate reductions.
It's important to note that the US may decrease interest rates in the latter part of the year to provide banks with protection. This action could prompt investors to create new long-term positions and increase capital inflows into riskier assets.
Bearish US Dollar Underpins BTC
The recent decline in the US dollar has had a significant impact on the prices of Bitcoin (BTC) and Ethereum (ETH). This decline came as authorities and banks took steps to ease the stress on the financial system following the collapse of two mid-sized banks.
As a result, most major currencies, including BTC and ETH, have bounced back and are currently trading above the $25,000 and $1,700 levels, respectively. This bullish trend is expected to continue as investors seek alternative investments amid a weakening dollar.
The upcoming Federal Reserve monetary policy meeting is also anticipated to play a significant role in the market's movements. Some investors hope that the Fed may take a more cautious approach with its rate hikes, which could further ease the stress on the financial sector and potentially fuel more interest in cryptocurrencies.
Overall, the fall of the US dollar has been a key factor in driving the prices of BTC and ETH higher. As the world searches for new investment opportunities, cryptocurrencies are becoming an increasingly popular choice, and this trend is expected to continue as the financial system faces ongoing challenges.
Bitcoin Price
After a brief consolidation at $26,500, the price of Bitcoin has sharply declined and has been on a short-term negative trend since breaking below the support levels of $25,000 and $25,500.
However, if the price can close above $25,200, it may trigger a new uptrend above $26,000, with a crucial resistance level at the $26,500 zone.
Breaking through the $26,000 level could pave the way for a potential climb toward $27,500.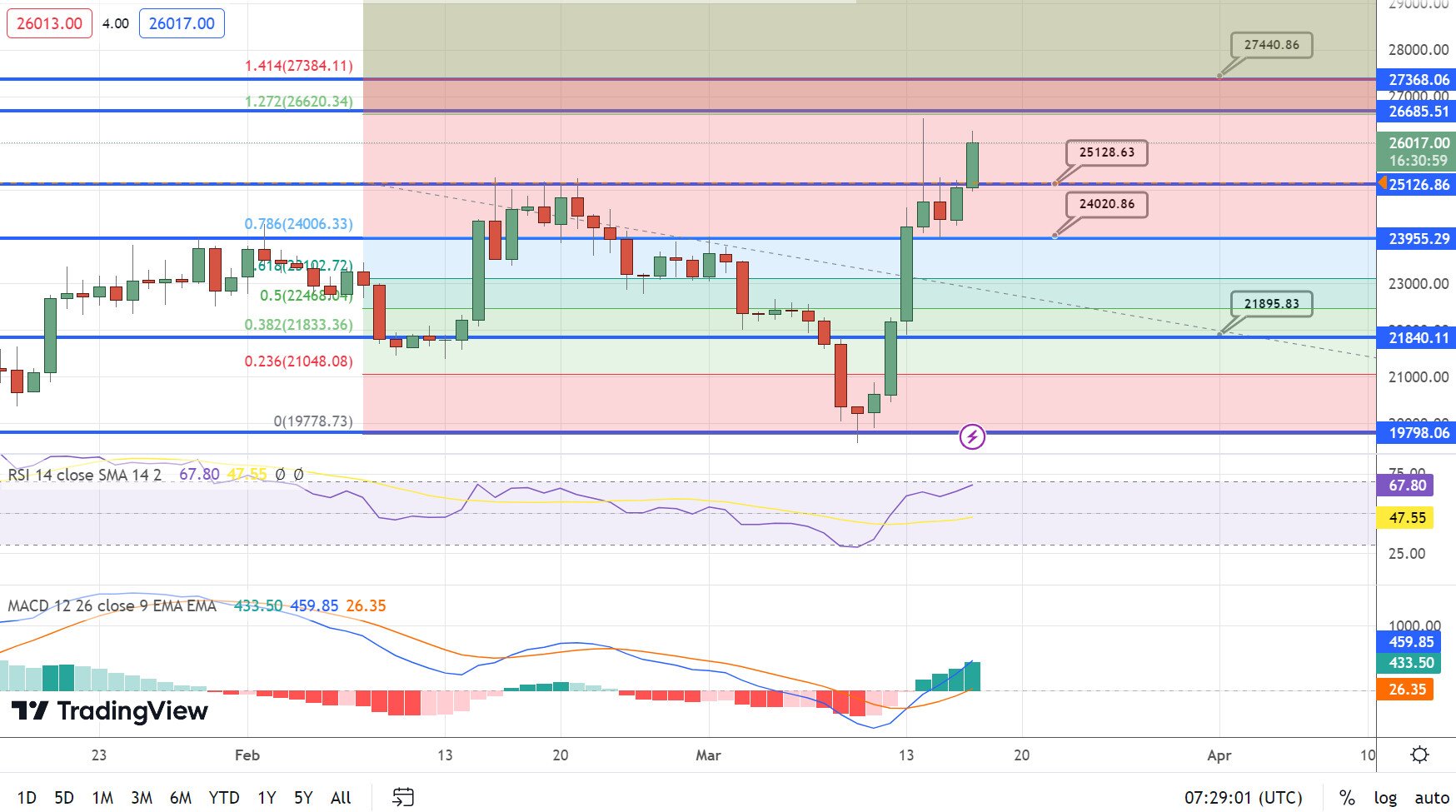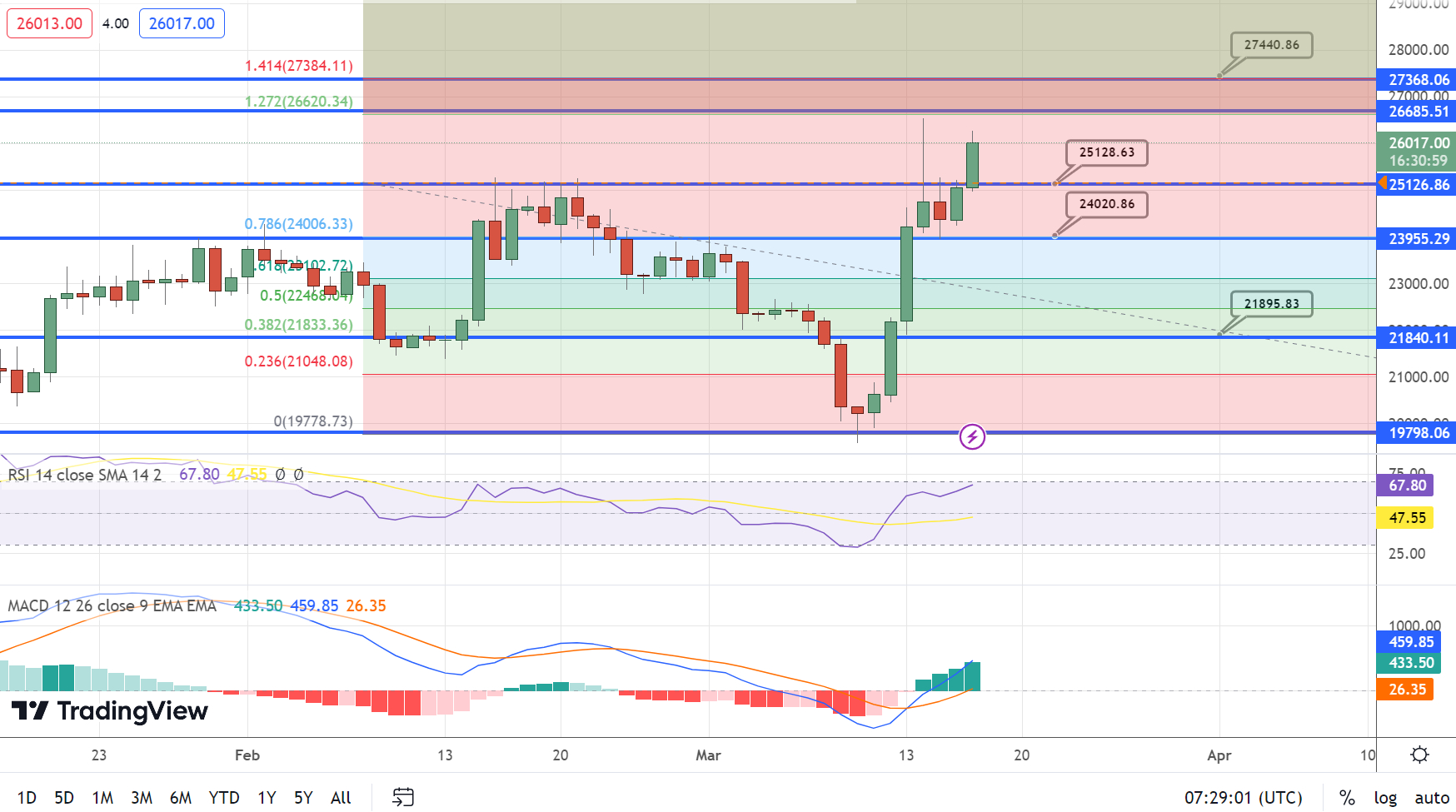 Bitcoin may experience another decline if it fails to break through the resistance level of $25,200.
Currently, the $24,000 level is providing support in the short term, with additional and stronger support at the $23,500 area and the 100-hourly simple moving average located not far behind.
However, if the price drops below $22,600, selling pressure is likely to increase, and if losses continue, the price may drop below $22,000.
Ethereum Price
Once Ethereum broke through the $1,600 barrier, its price started to climb significantly. However, to reach a positive zone comparable to Bitcoin, ETH had to break through the crucial $1,700 barrier zone.
Eventually, the price broke through the $1,745 barrier and was trading toward $1,800. The price reached a peak near $1,784 before experiencing a retracement to the negative.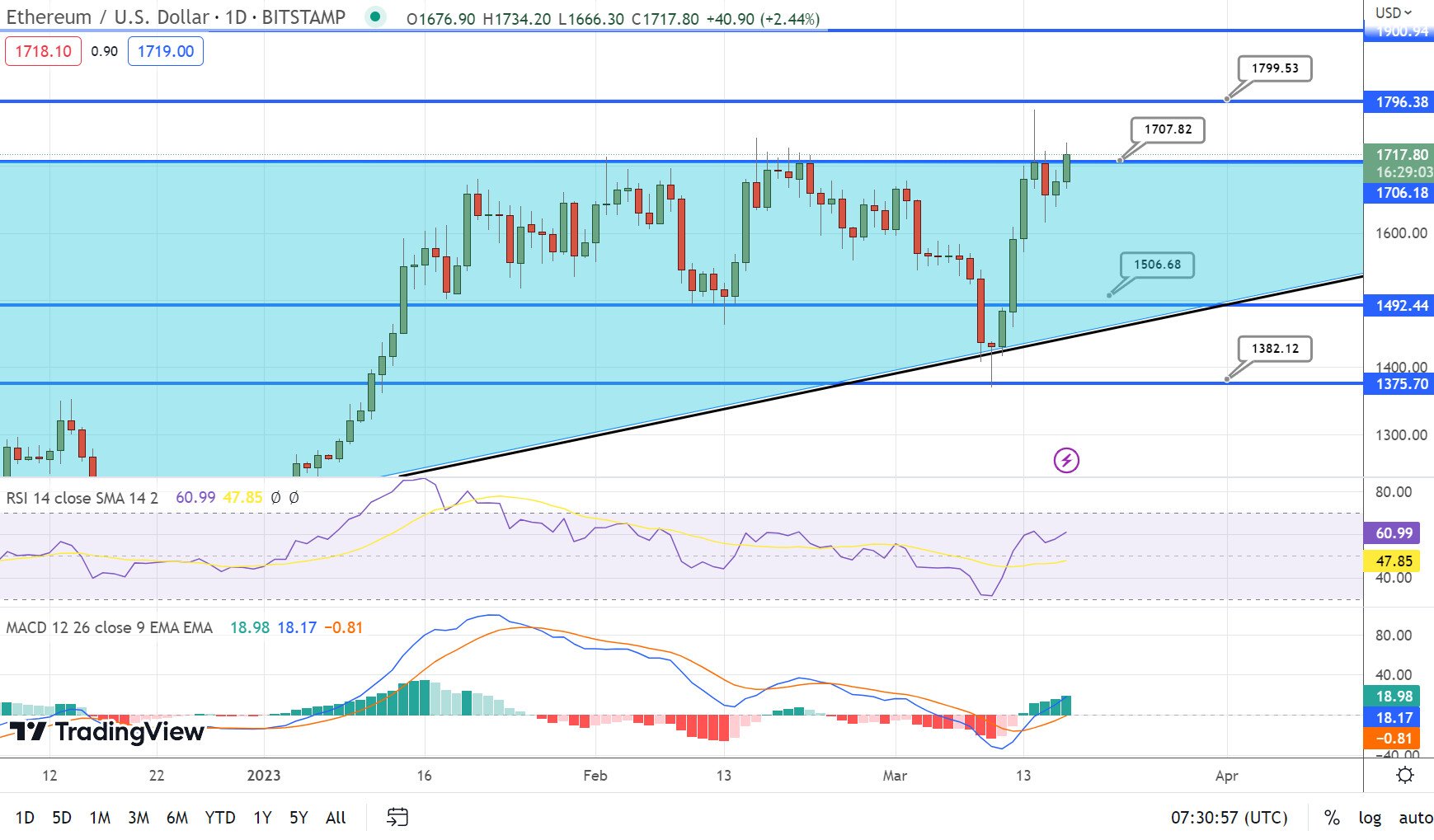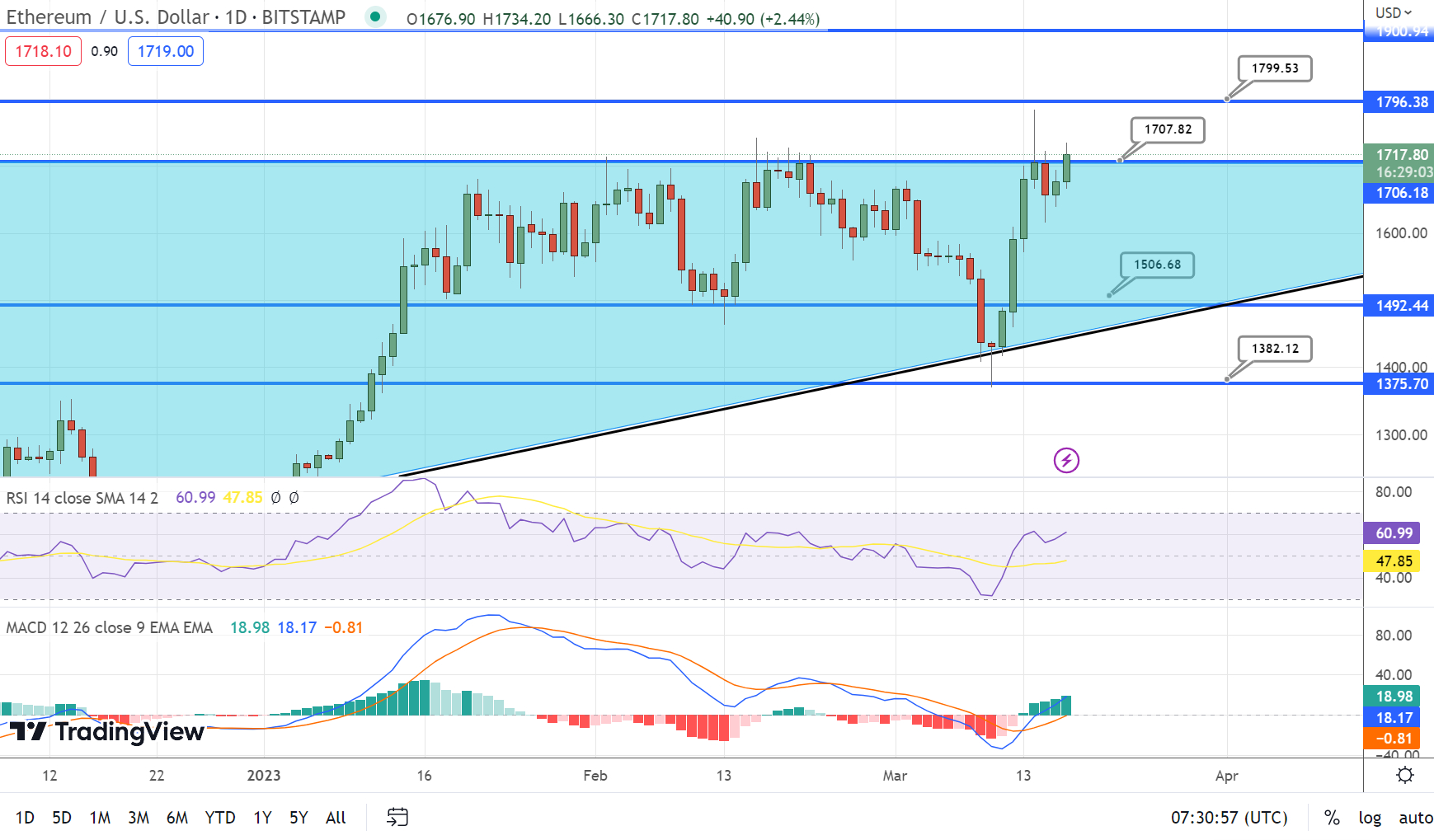 If Ethereum fails to break through the $1,745 level, we may witness another drop in its price. In the short term, the trend line and the $1,695 price point are likely to serve as early support for the market.
Top 15 Cryptocurrencies to Watch in 2023
Take a look at Cryptonews' Industry Talk team's carefully curated list of the top 15 altcoins to keep an eye on in 2023. The list is regularly updated with new ICO projects and altcoins, so be sure to visit frequently for the latest updates.
Disclaimer: The Industry Talk section features insights by crypto industry players and is not a part of the editorial content of Cryptonews.com.
Find The Best Price to Buy/Sell Cryptocurrency


---