Bitcoin Price Prediction as Bulls Protect the $27,000 Support – Where is BTC Headed Now?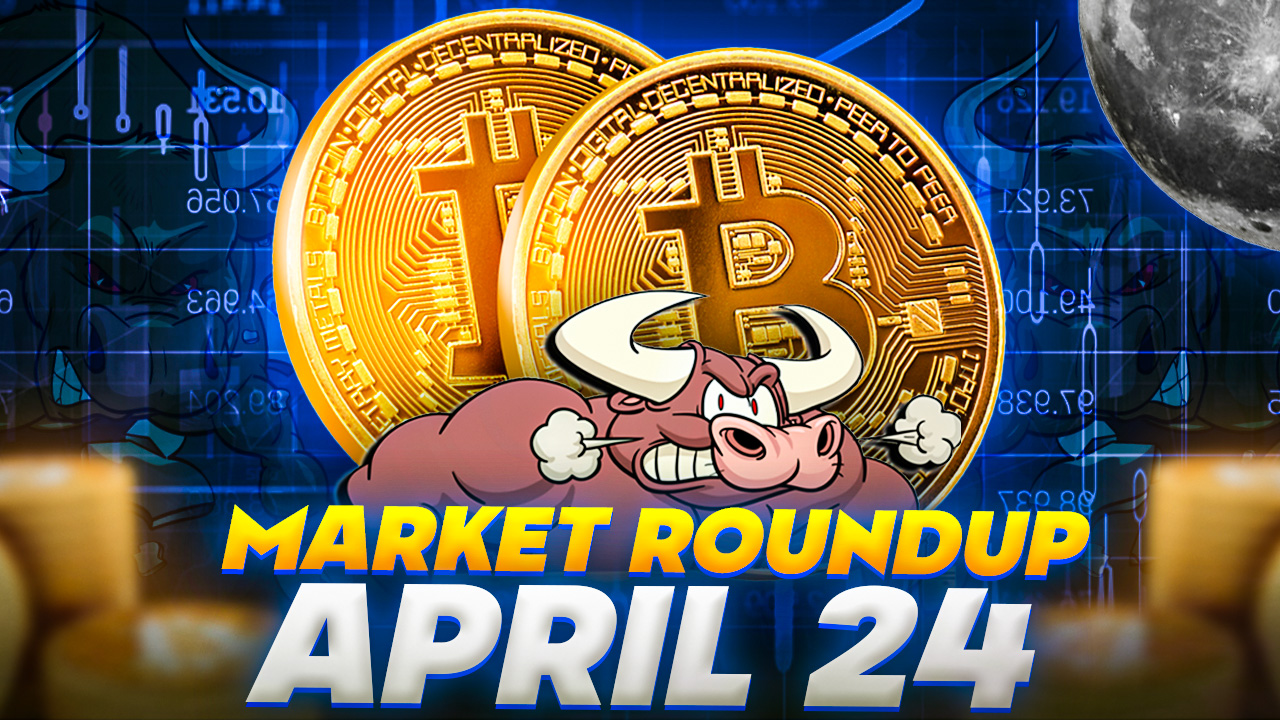 Bitcoin (BTC), the world's first and largest cryptocurrency by market capitalization, is currently trading just above its 50-Day Moving Average (DMA) around the $27,300 mark, with bulls having mounted a strong protection of support in the $27,000 area in recent days.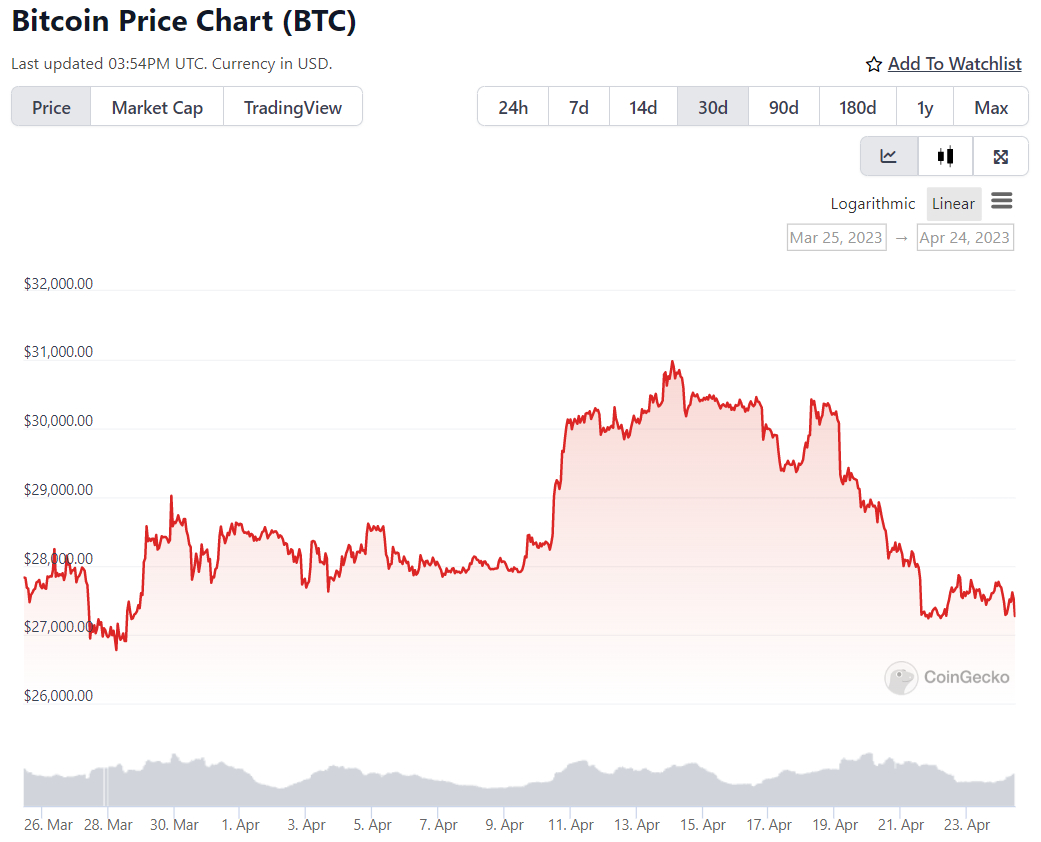 The BTC price dropped 9% last week and, at current levels, is around 12% below the 10-month highs it hit earlier this month above the $31,000 level.
That marked the cryptocurrency's worst weekly performance since last November, with traders opting to book profit in wake of this year's big run-up amid lingering uncertainties regarding 1) the US regulatory outlook and 2) the outlook for Fed interest rate hikes.
For reference, despite the sharp recent drop, Bitcoin is still up around 65% this year and most analysts continue to express confidence that the bull market remains intact.
Focus this week will be on macro themes including 1) earnings from US tech behemoths like Apple, Amazon, Microsoft and Google, 2) US inflation and GDP data, both of which could impact Fed tightening expectations and 3) any developments regarding the US debt ceiling as the US treasury quickly runs out of cash.
The US central bank is expected to deliver a final rate hike next Wednesday before embarking on a cutting cycle later this year to stave off a widely expected incoming recession.
That's despite Fed officials having repeatedly pushed back against the idea of a rate-cutting cycle later this year.
Price Prediction – Can $27,000 Support Hold?
Since the break of the late-March/early-April uptrend and the 21DMA last week, many technicians have been eyeing a retest of support-turned-resistance in the $26,500 area, which hasn't quite yet materialized.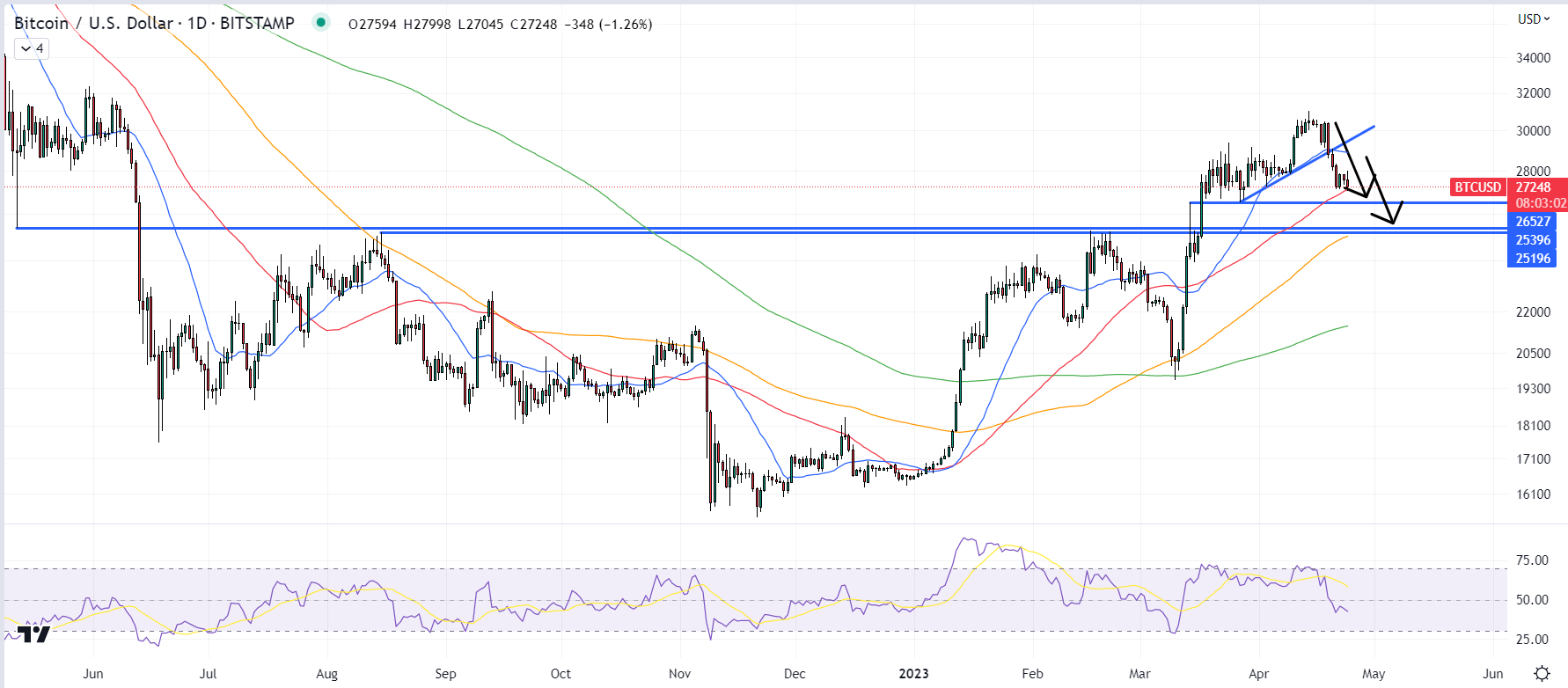 Others were eyeing a drop all the way back to key long-term support in the $25,200-400 area.
But with the US dollar weakening at the start of this week and yields pulling a little lower, it seems likely that Bitcoin will hold above $27,000 for now.
Whether it bounces quickly back above $30,000, or loses another 6-7% to fall into the $25,000s may depend on how this week's macro risk events unfold.
A recent trading signal that fired off midway through last week highlighted by Bloomberg suggests that the former may be more likely.
And even if Bitcoin was to drop back to the $25,000s, that is much more likely to be viewed as a great buying opportunity by market participants than a catastrophe.
With numerous long-term on-chain indicators flashing a buy signal for Bitcoin and with long-term market cycle analysis suggesting that the cryptocurrency is in the early stages of a bull market, long-term focused dip-buyers are likely to keep the BTC price supported for the foreseeable future.
Bitcoin (BTC) Alternatives to Consider
While blue-chip cryptocurrencies like Bitcoin may continue to perform well in the coming months and years, investors should nonetheless always be on the lookout to diversify their crypto holdings.
One high-risk-high-reward investment strategy that some investors might want to consider is getting involved in crypto presales.
This is where investors buy the tokens of up-start crypto projects to help fund their development.
These tokens are nearly always sold very cheap and there is a long history of presales delivering huge exponential gains to early investors.
Many of these projects have fantastic teams behind them and a great vision to deliver a revolutionary crypto application/platform.
If an investor can identify such projects, the risk/reward of their presale investment is very good.
The team at Cryptonews spends a lot of time combing through presale projects to help investors out.
Here is a list of 15 of what the project deems as the best crypto presales of 2023.
Disclaimer: The Industry Talk section features insights by crypto industry players and is not a part of the editorial content of Cryptonews.com.
---