Bitcoin Price Prediction as BTC Holds Strongly Above $16,000 – Time to Buy?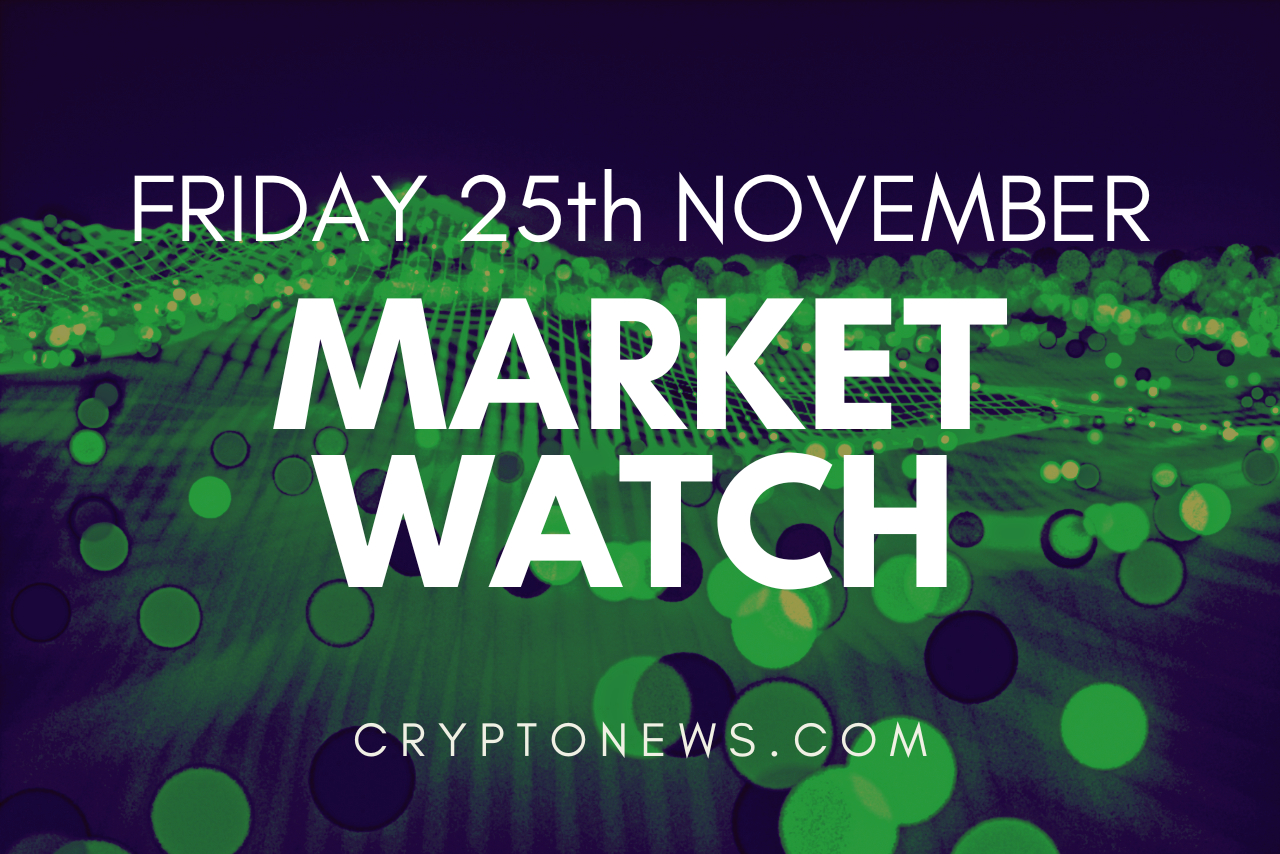 As the Thanksgiving celebrations draw to a close, Bitcoin is trading sideways on November 25, maintaining a narrow range between $16,350 to $16,700.
The crypto market sentiment remains "risk-off" due to FTX-driven fear, uncertainty, and doubt (FUD). The knock-on effects of the FTX collapse continues to unravel.
Binance's Industry Recovery Initiative (IRI)
Following these events, leading exchange by volume traded, Binance, has launched a Industry Recovery Initiative, a $1 billion fund to assist struggling cryptocurrency firms.
In an interview with Bloomberg on November 24, crypto billionaire Changpeng "CZ" Zhao stated that the fund would have a "loose" structure, be publicly available on the blockchain, and accept contributions from other industry participants.
Binance has contributed $1 billion to the project, which could be increased to $2 billion if necessary.
According to the company, it has already received 150 requests for assistance from various struggling businesses.
Polygon Ventures, Animoca Brands, Jump Crypto, Aptos Labs, GSR Markets, Kronos, and Brooker Group are among the companies that have already contributed $50 million to the initiative.
Belgium Rejects Bitcoin, Ethereum, and other Digital Currencies as Securities
The Belgian financial regulator has reiterated that cryptocurrencies such as Bitcoin, Ether, and others that are only issued through computer code do not qualify as securities. The justification was presented in a November 22 report by Belgium's Financial Services and Markets Authority (FSMA), with a version released for comment in July 2022.
According to the FSMA, the clarification comes in response to an increase in inquiries about how Belgium's current financial rules and regulations apply to digital assets.
The criteria used to classify assets are technology-neutral, according to the FSMA. It denotes that the asset's security status is independent of whether it is derived from a blockchain or another source. Instead, digital assets with an issuer are more likely to be classified as securities.
According to the Belgian regulatory agency, even though cryptocurrencies are not considered securities, they may be subject to other laws if used as a medium of exchange by a business.
In contrast to Belgium's clear guidelines, the US Securities Exchange Commission (SEC), which is currently competing with the US Commodity Futures Trading Commission (CFTC) for regulatory authority over digital assets, has adopted a "regulation by enforcement" strategy.
Bitcoin Price
At the time of writing, the price of Bitcoin is $16,527, and the 24-hour trading volume is $23 billion.

Despite the dovish FOMC meeting minutes, Bitcoin has yet to break through the $16,785 barrier. The BTC/USD pair is currently descending towards a Fibonacci retracement level of 38.2%, sitting at $16,300.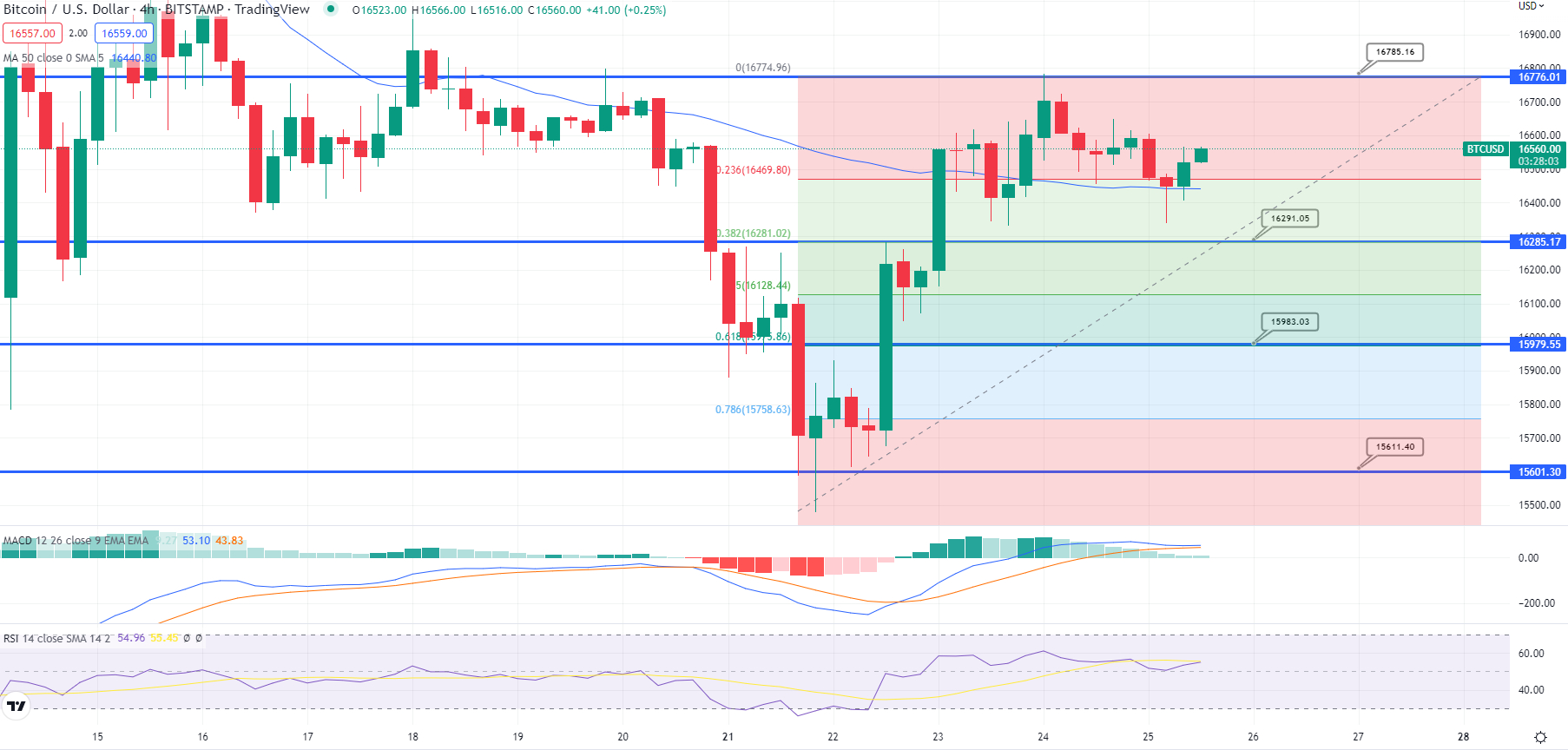 Similarly, the leading technical indicators, such as the RSI and MACD, are on the verge of entering a selling zone, and if this happens, BTC may fall below $16,300 and reach a support level of $16,000. Below that, $15,600 is the level to look out for.
However, if buying pressure enters the market, a bullish breakout of the $16,785 level could see BTC reaching $17,000 in a matter of days.
Cryptocurrency Pre-Sale With Massive Profit
Despite the market's downturn, a few coins have massive upside potential. Let us examine them more closely.
Dash 2 Trade (D2T)
Dash 2 Trade is an Ethereum-based trading intelligence platform that provides real-time analytics and social data to traders of all skill levels, allowing them to make better-informed decisions. The platform will go live in the first quarter of 2023, providing investors with information to help them make proactive trading decisions.
D2T only started selling tokens a few weeks ago and has already raised over $6.9 million. Following the presale, D2T will be listed on LBank and BitMart, with experts anticipating a significant increase in asset price shortly thereafter.
1 D2T is currently worth 0.0513 USDT, however, this will rise to $0.0533 in the next and final stage of the sale.
RobotEra (TARO)
RobotEra (TARO) is a Sandbox-style Metaverse due to launch its alpha version in Q1 2023. Within its platform, gamers will be able to play as robots and participate in creating its virtual world, including NFT-based land, buildings, and other in-game items.
1 TARO is currently selling for 0.020 USDT (it can be bought using either USDT or ETH), although this price will rise to $0.025 in the second stage of its presale, which will begin soon.

Visit RobotEra Now
Calvaria (RIA)
Calvaria is a new cryptocurrency gaming startup with the potential to dominate the play-to-earn market. Calvaria developers have identified a key hurdle to widespread Web3 gaming adoption – the fact that you need cryptocurrency in order to play.
For that reason, the game will offer Free-to-Play and Play-to-Earn versions, with the Free-to-Play version open to players who don't own any cryptocurrency.
The fact that players don't need crypto to play Calvaria potentially makes it more accessible than other blockchain-based games, and could help it attract a wider audience.
The token presale has raised $1.9 million and is currently in its fourth stage, which is already 93% complete, and during which 40 RIA can be purchased for 1 USDT.
Find The Best Price to Buy/Sell Cryptocurrency

---