Bitcoin Price Prediction as $40 Billion Trading Volume Comes In – Here are Key Levels to Watch
Disclosure: Crypto is a high-risk asset class. This article is provided for informational purposes and does not constitute investment advice. By using this website, you agree to our terms and conditions. We may utilise affiliate links within our content, and receive commission.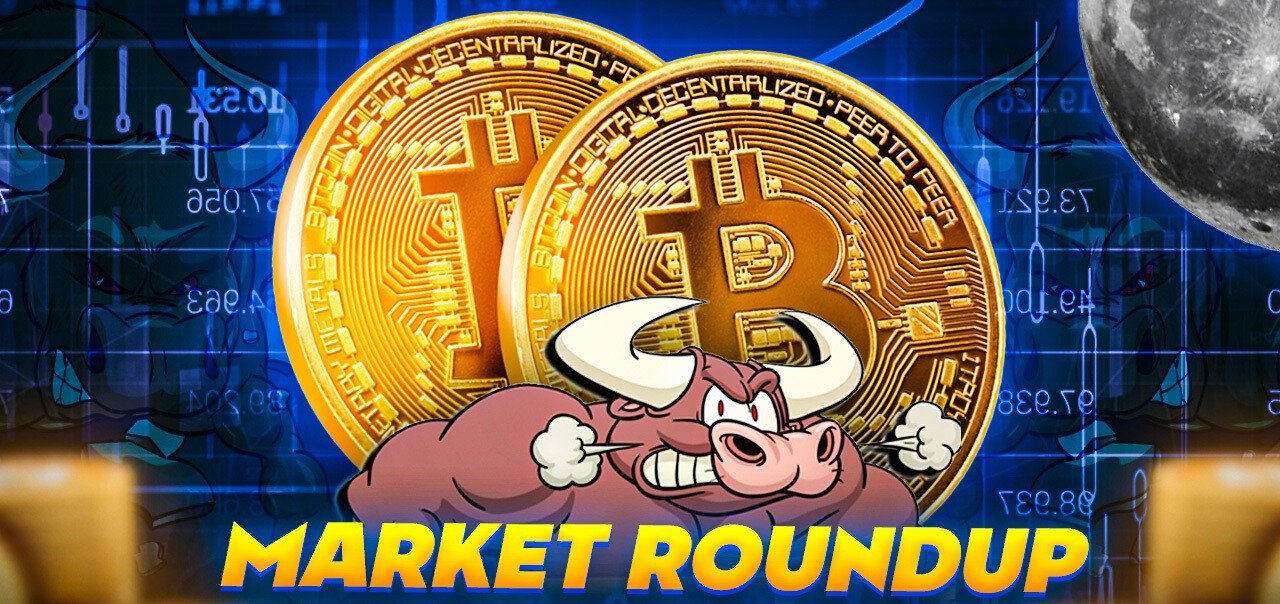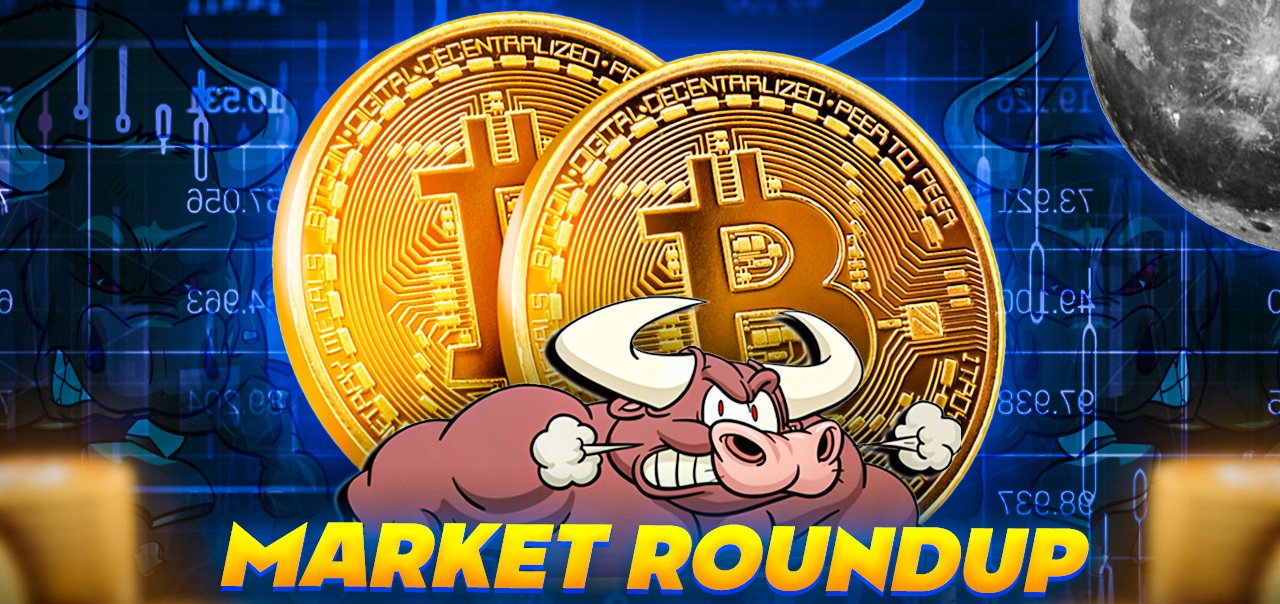 Bitcoin 's price has been on the rise, with a trading volume of $40 billion entering the market. The BTC/USD pair has declined less than 1% within the past 24 hours, currently trading at $24,372.00. Despite this recent dip, its value has seen a notable increase of over 11% within the last seven days.
This surge has brought renewed attention to the world's most well-known cryptocurrency, and investors are eagerly looking for the next key levels to watch.
Let's take a closer look at the key fundamentals of the cryptocurrency market that may be influencing the overall price movement.
SEC's Cryptocurrency Regulatory Policies
Chinese journalist Colin Wu shared an article on his official Twitter account on February 19, written by Bloomberg Opinion Columnist Matt Levine, which sheds light on the Securities and Exchange Commission's (SEC) regulations regarding cryptocurrencies.
Matt Levine's analysis of SEC's regulatory policies by Bloomberg's financial columnist: defining most tokens as securities; defining interest-bearing products as securities; the power of regulatory investment advisors to indirectly regulate https://t.co/Ns3RDr9ZVe… pic.twitter.com/qGkxntEjoS

— Wu Blockchain (@WuBlockchain) February 19, 2023
Wu drew attention to Levine's perspective on the SEC's ability to identify tokens as securities, thus highlighting the regulatory body's authority in creating and controlling the regulatory frameworks for the cryptocurrency industry. Levine also discussed the possibility of "regulatory investment advisors" having an indirect role in regulating cryptocurrencies.
Matt Levine, a Bloomberg Opinion Columnist, highlighted the Securities and Exchange Commission's (SEC) use of financial advisors to indirectly create rules for the cryptocurrency sector.
Additionally, the SEC governs investment funds, which means that cryptocurrencies also fall under its purview. In light of regulatory assurances about the cryptocurrency sector, investors have re-entered the volatile digital asset market, which has led to BTC/USD strengthening.
Bitcoin Ordinals
Ordinal Inscriptions are a new type of digital asset that was launched in January 2023. They are unique in that they are printed on a satoshi, which is the smallest unit of value in the Bitcoin currency, and they are similar to non-fungible tokens (NFTs).
Since the end of January, there has been a significant increase in demand for Ordinal inscriptions. As of February 19, there were over 150,000 inscriptions in circulation.
The Ordinals Protocol provides a novel use case for the Bitcoin blockchain by enabling users to imprint references to digital art into small payments, creating Bitcoin-based non-fungible tokens (NFTs). This protocol has already gained significant popularity since its launch in January 2023, with over 150,000 inscriptions made by February 19.
By promoting the creation of Bitcoin NFTs, the Ordinals Protocol has the potential to enhance the network security of the cryptocurrency while also stimulating developers to add innovative features. Additionally, it is noteworthy that the launch of the Ordinals Protocol coincided with a notable increase in the BTC/USD price.
Hong Kong to Allow Retail Sector to Trade Larger Cryptocurrencies, Including Bitcoin
Hong Kong's financial watchdog, the Securities and Futures Commission (SFC), has announced that it will allow the retail sector to trade larger cryptocurrencies such as Bitcoin. Previously, only professional investors were allowed to trade these types of cryptocurrencies due to their higher risks and volatility.
Hong Kong outlined a plan to let retail investors trade digital tokens like Bitcoin and Ether, a major step toward its goal of becoming a crypto hub https://t.co/yiaD88HVHo

— Bloomberg Crypto (@crypto) February 20, 2023
Under the new guidelines, licensed virtual asset exchanges in Hong Kong can offer cryptocurrency trading services to retail investors who meet the SFC's suitability requirements. However, the SFC has also stated that virtual asset platforms must adopt more stringent investor protection measures for retail customers, such as enhanced disclosures and risk warnings.
This move is expected to boost the growth of the cryptocurrency market in Hong Kong, which has seen a surge in interest from both retail and institutional investors in recent years.
FOMC Meeting Minutes on Wednesday
The unveiling of the FOMC minutes on Wednesday may influence Bitcoin's price as it sets monetary policy in the US, and any indication of a shift in policy could affect financial markets, including the cryptocurrency market.
Federal Reserve Chair Jerome Powell recently spoke at the Economic Club of Washington, discussing the continued disinflation process and expressing optimism in the Fed's ability to decrease inflation to its target rate of 2%.
Although Federal Reserve Chair Jerome Powell's comments on the strong January jobs report did not reveal a change in the central bank's future approach to rate hikes, he did issue a warning that continued robust labor data could result in a higher terminal level for the Fed funds.
At its February 2023 meeting, the Fed raised the target range for the fed funds rate by 25 basis points, which is now between 4.5% and 4.75%. Although borrowing costs are at their highest level since 2007, this is the second consecutive meeting where the size of the increase has been reduced.
Bitcoin traders and investors will be monitoring the FOMC minutes for any indications of inflation concerns or changes in interest rates, which could potentially affect the price of Bitcoin.
Bitcoin Price
Bitcoin is currently trading sideways, and its price range has been limited to $23,700 to $25,200, from a technical perspective. The immediate resistance level for the BTC/USD pair is set at $25,200, and a breakout beyond this could take the BTC price to $26,000.
Nevertheless, the top technical indicators, such as RSI and MACD, are indicating divergence. The RSI is currently above 50, which is a buying zone, whereas the MACD is forming histograms below 0, indicating a sell zone. This divergence typically occurs when investors are undecided.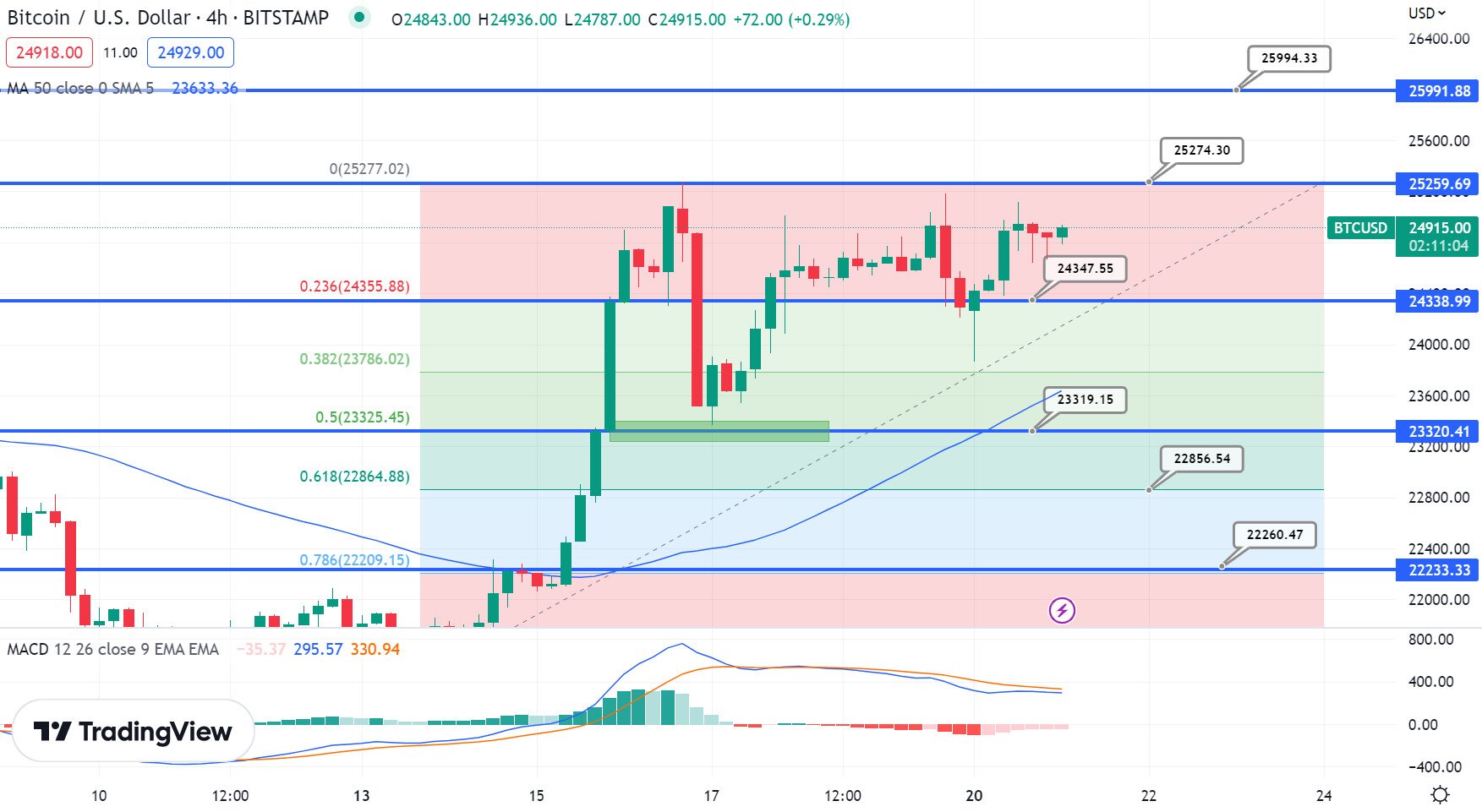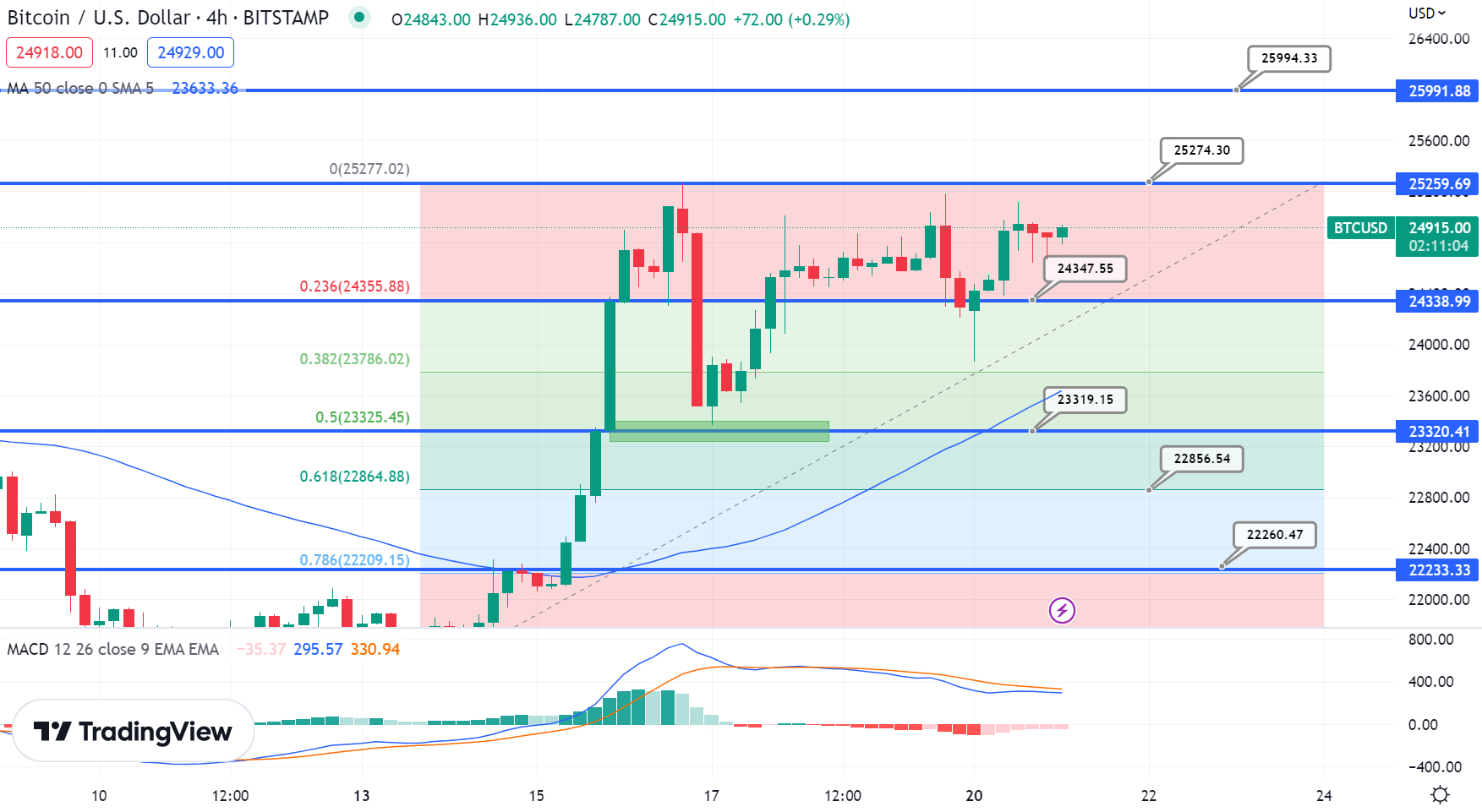 If Bitcoin's price drops below its current support level of $23,750, the next support level would be at $22,850, which is determined by the 50% Fibonacci retracement mark.
Investors will be keeping a close eye on the FOMC meeting minutes set to be released on Wednesday. These minutes could potentially affect the price action of Bitcoin in the coming week.
Bitcoin Alternatives
CryptoNews has published a detailed review of the top 15 cryptocurrencies that investors should consider for 2023. The report is designed to help investors make informed investment decisions.
In addition to cryptocurrencies, there are other investment opportunities with the potential for high returns that investors may want to consider exploring.
Disclaimer: The Industry Talk section features insights by crypto industry players and is not a part of the editorial content of Cryptonews.com.
Find The Best Price to Buy/Sell Cryptocurrency


---