Bitcoin Price and Ethereum Prediction; What's Next After BTC and ETH Skyrocket By Around 25%?
Disclosure: Crypto is a high-risk asset class. This article is provided for informational purposes and does not constitute investment advice. By using this website, you agree to our terms and conditions. We may utilise affiliate links within our content, and receive commission.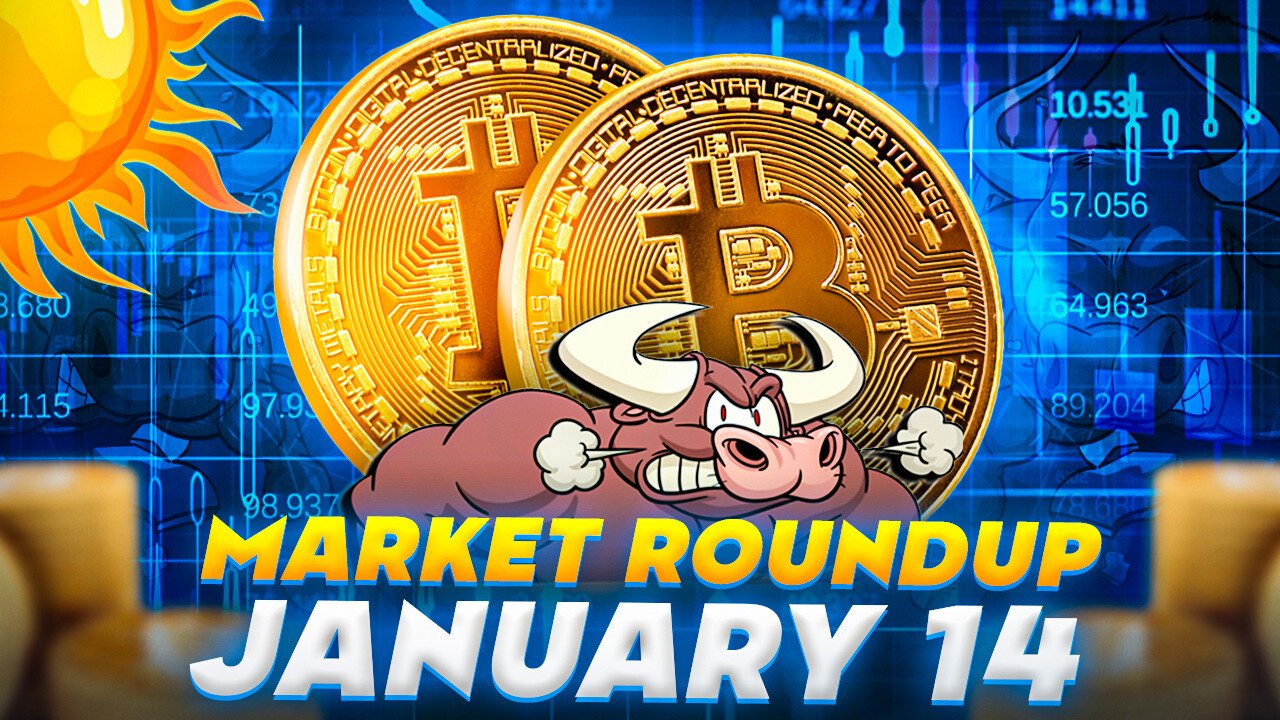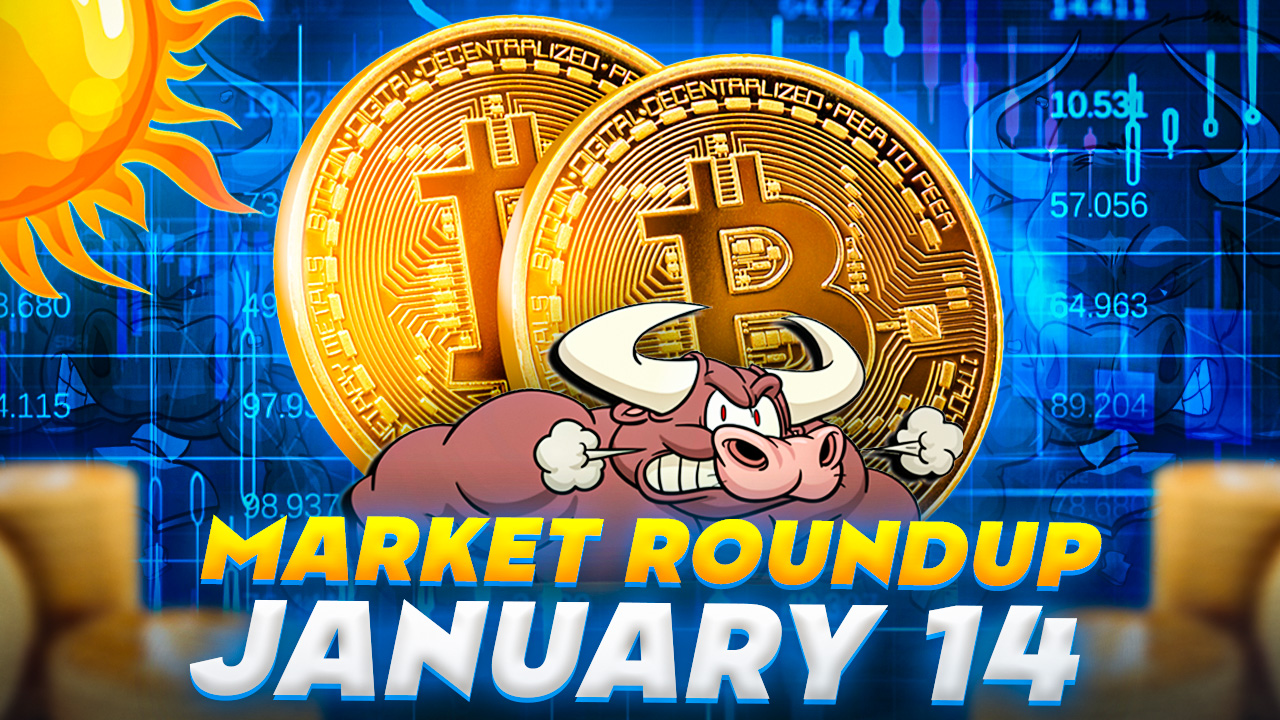 Bitcoin (BTC), the world's most well-known and widely used digital currency, extended its long upward rally to a high of $21,000, representing a 12% increase in 24 hours. Meanwhile, the price of Ethereum (ETH), the second-largest cryptocurrency, has risen above $1,550.
This week was a huge success for the cryptocurrency market, with almost all major tokens seeing significant price increases, with BTC and ETH both skyrocketing nearly 25%. The prices of other cryptocurrencies such as Dogecoin (DOGE), Litecoin (LTC), and Ripple (XRP) are all green.
https://www.twitter.com/BTC_Archive/status/1614031504635531266?s=20&t=qAtUnnI15i0jnI-5eVhgKA
However, the thriving cryptocurrency market, falling inflation, and low-interest rates may be to blame for the price increases in Bitcoin.
According to Consumer Price Index (CPI) data, Inflation is declining, and was even negative month over month in December 2022. As a result, the market currently believes that the Federal Reserve will stop raising interest rates. As a result of this knowledge, interest rates have fallen and stock prices have risen.
The total crypto market cap has again crossed $1 trillion. 📈

— Altcoin Daily (@AltcoinDailyio) January 14, 2023
Binance Pool invites Bitcoin miners and digital infrastructure providers to join its Cloud Mining Partner Program. This has been interpreted positively for bitcoin's price. Furthermore, the upcoming "Shanghai Hard Fork" for Ethereum, which will allow tokens that have been blocked and unreachable for months to be unlocked, has been viewed positively.
Positive Cryptocurrency Market
The global cryptocurrency market has been steadily growing and gaining momentum throughout the day, allowing it to break through the $1 trillion mark for the first time in weeks.
As a result, cryptocurrencies such as Bitcoin (BTC), Ethereum (ETH), and many other coins have increased in value.
The total crypto market cap has again crossed $1 trillion. 📈

— Altcoin Daily (@AltcoinDailyio) January 14, 2023
In December 2022, the Consumer Price Index (CPI) data showed that inflation was a negative month over month, indicating a decline in inflation.
The market now believes that the Federal Reserve will slow its rate hikes over the next six months and may even be forced to lower rates to avoid deflation. As a result of these results, interest rates have fallen and stock prices have risen.
FTX has recovered over $5 billion in cash and cryptocurrencies#Cryptonews #FTX #Recovered #Cryptocurrency pic.twitter.com/fOIAFl8zxg

— Blockchain-888 (@Blockchain888_) January 11, 2023
Another factor supporting the cryptocurrency market has been the claim by the liquidators of FTX to have recovered $5 billion in assets, including cash and cryptocurrencies.
FTX's CFO Mary Cilia had previously predicted that they would be able to recover consumer funds by April, but the court has ordered that they do so by March 15, 2023.
However, the recovery of FTX appears to be moving faster than many observers anticipated, which may benefit both FTX users and the crypto industry.
Binance Pool Launches Bitcoin Cloud Mining Partner Program
The Cloud Mining Partner Program from Binance Pool is open to both Bitcoin miners and providers of digital infrastructure. Binance announced the new program in a blog post on January 13.
CNB: #Binance Mining Pool invites #Bitcoin miners to join its cloud #Mining project, which requires reliable & stable power resources, #BTC hashrate 500 PH/s+, average daily online rate of more than 95%, holds a predetermined amount of BTC as collateral
☞https://t.co/rrZPiothG5

— Crypto News Bangladesh (@Crypto_News_BD) January 13, 2023
It promises to give Binance Pool customers more product options and perks while also giving miners and providers of digital infrastructure special program incentives. Both parties appear to benefit from the decision.
Weaker US Dollar Underpin Cryptos
Another factor that boosted cryptocurrency prices was the falling value of the US dollar. The broad-based US dollar failed to halt its decline and fell to its lowest level in more than seven months a day after data showed December inflation fell for the first time in two and a half years, fueling speculation that the Federal Reserve will postpone rate hikes.
#Gold Currency Index GDP Non-Weighted Index Since 1970 (Jan. 12, 2023); still bearish US dollar, bullish gold. pic.twitter.com/T7Zp6qyovq

— 🇪🇺 🇲🇨🇨🇭Dan Popescu 🇫🇷🇮🇹🇷🇴 (@PopescuCo) January 13, 2023
Shanghai Hard Fork
On the other hand, the upcoming "Shanghai Hard Fork" for Ethereum, which would unlock coins that had been locked and unreachable for months, has been viewed favorably by ETH.
All eyes are now on Ethereum's significant upgrade, known as the Shanghai hard fork, which is scheduled to take place in March.
Ethereum 'shark' accumulation, Shanghai hard fork put $2K ETH price in play https://t.co/jSi2ls3VZD pic.twitter.com/OeQpzSZzlo

— Crypto Trader Pro 🇺🇸 (@CryptoTraderPro) January 13, 2023
The decision to proceed with Shanghai was made in December, but it was clouded at the time by a negative attitude as the cryptocurrency sector dealt with the fallout from Sam Bankman-FTX Fried's catastrophic failure.
Bitcoin Price
Bitcoin is currently trading at $20,911, with a 24-hour trading volume of $40 billion. Bitcoin is on a tear and has already broken through $20,500, which is currently acting as an immediate support.
A bullish breakout of this level has opened up more space for the uptrend to $21,000, or possibly higher, to the trading milestone of $23,000.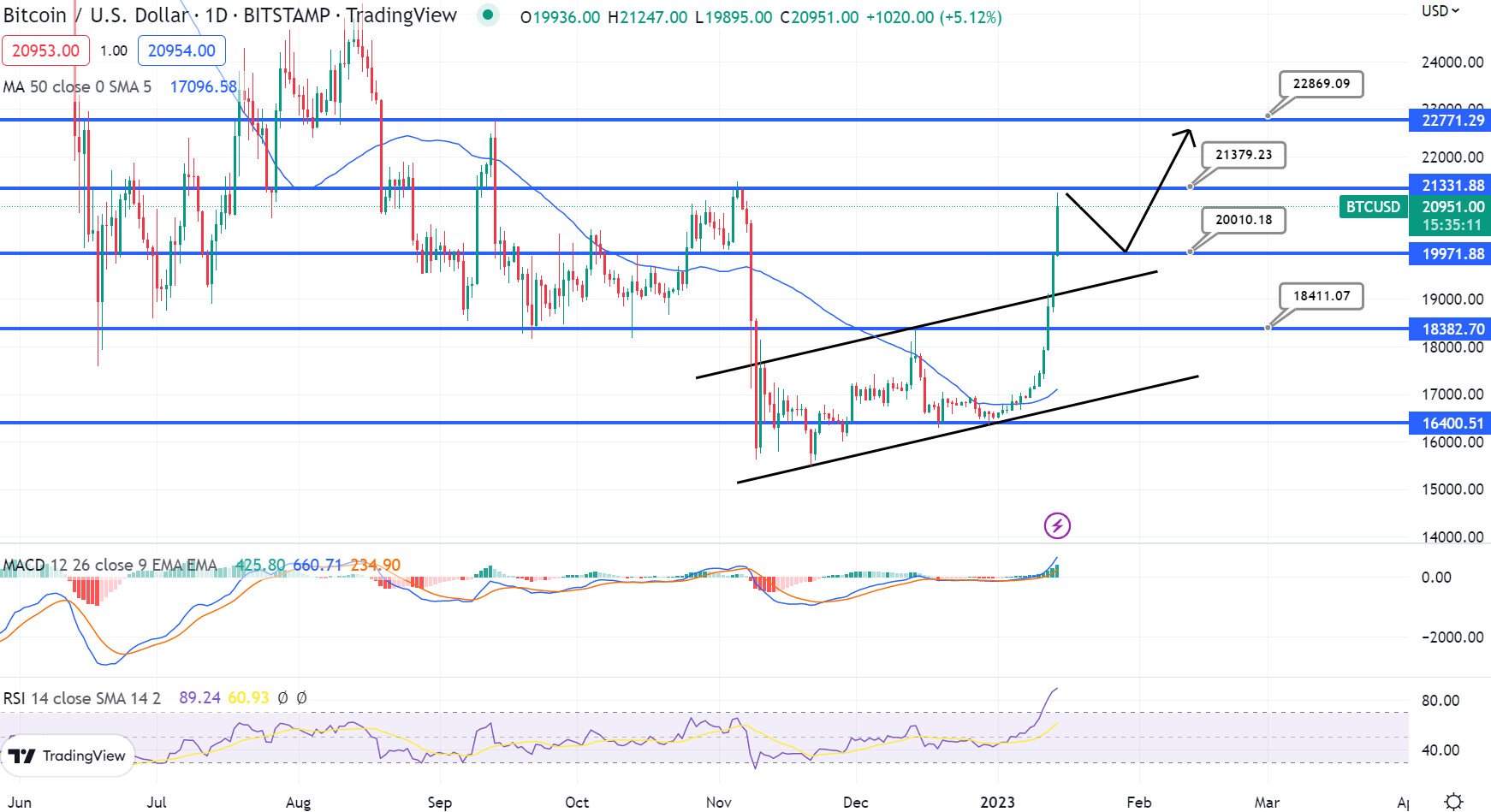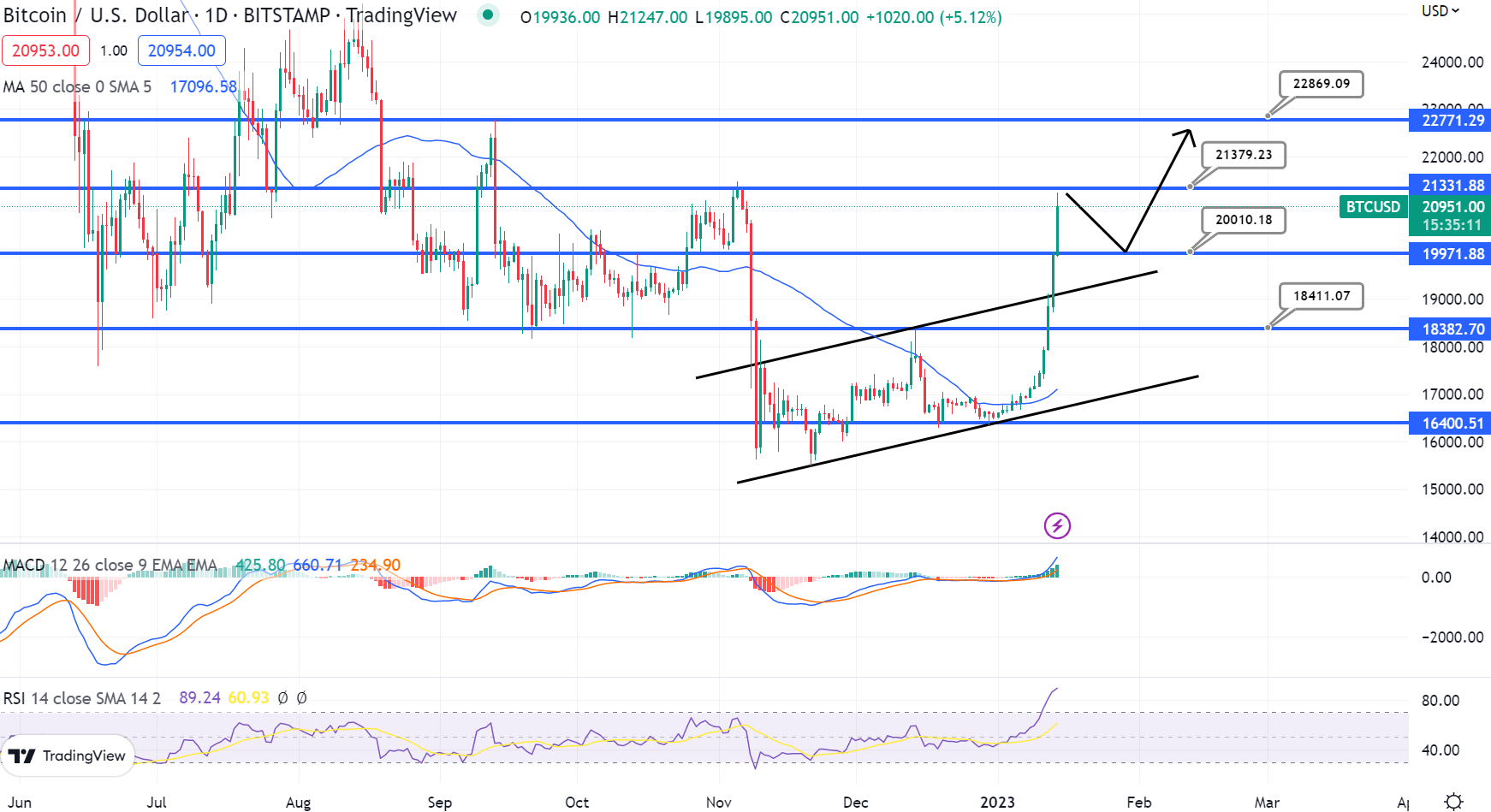 The immediate support level for Bitcoin is $20,500, or $20,000. Simultaneously, the RSI and MACD indicators have entered the overbought territory. As a result, we must keep an eye on $21,500, as failure to break through this level may result in a negative BTC price movement.
Ethereum Price
The current price of Ethereum is $1,559 with a 24-hour trading volume of $14 billion. The ETH/USD pair has broken past the $1,500 key resistance level and is now on course to the $1,650 barrier level.
On the downside, the immediate support level for Ethereum is $1,500, and candles closing above this level are expected to drive a rally. If the $1,650 level is breached, the price of ETH may rise to the $1,700 resistance level.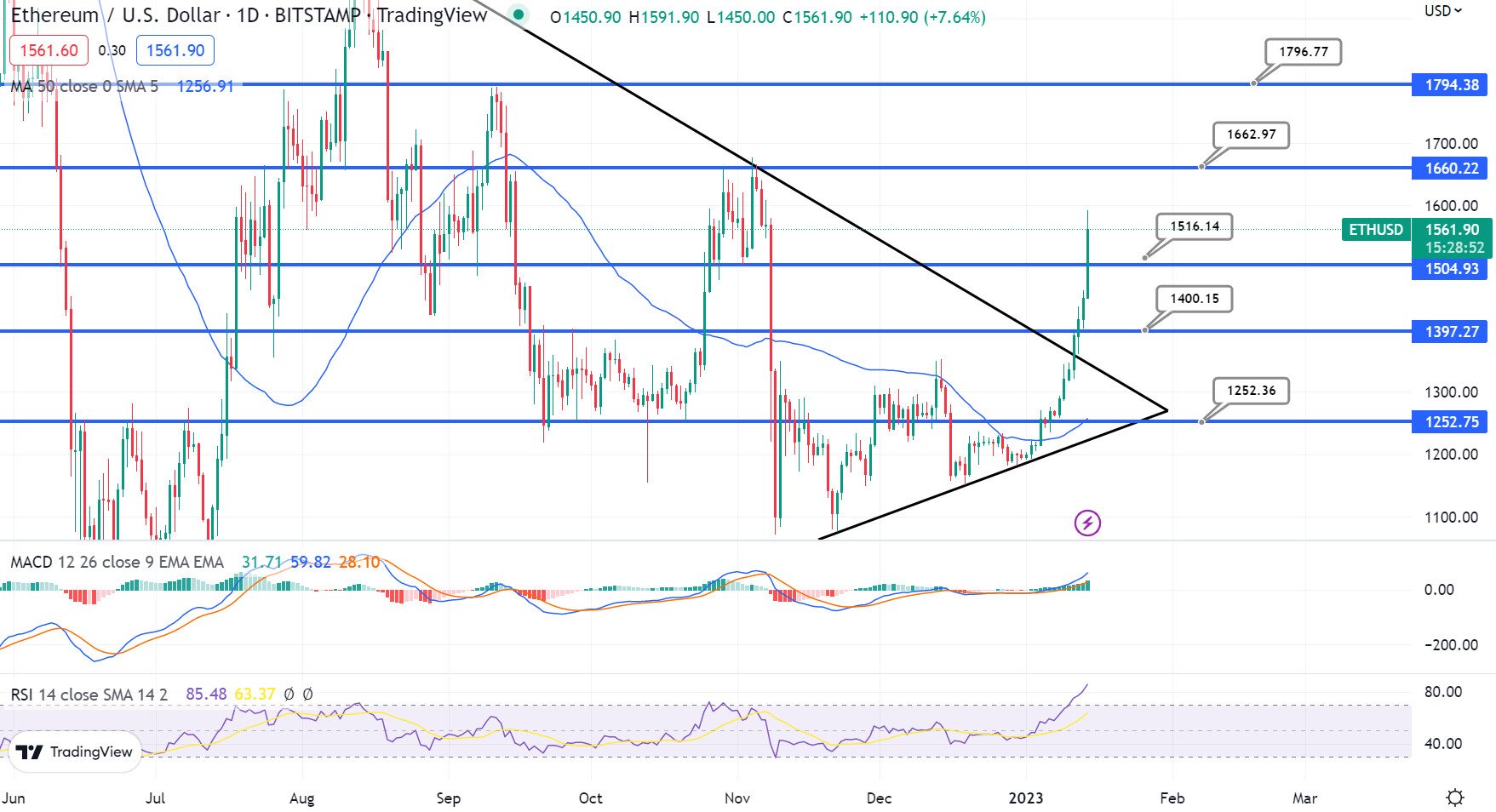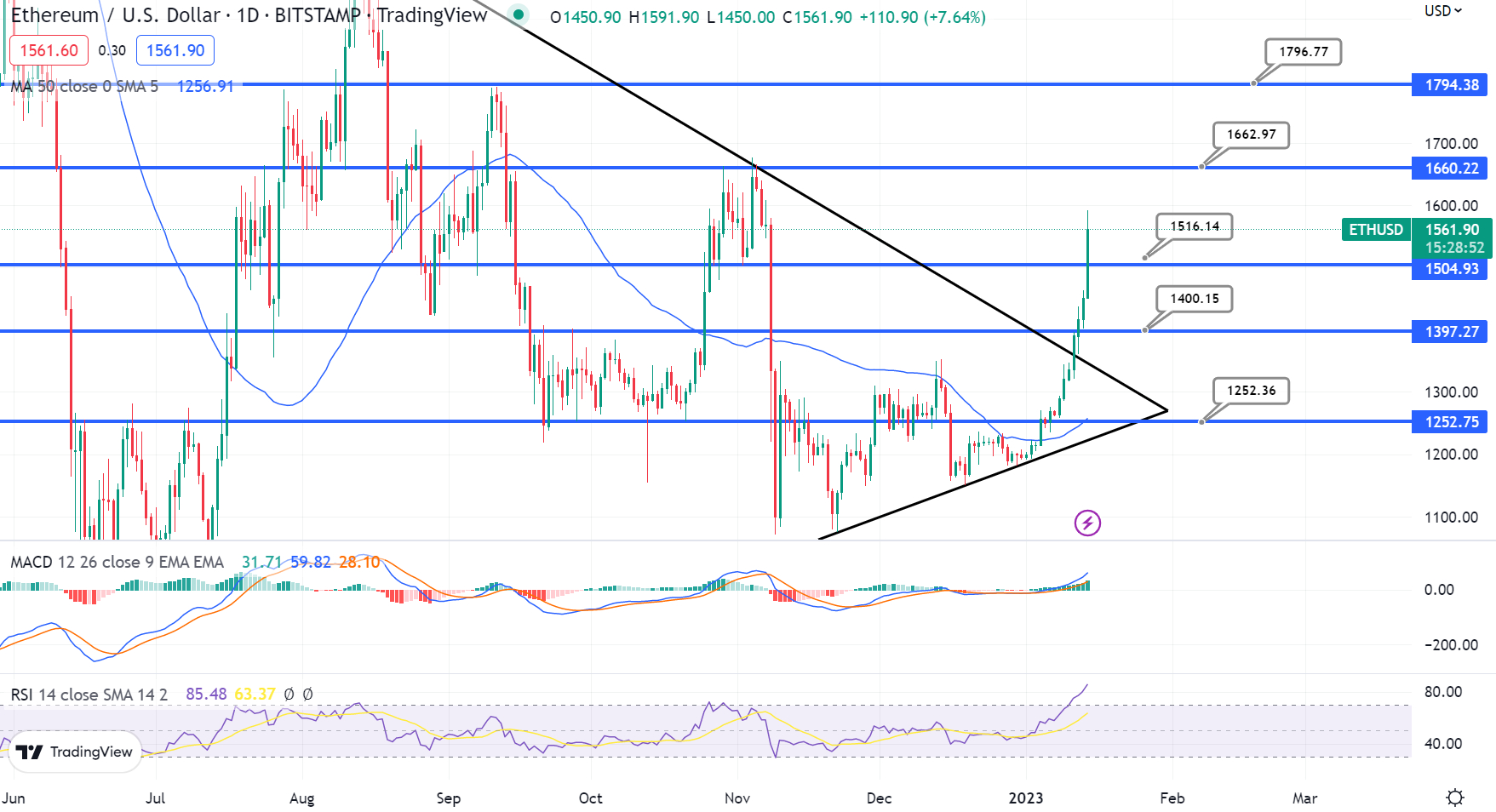 On the downside, the ETH price may find support near $1,500, and a bearish break of that level could lead to additional selling to $1,400. Today's bullish trend is strong, so seek for opportunities to buy.
Get Ahead Of The Curve: Altcoins With Major Growth Potential Right Now
Given the cryptocurrency market's uptrend, a few alternative currencies have gained traction, and these have enormous upside potential for early buyers.
FightOut (FGHT)
The FightOut (FGHT) platform works in the same way as a personal trainer does, except that workout time is pre-paid with the FGHT token. All activities are monitored and can be used to improve one's metaverse avatar's metrics. The FGHT presale is going well, with approximately $2.90 million raised thus far.
The current selling price of 60.06 FGHT for $1 (FGHT may be purchased using ETH or USDT) is projected to grow as the sale unfolds.

Visit FightOut Now
C+Charge (CCHG)
C+Charge is creating blockchain-based EV payments software that will give EV drivers carbon credits every time they charge for the first time. C+Charge sees this as a means of leveling the playing field in the carbon credit market, which has previously been dominated by a few large firms.
Earning carbon credits is an extra incentive for C+Charge to accelerate the already rapid transition to EVs. Analysts predict that the voluntary credit market (VCM) will reach $100 billion by 2030, with businesses like C+Charge playing a big part in this growth. So far, the presale has raised $273,470.
Meta Masters Guild (MEMAG)
The presale for Meta Masters Guild, a mobile-focused gaming guild that will create a mix of Web3 and play-to-earn games, begins today. Its Ethereum-based games will include both playable NFTs and incentives that can be exchanged for MEMAG, the company's native token, which can then be staked and sold. It will be released in seven stages, with the first offering one MEMAG for $0.007.
Even before MEMAG goes public, this price will gradually rise to $0.023, representing a 228.5% increase for the early investors. When the platform's first game (Meta Kart Racers) is released in the second quarter of this year, Meta Masters Guild is expected to grow rapidly.
Furthermore, if the overall market and global economy improve, its native coin may benefit significantly.
Find The Best Price to Buy/Sell Cryptocurrency


---