Bitcoin Price and Ethereum Prediction: BTC Remains Below $28,250 Amid Strong US Nonfarm Payroll Report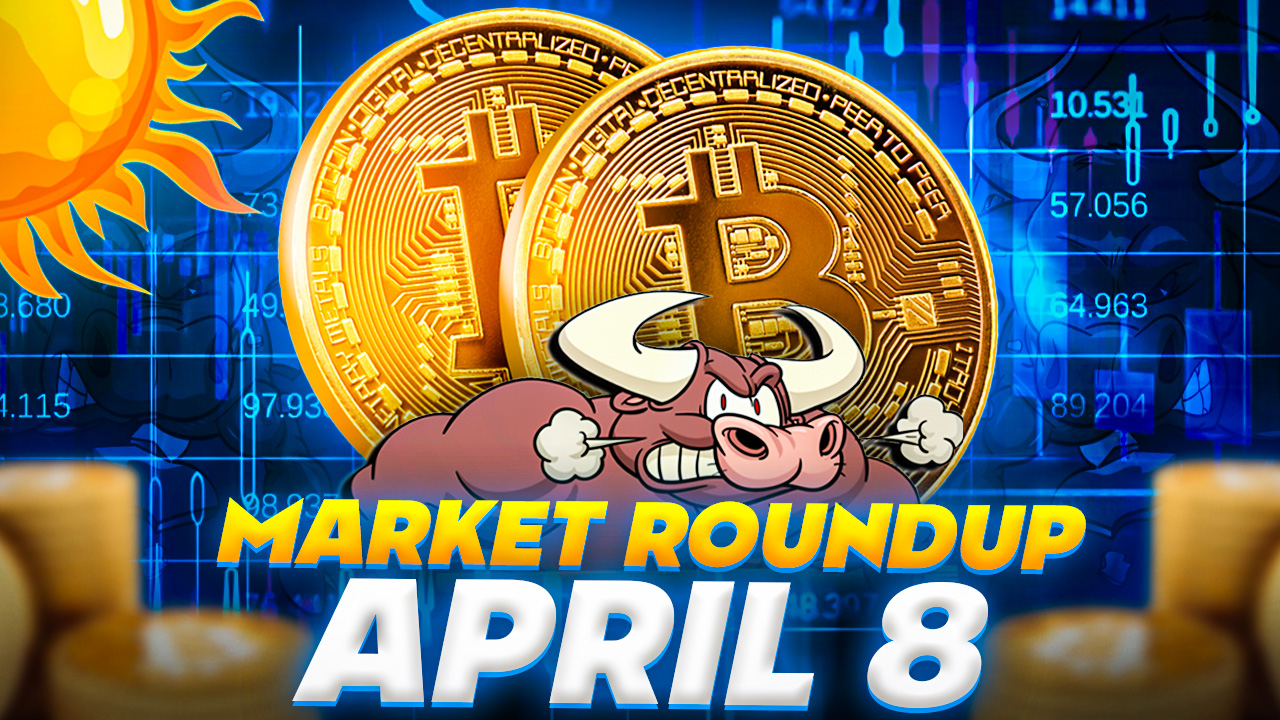 Bitcoin (BTC), the world's largest cryptocurrency, failed to prolong its upward rally and dropped below $28,000 on Friday. Bitcoin had been on a positive trend, reaching a high of $29,000 earlier in the week. Although, it was short-term gains as it dropped below $28,000 today, signaling a bearish sentiment in the market.
However, Bitcoin continues to struggle to break through the $28,250 resistance level, while Ethereum is showing signs of consolidation.
Crypto Market Fundamentals
The reason for its upward rally could be attributed to the bullish US dollar, which rose lately after the release of strong US job growth data, increasing the probability of a potential interest rate hike by the Federal Reserve in May.
This news will likely cause investors to shift away from cryptocurrencies like Bitcoin, which may lose value due to a stronger dollar.
Besides, if the interest rate hike does occur, it may lead to increased borrowing costs and reduced economic growth, which could further impact the value of Bitcoin and other cryptocurrencies.
Impact of US Job Report on Crypto
The US economy is performing well, with low unemployment rates and increasing wages. As a result, the Federal Reserve is likely to raise interest rates next month, which could negatively impact the price of Bitcoin.
Higher interest rates can make borrowing money to invest in Bitcoin more difficult and expensive, leading to decreased demand for Bitcoin and a potential decrease in its price.
However, the latest US job report has shown historically low unemployment rates, rising wages, and consistent job growth. In March, the US economy added 236,000 jobs, with an average gain of 345,000 jobs per month in the first quarter. This figure is significantly higher than the central bank's target to maintain its 2% inflation goal.
US Unemployment Rate Weighs on BTC Prices
Moreover, the unemployment rate decreased from 3.6% in February to 3.5% in March, with a slight increase in the labor force by about half a million people, and an increase in the participation rate. In addition, average hourly wages increased by 0.3% in March, slightly faster than the previous month.
These statistics suggest that the US job market remains relatively strong despite the recent economic slowdown. These figures are critical as they give the Federal Reserve an idea of the current economic situation, which may impact its decisions on interest rates and other monetary policies.
Blockchain Investment Activity Drops Significantly in March
The cryptocurrency market has been on the rise over the past month, leading many to believe that the bear market was over due to Bitcoin's bullish trajectory. However, there are concerns that US regulations may make cryptocurrencies more challenging to use.
The impact of these regulatory concerns and the risk of a stagflationary economy is reflected in the decline of investments in the crypto industry during March. This means that fewer deals and less money were made available, which is not good news for investors seeking stability.
Bitcoin Price
The present Bitcoin value stands at $27,900, with a 24-hour trading volume of $10.8 billion. Over the past 24 hours, Bitcoin has experienced a decline of 0.74%. With a live market cap of $539 billion, Bitcoin is currently leading the market.
Technical analysis suggests that the BTC/USD pair is displaying a bearish bias, although it may face resistance at the $28,250 level.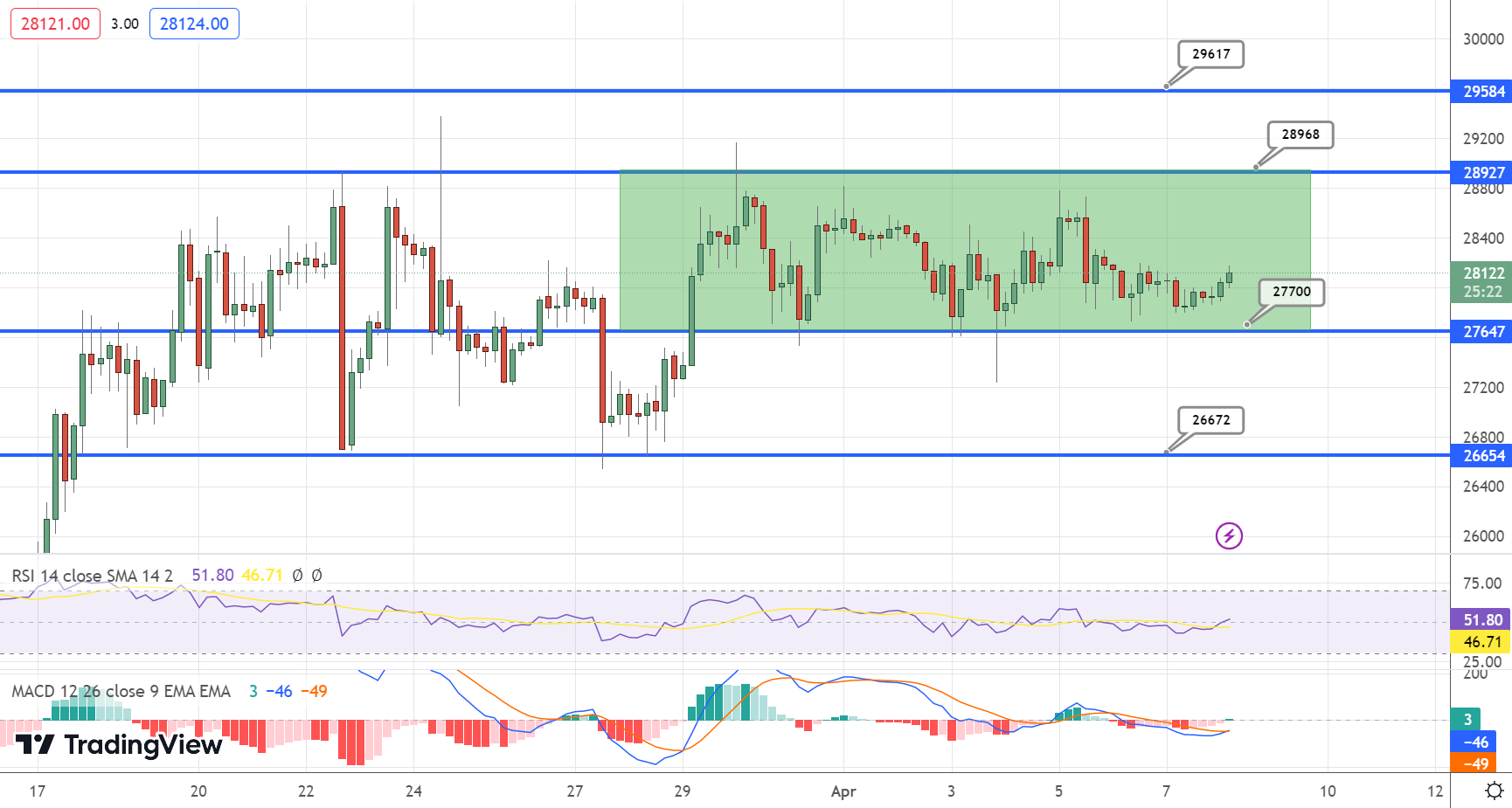 In the event that Bitcoin manages to surpass the resistance level of $28,250, there is a possibility that its value may increase to $28,900 or even $29,250.
On the other hand, if a bearish trend emerges, there is expected to be significant support at levels around $26,500 and $25,500.
Ethereum Price
Ethereum is presently valued at $1,870, with a 24-hour market volume of $9 billion. On Saturday, the ETH/USD pair has gained immediate support at the $1,850 level. If candles close above this level, there is potential for a bullish bounce-off up to the $1,920 or $1,945 levels.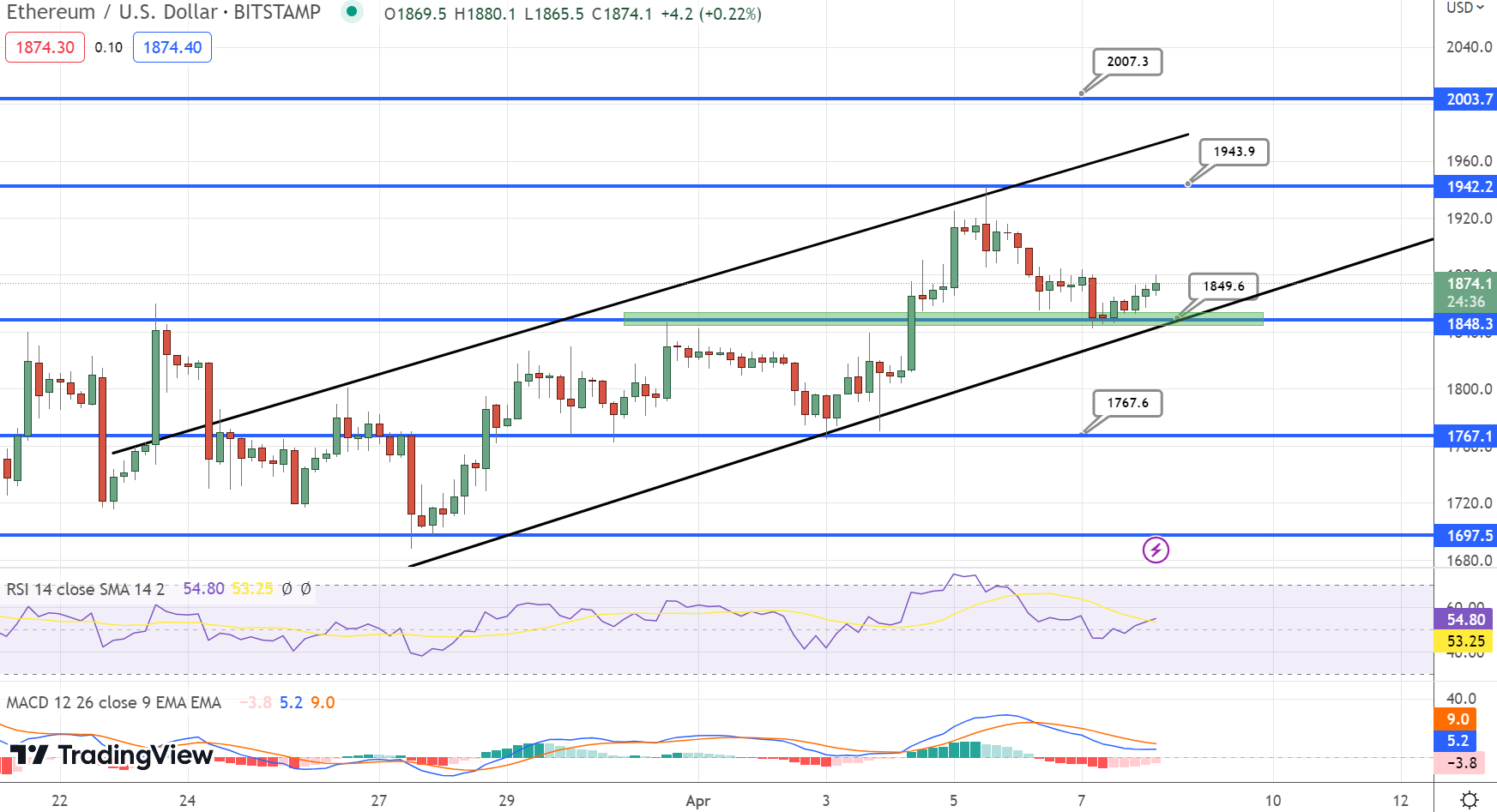 Conversely, if there is a bearish break below the $1,850 level, the ETH price may decline towards $1,800 or even the double bottom support area of $1,770. Overall, Ethereum's trading bias appears bullish, given the formation of an upward channel on the 4-hour timeframe.
Top 15 Cryptocurrencies to Watch in 2023
Keep yourself informed about the latest ICO projects and altcoins by frequently referring to the handpicked selection of the 15 most promising cryptocurrencies to monitor in 2023, which has been suggested by the specialists at Industry Talk and Cryptonews.
Disclaimer: The Industry Talk section features insights by crypto industry players and is not a part of the editorial content of Cryptonews.com.
Find The Best Price to Buy/Sell Cryptocurrency

---