Bitcoin Oracle AI Review - Scam or Legitimate Trading Software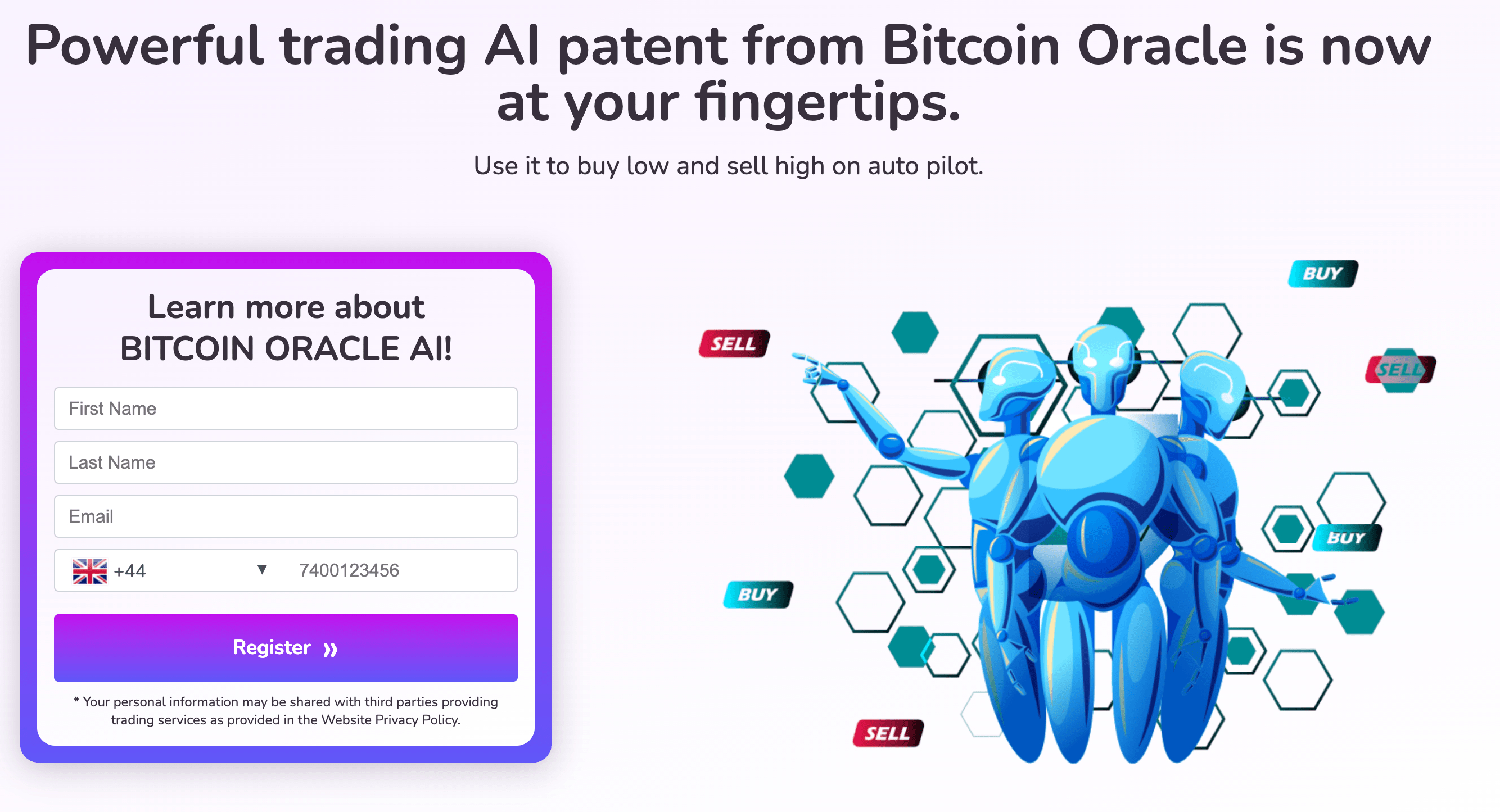 Disclaimer: The text below is an advertorial article that is not part of Cryptonews.com editorial content
Bitcoin Oracle AI claims to be a powerful AI trading patent that you can use to buy low and sell high on "auto pilot". Boasting a success rate of 75%, the site claims to provide customization tools for a tailored trading experience to users - all the while providing investors transparency.
But is this "high-performance" trading tool all that it makes itself out to be? Explore the legitimacy behind the claims of this autonomous trading system for our Bitcoin Oracle AI review for the current year.
Bitcoin Oracle AI Summary
Before we go into testing the claims that Bitcoin Oracle AI makes, use this table as the basis of our review:
| | |
| --- | --- |
| Supported Crypto | Bitcoin and other crypto assets |
| Claimed Success Rate | 75% (unverified) |
| Available on Mobile? | Not available as a mobile-specific app |
| Fees | No fee detail provided |
| Customer Support | Accessible 24 hours to registered users; but only through email and phone |
| Withdrawal Speed | 24 hours depending on the payment mode |
| Minimum deposit | $250 |
Cryptocurrencies are unregulated. Trading with unregulated brokers will not qualify for investor protection
What is Bitcoin Oracle AI?
Bitcoin Oracle AI touts itself as an auto trading platform that has been designed for the purpose of helping all types of crypto traders make profits from volatile markets over a shorter time period.
The site claims that Bitcoin Oracle AI uses complex mathematical algorithms to conduct "highly accurate market analysis" to collect data, including historical information since the beginning of blockchain and the traders' financial profile, to create tailor-made strategies and execute trades for a positive return on investment.
Doing so, the site says, allows it to generate profits consistently on "autopilot". It also claims that none of the information is hidden from the traders, for they will get all the key factors they need to achieve a successful outcome of their trading strategies.
While the trading is autonomous, the AI crypto trading bot states that customer service is provided through humans. It claims that a human touch to crypto trading will ensure that the prospects of trading volatile assets don't seem overwhelming to users.
Through its autonomous trading systems, Bitcoin Oracle AI claims that it can reach a success rate of 75%. Even though realistic, there is no information available online or through user reviews that could attest to this claim.
Starting an account is cost-free, but starting to trade requires a $250 deposit. There are no licensing fee charges, the website claims. Information about the fee rate, however, like trading commission, is not available.
Bitcoin Oracle AI seems robust at the onset, but we urge our readers to be careful. Invest only the minimum amount and test the site's features before going all in.
Bitcoin Oracle AI Pros and Cons
As we went through the scant information available on Bitcoin Oracle AI, we found it to have the following perks and cons.
Pros
Simple to use website
Claims a 75% win rate - which is realistic
The platform offers customized trading facilities
No licensing fee is required to trade
Multiple assets available
Claims to feature a Pro Mode that lets investors increase their earnings over a period of time
Cons
Requires a minimum deposit of $250
No information was provided about the makers of the website
No details available about the fees
Only small info is available about featured
No way to assess the site without depositing a minimum amount
Cryptocurrencies are unregulated. Trading with unregulated brokers will not qualify for investor protection
How Does Bitcoin Oracle AI Work?
Bitcoin Oracle AI claims that it gets into action once the user deposits the minimum amount. It says that making the minimum deposit lets users use all of its features, including a demo trading account. Users can test out the features of Bitcoin Oracle AI before the "real action begins", the site claims.
Once the trading begins, we imagine that this platform scans the market for historical price data related to Bitcoin and also the financial profile of the user. It then may use that information to create a trading strategy that investors can check before turning on the trading bot.
The bot may then scan the market to look for intraday lows to buy one of the assets that users have preset. It then scans the market to look for intraday peaks to execute a sell order, transferring profits to the user's account.
Withdrawing the profits, however, requires users to get their transactions verified using "proof of participation. Proof of participation is a consensus algorithm that rewards based on the quality of work a user delivers. In this case, proof of participation might mean how well a user's applied strategy has worked in their favor when trading.
Bitcoin Oracle AI Features
Here are the features of Bitcoin Oracle AI:
Autopilot Trading
Bitcoin Oracle AI claims that it gives full control of the trading portfolio to users, allowing them to determine strategies that the robo advisor can implement to execute trades in the crypto market. After creating a suitable strategy, investors get the benefit of hands-free trading.
Complete Transparency
"Understanding all the variables that lead to concise and lucid trading decisions is vital in order to reach a successful outcome", Bitcoin Oracle AI claims, indicating that it offers an information module that lets users see how well their trading strategies are performing in real-time.
Fast Deposits and Withdrawals
Using a novel Proof of Participation model, Bitcoin Oracle AI states that users can withdraw their earnings from the platform quickly and without encountering any friction.
Multi-Asset Support
While no asset other than Bitcoin has been mentioned, Bitcoin Oracle AI says that it allows users to trade multiple cryptocurrencies simultaneously.
User-Friendly Platform
According to Bitcoin Oracle AI, users won't have a hard time navigating through the intricacies of the platform. It claims that trading is easy and has implemented simple systems that both veterans and inexperienced can interact with easily.
No Licensing Fees
Bitcoin Oracle claims that it absorbs the licensing expense for every newly set up account, which means you may get to use all the initial deposits that you make on the platform.
24/7 Customer Support
The website claims that users can reach out to the customer support team whenever they want. While the site does not mention any live chat support, it does state that calling and email is available.
Bitcoin Oracle AI Account fees
The platform has made no mention of an account fee. It is likely that it has the same fee structure as others - a no-fee arrangement. However, we recommend talking to the customer support team during the signup process to get a full idea of the fee structure.
Bitcoin Oracle AI Minimum Deposit
The minimum deposit requirement for Bitcoin Oracle AI is $250. It is a mandatory deposit. Without it, even the demo trading account is inaccessible. Novices might find this requirement too high. Therefore, we recommend only depositing this amount at the start and only increasing the deposits if trading on this website bears any fruit.
Bitcoin Oracle AI Compatible Devices
We tested Bitcoin Oracle AI on multiple devices, ranging from laptops and desktops to smartphones and iPads and didn't come across any issues. The icons were clearer on all devices, and all the buttons were clickable.
However, we only accessed the official website, not the trading platform, due to the deposit requirement.
Is Bitcoin Oracle AI a Scam?
Is Bitcoin Oracle AI a scam - this question is not easy to answer because our assessment of this website gave us a mixed reaction.
On the plus side, the site looks great, with visible icons and clearer content and a signup button that is accessible on all the platforms. The loading speed, too, is optimal; you won't have any problem going to the platform. In terms of content, Bitcoin Oracle AI is information heavy.
It is the quality of that information that gives us pause. While it is somewhat clear how the site performs, Bitcoin Oracle AI refrains from giving us exact details. The range of tools provided is not clear. Secondly, there is the win rate. Although realistic, there are no first-hand accounts other than the testimonials available on the website that could tell us if it is viable or true.
On the other hand, Bitcoin Oracle AI is popular, with many legit platforms discussing it. We also found something about it on Binance Feed by the Blockchain Reporter. But even that failed to provide us with any insight.
The final two issues are a lack of customer reviews and access to the site for testing. We couldn't find any review of this platform on Trustpilot. Even Sitejabber, a review site that we have featured in the past, has not covered it.
In terms of testing, making a deposit is necessary as every tool, even the demo trading account, is locked out.
These factors create multiple diverse unknowns about Bitcoin Oracle AI. Therefore, we can't say for real whether it is legitimate or not.
Bitcoin Oracle AI Customer Support
There is customer support available, but only for registered users. Bitcoin Oracle AI has not implemented any chatbot, according to the website - which means customers must either email or call the support team for assistance.
How to use Bitcoin Oracle AI?
You can start using Bitcoin Oracle AI by following the steps below:
Step 1 - Visit the Bitcoin Oracle AI Website
Go to the official Bitcoin Oracle AI website and start creating an account. Enter your name, email and phone number to get started. If you are privacy conscious, provide a burner phone number instead so that you can only be contacted via email.
Step 2 - Make the Minimum Deposit
The customer support team will call you or contact you through email. Follow their steps to make a deposit of $250 to get access to the trading platform.
Step 3 - Start Trading on Bitcoin Oracle AI
Go to the demo account and test the website once you have funded the account. Analyze how the site works before switching to live trading. Customize the settings and turn on the trading systems.
How to Delete a Bitcoin Oracle AI Account?
There is no information on how you can delete your account. Ask for help from the customer support team, but only after going to account settings and finding the "terminate account" button.
Is Bitcoin Oracle AI Endorsed by Celebrities and Big Brands?
Due to Bitcoin Oracle AI's popularity on multiple crypto-covering media sites, many speculate that it has celebrity support. Even though it has been covered in the Binance feed, nothing on this site shows that it is even remotely associated with any crypto influencer. We urge you not to focus on these claims and judge the site based on what it is able to deliver.
Who is the Founder of Bitcoin Oracle AI?
Bitcoin Oracle AI has given no insight into who the makers of this site are. The lack of an About Us page and no information about the team in the platform's Terms and Conditions and Privacy Policy-related documents indicates that the team has chosen to go anonymous. While not wrong, the current regulatory ecosystem makes it a need to know the team behind a trading platform.
Latest Bitcoin News
Making the right investment decision hinges on the info you have. You will have much better luck making a profit in the current ecosystem by knowing the latest Bitcoin news:
Bitcoin has lost its long-held $30k support and is currently hovering around $29.5k.
Experts say that Bitcoin's performance in the third quarter of 2023 will get worse.
The Verdict
Bitcoin Oracle AI showcases a lot of positives with its simple UI and easy-to-access registration module. The amount of content available also inspires confidence. Looking a bit deeper, however, you will see cracks starting to show.
The content, while robust, is still slightly vague. The win rate has no supporting historical data, and the user reviews outside the website are unavailable. These factors give us the impression that Bitcoin Oracle AI is new. And since we couldn't learn whether this platform is legit or not, we recommend exercising caution when using this site.
Cryptocurrencies are unregulated. Trading with unregulated brokers will not qualify for investor protection.
Bitcoin Oracle AI FAQs
What is Bitcoin Oracle AI?
Bitcoin Oracle AI is a crypto trading platform that claims to use patented autonomous trading systems to let users trade crypto and earn profits on autopilot. It takes $250 to start trading, and the website states that users can customize their strategies before investing.
Does Elon Musk endorse Bitcoin Oracle AI?
No, Bitcoin Oracle AI isn't being endorsed by Elon Musk or any other celebrity. We rate those claims false.
---