Bitcoin Minetrix Price Prediction 2023 – 2030
Disclosure: Crypto is a high-risk asset class. This article is provided for informational purposes and does not constitute investment advice. By using this website, you agree to our terms and conditions. We may utilise affiliate links within our content, and receive commission.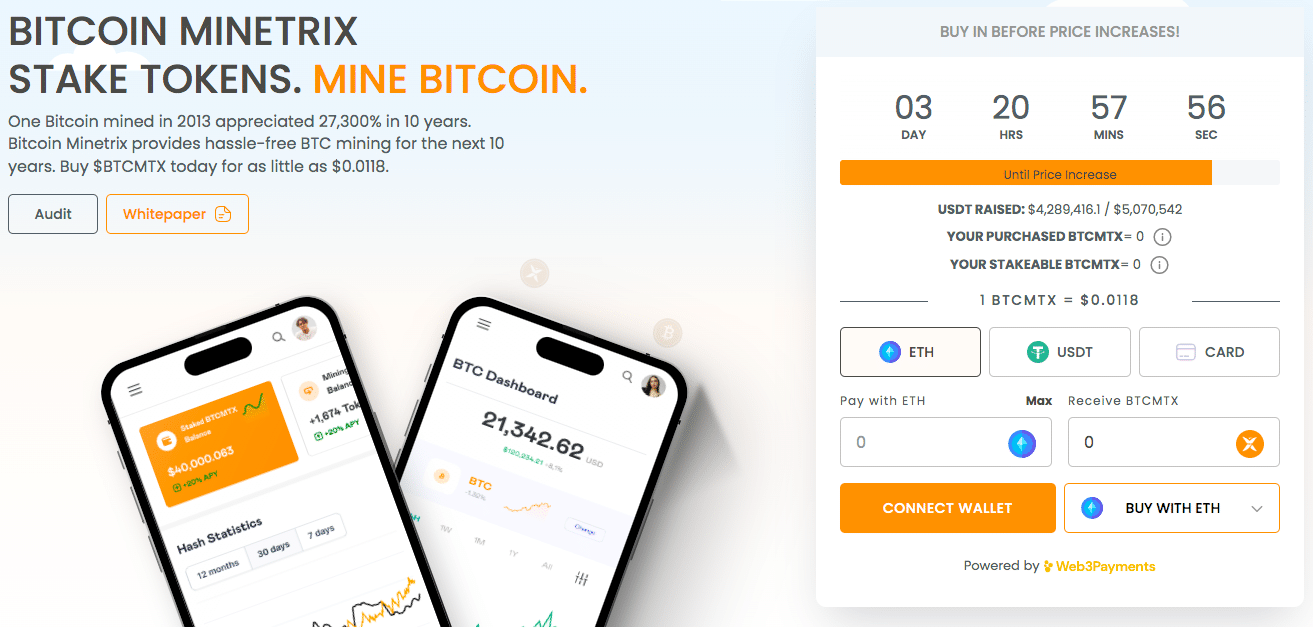 Bitcoin Minetrix ($BTCMTX) is a new cryptocurrency based on an ingenious Stake-to-Mine mechanism, enabling users to mine Bitcoin simply by staking the $BTCMTX crypto from their Ethereum-compatible wallet. This novel concept provides a no-fuss, zero-cost way to earn Bitcoin and requires no technical knowledge to get started, making it ideal for beginners.
The project has just launched as a presale and has already gotten off to an explosive start, raising over $4.2 million in only a few months. Therefore, it could be looking at a quick sellout as word spreads, hinting at solid upside potential. This Bitcoin Minetrix price prediction considers how far this trailblazer could go based on its use case, market trends, tokenomics, and investor sentiment.
Bitcoin Minetrix Price Prediction Summary
End of 2023: With a novel use case and scarcity-focused tokenomics, Bitcoin Minetrix could finish strong in 2023. Adding to this, the early presale success could generate a massive buzz around the year's end. As such, we predict a price of $0.045 by the end of 2023.
End of 2025: The allure of passive Bitcoin rewards from an Ethereum wallet with zero technical expertise could attract many new investors. If so, BTCMTX could reach $0.11 by the end of 2025.
End of 2030: Considering the expected growth of Bitcoin and Bitcoin Minetrix's long-term approach to marketing, tokenomics, and strategy, the project could reach highs of $0.17 by the end of 2030.
Bitcoin Minetrix Price History
Bitcoin Minetrix is a new ERC-20 token that provides users with "mining credits," non-transferable ERC-20 tokens that they can burn and earn Bitcoin mining power with. This mining power can then be used to mine Bitcoin in the cloud, enabling investors to essentially mine BTC with an ERC-20 token, and there is no technical expertise, upfront cost, or equipment required.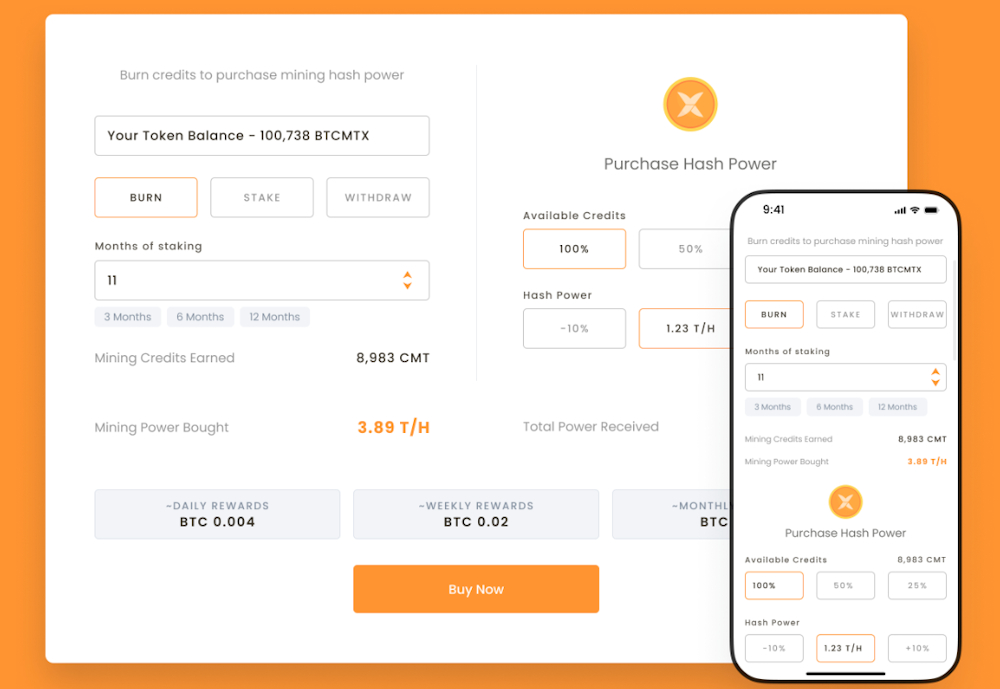 The $BTCMTX token launched on 26 September 2023. It has a maximum supply of 4 billion tokens, and 42.5% have been allocated to Bitcoin mining, 35% to marketing, 15% to community rewards, and 7.5% to staking rewards. 
Currently, $BTCMTX is priced at $0.0118 per token in its presale. The presale will consist of 39 stages, going to $0.0148 per token by the final round. According to its whitepaper, the presale has a soft cap of $15.6 million.
Bitcoin Minetrix's goal is simple – provide users with an effortless way to earn Bitcoin mining rewards without technical know-how or upfront cost. Speed and convenience are key to success in the informational and technological age. The Bitcoin Minetrix team understands this and aims to apply it to the over-complicated Bitcoin mining process.
Its future price will tie closely to that of Bitcoin. However, its one-of-a-kind utility and significantly lower market cap provide far more upside potential.
Ultimately, how high Bitcoin Minetrix can go depends on investor sentiment, how many tokens are staked, broader market conditions, and several other factors we will explore soon.
While all investors must conduct their own research, its robust use case means speed is needed for those looking to secure the best possible presale price.
Here's a quick summary of the Bitcoin Minetrix price history:
The Bitcoin Mintetrix presale launched on 26 September 2023.
It has a maximum supply of 4 billion tokens.
The current presale price is $0.0118.
Its cutting-edge Stake-to-Mine mechanism enables investors to earn Bitcoin rewards on the Ethereum network.
Bitcoin Minetrix Price Prediction 2023
With presale funds flooding in, Bitcoin Minetrix is already proving to be one of the top cryptos to watch in 2023.
The project's main draw is its cutting-edge Stake-to-Mine mechanism, luring investors with passive Bitcoin rewards. Adding to this, market participants understand the value the project provides, which equates to notable upside potential. This is furthered by Bitcoin Minetrix's current low price.
Since rewards are paid out in mining credits rather than the Bitcoin Minetrix token $BTCMTX, staking will play an important role in reducing the available supply. So, while its supply is limited, it is also important to consider demand drivers. 
Considering its compelling use case, Bitcoin Minetrix will likely attract significant demand. This is exemplified by the hype circulating the project, with top analysts like Jacob Bury calling Bitcoin Minetrix the best crypto to buy now.
While not without risk, all signs indicate a successful year-end for the Bitcoin Minetrix token. With this in mind, our Bitcoin Minetrix price prediction estimates a price of $0.045 by the end of 2023. This is a 309% increase from its presale stage one price.
Bitcoin Minetrix Price Prediction 2025
With its groundbreaking use case, we could see new and experienced investors flock to Bitcoin Minetrix in 2025, both as a means of speculation on its future price and as its utility draws them. 
This makes Bitcoin Minetrix one of the best staking coins and is cemented by it providing a greener way to mine Bitcoin than traditional mining. This factor could also attract more eco-conscious investors, considering Bitcoin's pervasive environmental concerns.
Moreover, with experts predicting the crypto bull run to return in 2025, we will likely see a much more optimistic approach to investing, with investors looking for higher upside potential coins as Bitcoin dominance falls.
In other words, 2025 may see the next altcoin season, with emerging cryptos like Bitcoin Minetrix enjoying massive liquidity inflows.
Another factor is that traditional Bitcoin cloud mining pools face considerable centralization and security issues. Meanwhile, Bitcoin Minetrix's decentralized Ethereum-based protocol provides a transparent, secure, and decentralized alternative.
These factors display the impactful value proposition that Bitcoin Minetrix provides, indicating it may see notable new highs. As such, our Bitcoin Minetrix price prediction forecasts a price of $0.11 by the end of 2025. If correct, this would equal a 900% increase from its current price.
Bitcoin Minetrix Price Prediction 2030
Considering the blockchain industry's predicted growth by 2030, projects with a robust use case and strong tokenomics are in an advantageous position to thrive and capture much of the growth.
Considering the security, simplicity, and convenience that Bitcoin Mintetrix adds to Bitcoin mining, we could see it soar in value by 2030. A project with a similar value proposition on Ethereum is Lido DAO, which offers a staking pool that requires little effort to get started.
The LDO token holds a $1.3 billion market cap, illustrating the growth potential Bitcoin Minetrix potentially holds.
Additionally, the team has allocated 35% of tokens to marketing. When it comes to long-term success, combining a promising use case and marketing is key. Considering such a hefty portion of tokens are earmarked for marketing, this could help attract new users and foster a loyal community.
With this in mind, our Bitcoin Minetrix price prediction estimates a price of $0.17 by the end of 2030. This would equate to a 1,445% increase from today's presale price.
Possible Highs and Lows of Bitcoin Minetrix
Bitcoin Minetrix could be the next big crypto to hit the markets. While many variables could affect its price, here are our estimated highs and lows that we believe are sustainable trading ranges for $BTCMTX.
| | | |
| --- | --- | --- |
| Year | Possible Low | Possible High |
| 2023 | $0.04 | $0.045 |
| 2025 | $0.09 | $0.11 |
| 2030 | $0.14 | $0.17 |
What is Bitcoin Minetrix
Bitcoin Minetrix is a Stake-to-Mine cryptocurrency, enabling holders to earn Bitcoin by staking the ERC-20 token in the project's smart contract. Users have complete control over how long they stake their $BTCMTX for providing a fair and transparent way to earn free Bitcoin.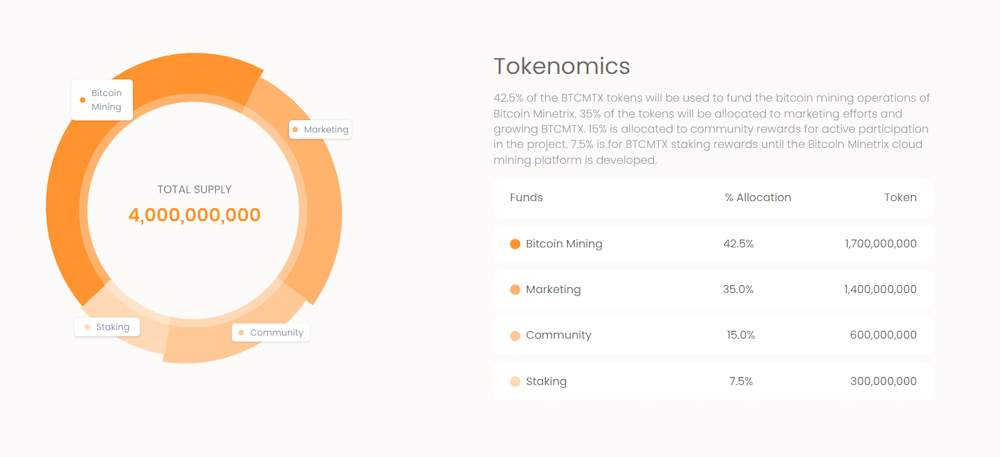 Since the project is in its presale, its platform is yet to launch. Nevertheless, presale investors can still earn rewards by staking their tokens. However, instead of earning BTC, they can earn $BTCMTX, which they can use to grow their portfolio or sell once the presale ends.
Regarding the project's future, the team has already issued a roadmap split into three stages. Let's take a look at them below:
Presale: Aims to raise funds for the platform development, secure exchange listings, and run a multimedia marketing campaign.
Development: The Bitcoin Minetrix app and software will launch, the team will expand, and its product will be developed.
Launch: The product will go live, enabling holders to earn free Bitcoin seamlessly.
The ultimate goal of the Bitcoin Minetrix platform is to simplify Bitcoin mining while helping secure the Bitcoin network by contributing to its hashing power. Due to the complexity of Bitcoin mining, the Bitcoin Minetrix project has been well received by the crypto community, receiving significant investment and media interest since its recent launch.
What Influences the Bitcoin Minetrix Price?
There are numerous factors affecting the $BTCMTX price. We have explained the most impactful ones below.
Supply and Demand: The staking mechanism limiting its supply and a potential significant demand could push the $BTCMTX price. 
Popularity and Adoption of Bitcoin: Due to the advantages that Bitcoin Minetrix provides to Bitcoin mining, growth in popularity or adoption of Bitcoin will trickle down to $BTCMTX, bolstering its price.
Speculation: Investor sentiment regarding the Bitcoin Minetrix price potential will affect its price. For example, positive sentiment will equate to more demand, helping increase its price.
Broader Market Conditions: Bitcoin Minetrix will usually follow the general directions of other cryptocurrencies. 
Hype and Presale Success: The presale's outcome concerning the total raise and hype it generates will influence its price directly after launch. For instance, the Stake-to-Earn Bitcoin alternative BTC20 recently did a 7x following a massively hyped presale.
How to Buy Bitcoin Minetrix
Since it is in its presale, the only place to buy $BTCMTX is from the Bitcoin Minetrix website. We explain how to do it in ten minutes in the steps below.
Step One: Create a Software Wallet
Create an Ethereum-compatible software wallet. Most users prefer MetaMask for desktop and Trust Wallet for mobile. We will use MetaMask for desktop during this guide.
Visit the MetaMask website and download the browser extension. After this, create a MetaMask wallet, ensuring you store your seed phrase privately and securely.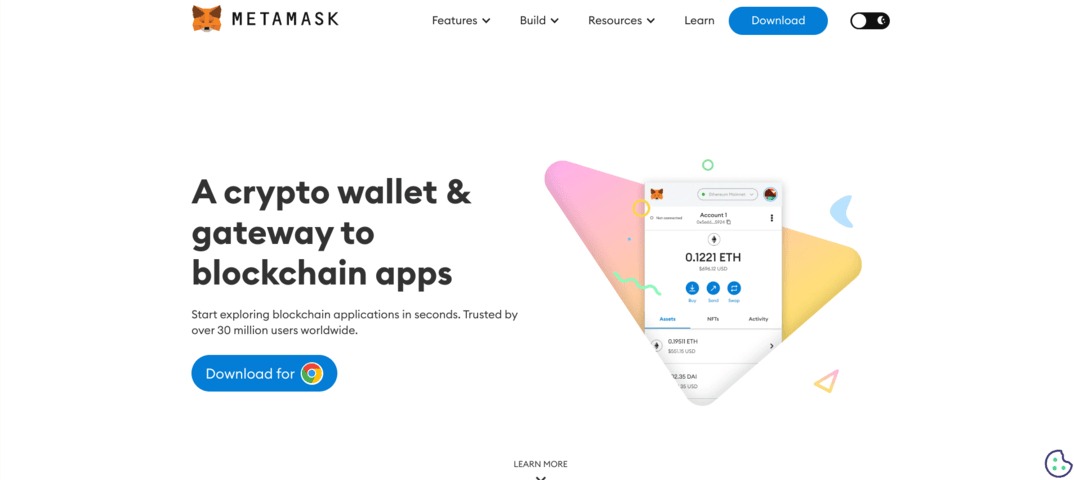 Step Two: Buy Crypto to Fund Your Investment
Buy either ETH, USDT, or BNB directly from the MetaMask app with a bank card. Alternatively, buy one of those cryptos on a centralized exchange and transfer it to your wallet.
Step Three: Visit the Bitcoin Minetrix Website
Next, visit the Bitcoin Minetrix website and select the Connect Wallet button in the presale box. Then, follow the prompts provided by MetaMask to finish connecting your wallet.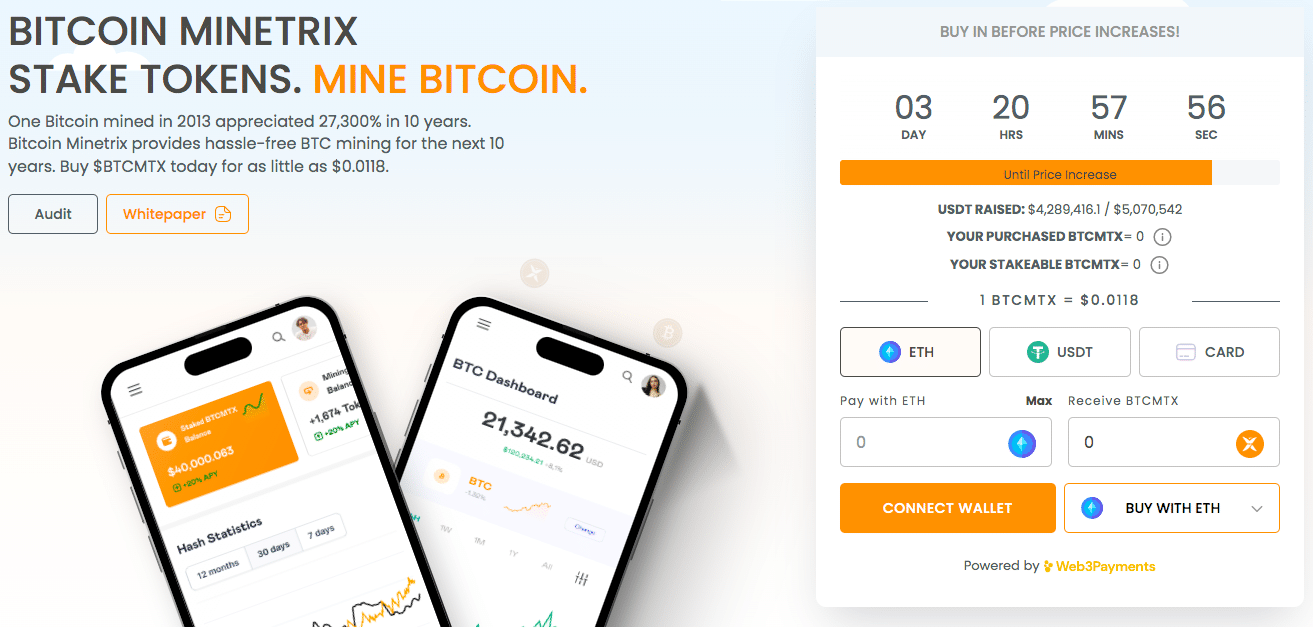 Step Four: Buy $BTCMTX
Choose the crypto you want to pay with and the amount of $BTCMTX. Then, complete the purchase, authorizing the payment with MetaMask when prompted. You can also stake your tokens at this step to earn a $BTCMTX yield.
Step Five: Claim Your Tokens
Your tokens will be stored on the platform until the presale ends. Following the presale, you can visit the Bitcoin Minetrix website and claim them. 
Best Place to Buy Cryptocurrencies
Bitcoin Minetrix is still in its presale phase and you can't buy it on exchanges at the moment. But if you're looking for listed cryptocurrencies, consider Binance. This is the largest crypto exchange in terms of spot and derivatives trading volume, and it has over 160 million users.
Via its launchpad, you can get access to more presale tokens which you can typically earn buy staking other coins like BNB. Over 70 coins have raised more than $100 million on Binance so far, showing huge investor interest.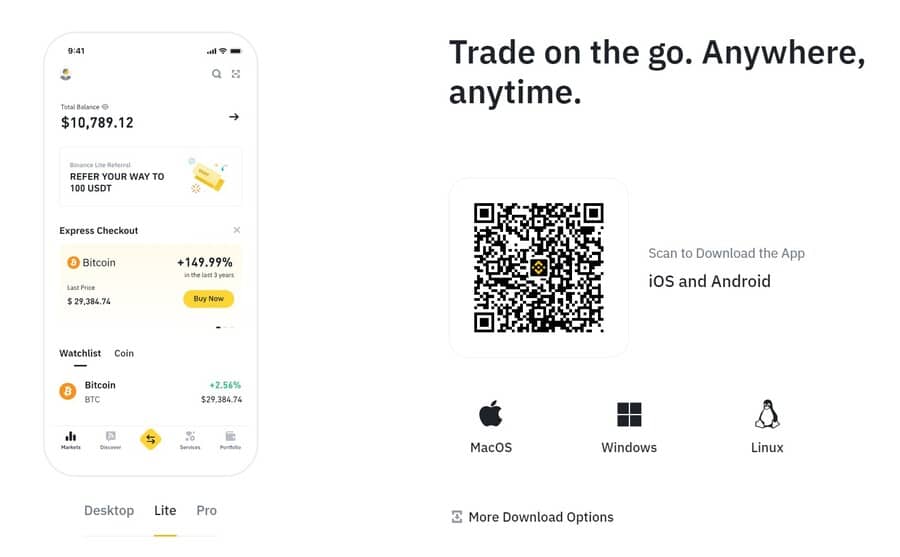 Binance is also a good option for crypto onboarding. If you don't have ETH or USDT to use for the Bitcoin Minetrix presale, you can buy them here. Your payment options include bank transfers and credit cards, but you can also buy crypto via peer-to-peer exchange via Wise, Skrill and Neteller, which come with some of the lowest fees, or you can even use Apple Pay.
You don't have to move all your purchased ETH and USDT to buy the Bitcoin Minetrix presale, though. With Binance Earn, you can get up to 8.34% APR on locked USDT and 3% on staked ETH. This may not sound like a lot, but if you plan to hold long term, you'll just increase your holdings.
Overall, Binance is the best place to buy cryptocurrencies and it's worth checking out.
Don't invest unless you're prepared to lose all the money you invest. This is a high-risk investment and you should not expect to be protected if something goes wrong.
Conclusion
Considering its low price, strong use case, and robust tokenomics, Bitcoin Minetrix is one of the most promising cryptocurrencies at the moment. With this in mind, our Bitcoin Minetrix price prediction estimates the price could reach highs of $0.17 by the end of 2030. 
However, with the presale price incrementally increasing, investors looking to secure the lowest price must act quickly.
References
FAQs
How much is the Bitcoin Minetrix presale?
The Bitcoin Minetrix presale will be carried out in 39 stages, with the current stage offering $BTCMTX at $0.0118 per token.
What will Bitcoin Minetrix be worth in 2025?
According to our Bitcoin Minetrix price prediction, the project could reach possible highs of $0.11 by the end of 2025. If correct, this equates to a 900% gain from its stage one presale price.
How much will Bitcoin Minetrix be worth in 2030?
While long-term predictions can be challenging, based on the current information available, our 2030 Bitcoin Minetrix price prediction finds the price could reach a highs of $0.17.
Disclaimer: The Industry Talk section features insights by crypto industry players and is not a part of the editorial content of Cryptonews.com.
 
---