Bitcoin and Ethereum Price Prediction: Will The Triple Bottom Of $22,350 Trigger A Bullish Bounce In BTC?
Disclosure: Crypto is a high-risk asset class. This article is provided for informational purposes and does not constitute investment advice. By using this website, you agree to our terms and conditions. We may utilise affiliate links within our content, and receive commission.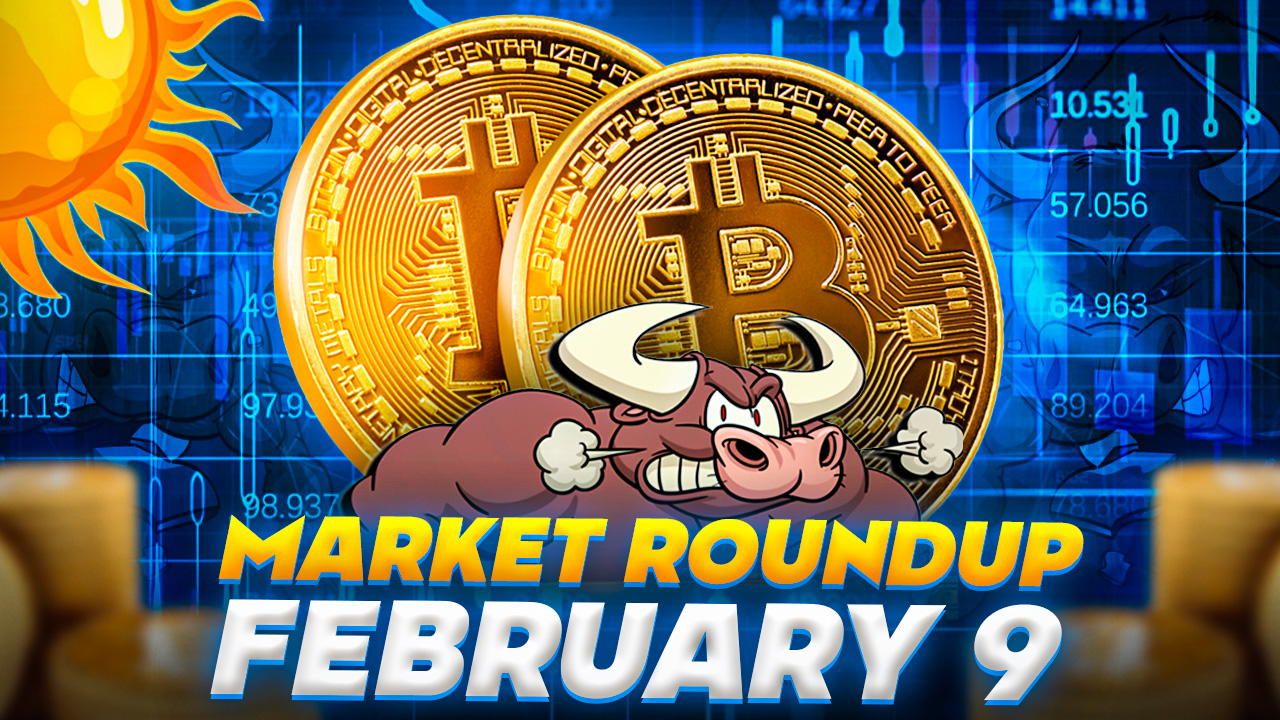 Bitcoin rose today, but it decreased steadily. Today's values are only marginally better than the all-time low hit on Wednesday, when bitcoin dropped by as much as 4.5%. Ethereum also fell with a value lower than yesterday's high; this decline has been caused by inflationary concerns and uncertainty in China's cryptocurrency market.
However, the reason for its continued decline could be attributed to the increasing threats of hacking as the number of digital currencies has expanded.
It HAPPENED guys, #BTC broke BELOW the bearish channel I was telling you about! 👀 that means 90% downside from here!

ALTs that were pumping will drop significantly too! (Prob be good time to take profits)
We may still pump later, but not b4 a big Dump pic.twitter.com/uiPxufpGqc

— friends_tech (@KingKotee) February 9, 2023
North Korean hackers have been attacking cryptocurrency exchanges and utilizing phishing schemes to steal digital money for many years. These attacks have become more frequent recently. This was regarded as one of the primary factors contributing to investor confidence and cryptocurrency losses.
U.N. experts: North Korean hackers stole record virtual assetshttps://t.co/SeamvZHVdu pic.twitter.com/d11jUJPNfO

— The Washington Times (@WashTimes) February 9, 2023
In their official statements, Fed governors Joshua Rosner, Lael Brainard, and Randal Quarles described the decline in bitcoin prices as a good thing and insisted that central banks would continue to raise interest rates at a consistent rate. The Fed has hinted that it will soon be more aggressive, which is in line with expectations for crypto. Moreover, it is seen as a key factor in keeping the crypto market low.
Risk-Off Crypto Market Sentiment
The global cryptocurrency marker has failed to prolong its previous upward rally and lost some of its ground around below $1.05 trillion on the day. The agenda for the next Fed meeting is online and the market reacted quickly on Wednesday to the FED's decision to signal that it will hike rates later this year.
#Crypto & #Altcoins

The Market is Bearish RN 📉
( SOME $ALTS DUMPING )#Crypto #Alts pic.twitter.com/invoBmcbzN

— Trader Fred (@DCA_Cryptoz) February 9, 2023
However, the latest upticks in the market started to slow when it became more apparent that after more comments from Federal Reserve Governors, we would be seeing rising interest rates at a quicker pace.
This has had a significant effect on the market. Bitcoin, the world's most valuable cryptocurrency, bounced back from last month's slump to fall under its support level every time.
Other cryptocurrencies like Dogecoin, Ripple, Litecoin, and Solana saw some red as well as green in value with their prices.
Fed Governor Christopher Waller warns that interest rates could go higher than expectations https://t.co/Eg9pwBNhcp pic.twitter.com/TtZ3NQWn9T

— SEA BEE LEGACY—REAL ESTATE (@seabeelegacy) February 8, 2023
Many central bankers on the Federal Reserve want to see interest rates climb higher before they become more difficult.
Governor of the Federal Reserve Christopher Waller and President of the New York Fed John William both urged for such a move, as there is cause to worry that high inflation is due to persisting with a strong labor market.
Fed chairman, Jerome Powell, has warned that inflation is falling but even more hikes are likely.
The US Consumer Price Index on Wednesday is an indicator of inflation in the economy and will be one of the indicators that investors watch to determine future monetary policy, so they're keeping their eyes on it next week.
The US SEC's Plan To Monitor Crypto Brokers

The US Securities and Exchange Commission (SEC) has promised to begin keeping an eye on cryptocurrency brokers and advisers, making sure they maintain their respective standards while giving their customers financial suggestions, referrals, and advice.
US SEC Announces Plans to Monitor Crypto Brokers and Advisors – https://t.co/9rxtOFA36V #businessnews #finance #marketnews pic.twitter.com/MdqMW3CMqn

— World Finance News (@Worldfin_News) February 8, 2023
The agency is dedicated to adhering to regulations and keeping security for its customers' funds, Richard Best said. It will give investors peace of mind knowing that no one can steal their money. The plan could actually be considered a positive factor for the cryptocurrency market as it will help them work to improve audit, transparency, and risk management standards.
Dubai's New Rules
Dubai has been establishing itself as a center for virtual assets and has been enticing more than 500 crypto firms to its digital asset ecosystem. Dubai is seeking to be a center for virtual assets by offering an international legal framework and support that could allow businesses to thrive.
VARA seeks to support these efforts by providing regulations and offering services so businesses can maintain a competitive edge.
Dubai Bans Privacy Cryptocurrencies with New Regulations – https://t.co/Mbjn3O60ZN #businessnews #finance #marketnews pic.twitter.com/SJos3xxpdB

— World Finance News (@Worldfin_News) February 8, 2023
On Tuesday, February 7th, 2023, the Virtual Assets Regulatory Authority (VARA) of Dubai published its much-awaited regulating rules for the local cryptocurrency market.
The 10 rules are: anti-money laundering, marketing, licensing, and purchasing requirements, cryptocurrency holdings usage prohibition, and self-regulation with the ad industry.
As a result, this was viewed as another key feature that may assist the cryptocurrency sector in reducing hacking incidents and protecting investor assets.
Bitcoin Price
The current Bitcoin price is $23,206, and the 24-hour trading volume is $26.9 billion. Bitcoin has increased by 1.13% in the last 24 hours. With a live market cap of $447 billion, CoinMarketCap currently ranks first.
On the 4-hour timeframe, Bitcoin is now facing immediate resistance at the $22,750 level, with closing candles below this level potentially leading to a drop in BTC price to $22,300 or $22,000.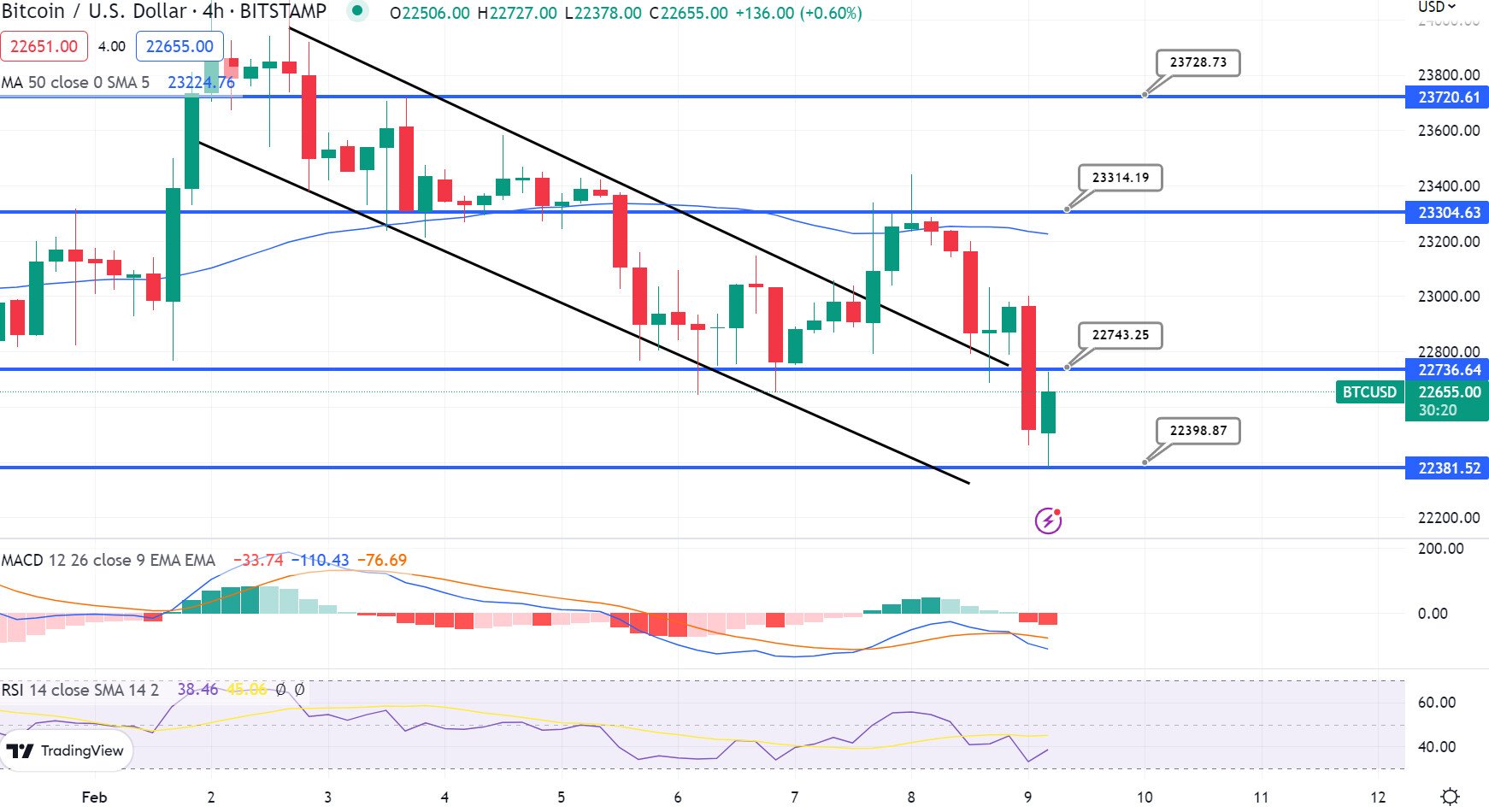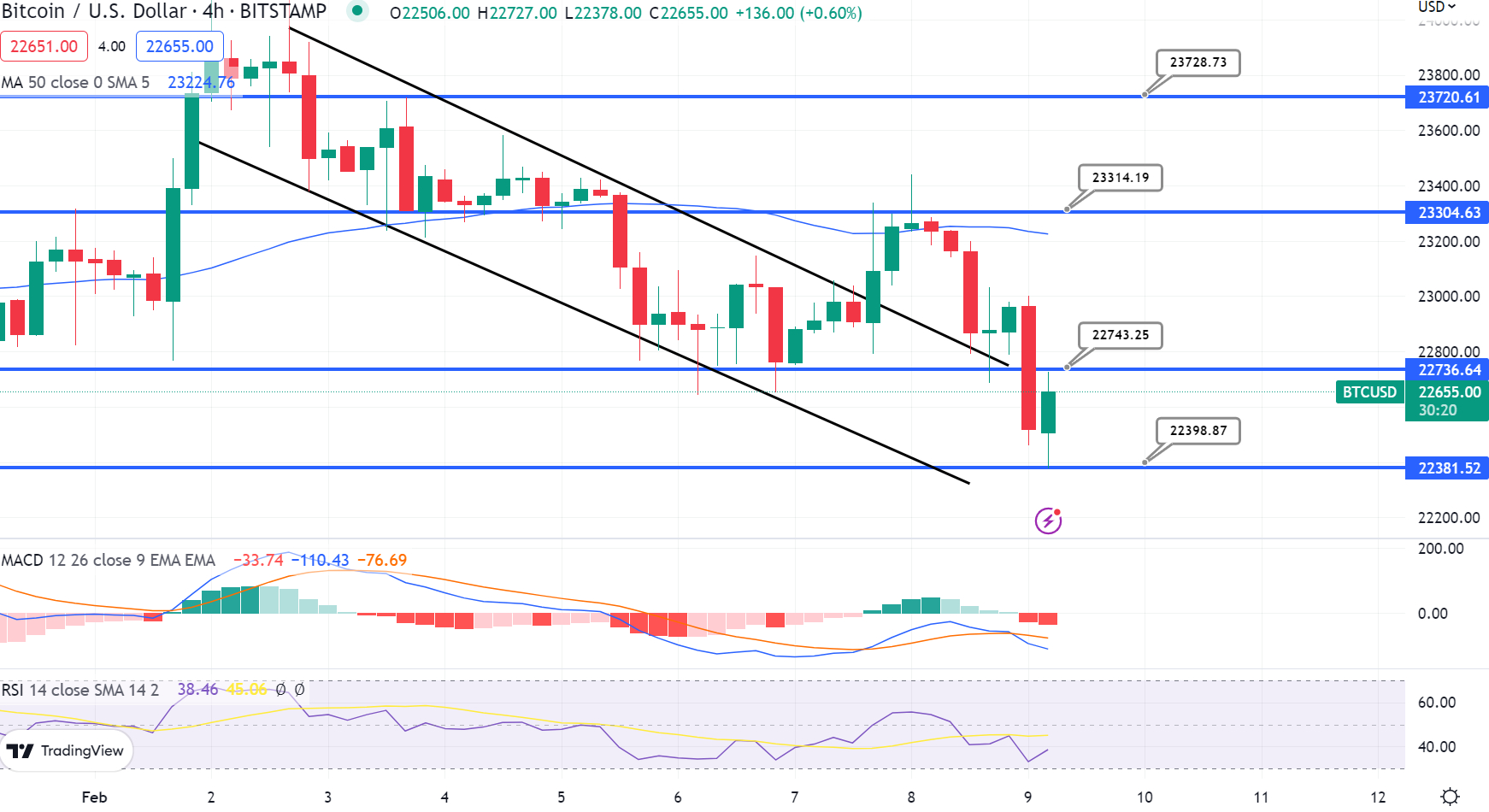 Because technical indicators like the RSI and MACD are in a sell zone, an increase in selling pressure could push the price of bitcoin toward the $21,500 mark.
Alternatively, the BTC/USD pair may face support at $22,750, closing above this level may lead BTC toward $23,350 level.
Ethereum Price
The current price of Ethereum is $1,632, with a 24-hour trading volume of $8.7 billion. In the previous 24 hours, Ethereum has lost 2.5%. CoinMarketCap now ranks #2, with a live market cap of $199 billion.
The ETH/USD pair has broken through a symmetrical triangle pattern that had been extending resistance at $1,675, and closing candles above this level are expected to push the ETH price up to $1,725 or $1,725.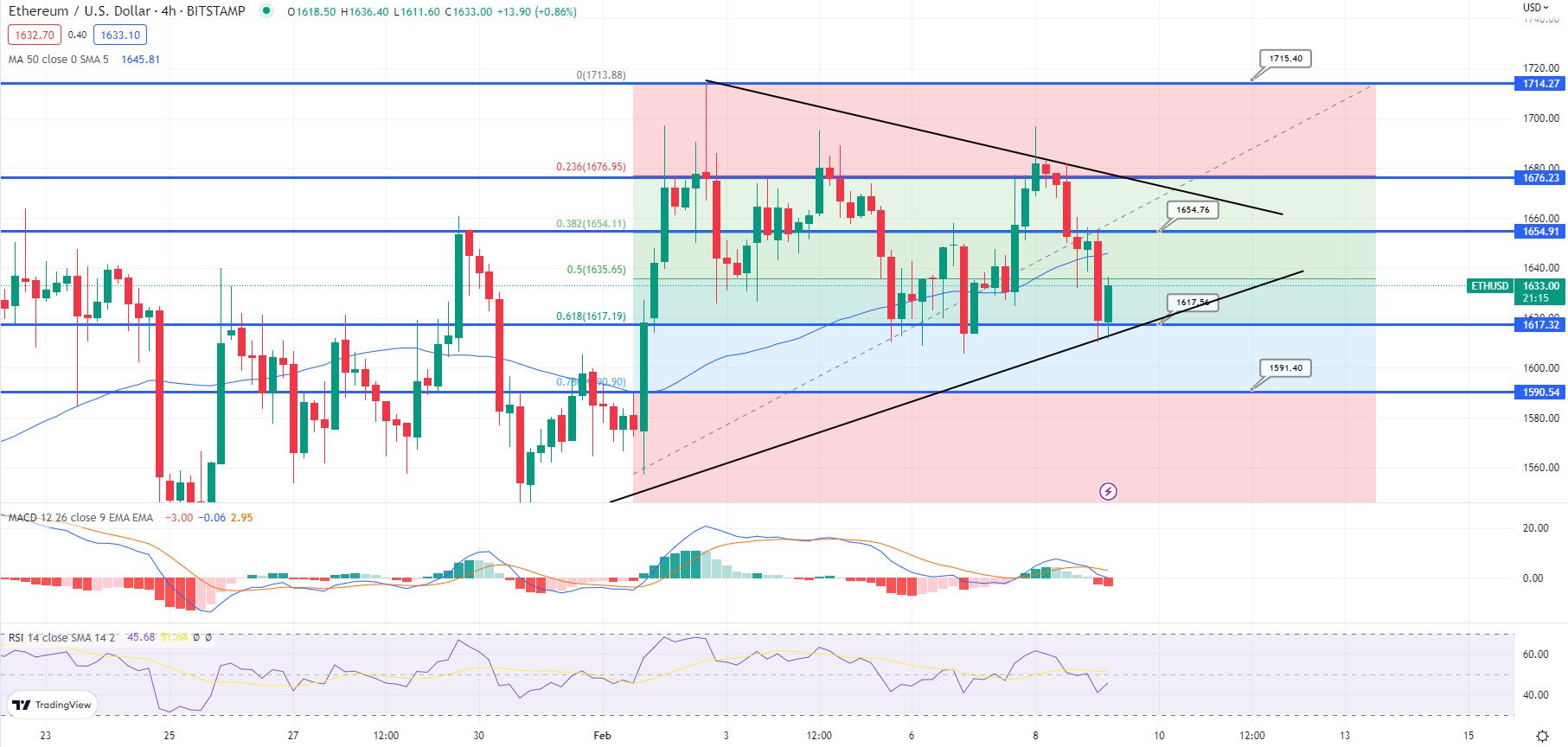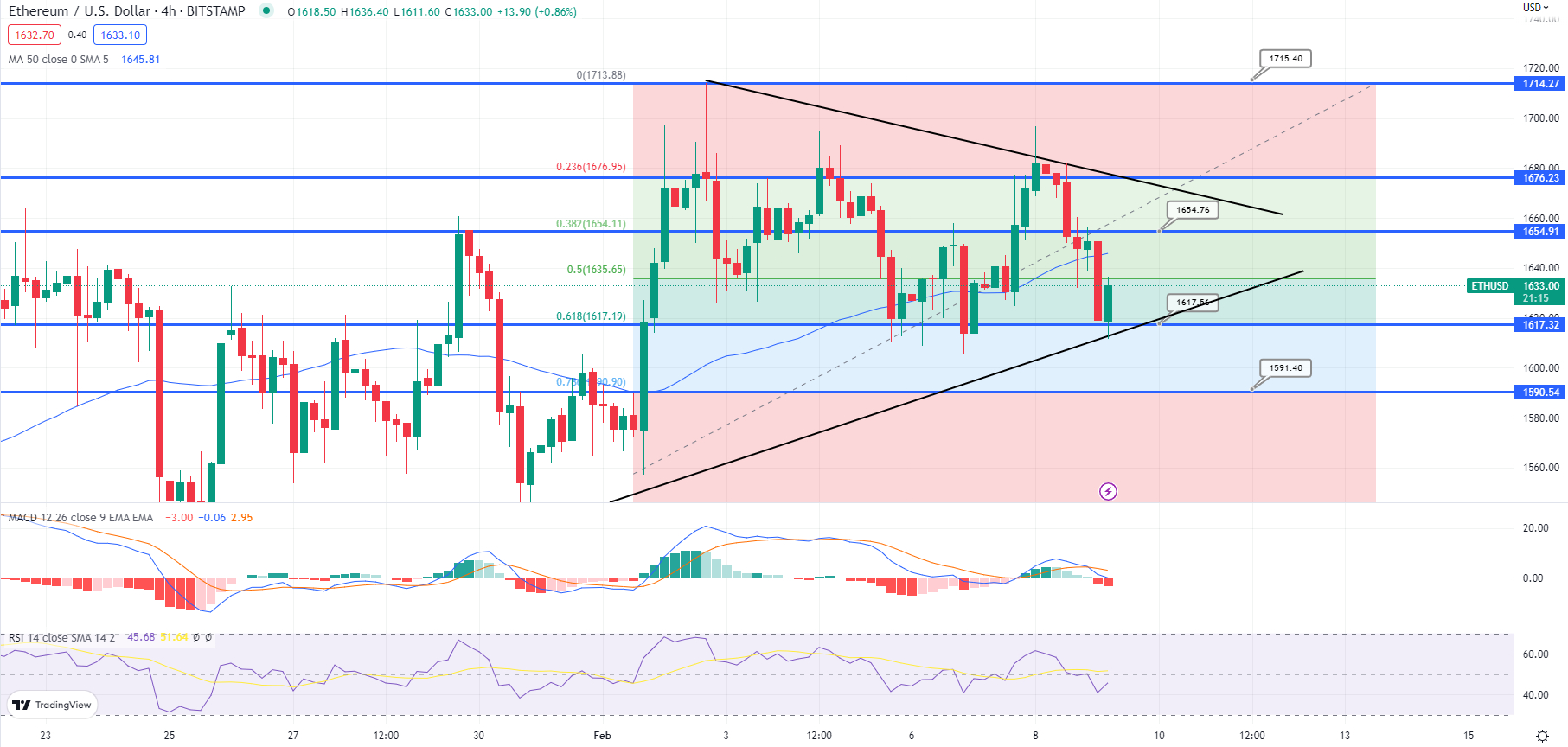 A break below the $1,620 level, on the other hand, could expose BTC to $1,550 levels.
Bitcoin and Ethereum Alternatives
CryptoNews Industry Talk recently identified the top 15 cryptocurrencies for 2023. There are numerous other options to consider if you want to invest in something more promising.
The number of cryptocurrencies and ICOs (Initial Coin Offerings) available grows on a weekly basis.
Disclaimer: The Industry Talk section features insights by crypto industry players and is not a part of the editorial content of Cryptonews.com.
Find The Best Price to Buy/Sell Cryptocurrency

---