Bitcoin and Ethereum Price Prediction: UoM Consumer Sentiment on the Docket
Disclosure: Crypto is a high-risk asset class. This article is provided for informational purposes and does not constitute investment advice. By using this website, you agree to our terms and conditions. We may utilise affiliate links within our content, and receive commission.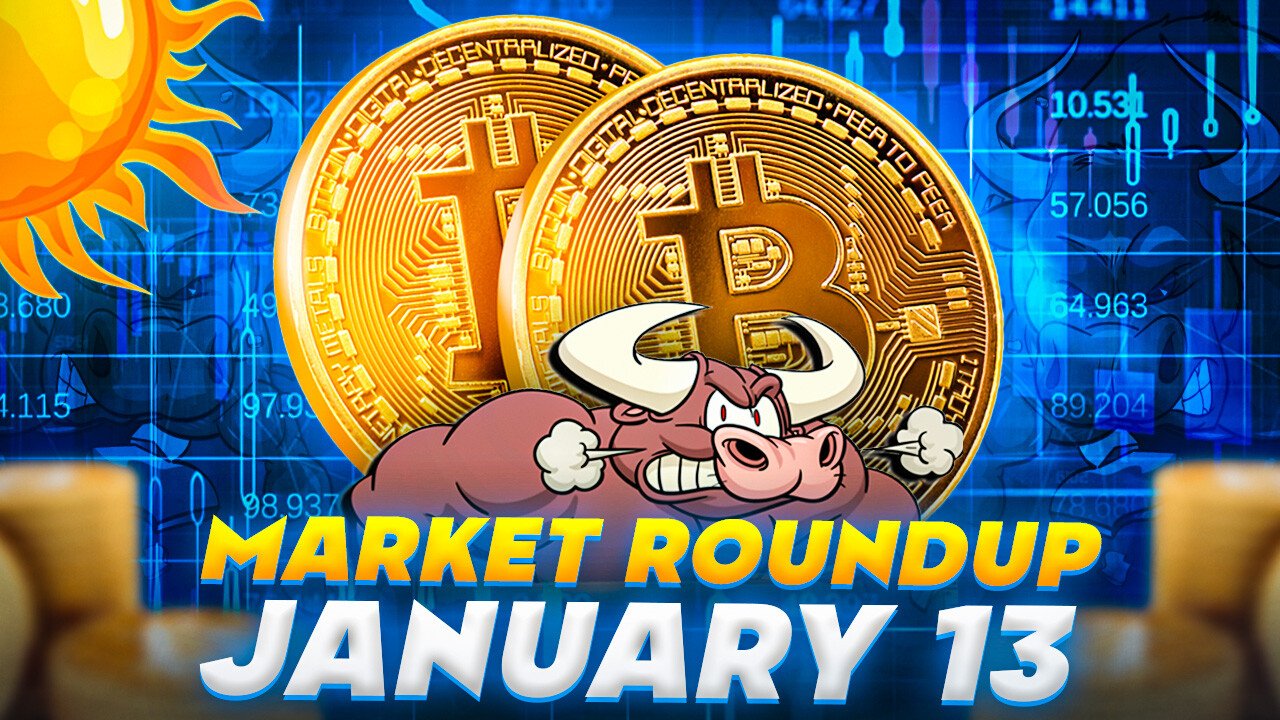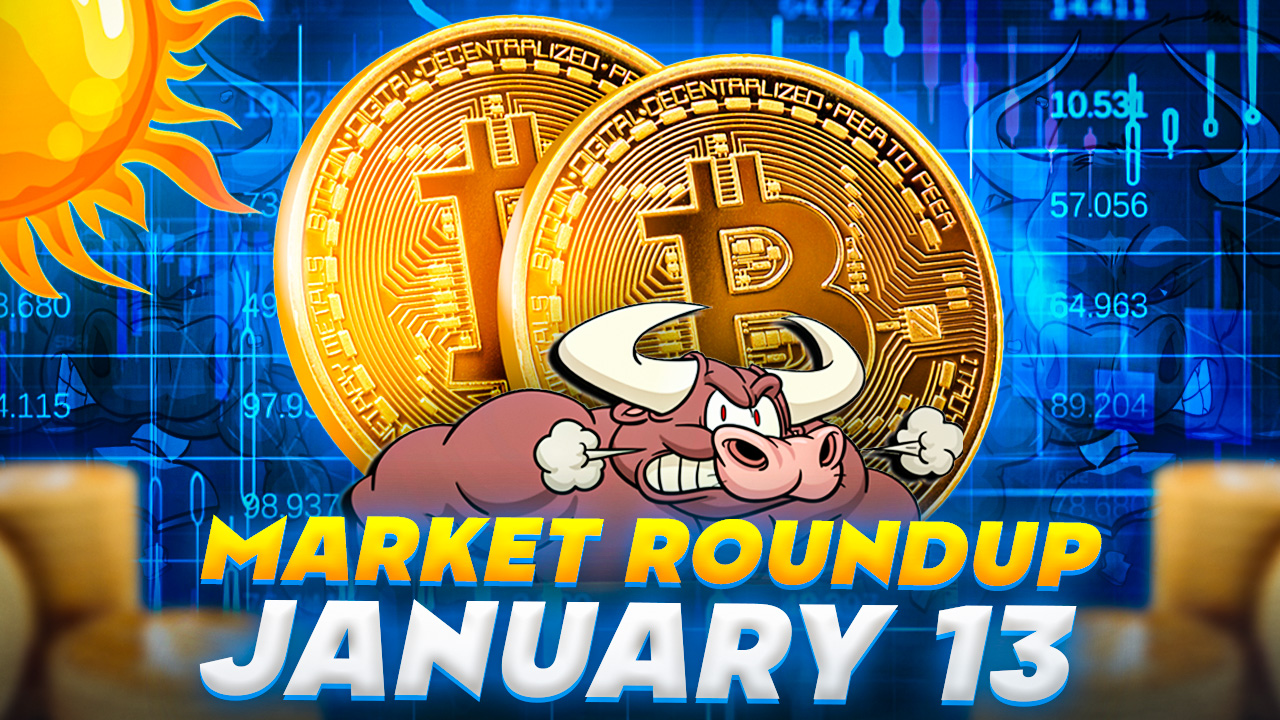 Bitcoin (BTC), the world's largest and most popular digital cryptocurrency, maintained its upward rally and has increased by 4% in the last 24 hours and by more than 12% in the last seven days.
BTC reached a two-month high of more than $18,200, as the crypto market's ongoing growth received a significant boost after US Consumer Price Index (CPI) data showed signs of decreasing inflation.
As a result, Ethereum, the second largest cryptocurrency, has risen to $1,413 and other coins such as Dogecoin (DOGE), Litecoin (LTC), and Ripple (XRP) are also showing signs of life.
#Bitcoin is growing smarter, faster, and stronger behind a wall of encrypted energy.⚡️ pic.twitter.com/QL12o1HSsb

— Michael Saylor⚡️ (@saylor) January 12, 2023
The negative effects of the FTX crash and its aftereffects on Bitcoin and other digital currencies, on the other hand, appear to be fading. This occurred after bitcoin's price reached a two-month high of around $18,200.
Surprisingly, the value of Bitcoin has increased by 10% in the last two weeks. According to experts, this is Bitcoin's longest run of gains. Moving on, if macroeconomic conditions remain favorable, the price rally is likely to continue in the coming weeks.
Furthermore, the climate tech investor has demonstrated another positive aspect of the Bitcoin (BTC) network, implying that BTC's environmental positives outnumber its negatives by a remarkable 31:1 ratio, which may also explain the overall BTC's growing trend.
A climate tech investor has painted a bright view of the Bitcoin (#BTC) network, suggesting BTC's environmental positives outweigh its negatives by a whopping 31:1 ratio…

— LondonCryptoClub (@LDNCryptoClub) January 13, 2023
In the meantime, Samsung Asset Management revealed plans to launch a spot Bitcoin ETF on the city's exchange.
Samsung Asset Management, the investment arm of one of the largest tech companies, is listing #ETFs in Hong Kong as the crypto market recovers.

👉Follow us for more about #BTC #ETH #cryptomarket #CryptoNews #Web3 #NFT #blockchain #fintech pic.twitter.com/u6inM6eoui

— N4BT (@News4BlockTech) January 12, 2023
Given that the Hong Kong Stock Exchange is Asia's only licensed exchange offering Bitcoin futures ETFs, some believe spot crypto ETF products will be permitted soon. As a result, so far, this news has had little impact on Bitcoin prices.
UoM Consumer Sentiment on the Docket
The preliminary consumer confidence index for the United States was raised higher to 59.7 in December 2022 from 59.1. The expectations subindex was raised to 59.9 from 58.4, while the existing conditions subindex was reduced to 59.4 from 60.2.
Meanwhile, year-end inflation forecasts were reduced to 4.4% from 4.6% in the preliminary estimate, and the 5-year prognosis was reduced to 2.9% from 3%.
The Cryptocurrency Market Is Upbeat
For the first time in weeks, the global cryptocurrency market has been steadily rising and gaining traction throughout the day, allowing it to surpass the $900 billion mark. As a result, the value of cryptocurrencies such as Bitcoin (BTC), Ethereum (ETH), and many other coins has increased.
However, the Bitcoin price increases occurred after US Consumer Price Index (CPI) data revealed signs of a slowing in inflation.
The crypto market rose significantly.
19,900 BTC options are about to expire with a Put Call Ratio of 0.95, a maximum pain point of $17,500 and a notional value of $380 million. pic.twitter.com/tjACCZtna6

— Greeks.live (@GreeksLive) January 13, 2023
Bitcoin's ESG Positives Outnumber Its Negatives by a Factor of 31:1
Another aspect of the Bitcoin (BTC) network has been highlighted by a climate tech investor, who claims that the network's environmental benefits outnumber its drawbacks by a factor of 31.
Daniel Batten, a self-described philanthropist, and environmentalist claimed that "Bitcoin is probably the most significant ESG technology of our time" in a debate on Twitter on January 12.
https://www.twitter.com/AsiaAdept/status/1613785578486784000?s=20&t=0kn6pd3qSnD4QRCXHWsaLw
According to Batten, the 31:1 positive impact-to-cost ratio was determined through research and interviews with grid engineers, climate scientists, BTC mining engineers, methane abatement specialists, and solar and wind energy installers.
According to the study, Bitcoin has 21 potential environmental benefits and only 5 potential environmental disadvantages.
US dollar Slips Lower
The depreciation of the US dollar was another factor that helped digital currencies. While falling US inflation fueled optimism that the Federal Reserve might slow the pace of interest rate hikes, the broad US dollar failed to maintain its modest rebound, falling to a seven-month low.
BREAKING: 🇺🇸 US inflation falls to 6.5%.

— Watcher.Guru (@WatcherGuru) January 12, 2023
Fed officials were relieved to see consumer prices fall in December, marking the first time in over two and a half years that they could slow the pace of monetary tightening.
Bitcoin Price
Bitcoin is currently trading at $18,800, with a 24-hour trading volume of $36 billion. Bitcoin is on a tear and has already broken through $18,500, which is now acting as an immediate support.
A bullish breakout of this level has created more room for buying until $19,850, or even higher, to the psychological trading level of $20,000. On the lower side, Bitcoin's next support level stands at $18,400, or $17,300.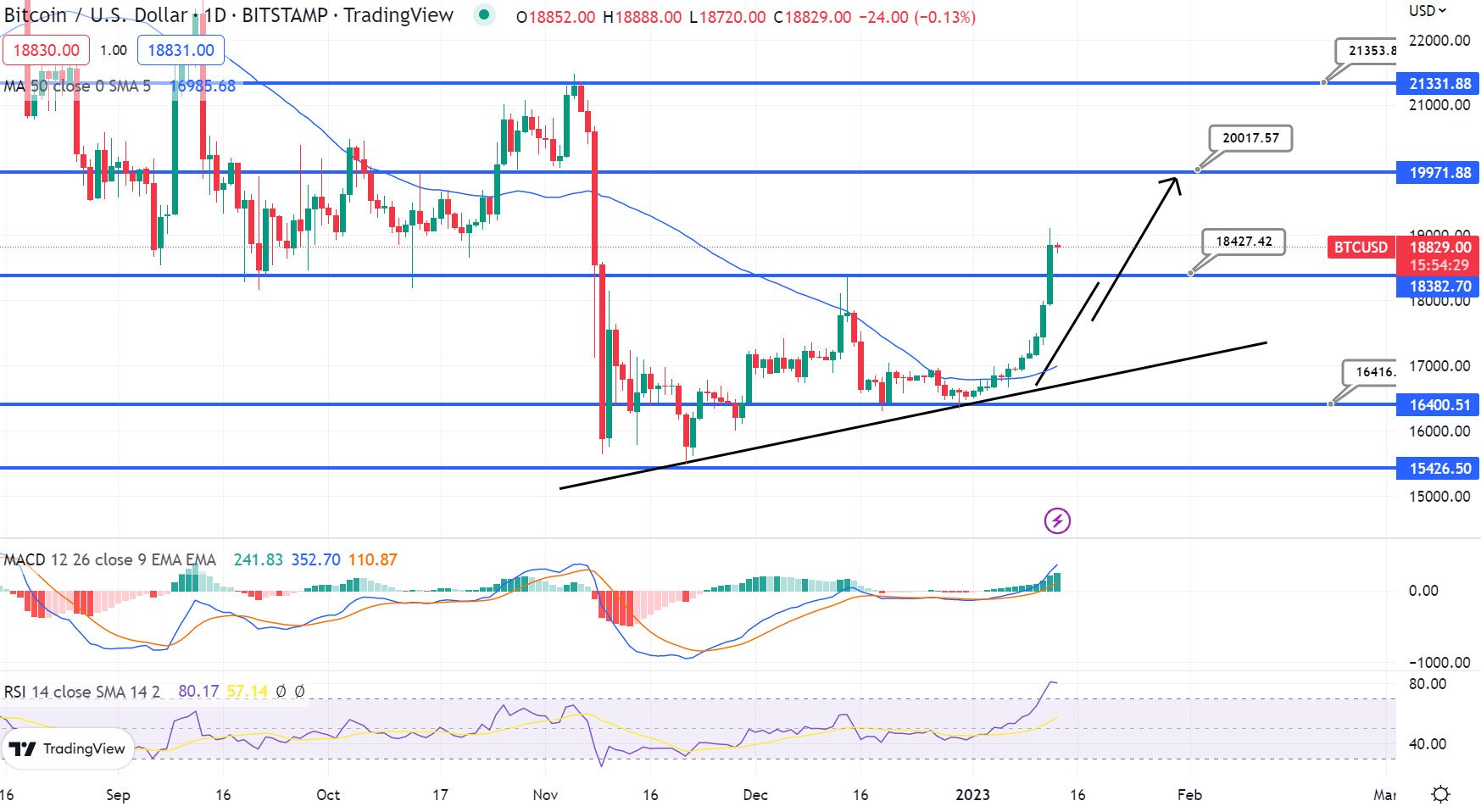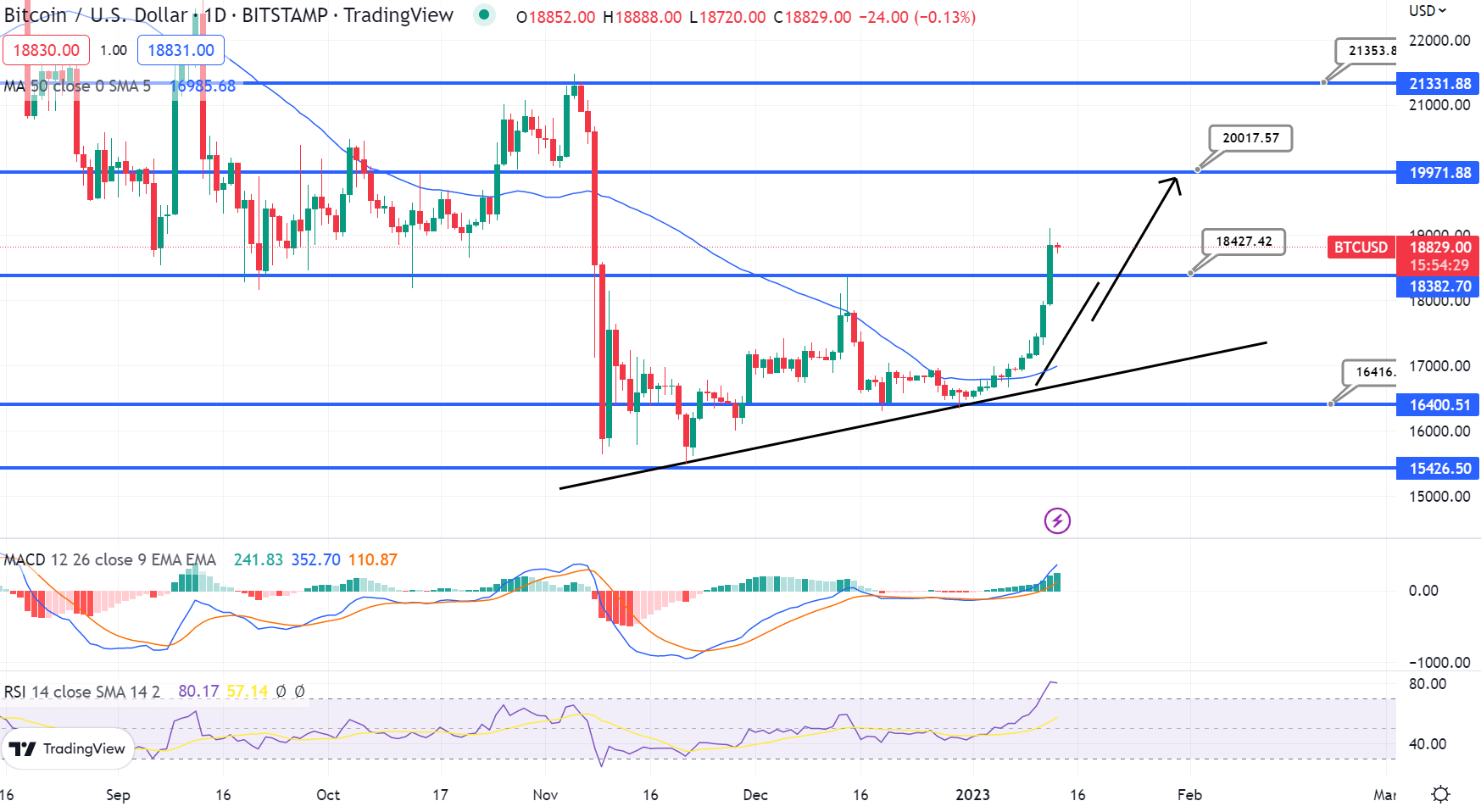 At the same time, the RSI and MACD indicators have hit overbought levels. As a result, we must keep a watch on $19,000, as failure to break over this level may result in bearish market action in BTC.
Ethereum Price
The current price of Ethereum is $1,408, with a 24-hour trading volume of $9.5 billion. The ETH/USD pair has broken past the $1,350 key resistance level and is now on course to the $1,500 barrier level.
On the downside, the immediate support level for Ethereum is $1,350, and candles closing above this level are expected to drive a rally. If the $1,430 level is breached, the price of ETH may rise to the $1,500 resistance level.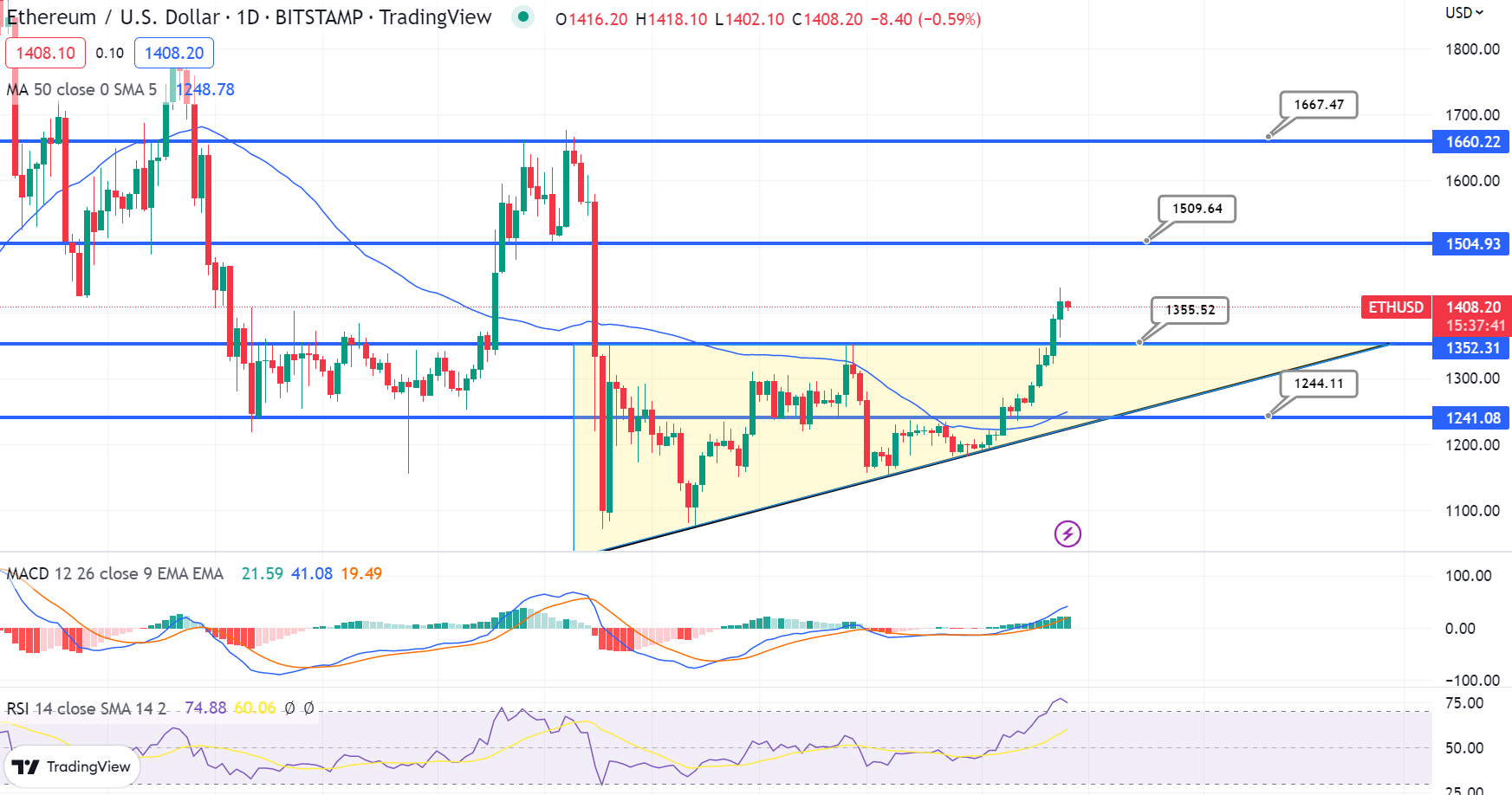 On the downside, the ETH price may find support near $1,375, and a bearish break of that level could lead to additional selling to $1,330. Today's bullish trend is strong, so seek for opportunities to buy.
Alternative Coins with Huge Growth Prospects
In light of the recent decline in the cryptocurrency market, a few alternative currencies are making headlines.
FightOut (FGHT)
The FightOut (FGHT) platform works in the same way as a personal trainer does, except that workout time is pre-paid with the FGHT token. All activities are monitored and can be used to improve one's metaverse avatar's metrics. The FGHT presale is going well, with approximately $2.88 million raised thus far.
The current selling price of 60.06 FGHT for $1 (FGHT may be purchased using ETH or USDT) is projected to grow as the sale unfolds.

Visit FightOut Now
C+Charge (CCHG)
C+Charge is creating blockchain-based EV payments software that will give EV drivers carbon credits every time they charge for the first time. C+Charge sees this as a means of leveling the playing field in the carbon credit market, which has previously been dominated by a few large firms.
Forecasters feel the project has promised since it will profit from the expected large growth in the carbon credit market. Coherent Market Insights predicts that the market would be valued at more than $2.4 trillion by 2027, up from roughly $211.5 billion in 2019.
Earning carbon credits is an extra incentive for C+Charge to accelerate the already rapid transition to EVs. Analysts predict that the voluntary credit market (VCM) will reach $100 billion by 2030, with businesses like C+Charge playing a big part in this growth. So far, the presale has raised $264,517.
Meta Masters Guild (MEMAG)
Today marks the start of the presale for Meta Masters Guild, a mobile-focused gaming guild that will build a mix of Web3 and play-to-earn games. Its Ethereum-based games will include playable NFTs as well as incentives that can be traded for MEMAG, the company's native token, which can then be staked and sold. It will be available in seven stages, the first of which is now offering one MEMAG for $0.007.
Even before MEMAG goes public, this price will progressively rise to $0.023, a 228.5% increase for the first investors. Meta Masters Guild is expected to grow rapidly when the platform's initial game (Meta Kart Racers) is released in the second quarter of this year.
Furthermore, if the wider market and world economy improve, its native coin might be a major beneficiary.
Find The Best Price to Buy/Sell Cryptocurrency


---