Bitcoin Cash: What Fuels its Growth in April?
Disclosure: Crypto is a high-risk asset class. This article is provided for informational purposes and does not constitute investment advice. By using this website, you agree to our terms and conditions. We may utilise affiliate links within our content, and receive commission.
Bitcoin Cash has gained more than 120% since early April. The upcoming hard fork likely responsible for most of the gains.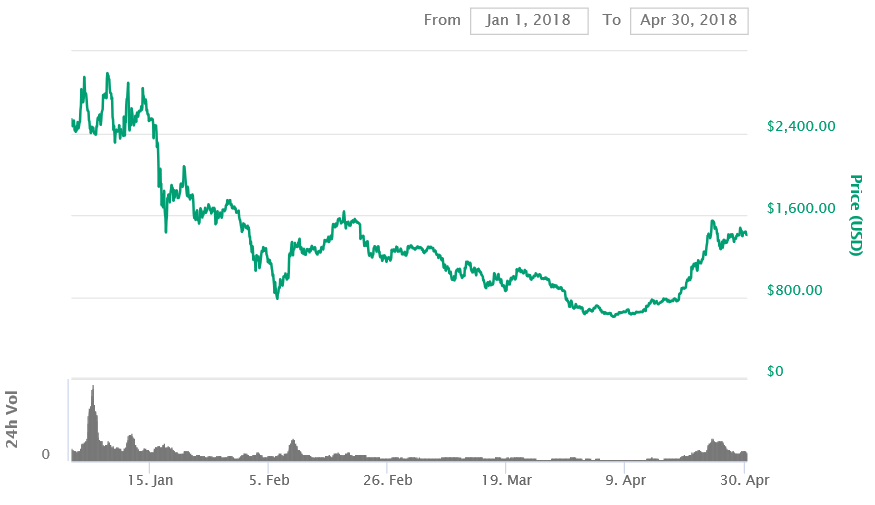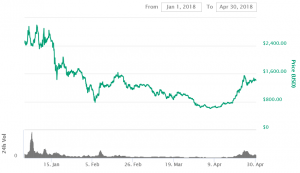 Bitcoin Cash has been getting a lot of attention again recently. The Bitcoin spin-off that came into existence as a result of a hard fork on the Bitcoin blockchain in August 2017 has now gained more than 120% since it bottomed out in early April.
When measured against the original Bitcoin, the gain has been 66% in a market where Bitcoin has also rallied strongly against the US dollar.
Antpool Burning Bitcoin Cash
One reason behind the recent price surge in Bitcoin Cash could be a recent announcement from a mining giant Antpool. The mining pool announced in a tweet on April 20 that they would start burning 12% of the transaction fees they receive in an effort to reduce the supply, and thus boost the price, of Bitcoin Cash. Antpool has also invited other miners to start burning 12% of the transaction fees collected.
A key question for investors in this regard is how much of a reduction in supply 12% of Antpool's transaction fees really constitutes. Some members of the crypto community have simply called it propaganda on the part of Antpool in order to artificially boost prices, while accusing Antpool of acting like a central bank that regulates money supply in pursuit of its own self-interest.
Regardless of that, however, the news has now made its way around the Internet and it may have lead to at least a perception of increased scarcity in the BCH market, which is always good for the price.
Hard Fork Effect
In addition to the announcement from Antpool, the Bitcoin Cash price has likely been benefiting from market expectations to an upcoming hard fork on the network.
The hard fork, which is scheduled for May 15, will increase Bitcoin Cash's block size from today's 8 megabytes to 32 megabytes, significantly increasing the number of transactions that the network can handle. However, the largest average block on the Bitcoin Cash's blockchain in a few past weeks was only 162 kilobytes, according to bitinfocharts.com data. In comparison, it was almost 900 kilobytes in case of the Bitcoin's blockchain.
Cryptocurrency prices have a tendency to rise in anticipation of hard forks, which is what we are seeing this time as well. When Bitcoin Cash was forked off of Bitcoin last year, Bitcoin prices rose by an average of 10% across exchanges in the two days leading up to the event.
"Potentially Overbought"
Despite these positive developments for the price of Bitcoin Cash, it is not obvious that the price will continue the strong gains from here.
Cryptocurrency veteran and Head of Research at Fundstrat Global Advisors, Tom Lee, said during an appearance on CNBC on April 25 that he would prefer to put "fresh money" into Bitcoin rather than into "something that is potentially overbought" at the moment, referring the strong gains we have seen recently in Bitcoin Cash.
Interestingly, when asked who he believes will come out as the winner in the battle between the two currencies, Lee said that he "prefers not to pick winners and losers" and that "I think both have merits."
BCH community shifting its focus
While the original goal for the members of the Bitcoin Cash community was "the flippening," meaning to overtake Bitcoin in terms of price, popularity, and number of users, the focus now seems to be shifting to fill another niche in the market for cryptocurrencies: Everyday payments.
Among other things, this is evident from the integration of Bitcoin Cash into the commercial payment processor BitPay's platform, a huge step forward in achieving real user and merchant adoption of the currency.
In addition to being potentially overbought at the moment, a clearly defined objective and purpose for the digital currency, other than attempting to dethrone Bitcoin, may mean that growth in the future will become more muted, and prices less volatile, than what we have seen over the past few weeks.
---