Bitcoin Can Learn These Key Lessons from Cash
Disclosure: Crypto is a high-risk asset class. This article is provided for informational purposes and does not constitute investment advice. By using this website, you agree to our terms and conditions. We may utilise affiliate links within our content, and receive commission.
Cash may be a dinosaur, and although Deutsche Bank thinks that notes and coins' extinction is still a way off, its newest report has provided the cryptosphere with an excellent insight into why cash is still in such rude health – and why so many still choose it over other methods of payment (however, less and less as a recent survey showed).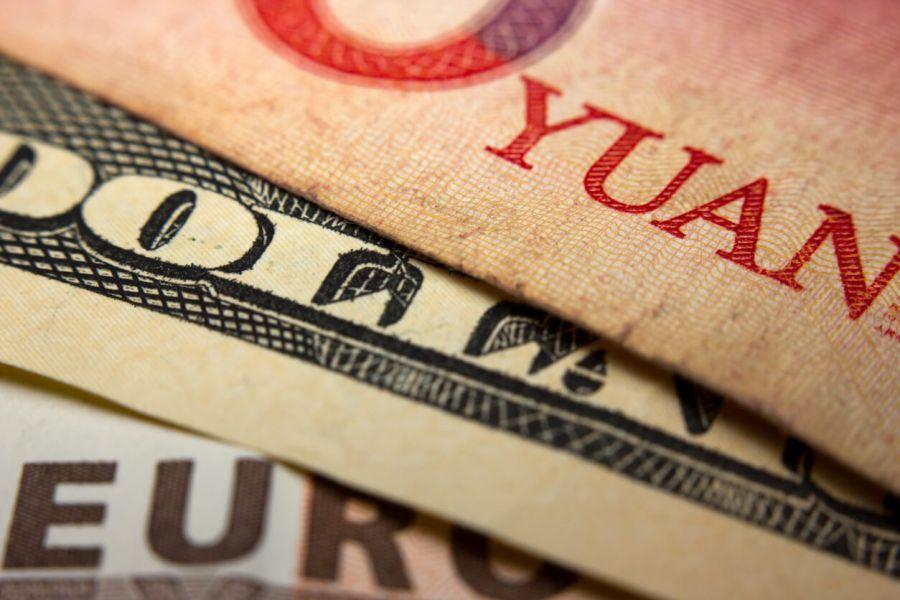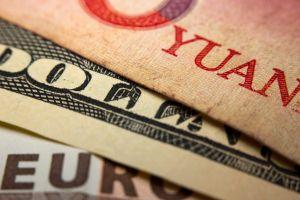 And by learning some key lessons from cash, the crypto industry could make a few important changes – and attract more adherents.
In its study, the bank conducted a survey of 3,600 customers across the United States, the UK, China, Germany, France and Italy. The German bank discovered that a third of respondents in developed countries – regardless of nation, gender and age – said cash was their favorite payment method, while more than half believe it will never die out.
There are some key demographic differences, however. In the UK, 18-34 year olds are the least keen on cash. In Germany, France, the USA and China, 35-54 year olds dislike cash the most, while in Italy, those aged 55+ showed the most distain for coins and notes.
On average, respondents said they carry up to USD 50 in cash with them.
Some of the reasons why so many people prefer cash to the alternatives may prove surprising.
The majority of German respondents said they found it easier to keep track of their spending when they used notes and coins, with half of the respondents agreeing with this sentiment in the United States and China.
A similar number of respondents (around 40%) in most countries except China think that cash an easier way to pay.
In fact, the Chinese seem quite anti-all things cash-related: Only 15% said they found cash convenient, unlike German respondents, who agreed most with the notion that cash is accepted almost everywhere.
The Chinese are also the least likely to trust the security of cash, with cash confidence a low 20%. The anonymity provided by cash transactions is of the lowest importance in China, and Chinese are also least likely to choose cash to avoid suffering cyber-attacks on their savings.
All of this, one might think, could bode well for the nation's impending digital yuan launch.
And also interestingly, German respondents were the most interested in the anonymity features of cash dealings.
One plus for American crypto advocates, however, came when respondents were asked how reluctant they were to give up cash. Only 9% of Americans said they would like cash to stay around no matter what, followed by 17% of Chinese respondents.
The number was much higher in other countries, and hit the 48% mark in Germany.
Most people stated that they had no issue with using plastic cards, and very few responded that they did not know how to use a smartphone. A large number of non-card users hail from China and Italy, and while the majority non-smartphone users come from China and France.
Only 9% of all respondents said that the places where they usually spend money do not accept credit cards or e-pay are also low in all countries, although in China 12-17% of respondents chose this as the main reason they prefer to carry cash.
Which, if any, of the following are the main reasons for cash being your most preferred payment method?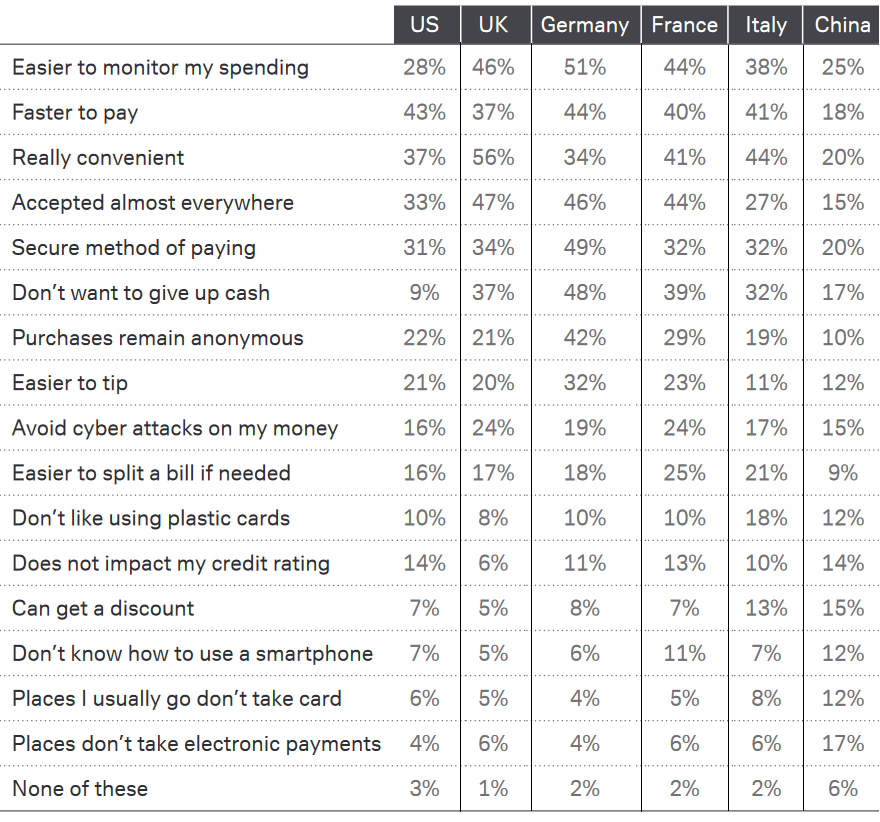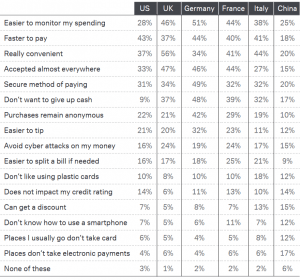 The Future of Crypto
Although cash may feel antiquated to some, people have learned to trust paper. Instead, what is likely to go the way of the dodo and the dinosaur first is the plastic bank card. The bank explains that digital payments are growing "at light speed," leaving cards looking outdated and insecure in comparison.
The report's authors write,
"Not only do we think cash will be around for a long time, we see the transition to digital payments as having the potential to do no less than rebalance global economic power."
As such, when countries like China and India develop electronic, crypto and peer-to-peer financial strategies, the world could witness a power shift in its economic center of gravity.
Despite the skepticism surrounding digital currencies, the authors noted that "if the growth in blockchain wallet users continues to mirror that of internet users, then by the end of the decade, they will number 200 million, quadruple the current level."
And the authors say that it will be governments, banks, corporates and payment providers who all stand to benefit from the digitalization of payments.
Cryptocurrencies are still in the their nascent years, but some stores are already accepting them a method of payment, particularly online travel booking platforms, retailers and telecommunications companies like AT&T. Although payments made using Bitcoin still represent a tiny fraction of global payments, the report explains,
"It may not be surprising if a new and mainstream cryptocurrency were to unexpectedly emerge."
As previously reported, Deutsche Bank claimed in a separate report that the forces holding the conventional financial system together now appear fragile.
The bank wrote that the system could begin to unravel over the decade ahead – while the demand for alternatives, ranging from gold to crypto, could take off.
____
Learn more: Bitcoin's Unit of Account Status is Still a Fantasy – BitMEX Research
---