Bitcoin Bulls Just Got A New Friend - The Bitcoin Cow, Bitkoinka
A cow has been bought with bitcoin (BTC) for the first time in Montenegro, and possibly the entire Balkans, according to the local agricultural site Seljak.me Savjetuje ('Farmer Advises Me').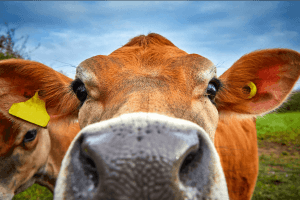 It's quite common for the Balkans area's farm folk, and possibly Slavs in general, to name their female livestock, particularly cows, according to some, usually physical attribute, such as color, and add endings like '-ka' or '-va'. Therefore, many a-cows have been named Šarenka and Bjelava over the centuries.
And now that 'family' got a new, entirely contemporary addition - Bitkoinka.
This is the name of the brown-and-white bovine recently sold for 0.03 the world's most popular crypto, per the March 2 article. At the time of the sale, this was worth EUR 1,350 (USD 1,610). Today, at 16:15 UTC, this amount of BTC is worth USD 1.714.
Seljak.me describes itself as "the first digital village that connected buyers and sellers in Montenegro." They claim to be the first in the country, and possibly further, to have organized a sale of an animal with BTC in such a fashion, adding that they believe the cryptocurrency's potential will present itself in the near future.
Bitkoinka's new owner Anđela Bojić described herself as a young person who is actively involved in agriculture through her family's business. She stated that the reasons behind this purchase rest in bringing agriculture and modern technologies together. Bojić went on to explain that the cow was purchased with BTC following an arrangement with the Seljak.me founder Marko Maraš. "He suggested that we do something innovative and make her the first cow to be paid with cryptocurrency in Montenegro and maybe wider."
Furthermore, Bojić said, the future of agriculture lies in "a healthy combination of agriculture and technology" - modernizing the industry increases the chances of young people getting into agriculture, she said, and other farmers may be encouraged by this move and decide to utilize new agricultural and payment methods.
Similarly, Maraš pointed to that combination as the goal as well, adding that cryptos, BTC as the most famous one, have become commonplace. With this sale, they wanted to show the farmers the possibilities that come with digitalizing agriculture. "Digitalization is there to bring the agricultural production to a new level," said Maraš, "so we all need to be ready to learn, accept new challenges, but also to open new areas, even this one - buying and selling agricultural goods with cryptocurrencies."
The farmer noted the recent first football transfer conducted entirely in crypto, "so if transfers and numerous other activities could be paid in crypto, why wouldn't a cow?"
Maraš thanked the Food and Agriculture Organization of the United Nations and the European Bank for Reconstruction and Development Support for Small Business in Montenegro for their support, which enabled greater digitalization, but said that they're hoping for the government's support as well, as "serious innovation requires a serious approach." He jokingly said that they accept support in crypto as well.
____
Learn more:
- Not Only Bitcoin Price Is Changing During This Bull Run
- Crypto Adoption in 2021: Bitcoin Rules, Ethereum Grows & Faces Rivals
- Crypto World Waits to See What Post-Bezos-era Amazon Will Bring
- Four Merchants Revealed How Bitcoin Payments Helped Their Businesses
- Meet the Fastest Cryptocurrency in the World; She has Four Legs
---