Bitcoin and Ethereum Price Prediction: Can BTC and ETH Bounce-Off With the 38.2% Fibonacci Retracement?
Disclosure: Crypto is a high-risk asset class. This article is provided for informational purposes and does not constitute investment advice. By using this website, you agree to our terms and conditions. We may utilise affiliate links within our content, and receive commission.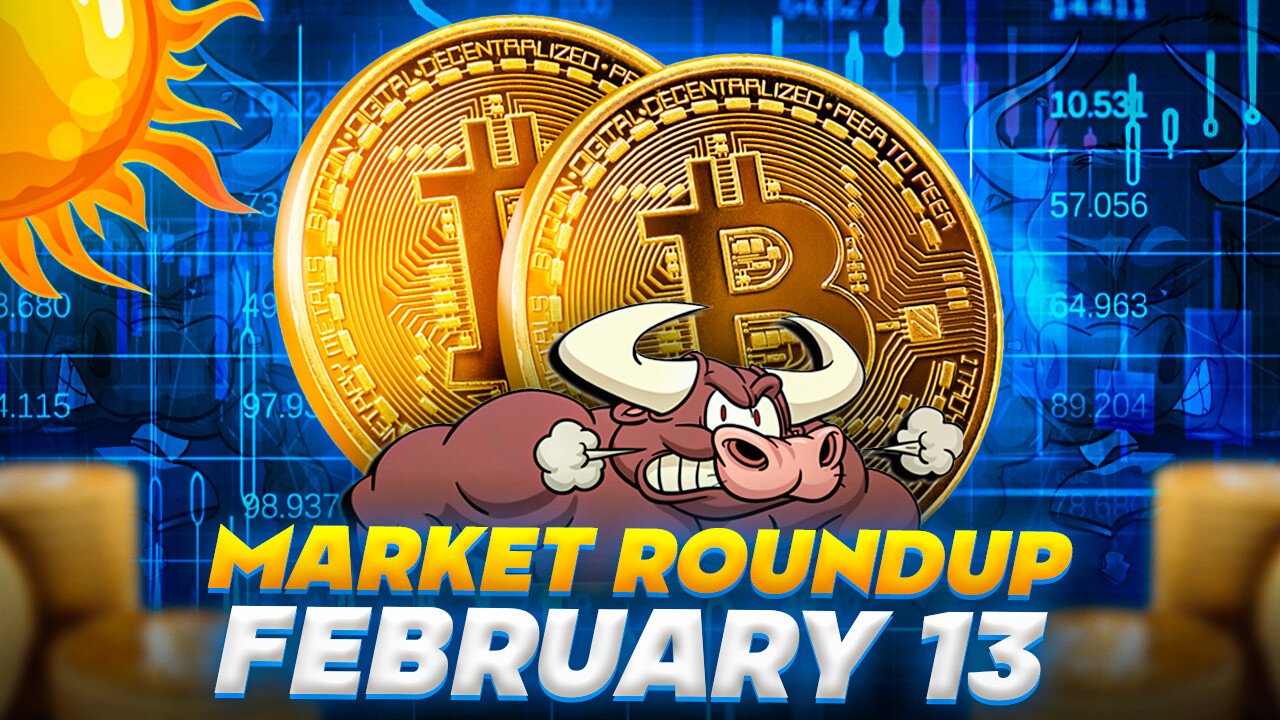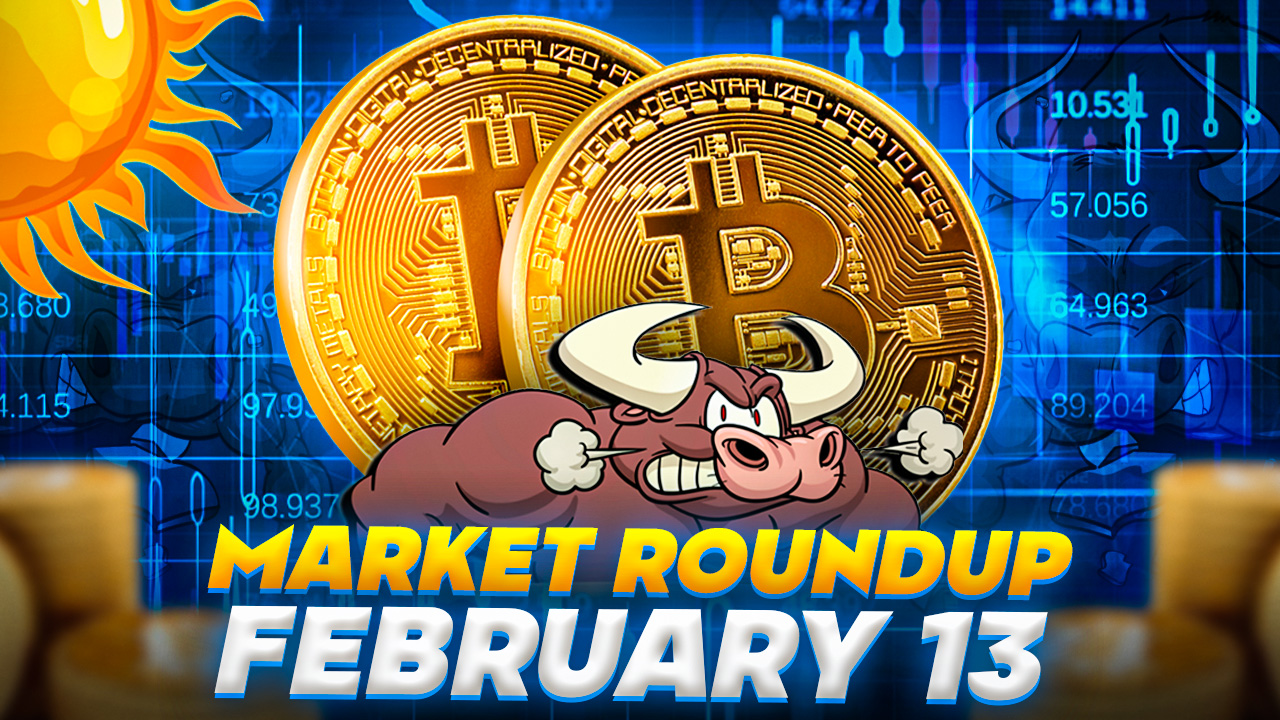 Bitcoin has continued its downward trend and has now slid below $22,000, while the global cryptocurrency market cap is on the verge of falling below the $1 trillion mark. Most cryptocurrencies, including Bitcoin and Ethereum, have seen drops in the past few days. 
These declines were triggered by the US-based Kraken crypto exchange's decision to discontinue its staking service and pay a $30 million penalty to the SEC for failing to register the business. As a result, the cryptocurrency market has been negatively impacted, leading to the loss of BTC.
$BTC will drop to $19,362.82 or even $18,032.09. The daily chart's rounded top shows that the sentiment is slowly shifting from bullish to bearish. A push below $21,303.51 would complete the pattern and also pierce below the 200d EMA and 38.2% Fib #Crypto #cryptomarket pic.twitter.com/pUN1xge8Dg

— Clever Markets (@CleverMarkets) February 12, 2023
On a positive note, the optimistic remarks made by several notable figures about Bitcoin prices are seen as a key factor in preventing further losses for BTC. Pantera Capital CEO Dan Morehead, for instance, believes that despite some market pessimism, Bitcoin has already commenced its next bull market cycle.
Pantera Capital CEO Dan Morehead believes we're in the 7th bull cycle for #Bitcoin & 2023 will be a year of rebuilding trust. Market dip seen as normal within historical context. Expect a trend change towards fresh record highs. Optimistic about #DeFi pic.twitter.com/qmN0arbKvN

— Cristian Andrei Babusi (@CBabusi) February 11, 2023
Meanwhile, Adam Back, the co-founder of Blockstream, is optimistic that Bitcoin (BTC) will rise in value to $10 million within the next nine years, increasing its market size to over $200 trillion. Additionally, Bitcoin mining firms such as Core Scientific, Riot, and CleanSpark experienced a surge in their cryptocurrency production in January. This is viewed as another critical factor that may aid in limiting the losses of BTC prices.
Public #miners increased #Bitcoin production, hash rate in January pic.twitter.com/dhgaeJuMAq

— NFT Agency (@MhCryptoAgency) February 13, 2023
In this post, we will examine the possibility of Bitcoin and Ethereum bouncing off with the 38.2% Fibonacci retracement and the potential implications for their prices.
Risk-Off Crypto Market
The global cryptocurrency market has experienced a substantial sell-off, and there is a possibility of it falling below the $1 trillion mark. Bitcoin (BTC) was unable to surpass the $22,000 threshold over the weekend and is currently trading well below that level. Other popular cryptocurrencies such as Dogecoin (DOGE), Ripple (XRP), Solana (SOL), and Litecoin (LTC) have also faced losses.
However, the declines were caused by the US-based Kraken cryptocurrency exchange's decision to halt its staking service and pay a $30 million fine to the SEC for failing to register the business. 
According to a recent report, the SEC and Kraken cryptocurrency exchange has reached a settlement that clarified that staking as a technical service will continue in the US, but with more transparency around tokens entering the staking pool to prevent fund misuse. This development resulted in a surge in the price of liquid staking tokens.
(1/3) Kraken is shutting down its US crypto staking operations & its crypto-lending product as part of a settlement with SEC. SEC considers staking through intermediaries as security under US law, leading to drop in crypto markets, with ETH falling 4.5%.#DailyDoseOfCrypto pic.twitter.com/D2eZM5a6iT

— KuCoin Wealth (@KucoinWealth) February 10, 2023
Thus, two macroeconomic factors that have been causing price swings across the cryptocurrency market are regulatory uncertainty and higher-than-expected December consumer prices.
Blockstream Co-Founder Adam Back Predicts Bitcoin Market Capitalization to Reach $200 Trillion
Blockstream co-founder Adam Back believes that Bitcoin (BTC) can reach a market capitalization of over $200 trillion and rise to $10 million in value over the next nine years. 
Adam Back, the co-founder of Blockstream, thinks bitcoin (BTC) can rally to $10m, driving its market capitalization to over $200t in the next nine years.#BTC pic.twitter.com/Vs3JBsQMPu

— Muhammad Aqib (@muhaqib490) February 13, 2023
Adam stated in a Twitter thread on February 12 that this price may be achieved if BTC continues to grow at a 2X rate over the next nine years. However, the news has not had a significant impact on BTC prices.
Insights from Pantera Capital CEO on Bitcoin's Bullish Momentum
Pantera Capital CEO Dan Morehead has recently stated that Bitcoin has entered its next bull market cycle. According to Morehead, investors should not be deterred by the cryptocurrency market's decline following FTX, as Bitcoin is now in its seventh bull cycle. 
In the company's Blockchain Letter, he predicted that 2023 would be a year of regained confidence in the cryptocurrency sector and acknowledged that it had reached lows during this cycle.
🔥 #Bitcoin Price Prediction as Pantera Capital CEO Says Next Bull Market Cycle Has Already Started – What Does He Know?

Full analyst : https://t.co/O10WWGgtsC pic.twitter.com/MbpY5QWqG6

— WikiBit Official (@WikiBitOfficial) February 13, 2023
It is worth noting that the news of Bitcoin entering its next bull market cycle, as stated by Pantera Capital CEO Dan Morehead, could have a significant impact on BTC prices and may help in limiting further losses.
The Strong US Dollar: Impacts and Implications
The strength of the US dollar is another factor that is weighing on cryptocurrencies. On Monday, the broad US dollar index rebounded and reached a five-week high, driven by expectations of more Federal Reserve policy tightening in anticipation of critical consumer price data set to be released the following day. 
The broad US dollar index has remained near its five-week high against major rivals.
US Dollar Index

(*) – Very strong start by the dollar. This helped #Bitcoin break the bear continuation pattern to the downside.

Monday sees no news so the #bulls have their work cut out for them!#Crypto #trading #forexsignals #CPI #PPI #RetailSales #Markets #OptionsTrading pic.twitter.com/6E1p7xRXee

— 🔴 Cryptocurrency Trading Live 𝕏 (@p2p_metaverse) February 13, 2023
The US dollar has been strongly supported since the release of significantly stronger-than-expected US jobs data earlier this month, and recent remarks from the Federal Reserve have tended to be more hawkish, further boosting the currency's strength.
Bitcoin Hash Rate Shows Significant Growth
According to a new Hashrate Index research, the first production report for 2022 from publicly traded Bitcoin mining firms indicates a continuous rise in hash rate and a sharp increase in BTC production compared to the previous month. This may be due to improving weather conditions and steady electricity rates.
Public bitcoin miners have released their production updates for the first month of 2023, revealing a continued expansion of the hash rate and significant growth in bitcoin production over the previous month. pic.twitter.com/Efvw1iVktB

— COINHAPS (@CoinHaps) February 12, 2023
In January, the majority of Bitcoin miners increased their production, with CleanSpark boosting their output by 50% and setting a new monthly record of 697 Bitcoins. Riot, the second-largest producer, mined 740 Bitcoins in January, while Core Scientific remained the top BTC producer, having produced 1,527 coins.
As a result, this development can be seen as a positive factor that could help prevent further declines in BTC prices.
Bitcoin Price 
The present value of Bitcoin stands at $21,898 as of today, with a trading volume of $19 billion over the last 24 hours. In the last 24 hours, Bitcoin has decreased by less than 0.50%. 
According to CoinMarketCap, it is currently ranked #1 with a live market capitalization of $422 billion. The circulating supply of Bitcoin is 19,289,343 BTC coins, while the maximum supply is 21,000,000 BTC coins.
On the technical front, Bitcoin is currently approaching a 38.6% retracement at the $21,290 level. If this level is breached, it could open up more room for selling, potentially leading to a drop to the $20,300 level.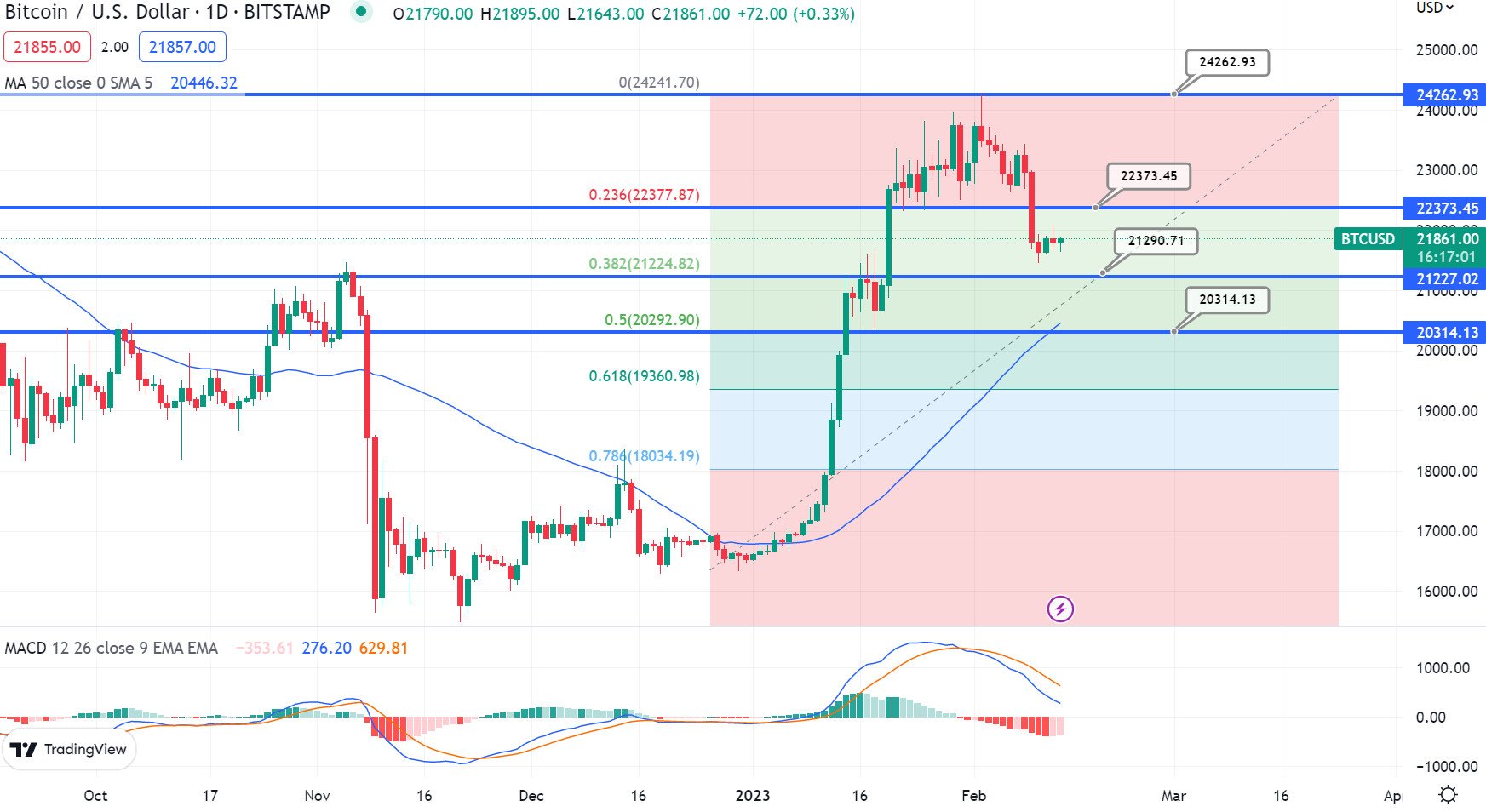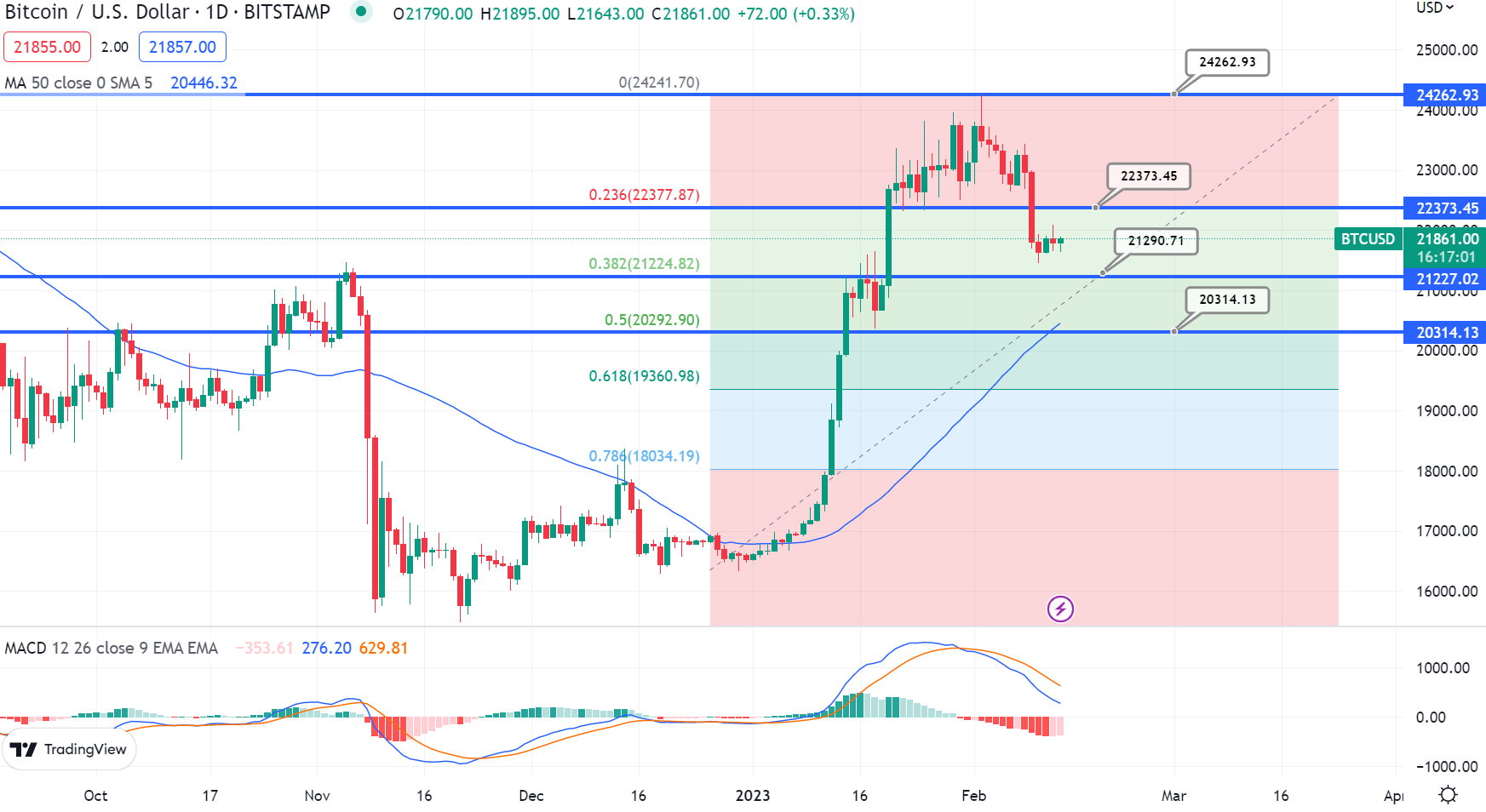 However, if candles close above the $21,300 level, there is potential for a bullish bounce, with the possibility of reaching the $22,375 level. An increase in buying pressure could further drive up the price of BTC toward the next resistance level of $24,260.
Ethereum Price 
The current Ethereum price is $1,524 with a 24-hour trading volume of $6,301,002,828 ETH. The crypto's loss of 0.50% in the last 24 hours makes it rank #2 on CoinMarketCap and has a market cap of approximately $186 billion.
On the technical front, Ethereum is trading just above the 38.2% Fibonacci retracement level of $1,500, which is also acting as a double-bottom support level. Closed candles above $1,500 have the potential to drive an uptrend until the $1,560 level.
This resistance level has been driven by an upward channel that was previously violated on Friday. The break above $1,560 may expose BTC to the $1,600 or $1,680 level.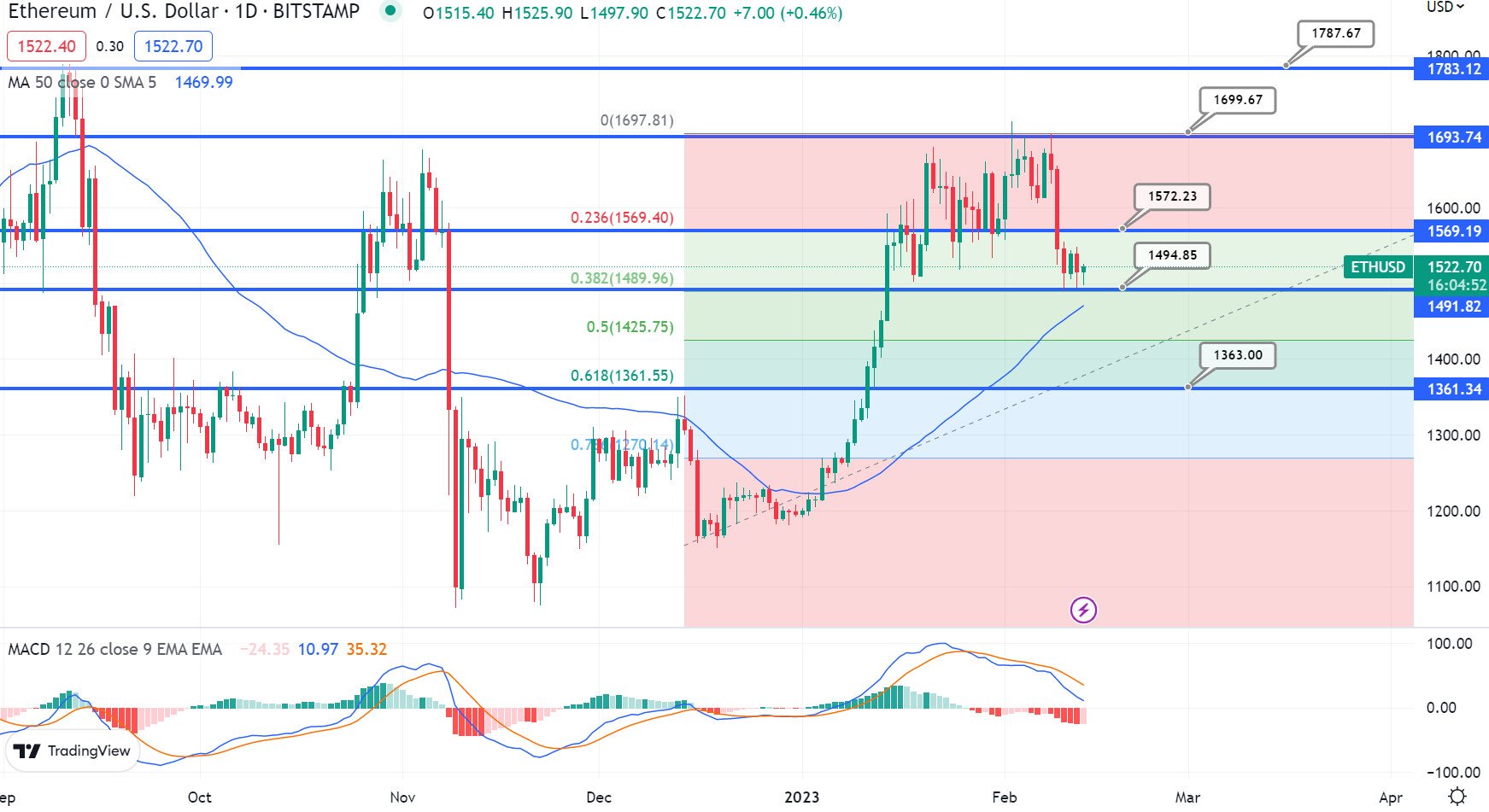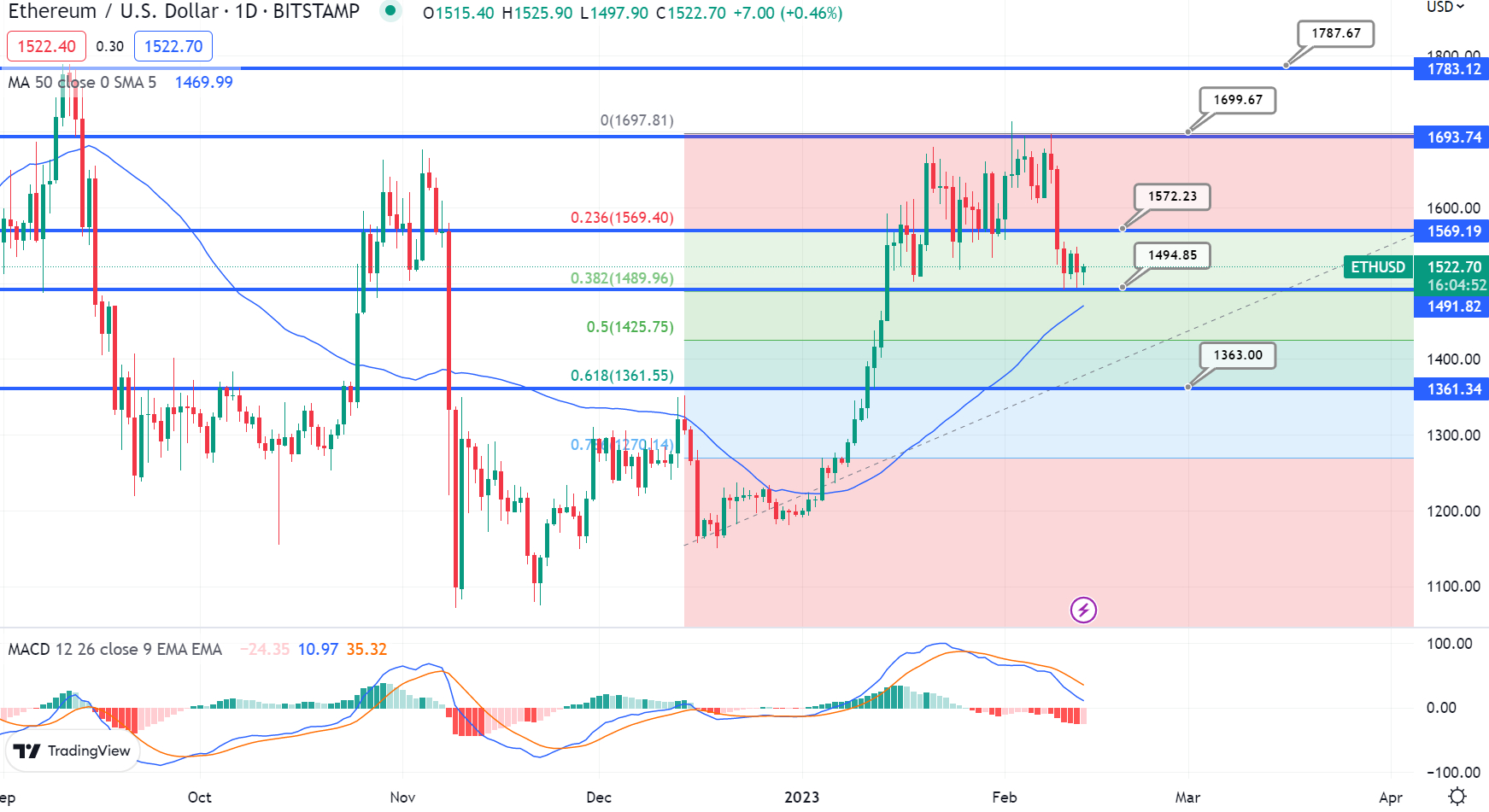 If you can break above $1,560, then ETH prices stay up and ETH traders have better opportunities to make profits. If not, ETH prices are predicted to fall and reach the $1,435 level.
Bitcoin and Ethereum Alternatives
We recently identified the top 15 cryptocurrencies for 2023 that are set to be the largest in terms of market cap. If you want to invest in something more promising, there are numerous other options to consider.
Cryptocurrencies and ICOs are becoming more prevalent, with a new one being offered every week.
Disclaimer: The Industry Talk section features insights by crypto industry players and is not a part of the editorial content of Cryptonews.com.
Find The Best Price to Buy/Sell Cryptocurrency


---