Bitcoin and Altcoins Zoom Higher; More Gains Likely
Key reasons for the upside surge are technical triangle break, short liquidation, unwinding of short (sell) BTC trades, declaration by Islamic scholar, and Japan's rising interest.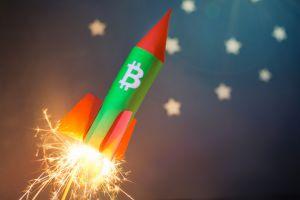 Yesterday, we discussed how there was a sharp rise in altcoins, but bitcoin was struggling. Later, BTC joined the party, broke a crucial resistance at USD 7,000, which resulted in a sharp upside move of more than USD 1,000. It seems like the crypto market consolidation phase completed, resulting in increase in trading volumes.
Fundamentally, a key development was from the Islamic community. There was a declaration by an Islamic scholar that bitcoin is compatible by Sharia Law. More importantly, bitcoin and ethereum charts were heading towards a technical breakout during the past few weeks. The recent upside drift suggests that the breakout was bullish and prices are likely to continue higher. There was a solid short liquidation and unwinding of short (sell) BTC trades, resulting in a short squeeze from well below USD 6,800 to well above USD 8,000.
Bitcoin
Bitcoin price rocketed above yesterday's mentioned USD 7,000 resistance. BTC/USD gained around 20% and traded above the USD 8,000 level. The pair is now trading at USD 8,106 and it may perhaps continue to rise towards the USD 8,500 level.
If there is a downside correction, the price may find support near the USD 8,000 level. Below the stated USD 8,000, the price could test the USD 7,800 support.
On the upside, before the USD 8,500 barrier, the price may find selling interest near the USD 8,250 level. However, the current trend is super bullish and bulls are completely in control for a run towards USD 8,500.
Ethereum
Ethereum also followed bitcoin and rocketed above the USD 500 level. ETH/USD is currently trading 22% higher at USD 515. On the upside, the next major hurdle for buyers is at USD 540.
On the downside, the broken resistances at USD 500 and 480 are likely to act as supports in the short term.
Bitcoin Cash and Ripple
Bitcoin cash moved sharply above the USD 700 level and is currently up 15% to USD 760. BCH/USD pair is now seems to be heading towards the USD 800 level, which is a key resistance.
Ripple soared higher and moved past the USD 0.60 resistance, which is a bullish signal. XRP/USD is now in a positive zone and the price may continue to move higher towards USD 0.70.
Other Altcoins Market Today
Almost all coins are trading in the green zone with gains between 10-25%. A few coins such as MITH, BTCP, Steem, OMG, IOTA and WAN outperformed and registered heavy gains today.
Overall, the crypto market is back in the green zone with a lot power and heavy volumes, which are great signs of a bullish trend.
---