Bitcoin and Altcoins Resume Bearish Moves
Bitcoin price failed to recover above USD 4,050 and declined again. Ethereum and ripple are under pressure near key support levels. NEXO, NPXS and MITH declined more than 10% today.
Yesterday, we discussed that a decent recovery in bitcoin price won't be easy. BTC/USD corrected above the USD 3,950 and USD 4,000 resistance levels, but sellers protected further gains above the USD 4,050 level. There was a fresh drop and the price moved below the USD 3,900 level. Similarly, ethereum price failed to settle above the USD 110 - USD 112 resistance and declined again. Ripple price is down more than 3% after it failed to break the USD 0.360 resistance level. The current (UTC 08:20 AM) market sentiment is bearish, suggesting more losses in bitcoin and altcoins in the short term.
Total market capitalization

Bitcoin price
There was a slow and steady decline in bitcoin price after buyers failed to clear the USD 4,050 level. BTC/USD moved down and traded below the USD 4,000 and USD 3,930 supports. An immediate support is near USD 3,800, below which there is a risk of a sharp decline towards the USD 3,600 level.
On the other hand, the price is facing many resistances near the USD 3,900 and USD 4,000 levels. A successful close above USD 4,000 may lift the market sentiment. Still, the price must break the USD 4,050 swing high for a decent rebound in the near term.
Ethereum price
Ethereum price failed to gain pace above the USD 113 level, resulting in a fresh decline. ETH/USD is down more than 3% and it is currently trading well below the USD 110 level.
An initial support is at USD 105, below which the price may revisit the USD 100 support zone. To recover, buyers need to surpass the USD 112 and USD 115 resistance levels.
Bitcoin cash and ripple price
Bitcoin cash is down more than 10% and it traded below the USD 150 and USD 145 support levels. BCH is under a lot of pressure and it seems like it could even break the USD 130 level. BCHSV is also declined more than 7% and traded below the USD 90 support. The next support is at USD 82, below which the price may test USD 75.
Ripple price faced a lot of selling interest near the USD 0.360 and USD 0.362 levels. XRP/USD declined and moved below the USD 0.355 support level. It seems like sellers are aiming for a test of the USD 0.332 support.
Other altcoins market today
Many few small cap altcoins faced an increased selling pressure and declined more than 8%, including NEXO, NPXS, MITH, EOS, ETP, AE, ETC, GXS, MANA, THETA and BAT. Out of these, NEXO is down around 20% and NPXS fell nearly 12%. However, Waves jumped by more than 33% in the past 24 hours due to positive news.
Overall, bitcoin is back in a negative zone below USD 4,000. As long as BTC/USD is trading below the USD 4,100 and USD 4,200 pivot levels, there is a risk of more downsides in the near future. Ethereum also faces a major risk of heavy declines below USD 100 if buyers fail to push ETH/USD back above the USD 115 and USD 120 resistance levels.
_____
Find the best price to buy/sell cryptocurrency: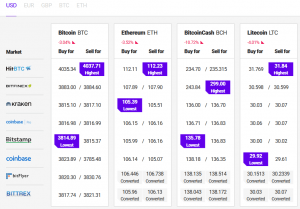 ---