Bitcoin and Altcoins Basing For Next Move
Bitcoin price tested the USD 6,100 support and recovered above USD 6,300. Ethereum, bitcoin cash and ripple are struggling to recover above key resistances. Dash, bitcoin diamond and wanchain gained more than 10% today.
This past week, we saw bearish moves in bitcoin below the USD 7,000 pivot level. BTC/USD even broke the USD 6,400 support before buyers appeared near USD 6,100. The price is attempting to recover, but the previous supports at USD 6,400 and USD 6,500 are acting as resistances. To recover this week, bitcoin buyers need to clear the USD 6,500 and USD 6,700 resistance levels. Similarly, major altcoins like ethereum, bitcoin cash and ripple faced heavy selling interest during the past few days. Going forward, the market could recover 5%-8% in the coming sessions, but unless bitcoin breaks USD 6,700, upsides will most likely be limited.
Total market capitalization:

Bitcoin
Bitcoin price started a decent upward correction from the USD 6,100 support area. BTC/USD moved above the USD 6,250 and USD 6,300 resistance levels. However, the price is facing a tough resistance near the USD 6,400 level, which was a support earlier.
Should the price break the USD 6,400 and the USD 6,500 resistance levels, it could set the pace for more upsides this week. However, the USD 6,700 pivot level is also a crucial hurdle for buyers this week. On the flip side, if the price fails to recover, there may possibly be a break below the USD 6,000 support.
Ethereum
Ethereum settled below the USD 200 support area. ETH/USD tested the USD 185 level and is currently (UTC 08:30 AM) up around 4% to the USD 198 level. A break above the USD 200 and USD 210 resistances could open the doors for more gains.
On the downside, the recent low of USD 185 is a decent support, below which the price might test the USD 160 support this week.
Bitcoin cash and ripple
Bitcoin cash price traded close to the USD 450 level and formed a low near USD 460. Later, BCH/USD started a recovery and it is currently up 2.8% to USD 482. On the upside, weekly resistances are at USD 500, USD 520 and USD 550. The most important support on the downside is at USD 540 - USD 550.
Ripple price is trading flat and it seems to be struggling to clear the USD 0.285 and USD 0.300 resistances. XRP/USD must settle above USD 0.300 this week to climb back above USD 0.330.
Other altcoins market today
A few small cap altcoins traded higher recently, including dash, bitcoin diamond, wanchain, BTCD, dogecoin, IOTA, MCO, NXS, DCN and EOS. Out of these, dash is up around 12% and bitcoin diamond broke the USD 1.80 resistance to register 10.5% gains.
To sum up, bitcoin price is reaching a crucial juncture near USD 6,400. If buyers gain momentum above USD 6,400 and USD 6,500, there could be a relief rally. If not, BTC/USD and altcoins are likely to resume downtrend in the coming days.
_____
Find the best price to buy/sell some of the top cryptocurrencies: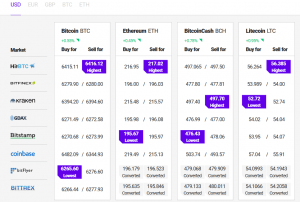 ---