Bit2Me: Bringing the Cryptocurrency Exchange Industry Into the Future
Disclaimer: The text below is a press release that was not written by Cryptonews.com.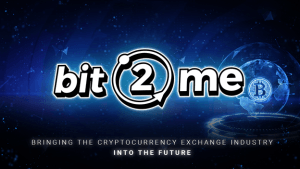 The cryptocurrency market is experiencing unprecedented growth as companies in traditional sectors, organizations and governments take more and more interest in the wider decentralized ledger industry. Accordingly, investors are increasingly seeking out new projects in the space, gaining exposure to new and innovative cryptocurrencies. The most common way to do so for these investors is through the use of the market's numerous cryptocurrency exchanges, who host and maintain trading platforms which provide an easy way to exchange digital currencies at the touch of a button.
These centralized exchanges (CEXs) have had to respond to the surge in volume that comes as a consequence of the space's increased popularity. Indeed, towards the end of 2020, as Bitcoin - the leading cryptocurrency - crossed the 20,000 USD mark, even the largest CEXs in the space faced operational difficulties. Moreover in this market cycle, it is clear that cryptocurrency market participants also have a greater awareness of decentralized technologies and the pitfalls of CEXs, fueling a rise in the use of decentralized exchanges (DEXs).
Taken together, both factors suggest the CEX industry is in need of a shake-up.
Bit2Me - a Spanish cryptocurrency exchange - is using new approaches and technologies to bring the CEX industry into the future. This includes its future-proofed trading platform which is built with the unique features of the cryptocurrency market in mind, its suite of user-focussed products aimed at helping its users navigate the complex space, and its innovative new token-led approach. To understand how Bit2Me is stoking the fires for the CEX industry's evolution, let's take a closer look at the Spanish exchange.
What is Bit2Me, and why is it so Successful?
Founded in 2014, Bit2Me is a Spanish start-up financial technology company specializing in the cryptocurrency market and decentralized ledger technology industry. According to Bit2Me, the company helps individuals, exchanges, mining pools, token issuers, investment funds, governments and institutions access, trade and manage cryptocurrencies and digital assets efficiently. Moreover, Bit2Me states its principal objective as rendering the traditional finance sector obsolete through the use of technology.
Despite being headquartered in Spain, Bit2Me has always had global ambitions, operating during all major international time zones. This is supported by a team of just over 100 people which includes amongst them entrepreneurs, researchers, traders, lawyers and engineers. As a result, Bit2Me has managed to maintain and increase the capacity to grow rapidly in the fast-moving cryptocurrency market and decentralized ledger space.
Over the past 2 years, Bit2Me has introduced several new services to its exchange platform, including an Over-The-Counter (OTC) service for higher volume investors, a second layer P2P payment method for all of their cryptocurrencies, and even an Android and iOS application so its users can access the platform on the go. However, to set it apart from other similar offering in the cryptocurrency market, Bit2Me has also been focussed on supplementary services, such as its TV station - Bit2Me TV - Bit2Me News, Bit2Me Agenda, and Bit2Me Academy, all aimed at stewarding new and existing cryptocurrency investors through the complex and fast-moving cryptocurrency market.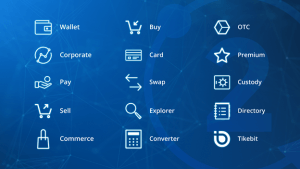 Unlike the majority of other CEXs in the space, Bit2Me is creating its own ecosystem; a one-stop-shop for all things cryptocurrency-related. Indeed, the evidence suggests this approach has worked. In 2020, Bit2Me surpassed 300,000 registered users, with over 2,000,000 more passing through its academy. Moreover, the company attracted investment to the tune of 1 million EUR from leading venture capital manager, Inveready, which will be used to drive the company's global expansion. Inveready is infamous for investing in projects with a highly innovative technological component which Bit2Me is fulfilling with its newest project, the launch of its own token: B2M.
B2M: Bit2Me's Innovative New Token-Led Approach
Powering Bit2Me's rapidly-growing ecosystem will be the exchange provider's upcoming custom-built, Ethereum-based rewards token, B2M. Holders of the innovative token can enjoy up to a 90% discount on fees associated with Bit2Me's exchange services, including Bit2Me Wallet and Bit2Me Trade, as well as fiat deposits and withdrawals. These fees will also all be paid in B2M itself. Bit2Me is also allowing the new token to be used as rewards for holders who lend other digital assets to the platform's users, and If those lenders accept their interest in B2M, they will receive a higher payout.
The team behind Bit2Me is also considering including a governance feature within B2M's framework which will allow holders to vote on the platform's product offering and additional features. These could potentially include new cryptocurrency listings, new decentralized finance (DeFi) features (such as staking) and even the publication of new material for Bit2Me Academy. Access to any new product may also be prioritized for B2M holders.
During the token's private sale, Bit2Me raised a staggering 2.5 million EUR, demonstrating keen interest in the exchange provider's new approach, and now, the B2M public sale is soon to begin on September 6th, 2021, and will last until the end of the month. Initially, the supply of B2M for sale will be 5 billion, with a nominal value of between 0.01 EUR and 0.02 EUR per token.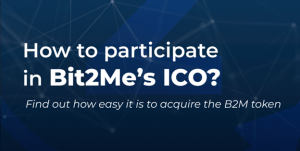 There are only 3 steps to participate in Bit2Me's ICO:
Register an account via Bit2Me's main website.
Verify your account using this handy guide.
Join the Whitelist and schedule your purchase.
Or access your wallet and get your B2M tokens in the public sale from September 6, 2021.
Full details of the token sale can be found here.
The Future is Bright for Bit2Me
Aside from B2M and Bit2Me's expansive suite of products, Bit2Me is planning a development and expansion-filled future for the growing company. Piggy-backing on the increasing popularity of the DeFi space, Bit2Me is set to launch a DeFi-inspired staking, lending and earning service in which the now common-place DeFi features are replicated within the framework of its new B2M token.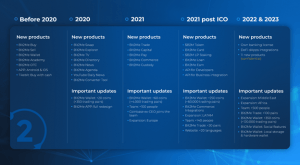 Furthermore, Bit2Me will increasingly target developer and enterprise integration; launching an enterprise-ready API so that third-party applications can communicate with its pioneering platform. This also extends to decentralized applications (dApps) that now number in their tens of thousands.
These new services and products will support an expansion to the Middle East, Africa and Latin America, an increase in the number of trading pairs it offers and an upgrade of Bit2Me Wallet's storage capability. Its most prominent goal, however, is to obtain its own banking license, which will significantly contribute to its disruption of the cryptocurrency exchange industry. Indeed, Bit2Me is undoubtedly establishing itself as the cryptocurrency exchange that will achieve the cryptocurrency space's ultimate mission: to render the traditional financial industry obsolete.
For more on Bit2Me's innovative suite of products, its native token, and how it is disrupting the cryptocurrency exchange industry, visit their website here.
---