Bingbon Celebrates Third Anniversary with Trading Competition and NFTs
Disclaimer: The Industry Talk section features insights by crypto industry players and is not a part of the editorial content of Cryptonews.com.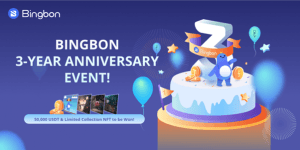 A lot has changed in the cryptocurrency landscape since Bingbon was founded three years ago in the midst of a crypto bear market. Today there's more stablecoins, more exchanges, more exchange-based products including exotic swaps and novel futures contracts, more opportunities for yield, and more money.
The bear market of 2018-19 has been well and truly shaken off and in its place is an era of unprecedented growth in digital asset prices and crypto ownership. Oh, and NFTs have become a thing. All of which means that Binbgon's third anniversary celebrations, comprising a trading competition rewarded with USDT and NFTs, are as timely as they are topical. They speak volumes both for the health of the Asian exchange and for that of the crypto market as a whole.
Bingbon Unveils Profit Ranking Competition
Social trading platform Bingbon shared details of its third anniversary trading competition in a blog post, explaining "We wanted to do something special for our users as a way of saying thank you for supporting us throughout our three-year crypto journey."
That something special entails 50,000 USDT and a unique collection of NFTs. These will be awarded to the best traders, based on net profit, for the duration of the competition. Just 500 of these will be issued in the event's two rounds, Preliminary and Final. Recipients will then have the option to exchange their NFTs for USDT at the official buyback rate.
The decision to introduce NFTs is a shrewd one that is sure to appeal to Binbgon's user base of primarily retail traders. Beginners have been lured to the exchange on account of its copy trading function which enables them to emulate the trades of experts, while the latter are incentivized to share their setups and earn additional rewards for doing so.
Three Weeks of Trading Mayhem
To register for Bingbon's trading competition, the only requirement is a minimum account balance of 30 USDT. When the preliminary round commences, it will last for one week, with traders ranked by the percentage of profit they rake in. The top 30 will then make it into the final round, where the top 60 will be awarded NFTs.
In addition, the top five finishers will receive between 500 and 5,000 USDT. Playing upon the social element that's proven such a hit with Binbgon's strategy so far, the exchange is also running a Popularity round. Users can vote once a day for their favorite contestant, and the top 100 based on votes cast will make the final and the top 170 will receive NFTs.
In rolling out a trading competition to mark its third anniversary, Bingbon is demonstrating that it can cut it with the best of the Asia-based exchanges. Singapore-headquartered Bybit has made a name for itself off the back of its increasingly generous trading competitions and Binance Futures has also gotten in on the act.
While it's too early to say whether Bingbon will move in the same direction, its anniversary competition attests to the platform's maturation. In the space of three years, Bingbon has quietly evolved into a formidable spot and futures exchange that is now expanding its presence to South America and the rest of the world.
---