Binance Smart Chain Put to Political Test, as More ETH-Based Projects Use It
Binance Smart Chain (BSC), a blockchain developed by major crypto exchange Binance, is being put to the decentralization test, at the time when more Ethereum (ETH)-based projects are starting to use this chain.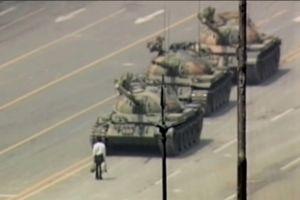 There is a story developing over at BSC at the moment - one that could arguably have quite an impact on the chain, on Binance, and on the crypto space, depending on the platform's decision on how to approach it.
Anonymous developers have created two decentralized applications (dapps) on BSC, which might anger the Chinese officials, hence prompting a response from Binance:
Tanks of Tiananmen: appearing on February 25, the name is a reference to the student-led Tiananmen Square protests in Beijing in 1989, which was followed by the Tiananmen Square Massacre to suppress the protests, with armed troops being accompanied by tanks. The events have reportedly been heavily censored in China ever since. Meanwhile, the smart contract of the dapp shows 739 addresses as holders of its token, and the total supply of nearly 963,835 TANKS OF TIENANMEN. Interestingly, BSC-powered decentralized exchange (DEX) PancakeSwap (CAKE)-related addresses hold almost 17% of the supply of the token.
Slave: appearing on February 27, it shows a total supply of 100,000 SLAVE and one holder. While Tanks of Tiananmen is still showing transfers, Slave hasn't had any in more than four days.
By creating such smart contracts, the developers could be challenging Binance to censor them. After all, being centralized, the exchange has the power to do so, but what would be the consequences? One could argue that such a decision may potentially erode the trust in Binance, further pushing forward the fact of its centralization as an aspect to be held against it, while placing Ethereum and its decentralization as the superior choice despite its current shortcomings.
Cryptonews.com has contacted Binance for comment.
And this is of major relevance, as it comes at the time when BSC is gaining steam, occasionally at the expense of its competitor, with a number of Ethereum-based projects expanding to BSC.
The latest example is DEX SushiSwap (SUSHI) that announced on March 3 it went live on BSC, as well as on Fantom (FTM), Polygon (MATIC), xDai Chain, and Moonbeam Network. SUSHI's Chief Technology Officer Joseph Delong stated that "the industry is currently trending towards bridges and multichain deployments as a middle step before [layer 2] to mitigate high gas costs."
Also, as reported, just recently, Ethereum-native DeFi project, decentralized exchange aggregator, 1inch, announced its expansion to BSC.
There could be a couple of reasons why this is happening, one being that Binance backing carries weight, as it comes with liquidity and public attention, but the other is a much more commonly cited reason: the high gas fees on Ethereum, as well as its transaction speed. This is something the network has been struggling for a while now, particularly with the rising popularity of decentralized finance (DeFi) and non-fungible tokens (NFTs). The developers are promising scalability with Layer 2 (L2) solutions even before the full Ethereum 2.0 rollout. But it appears that some projects are not willing to wait and push through the high trading costs in the meantime.
However, Binance CEO, Changpeng Zhao, argued that BSC is not an ETH killer. Citing in part Ethereum co-founder Vitalik Buterin, he said that "ETH is overwhelmingly successful. But its success (not other coins) may also be its own killer." Zhao added that, while the demand is growing exponentially, the ETH performance is not. "ETH 2.0 is still years away. Rollups aren't user friendly (jury is still out). This is the ETH killer," he wrote.
In the meantime, a project called Musical Beats had launched on BSC, then shut down the very next day. "Users can burn their token," said the announcement, and though "we will be distributing the developer fund, to compensate loss of money, still there can be 10-20% loss." The project was accused of copying Ethereum -based EulerBeats, a digital art and beat collection generated on-chain by applying mathematical discoveries of the 18th-century Swiss scientist Leonhard Euler.
At the time of writing (10:59 UTC), binance coin (BNB), ranked 4th by market capitalization, is trading at USD 240, having dropped 4% in a day and 6% in a week. It appreciated 366% in a month. Meanwhile, ETH, the second largest cryptoasset, is changing hands at 1,562. It dropped 3% in a day and 4% in a week, and it went up 14% in a month.
____
Learn more:
- Binance Shoots Itself In The Foot Amid Regulatory Scrutiny On Exchanges
- Enjin New Solutions 'Bring Scaling to Ethereum, Remove Fees, Support NFTs'
- Too Costly Ethereum is Pushing DeFi Users Away, Fuelling BNB Rally
- Solana Founder On Critical DeFi Challenges and How To Fix Them
- Ethereum Miners Are Likely to Accept EIP-1559 Activation - Analysts
- Decentralized Exchanges Set To Accelerate in 2021
---