Binance Coin Price Prediction as BNB Pumps Up 17% in a Week – Time to Buy?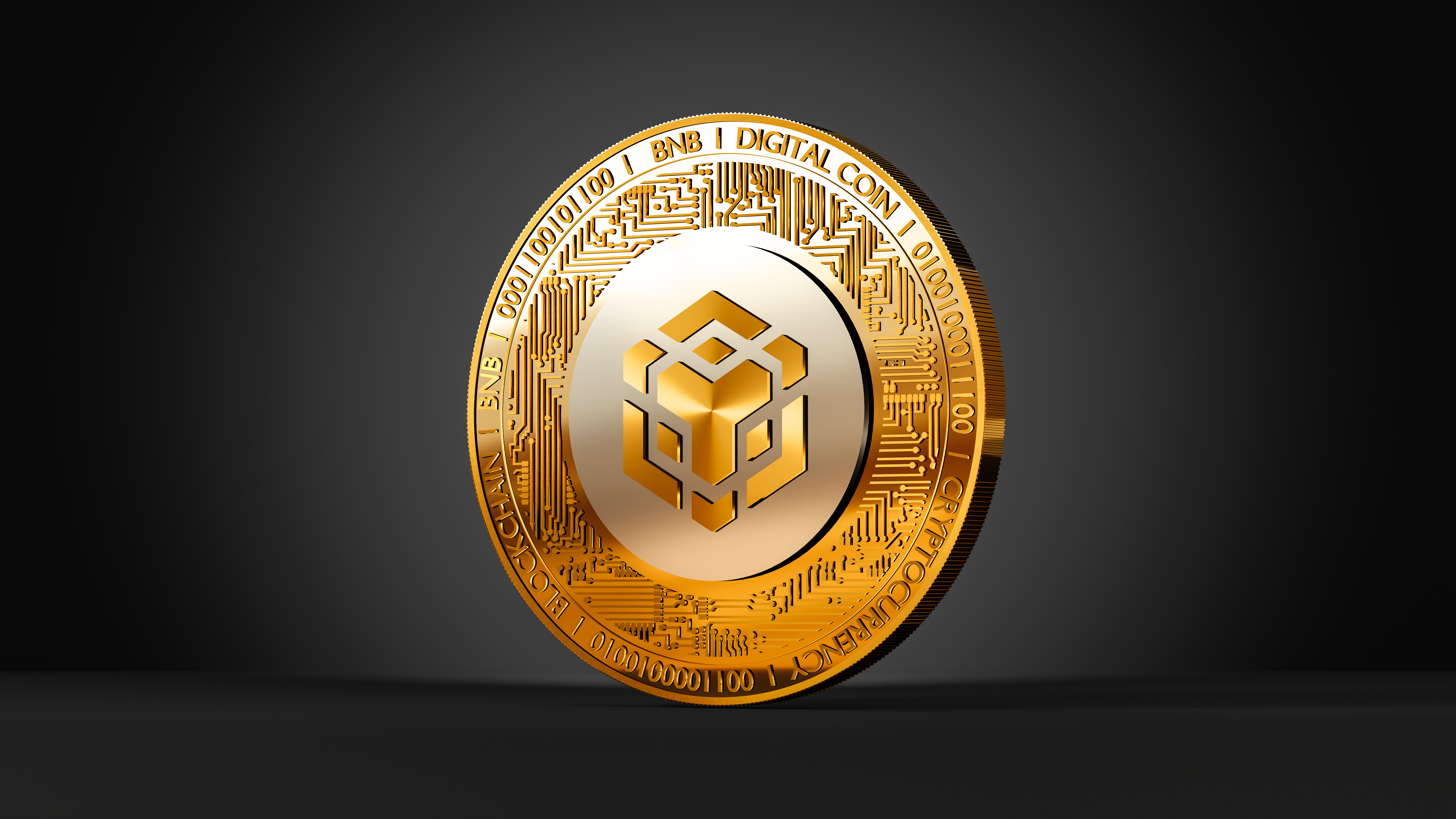 It's been a big week for BNB, the cryptocurrency that power's the Binance Smart Chain. After tumbling to two-month lows late last week in the mid-$260s amid generalized risk-off across asset classes amid concerns about US bank failures, BNB has seen a stunning rebound.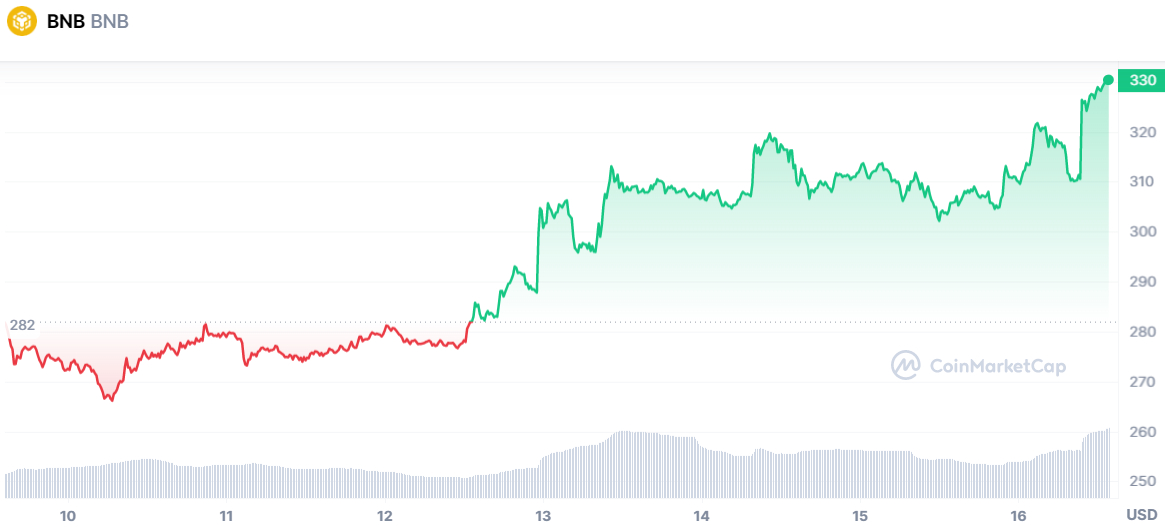 At current levels around $330, BNB/USD is changing hands close to 25% up versus last week's lows. Part of the rally can be explained by the crypto market's broader recovery on a mixture of 1) optimism that the response from US authorities to bank troubles will be sufficient to prevent a crisis, 2) that, in the face of a fragile banking system, the Fed won't do too much more tightening and 3) a growing narrative that crypto is a safe haven against trouble in the traditional financial system.
But while the rest of the crypto market has been consolidating in the last few days, BNB has continued pumping and was last up 8% in the last 24 hours as per CoinMarketCap. That's probably due to the news that Uniswap, the largest Decentralized Exchange, has deployed on the BNB Chain, adding to the chains utility substantially. Analysts expect this will bring substantially more on-chain activity.
Price Prediction – Where Next for BNB?
Things are looking very good for BNB from a technical perspective. The cryptocurrency is now trading substantially to the north of all of its major moving averages, having recovered strong from a recent dip to the south of its 200DMA at $287. What's more, the cryptocurrency's surge this week has seen it break substantially to the north of a downtrend that had been capping the price action going all the way back to early February.
A test of February's annual highs in the $330s seems like a near-certainty at this point. Investors are unsurprisingly now asking what is next for BNB once it hits new annual highs. Technicians are likely to conclude that a break above current annual highs opens the door to a possible rally back to November highs near $400.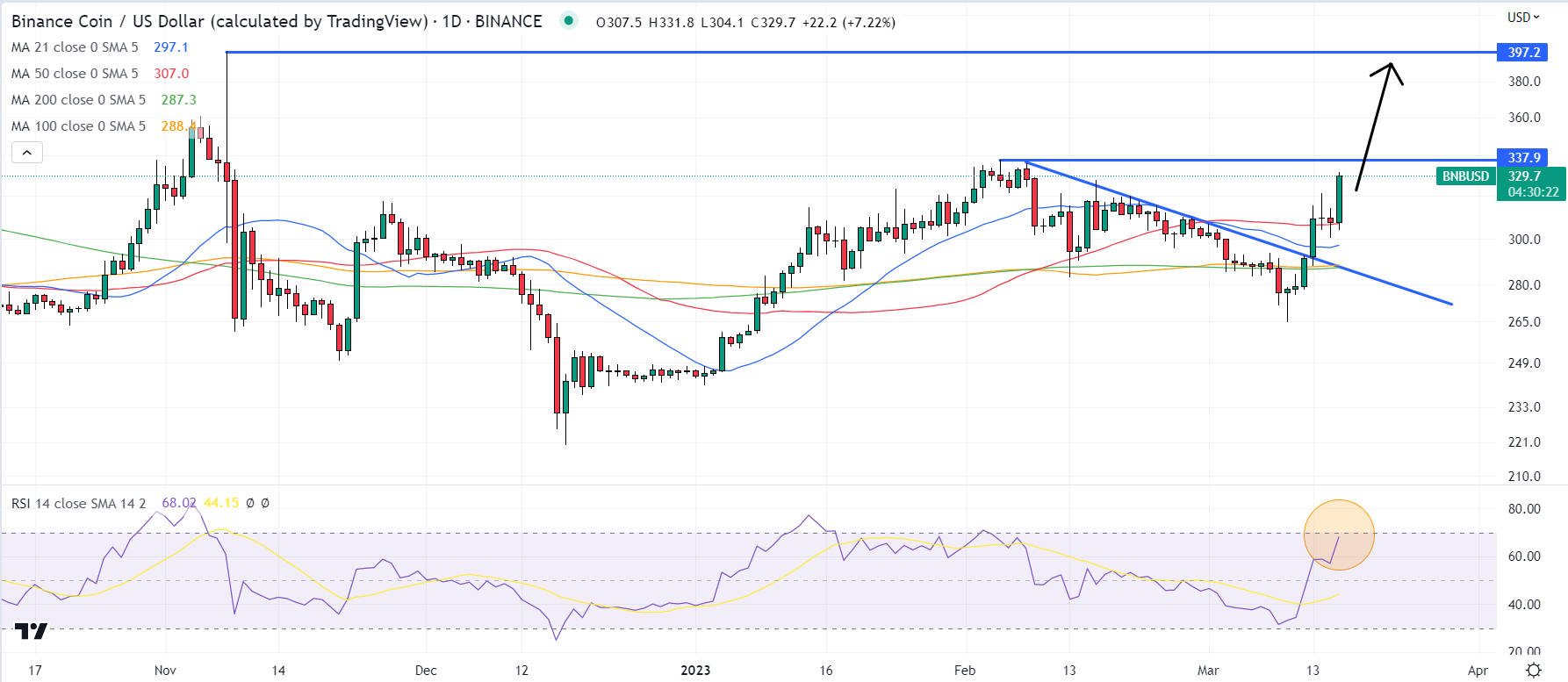 That would mark a further 20% gain from current levels, which is a lot, but doable in the context of the recent 25% recovery from last week's lows that only took about one day. But with BNB's 14-day Relative Strength Index (RSI) on the verge of hitting overbought territory, a further 20% surge may take some time.
With the broader cryptocurrency market stabilizing (Bitcoin has been stuck close to/just under $25,000 for a few days now), BNB might soon enter a period of consolidation in the low to mid-$300s. Investors will be eyeing upcoming macro events like next week's Fed meeting to see whether the US central bank's interest rate guidance shifts as dovishly as the market is currently hoping.
Traders will also be monitoring the ongoing bank crisis, which appears to have spread to Europe (Credit Suisse is in trouble). Further jitters could trigger short-term downside in crypto alongside other risk assets, but narratives around crypto being a safe haven against a crisis in the traditional financial system may ultimately win out.
---