Binance Coin Price Prediction as $1.5 Billion Trading Volume Sends BNB Coin Below $300 – Where is the Next Support Level?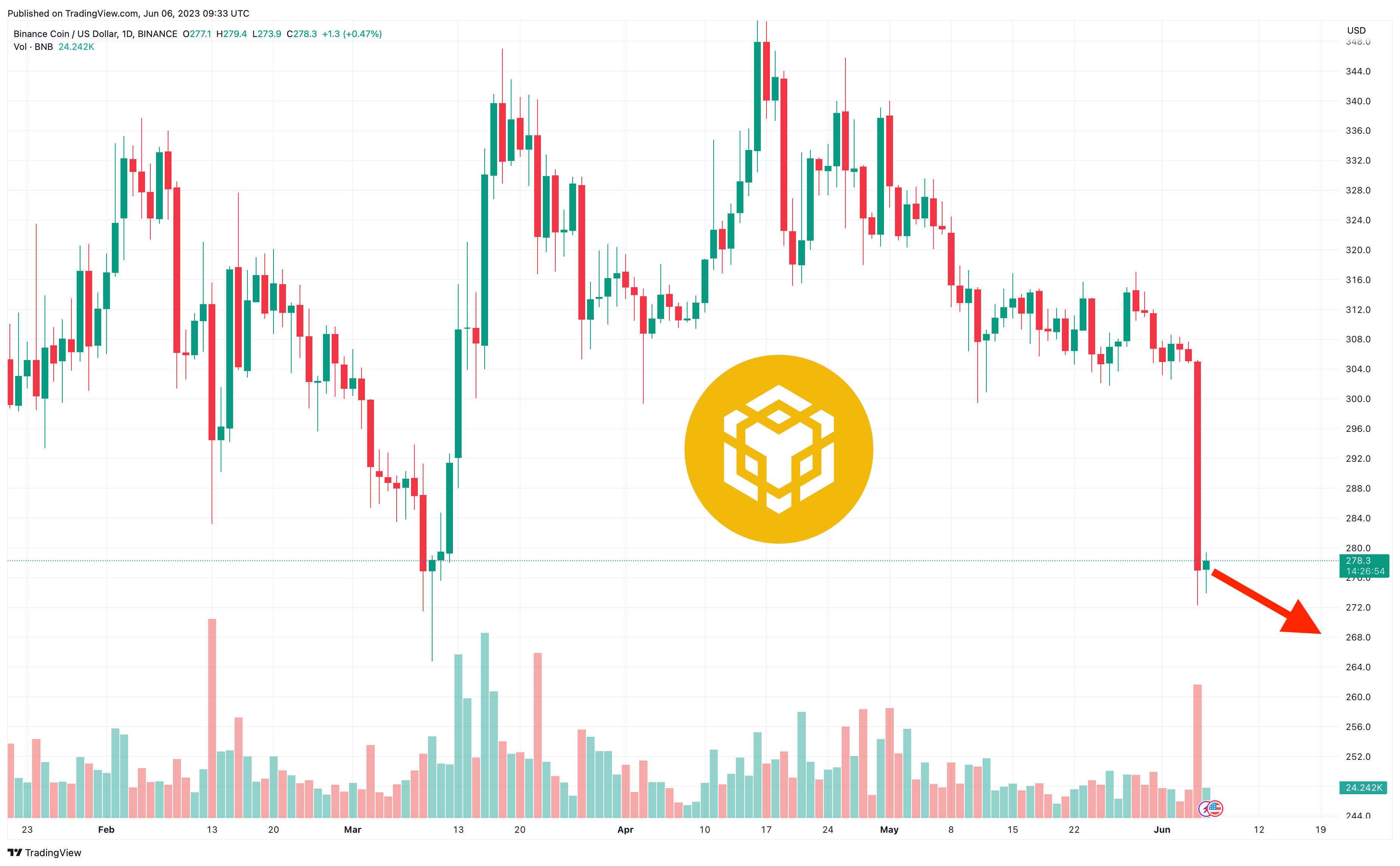 The Binance Coin price has dived by 8% in the past 24 hours, dropping to $276 following the SEC's opening of legal proceedings against Binance.
This price represents an 11% drop in the past week and a 15% fall in the last 30 days, with BNB up by 12% since the beginning of the year.
But with the SEC charging Binance with 13 offenses, including selling unregistered securities and commingling customer funds, it's very likely that BNB will suffer further declines in the coming days, weeks, and months.
This may not be the case if Binance manages to mount a strong defense against the new charges, but with the CFTC also suing the exchange on the basis of similar allegations, things don't look very promising for BNB.
Binance Coin Price Prediction as $1.5 Billion Trading Volume Sends BNB Coin Below $300 – Where is the Next Support Level?
If there's one positive thing that can be said about BNB right now, it's that its indicators suggest it's exceedingly oversold, something which in normal conditions would imply an incoming rebound.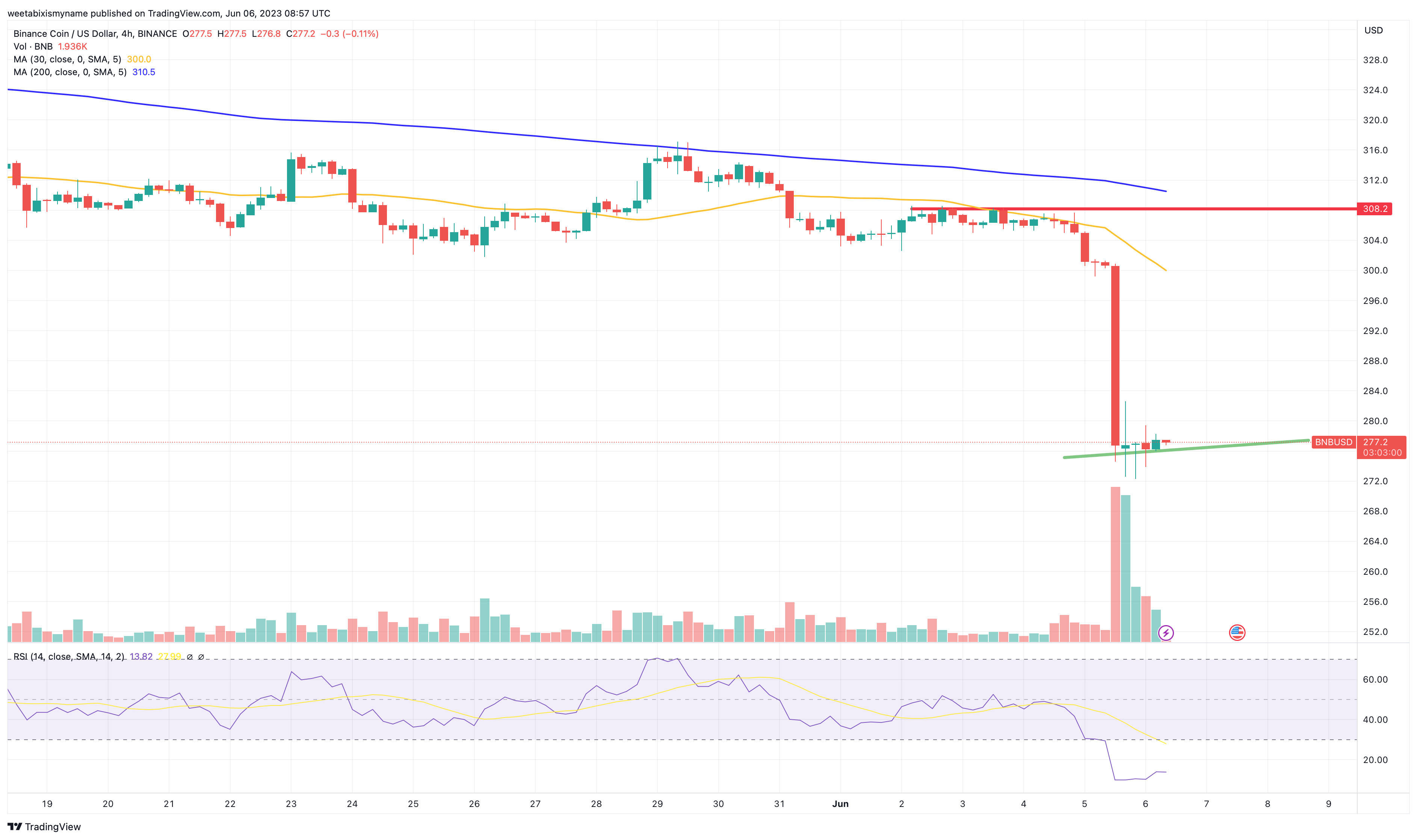 The coin's relative strength index (purple) dropped below 20 yesterday, which again indicates intense selling, as also highlighted by the fact that its trading volume has topped $1.5 billion.
In addition, BNB's 30-day moving average (yellow) has slipped much further below its 200-day average (blue), and could continue falling for several more days.
Eventually, its descent should theoretically bottom out and the cryptocurrency should begin to recover, an expectation also supported by the coin rising by 1% compared to its lowest price yesterday.
Of course, BNB's dip isn't simply the result of some cyclical sell-off but results from the very serious charges it now faces from the SEC.
The US securities regulator has charged Binance and also its founder, Changpeng 'CZ' Zhao, with 13 violations, many of which mirror similar charges leveled by the CFTC against the exchange in March.
As detailed in the SEC's announcement, these include: "operating unregistered exchanges, broker-dealers, and clearing agencies; misrepresenting trading controls and oversight on the Binance.US platform; and the unregistered offer and sale of securities."
And in the wake of November's FTX collapse, one of the more serious allegations states that "Zhao and Binance exercise control of the platforms' customers' assets," which enables them to divert user funds and use them "as they please."
With regards to BNB itself, the SEC alleges that it's an unregistered security, along with "so-called stablecoin" Binance USD (BUSD) as well as several crypto-based lending products and staking services.
Taken together, such charges are pretty comprehensive and account for BNB's nosedive yesterday.
On the other hand, Binance has unsurprisingly come out strongly against the allegations, with an official response stating that "any allegations that user assets on the Binance.US platform have ever been at risk are simply wrong."
It's also worth noting that there doesn't (at least not yet) seem to have been a significant increase in withdrawals on Binance, with data shared by CryptoQuant suggesting that there has been a slight uptick in deposits in the hours following the news.
As such, it's tempting to conclude that even if the SEC has a case against Binance, it may not actually hurt the exchange's business in the long run, which can continue to grow with only a limited (or no) presence in the US.
For this reason, BNB may see a recovery in the medium- or long-term, even if it may fall a little lower in the coming days, perhaps to $250 or even further.
Altcoins Without Legal Cases
Although BNB could see an eventual recovery, it may not be rallying anytime soon, which leaves traders looking for gains having to search elsewhere.
Fortunately, there are a number of new altcoins in the market that hold out the possibility of above-average rallies, with various presale tokens shaping up to be particularly promising.
One of these is ecoterra, an Ethereum-based recycle-to-earn platform that has raised over $4.8 million in the presale for its native ECOTERRA token.
Once launched later in 2023, Ecoterra's platform will reward its users -- via ECOTERRA and NFTs -- for recycling household waste at participating recycling points.
The platform will also reward users for furnishing proof of using renewable energy, while green behavior will be incentivized further by the inclusion of a marketplace for NFT-based carbon offsets.
Investors can join its presale by going to the official ecoterra website and connecting their software wallets, with 1 ECOTERRA currently costing $0.00925.
This will rise to $0.01 in a little over 22 days, with the coin's fundamentals likely to help it rally healthily once it lists on exchanges in the next few months.
---